The Fitbit Versa 3 is the best option that you can get in the Versa line of products today. Although it looks similar to the Fitbit Sense, which was released almost at the same time as the Versa 3, the former features more experimental features that are omitted in the Fitbit Versa 3. This does not mean that the Versa 3 is an inferior product. Far from it.
In fact, from a value perspective, the Fitbit Versa 3 makes more sense for most people. It already comes packed with all the features that we've come to expect from a smartwatch and fitness tracker. It runs the same software as the Fitbit Sense and has all the basic features of what the Sense can offer. On top of all that, it's $120 cheaper now!
If you want to know more why this watch should be a must-have for everyone, check out this Fitbit Versa 3 review.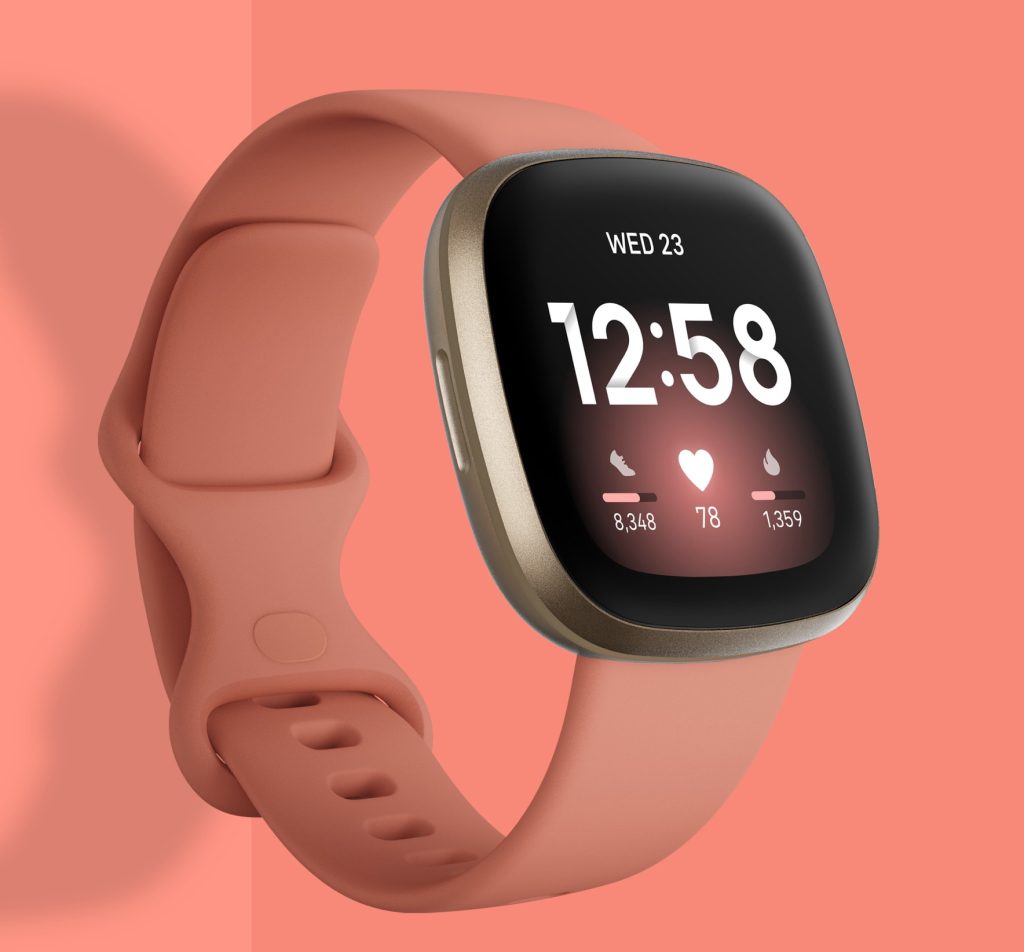 Fitbit Versa 3 Specifications
Dimensions: 40.480mm x 40.480mm x 12.350mm, 40g (without band)
Battery: Up to 6 days (when screen is set to dimmest)
Sensors: heart rate, temperature, blood oxygenation, gyroscope, accelerometer
Screen: 1.58 inches 336 x 336 AMOLED
Connectivity: Bluetooth 5.0, GPS, NFC, WiFi
Fitbit Versa 3 Review: Fitbit Versa 3 Pros and Cons
The Fitbit Versa 3 is an impressive smartwatch due to a variety of factors but it also has limitations. Let's quickly discuss the pros and cons.
Fitbit Versa runs on new UI
The Fitbit Versa 3 shares the same advanced software with the flagship Fitbit Sense. This means that this smartwatch looks almost similar to the more expensive Fitbit Sense in terms of the User Interface. On top of this new UI on the watch itself, you can also check other stuff on your connected smartphone such as the number of steps you've taken during a certain period and many other things. For more detailed stuff, you still need to access the Fitbit app on your smartphone.
Longer battery life and quick charging
On the battery side of things, the Fitbit Versa 3 has no equal. You can use this smartwatch for several days without needing to charge. I was able to use it continuously for up to 6 days on a single charge.
There are other factors of course when talking about battery life on a per person basis. If you're the type who does several training sessions every day with full features such as GPS sensor, notifications, and high screen brightness, you may experience shorter battery life.
If you experience shorter battery life on your Fitbit Versa 3, you should consider checking a number of things such as your fitness features as well as the sensors you're using frequently but may not be necessary for your particular sport. In general, most Fitbit Versa 3 users don't have issues with their device's battery life. However, if you're experiencing an abnormally short battery life every day, you should consider getting help from Fitbit support.
When it comes to battery charging, you should be able to fully charge the watch in about 90 minutes. Thanks mainly to the new magnetic charging cable, charging the watch is very convenient as the cable allows you to connect the Versa 3 securely.
Real-time GPS
With Fitbit Versa 3, you can use up to 20 different sport profiles to help you easily track your training sessions and data. Most of these profiles require a GPS sensor to, say track activities such as the number of steps you've taken, or the route you've followed so far.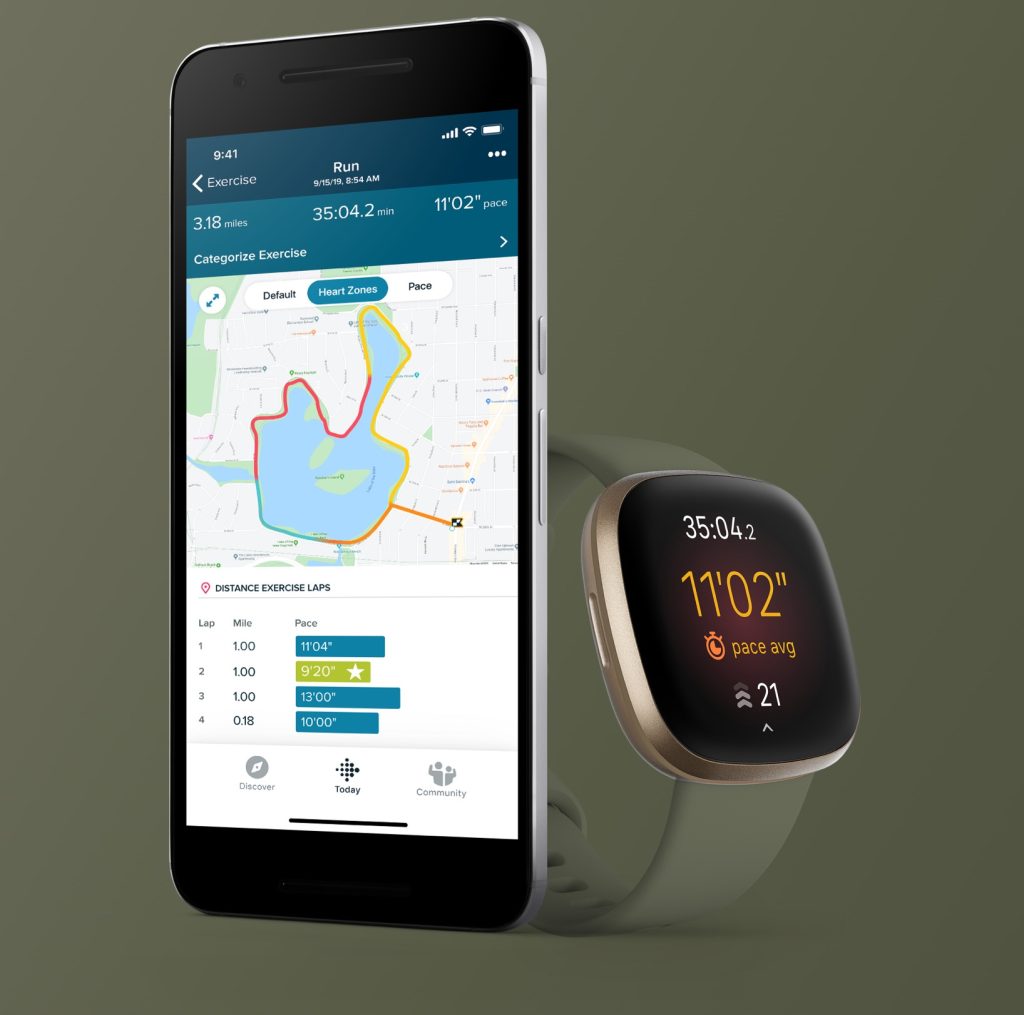 In the previous versions of Fitbit Versa devices, they used connected GPS or the GPS of the phone they're paired with. This means that if you wish to train and record your activities using a GPS sensor, you'll have to bring your smartphone with you. Such deficiency has now been addressed as the Fitbit Versa 3 now has its own real-time GPS.
GPS is not a perfect technology and this is evident in the Fitbit Versa 3 sometimes. From time to time, I lose GPS connection and GPS data on some parts of my route where there's high and thick tree covers, or when beside tall buildings. Overall though, this is a technology limitation and not exactly an issue with the Fitbit Versa 3 device.
Comfortable yet elegant design
The addition of the GPS sensor did not impact the overall design of Fitbit Versa 3. That said, it's nice to know that it manages to retain the signature Fitbit Versa form all these years although the latest Versa has become a bit rounder.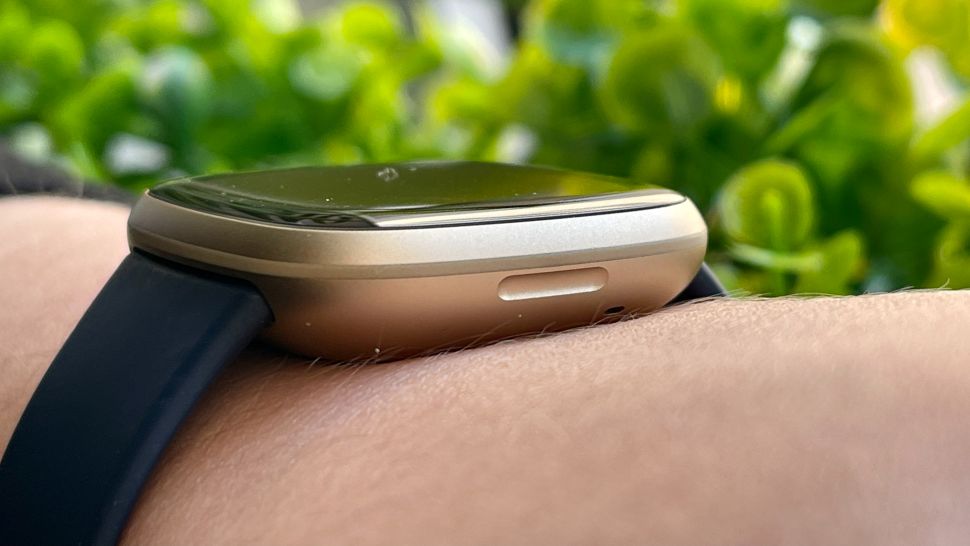 The thickness of the watch is not bothersome at all and you hardly feel the watch after long usage, or when sleeping. This is very handy especially if you want to use your watch during sleep to monitor your blood oxygen level, thanks to the integrated SpO2 sensor at the rear.
Some of the design changes that the Fitbit Versa 3 has includes the wristband and its closure mechanism. The manner to attach the wristband to the watch chassis has also been changed so if you're coming from the previous two versions, you might find you spend a little time adjusting to these changes.
Supports Spotify, Fitbit Pay, and Amazon Alexa
The Fitbit Versa 3 is primarily a fitness gadget but it also incorporates the ability to connect with your favorite apps or to do tasks such as online payment, receive meeting invites, calls, and text notifications.
If you love playing music during your training sessions, your Fitbit Versa 3 also supports music apps such Spotify, Pandora Music, and Deezer.
Stunning screen
The biggest change that the Fitbit Versa 3 over its predecessors is its screen size. It boasts an impressive 40mm AMOLED display that fires off 336 x 336 pixels resolution. Even when set to its dimmest option, the screen still looks vibrant and crisp.
Awkward side button
Users of Fitbit Versa and Fitbit Versa 2 will find most likely complain about one thing: the "lack" of a side button on the Fitbit Versa 3. The new Versa is now using a touch capacitive indent as a side button on the left side, which many people find non-functional at times.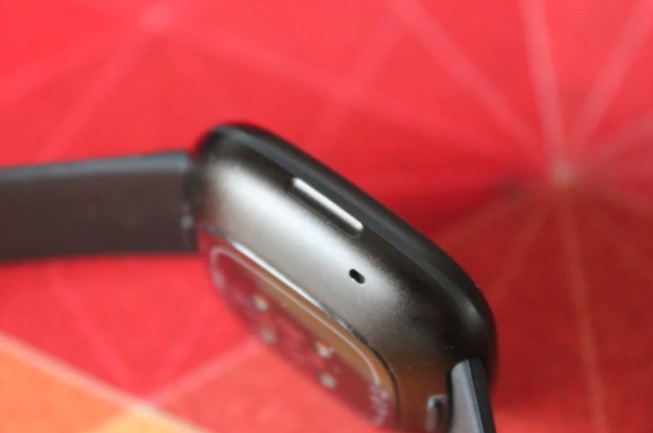 You have to make sure that you press the button correctly in order to use it. You'll get a vibration feedback when the button is pressed, indicating that you've activated the smartwatch.
If you can't find the exact spot of the side button, you're not alone. Even after a few months of using this watch, I still sometimes miss it.
No offline support for Spotify.
If you're a heavy Spotify user, you'll find the Fitbit Versa 3 disappointing. While Deezer lets you play your music offline, Spotify does not work that way in this watch. You need your phone nearby to play Spotify music.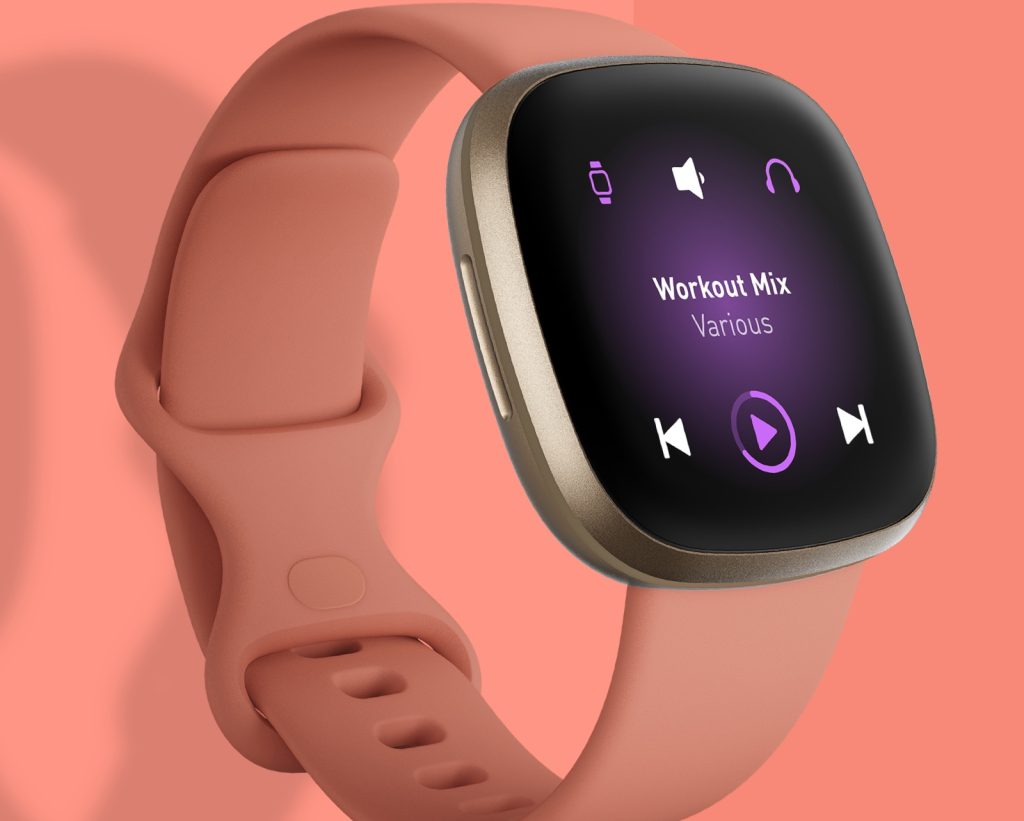 You won't be able to download or transfer your music directly to your Versa 3 either although, like before, you can use the Spotify app to browse your music library, play or pause the music, or skip tracks.
Fitbit Premium locks out more features
Your Fitbit Versa 3 is primarily a fitness tracker so even without a $10 Fitbit Premium subscription, you should get a good overview of certain basic health metrics that most people need.
However, if you want to delve deeper into details, such as your breathing rate, heart rate ranges, sleep data or oxygen saturation, you need to have access to the Health Metrics dashboard, which is only unlocked when you subscribe to Fitbit Premium.
With Fitbit Premium, you'll also get recommendations on which workouts to try, meditations, or active zone minutes goal. Active zone minutes was originally introduced on the Fitbit Charge 4.
You should have a free 3-month Fitbit Premium subscription when you buy a brand new Fitbit Versa 3.
Price and availability
Compared to the more expensive flagship Fitbit Sense, the Fitbit Versa 3 packs all the necessary sensors for a typical smartwatch and fitness tracker but at a much lower price point. Originally priced at launch at $229.95, it's now on sale for only $179.95 at the official Fitbit.com site and Amazon.
If you want to have an inexpensive Fitbit with all the fitness features that matter, go with the Fitbit Versa 3. While the Fitbit Sense packs more fitness features, the savings that you'll get with the Versa 3 are definitely worth it.
Fitbit Versa 3 First time setup
If you're new to the Fitbit brand, you may find your Fitbit Versa 3 hard to setup initially. With tons of features in order to work as both a smartwatch and a fitness tracker, newbies may be overwhelmed.
In order to quickly setup your Fitbit Versa 3, make sure that you have your phone or tablet with you as you need that to login to your Fitbit account or to create a new one. You also have to download and install the Fitbit app, if you haven't yet.
Once you have your Fitbit mobile app, make sure that you're logged in to your account. Then, in the account section, select Set up a Device to begin.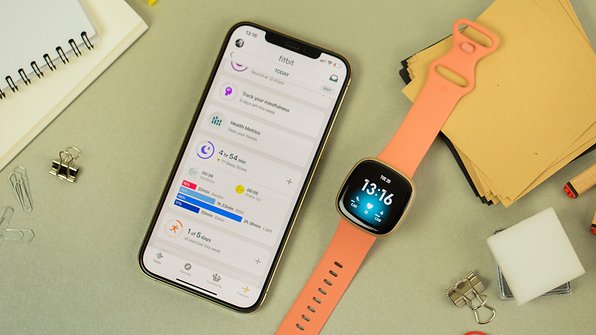 In the next page that shows up, select Fitbit Versa 3 from the list of devices and select Set Up. Read the ToU and the Fitbit Privacy Policy then hit I accept.
Afterwards, you will be asked to connect the watch to the magnetic charger. Once the connection is complete, continue with the setup process.
Once you get the 4-digit code on the watch, input that code into the Fitbit mobile app in your phone or tablet, then accept the Bluetooth pairing request.
Then, you want to connect your Fitbit Versa 3 to your home wifi so choose Next and select your wifi.
If an update is needed, download and install it afterwards.
A prompt for the microphone will pop-up so simply hit the Got it button.
At this point, you can decide whether or not you want to set up a voice assistant. For this one, you have two options: Google Assistant or Amazon Alexa.
The same thing for on-wrist calls so just take your pick and proceed. On-wrist calls are not available for iPhone users (only for Android users) so simply skip this part if you have an iOS device.
The final step is by activating your free Fitbit Premium membership. We recommend that you try it (it's free anyways) but should you want to avoid using the service, just hit the X button.
Fitbit Versa 3 Watch Faces
If you're fond of personalizing your Versa 3, you can visit the Fitbit App Gallery to pick your preferred Watch Faces. There are over 10000 Watch Faces in this gallery to choose from. Just open the Fitbit app and go to the Device Settings menu. Once you're in there, select the Clock Faces tile and make sure that you toggle All Clocks. You can keep a maximum of 5 Watch Faces in your Fitbit Versa 3 Clock app.
What are the Fitbit Versa 3 Smartwatch features?
As mentioned above, the Fitbit Versa 3 offers support to certain applications that are not related to fitness. These apps include Spotify, Deezer, Pandora, Fitbit Pay, and more.
Android users will find the Fitbit Versa 3 totally compatible because the system allows replies to texts and messages on the watch itself. Since this watch has a built-in microphone, it also lets users to send messages via its voice-to-texts feature. Personalized quick replies is also supported and can be sent via voice-to-text.
Fitbit Versa 3 has limited support for iPhone users because of Apple's restrictions blanketing its software ecosystem.
If you're planning on using a wireless headset to listen to music, Fitbit Versa 3 works on almost all products. It even supports Apple's iPods without a hitch.
If you opted to use Google Assistant or Amazon Alexa during the initial setup, your Fitbit Versa 3 should also allow you to communicate with either service in order to do things. Tasks that you normally let your voice assistants do at home can be performed on your Fitbit Versa 3.
You can add more apps like your favorite exercise app to your smartwatch by downloading them from the Fitbit App Gallery although the list is dramatically short compared to that of the apps that you can get for the Apple Watch. Popular apps on the Apple Watch such as Facebook Messenger, Evernote, Shazam, Runkeeper are missing in the Fitbit App Gallery.
Sleep Tracking
Although not a medical device, a lot of people use Fitbit devices for sleep tracking. As one of the best Fitbit devices out there, your Fitbit Versa 3 offers accurate sleep tracking capability just like the more expensive Fitbit Sense. Other smartwatches pale in comparison to the Fitbit Versa 3 in terms of providing more detailed data in sleep tracking.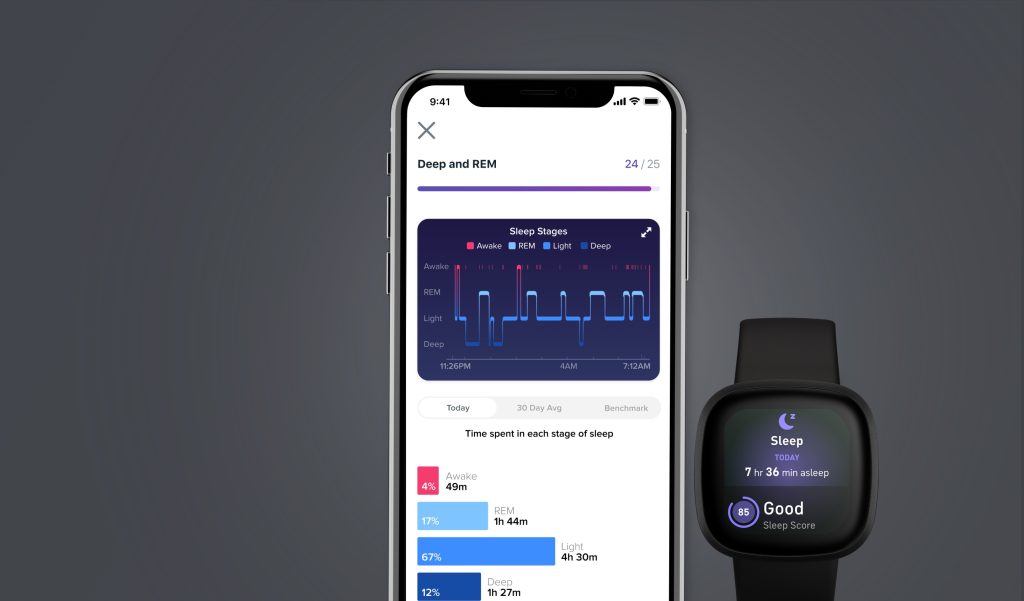 For example, the Fitbit Versa 3 shines in tracking the duration and type of your sleep (deep, light, REM or Rapid Eye Movement) which are basic to all health fitness trackers. On top of that, more detailed information are provided for blood oxygen levels, skin temperature during sleep, heart rate, breathing rate, and more. These additional data can be viewed readily once you wake up.
If you have an active Fitbit Premium subscription, more advanced metrics are provided to help you compare your sleep pattern with an average person, giving a helpful hint on where you might need to focus on to improve your health, like sleeping earlier than what you're currently use to at this time.
Is the Fitbit Versa 3 a good value for your money?
If you're looking for a fitness watch not named Apple Watch or Galaxy Watch with all the essentials and other advanced fitness health features, the Fitbit Versa 3 is an excellent choice. While the much hyped Fitbit Sense boasts of unproven features like ECG, the Fitbit Versa 3 already comes with a complete suite of useful health fitness features such as sleep tracking, GPS, optical heart rate sensor, Active Zone Minutes, and more.
On top of these, the Fitbit Versa comes with more smartwatch features as well. While the Fitbit ecosystem in terms of apps pale in comparison to the Apple Watch, the current crop of apps that most people need are more than enough.
With the recent slashing of price at $179.95, you can be assured that your pocket remains intact while calories burned for you.