Are you having an issue where Fitbit Versa 4 won't sync with your phone? If you do, you are not alone as there are other Fitbit users who are completely annoyed dealing with the same issue. Learn the different methods that you can apply in order to address the problem and for your new Fitbit Versa to sync properly on your phone.
What causes the Fitbit Versa 4 unable to sync?
There are various factors why Fitbit Versa 3 won't sync on your Android or iOS mobile. We have listed the most common reasons that lead to the Fitbit device not syncing issue.
Outdated Fitbit device or Fitbit app.
Bluetooth is disabled.
Outdated Android or iOS phone system.
Phone incompatible with Fitbit.
How to fix Fitbit Versa 4 won't sync issue
Listed below are some of the reliable solutions that you can apply in order to address the issue with Fitbit Versa 4 unable to sync with your phone.
Fix #1: Verify if your phone is compatible with Fitbit.
Fitbit is well-known for producing high-quality smartwatches that are generally compatible with the most widely used mobile devices. Installing the Fitbit app on devices running the latest operating system is recommended for optimal syncing and bug-free use of the Fitbit device. Make sure you're running iOS 14 or higher on your iOS device (iPhone, iPad). When it comes to Android, the Fitbit app requires version 8 or higher of Google's mobile operating system. You should know that some mobile devices running the recommended operating system still show incompatibility issues that prevent the Fitbit device and app from functioning as intended. If you own any of the following smartphones, you may visit the Fitbit website additional tips in fixing the issue with your Fitbit app:
Xiaomi Mi 6
Huawei P8 Lite
Huawei P9 Lite
Huawei P20 Lite
Fix #2: Close the Fitbit app completely.
If you're experiencing difficulties syncing your Fitbit Versa 4 smartwatch with your iPhone or Android device, try closing the app entirely and then relaunching it. Usually, this troubleshooting measure will fix any small issues that were preventing the Fitbit app from operating smoothly.
Fix #3: Restart your Fitbit Versa 4 and mobile device.
If your Fitbit tracker isn't syncing with your phone, one of the first things you should do is to restart the smartwatch. Most problems with other Fitbit trackers have been resolved using this simple method. It's possible that the Fitbit syncing problem is due to a glitch or a bug that may have developed in your smartwatch or phone.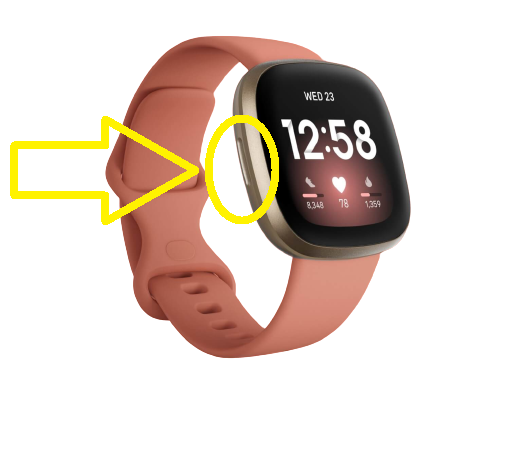 Press and hold the side button on your Fitbit device for at least 10 seconds.
Release the button until the Fitbit logo appears.
Open the Fitbit app and try to sync your Fitbit app to identify if the problem is now fixed.
Fix #4: Check your Bluetooth settings.
The Fitbit Versa 4, like other Fitbit devices, utilizes Bluetooth to communicate and sync data with the Fitbit app installed on your phone. That's why keeping your phone's Bluetooth switched on and the Fitbit device close by is essential. Make sure Bluetooth is enabled on your mobile device. If Bluetooth is already active and the syncing problems persist, try turning it off and on again. You may also want to disconnect any other Fitbit smartwatches that may be shown in the list of connected Bluetooth devices if there are any to avoid interference.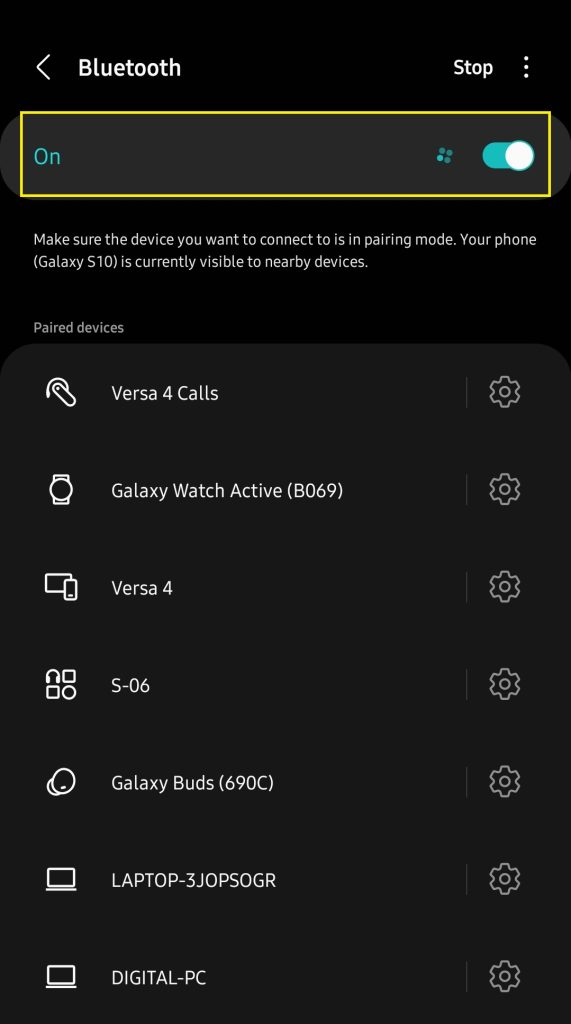 Fix #5: Avoid connecting the Fitbit Versa 4 to multiple Bluetooth devices.
The Fitbit Versa 4 is a fitness smartwatch that, like many others, can be connected to multiple gadgets at the same time through Bluetooth. With that being said, it is possible that the Fitbit device is transferring the data to the other mobile or tablet that is also nearby and presently linked to, rather than interacting with your phone. To make sure your Fitbit syncs with the correct phone, turn off the Bluetooth connection on the other device or avoid connecting your Fitbit to multiple devices.
Fix #6: Check for Fitbit updates.
Developers of the Fitbit wristwatch often provide updates designed to enhance the functionality of the watch's pre-existing apps, repair bugs, and add useful new capabilities for the device's users. In light of this, it is crucial that the Fitbit gadget be updated to the most recent version. A notification will be reflected on the Fitbit dashboard when an update is available. See below for instructions on how to check for and install the latest firmware update for your Fitbit gadget.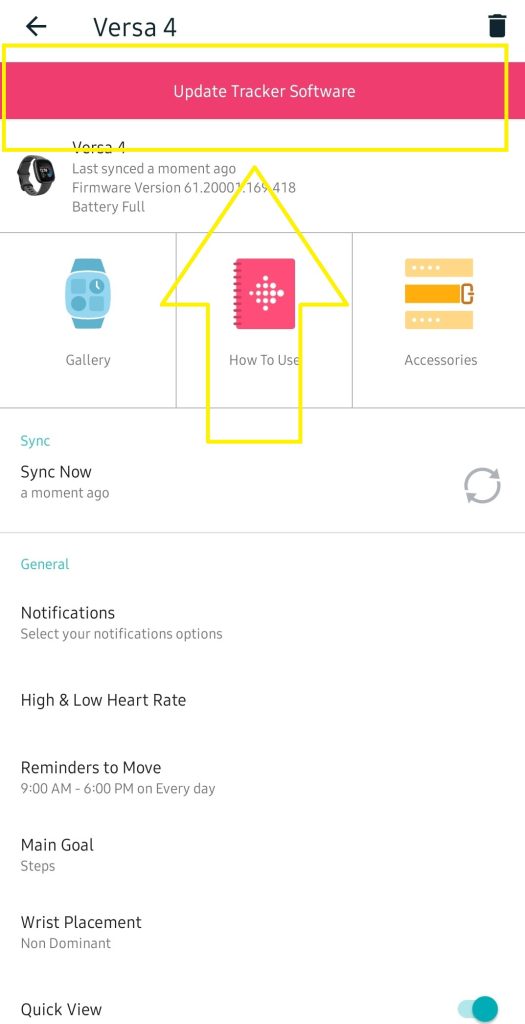 Connect your Fitbit to its charging port. Keep your phone and Fitbit gadget close by.
Open the Fitbit app
Login to your Fitbit account.
Tap the Today tab.
Tap your profile icon next.
Select the Versa 4 icon.
Tap the pink button labeled Update Tracker Software. Wait momentarily until the process is complete.
Try to sync your Fitbit device afterwards to check if the issue is now resolved.
Fix #7: Reinstall the Fitbit app.
If you are still not able to fix syncing issues encountered on your Fitbit device after the solutions above have been applied, try reinstalling the Fitbit app on your phone. Sometimes a fresh install is required as there might be an underlying issue that can't be resolved without removing the current application installed.
Fix #8: Pair the Fitbit device to your phone again.
If the Versa 4 won't sync data on your Fitbit account even after reinstalling the application, you may need to pair the smartwatch on your phone again. Follow the step by step instructions provided below.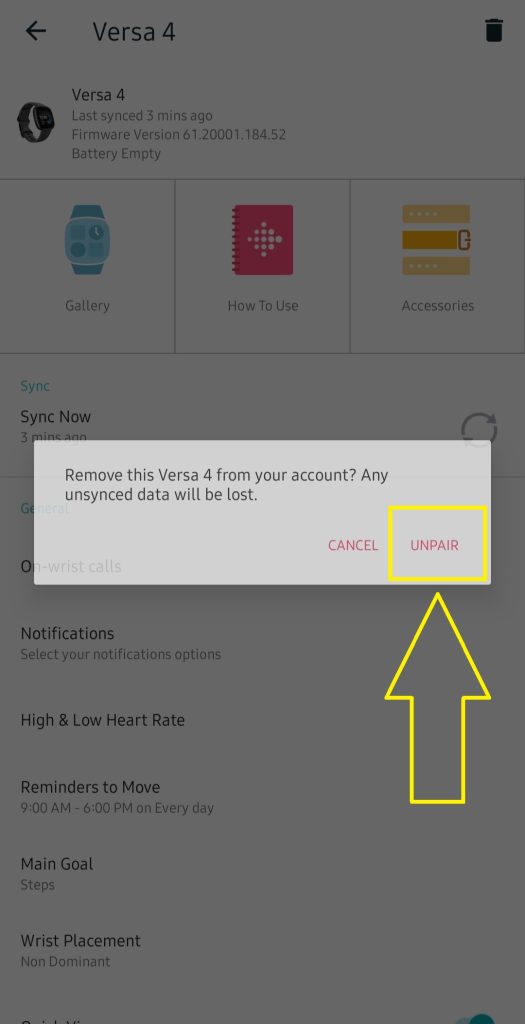 Unpair the Fitbit Versa 4
Open the Fitbit app on your phone.
Tap the Today tab.
Tap your profile picture.
Then tap the Versa 4 icon next.
Click the Remove button found on the top-right corner of your screen.
Select Unpair.
Pair Fitbit Versa 4 on your phone
Launch the app.
Login to your Fitbit account.
Tsp the Today tab.
Then tap your profile picture.
Select Set up a Device. Take note of the on-screen instructions to complete the pairing process.
Fix #9: Factory reset your Fitbit Versa 4.
If you still have problems syncing the data from your Versa 4 to the Fitbit app, try doing a factory reset. You should know that this is a fallback option if none of the other suggestions work. Keep in mind that if you choose to do a factory reset on your Fitbit, you will lose all of the data stored on the device and will not be able to get it back.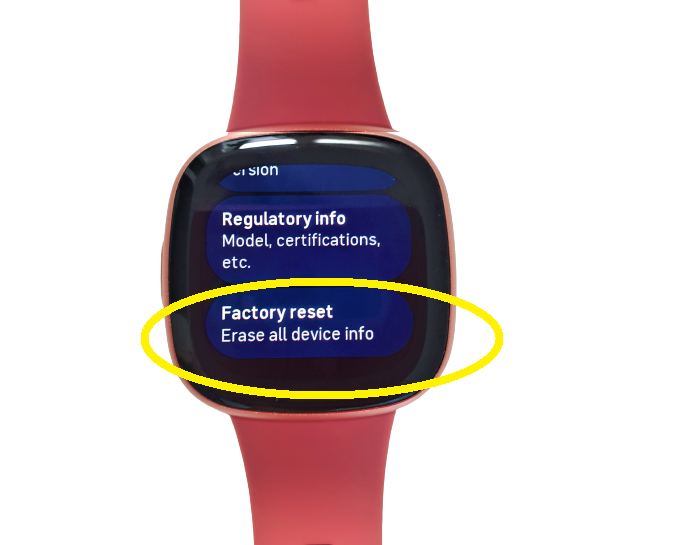 FAQs
Can Fitbit Versa 4 play music?

Fitbit no longer allows customers to transfer music from their personal computers to their smartwatches, but you may still listen to music with the help of the Deezer or Pandora app.

How can I repair my Fitbit Versa 4 that won't sync to my Android device?

Restarting the Fitbit smartwatch and your phone is one of the recommended solutions that you should try when dealing with syncing issues with your Fitbit device. There are also other methods mentioned in the above post that you may use to fix the problem.