After two years from the release of Versa 3, Fitbit has finally launched its new Fitbit Versa 4 alongside Fitbit Sense 2 and Fitbit Inspire 3 last September 22, 2022. The appearance of the latest Versa is almost identical to the previous one only it looks thinner, lightweight and the physical side button being added back. If you were able to get your hands with the new device and was not able to set up notifications on Fitbit Versa 4 yet, then this guide is for you.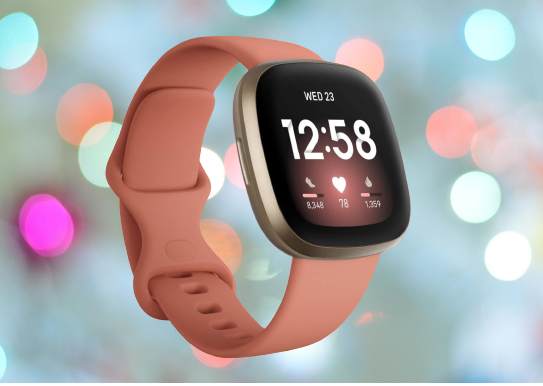 How to pair Fitbit Versa 4 on iPhone or Android phones
The latest Fitbit Versa 4 is compatible to be paired with Iphone, Ipads and Android smartphones through their Fitbit app. Refer to the following steps on how to pair the smartwatch to your phone.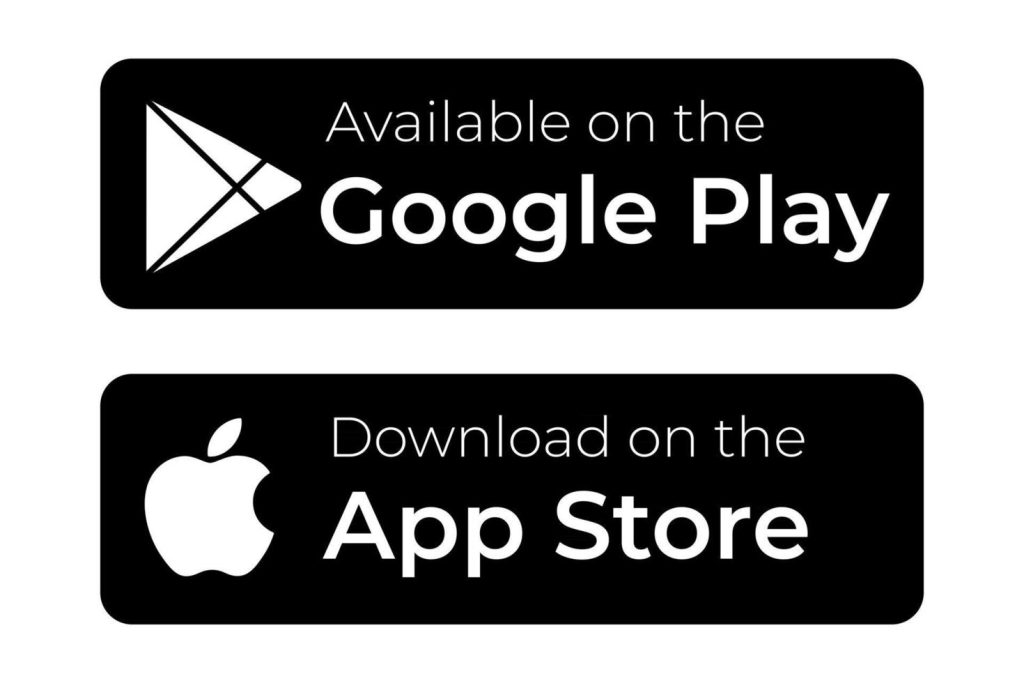 Install the latest version of the Fitbit app on your phone. Go to Apple App Store if you are using an iOS device and Google Play Store for Android devices.
Access the Fitbit app on your phone. Sign up or login to your Fitbit account if you have already created one for you.
Tap the Today icon found at the bottom left of the page.
Tap your profile picture next.
Select Set up a device.
Take note of the instructions on your screen to complete the process.
Things to remember before enabling the notifications on Fitbit Versa 4
Similar to the other older versions of Versa, you can receive Fitbit notifications such as calls, texts, calendar notifications, and apps from your phone. In order for this function to work properly, take note of the following information:
The phone must be within range with the Fitbit device (the phone must be at least within 30 feet).
The Do Not Disturb or Sleep mode feature must be disabled on your phone and Fitbit device.
Avoid connecting multiple Bluetooth devices on your Fitbit Versa 4.
The Fitbit device can store up to 30 notifications and the oldest ones are automatically deleted.
Ensure that the latest version of the Fitbit app is installed.
Updates on your phone's software must also be installed if available before you enable notifications from your phone.
Fitbit app needs to run in the background for the app notifications and other functions which will impact the battery life of your phone.
How to set up notifications on your Fitbit Versa 4
After linking your Fitbit to your mobile device, the next step is to configure alerts on your iOS or Android smartphone. While the instructions aren't quite straightforward, they're nonetheless simple to follow.
Set up notifications using an Android phone
Follow the steps below to configure Android to receive alerts from your associated Fitbit Versa 4 device.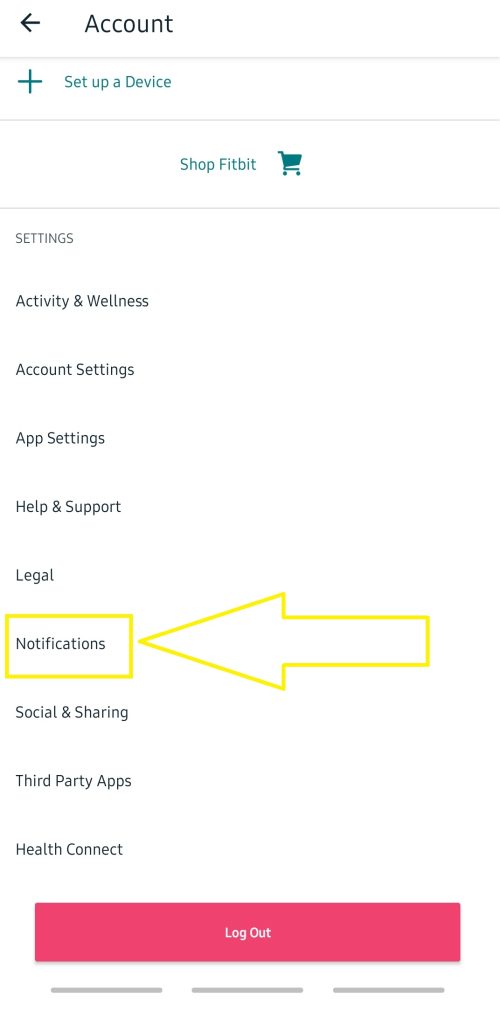 Get your Android device and access your phone settings.
Go to Connections. In the Bluetooth settings, ensure to turn on Bluetooth.
Tap Notifications next. Tap app notifications that you want to to be reflected on your Fitbit device and make the necessary adjustment. Take note that having your phone set up to accept calls, texts, upcoming events from your calendar, and other app notifications is necessary for those alerts to show up on your Fitbit device.
After you have properly set your app notifications on your phone, open the Fitbit app afterwards.
Tap the Today tab.
Tap your account icon.
Scroll down and tap Notifications.
Choose the apps you want notifications from.
Set up notifications using an iPhone device
There are only minor differences when setting notifications in the Android and iPhone mobile devices. Refer to the steps provided in order to begin receiving notifications on your Fitbit device.
Go to your iPhone settings.
Select Bluetooth. Click the icon beside your Fitbit device.
Enable Share System notifications. Restart your Fitbit Versa 4 In case you can't find the said option.
Go back to the main settings and select Notifications.
Set Show Previews to Always or When Unlocked.
For the app notification settings, choose the apps you want to receive notifications from and make the necessary changes.
Open the Fitbit app on your iPhone device.
Tap the Today tab.
Tap your account icon next.
Select Notifications.
In the Notifications section, enable Calls, Text Messages and Calendar Events in order to receive notifications from these apps.
Tap App Notifications, to choose apps that you want to receive notifications from.
How to turn off Notifications on your Fitbit Versa 4 device
If you discover that your Fitbit Versa 4 is disturbing your sleep with alerts, you may disable this function at any time. Turning off this function is a breeze; all it takes is a few simple clicks. Here's how: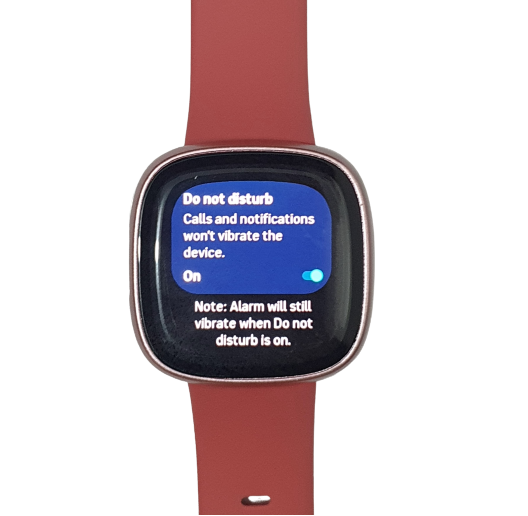 Get your Fitbit Versa 4.
Swipe down the clock face on your watch screen.
Go to Settings.
Scroll down and tap Quiet modes.
The easiest way to silence your device's notifications is to activate the Do Not Disturb or Sleep Mode feature.
You can also disable app notifications in the Fitbit app by going to the Notifications tab, then selecting the particular app from the list, then tapping the button to turn it off.
FAQs
Which is better between the Fitbit Versa 3 and Fitbit Sense 2?

When compared to other Fitbit smartwatches, the newest Fitbit Sense 2 is far and away the best option for consumers. Among its many useful sensors and trackers are an electrocardiogram (ECG) monitor, a skin-temperature sensor, and an EDA Scan app for managing stress. The Fitbit Sense 2 is more expensive than other Fitness watches from Fitbit since it has so many advanced capabilities.

Why am I not able to receive notifications on my Fitbit Versa 4?

Your inability to get app notifications on your Fitbit Versa 4 may be due to a few different things. Make sure the Bluetooth is activated on your phone first. Secondly, check your phone's settings to make sure they're adjusted. Last but not least, make sure that the Notifications settings on your Fitbit app are all set up properly. If you haven't finished establishing the settings for your Fitbit app on your phone, you may read about it in the page above.