💡Expertise🤔
We are the leading industry expert in Android and many other tech devices. We have been troubleshooting tech devices since 2011. Our website is dedicated to providing valuable guidance and solutions for resolving issues related to Android devices and more. With our deep understanding of how these devices work and our ability to quickly identify and resolve problems, users can rely on our website as a trusted resource for efficient troubleshooting assistance. Many of the troubleshooting topics come straight from users like you. Therefore, we get the most up-to-date and common questions users would see on their devices.
🔬Experience🔨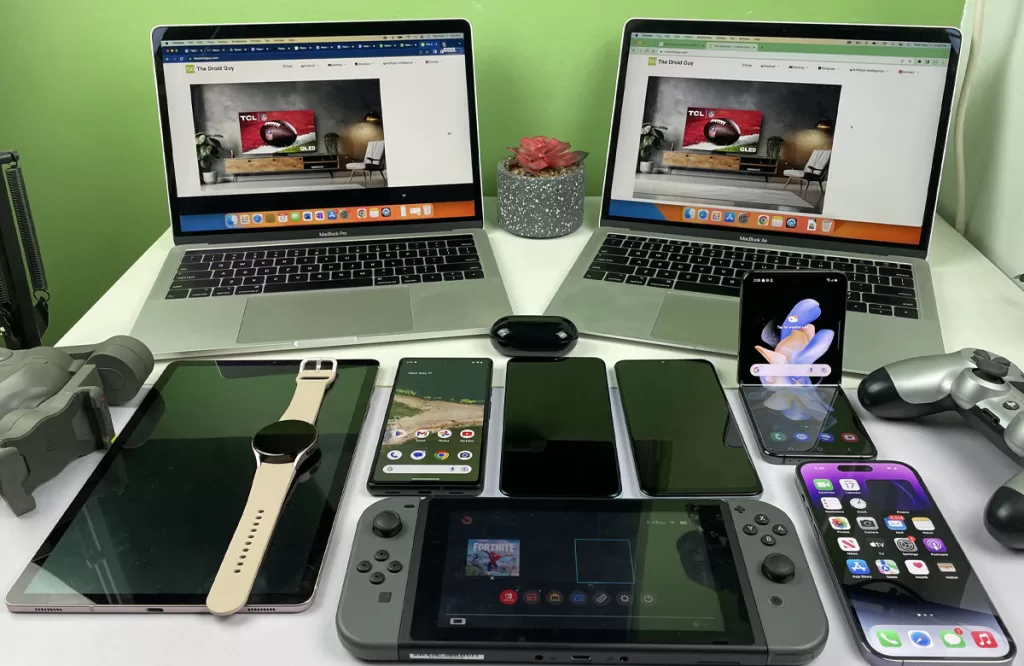 We not only talk about the tech devices, but we also demonstrate our experience by purchasing and owning the devices we discuss and showcase in our Step by Step tutorials you find in many articles and also in our YouTube tutorial videos and Youtube Gaming videos. This practice showcases our commitment to gaining hands-on knowledge and allows us to provide in-depth and unbiased reviews. By investing our own resources, we establish trust with our audience, as they see our dedication to delivering accurate and insightful information. Our approach to buying and owning the devices not only showcases our expertise but also enables us to provide valuable content that resonates with our viewers.
🥇Authoritativeness🏛
We have been featured on authority sites like Android Authority, Android Central, Techcrunch, Bloomberg, New York Times, and Business Insider.
These sites recognize and showcase our expertise, establishing us as a trusted and credible source of information. Being featured on these authoritative platforms not only amplifies our visibility but also affirms our position as industry leaders. It demonstrates that our content is valued and respected by renowned publications, solidifying our reputation as a reliable source for reliable insights and guidance. We take great pride in these features, which further bolster our commitment to maintaining a high standard of authoritativeness and delivering valuable content to our audience.
🤝Trustworthiness🔄
We prioritize the privacy and security of our users. By having a privacy policy, contact info, and HTTPS in place, we demonstrate our commitment to transparency, accountability, and data protection. Our privacy policy outlines how we handle user information, instilling confidence that their data is treated with utmost care and respect. The presence of contract info assures users that we have clear terms of service and are readily available for any inquiries or concerns. The implementation of HTTPS encryption ensures that all data transmitted between our website and users' browsers remains secure and confidential. These measures collectively showcase our dedication to establishing a trustworthy online environment where users can rely on us for reliable information and safe interactions.
Who We Are
Our mission is to be the first source you think of when you need to troubleshoot your tech device. We originally started as an Android-centric news and troubleshooting site. But we started noticing readers reaching out to us for Android troubleshooting queries, then expanded to general tech troubleshooting questions.
So we listened to our readers and started expanding to troubleshooting general tech devices that are common in your household.
We believe in the right to repair. Once you purchase a device, you should own the right to repair it. Some companies force their customers to take their devices back to their in-house customer care for inquiries, but what happens is they end up charging an exorbitant amount of money just to repair a device they purchased outright.
The Droid Guy lays out clear instructions for many of the common issues you will find in everyday tech devices.
If you have any general tech issues you need help with, please do not hesitate to reach out to us.
Our Team
Our guides are written by passionate technology experts. Most of our writers have been with the company for over a decade. Many started at call centers answering troubleshooting questions for Fortune 500 technology companies that you know well. We took that expertise and started publishing our own guides.
Our Writers
Harold has been in the tech industry since 2008, when he started out as a tech support for companies like Time Warner, Comcast, and Tracfone. He's been troubleshooting phones since the smartphone industry started booming.
During his tenure as a tech support, he's already been writing for various tech blogs, including Make Tech Easier, and was doing some freelance SEO work for an Australian news site, BigPond.
In 2012, he joined a small team of bloggers to write for The Droid Guy, and he has been with the company ever since.
Today, he doesn't only write tutorials and troubleshooting pieces but also shoots and edits videos for The Droid Guy channel while trading stocks on the side.
Chad has been in the tech industry since 2000. He has a degree in Electronics Engineering and is interested in the hardware and software side of technology.
Initially working for a Japanese semiconductor company as a Test Engineer for nearly ten years, he then pursued his passion for internet technology by working for the support team of Time Warner Cable, then finally joining TheDroidGuy as one of their troubleshooting and tech writers.
In his free time, he plays his favorite games on his PC, Xbox Series X, and Android phone.
Harvey's professional career began in publishing, but he recently made the switch to technical support.
His resume includes stints as a technical support representative at Microsoft, Google, Telstra, and Comcast, among others.
In 2015, he began his career as a technical writer for TheDroidguy, and he has remained with the company to this day. His duties include creating content for both the TheDroidGuy website and its YouTube channel, as well as writing and editing articles.
Editorial Guidelines
We have a strict policy to only publish that are fact-checked. How do we do this? We actually purchase the devices we write about. As you can see from our articles, we will refer to images and videos that we take ourselves. We are not aggregating bits and pieces of information from the internet; we dig in and explore the truth.
In rare cases where we are not able to get access to a device, we will make sure the information we put out there matches the consensus opinion for the topics.
We check our sources, and oftentimes, we are the source of information for our industry. We also update our articles as new information is made available.
We understand that accurate information is the key reason our readers come back to us and continue to refer to us for tech troubleshooting issues.
Contact Us
Business / Technology Inquiries:
George can be reached at GT (at) TheDroidGuy.com
Op-Ed/Technical writers:
Harold can be reached at Harold (at) TheDroidGuy.com
Chad can be reached at Chad (at) TheDroidGuy.com
Harvey can be reached at Harvey (at) TheDroidGuy.com
Write Us
Please direct your inquiries to the address below:
No.237, Zhongming South Road, West District, Taichung City 40361, Taiwan