Since the Samsung Galaxy S6 was released, we've received quite a lot of complaints from our readers who own the phone. Among the most common issues are power-related; device won't turn on, not charging, heating up, or stuck in boot loop. There are also cases wherein these problems started to show after a firmware update and that leaves us to think it might be the update that messed up the phone.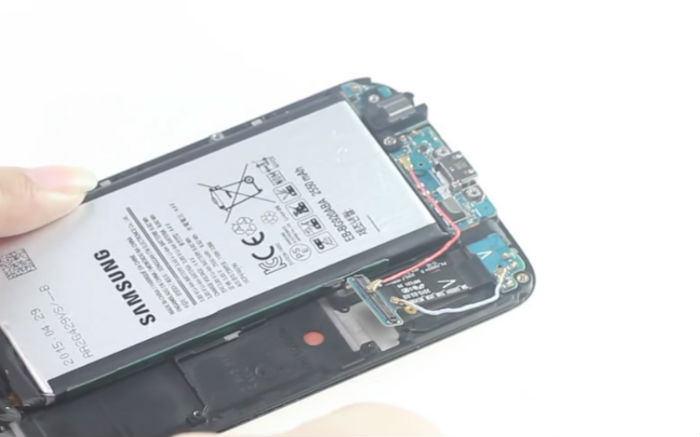 Frankly, we don't know the reason why the problem occurred that's why we need to do some basic troubleshooting so that even if we can't fix the problem, we can, at least, know what it's all about. We can then tell the tech more accurate info which is vital to having the phone work again perfectly.
In this post, I will tackle some charging related issues with the Galaxy S6. I hope that this guide can help you fix the problem with your phone. So, read on.
For those who are looking for a solution to a totally different issue, visit our troubleshooting page for we have already addressed hundreds of problems since we started supporting this device. Find issues that are the same or similar with yours and use the solutions and/or troubleshooting guides we suggested. If they don't work for you or if you need further assistance, then fill up our Android issues questionnaire and hit submit to contact us.
Galaxy S6 charges slow after an update
Problem: Hi guys! I have a problem with my Galaxy S6 because since it was updated to a higher Android version, it started to charge very slow. Before, it would only take an hour or two to charge it and fast charging isn't even at play at that pace. Today, I left it plugged in for 4 hours already and it's still on 85% and it's not moving up anymore. Not quite sure why this is happening so any help you can suggest would surely be appreciated. Thanks.
Troubleshooting: We have to look into some factors that might have something to do with the fact that your phone, which has an adaptive fast charging feature, is charging so slow to the point it can't even reach 100%. This kind of issue has always been common to Galaxy devices and we've received hundreds of similar complaints from our readers since we started providing support in 2012. In this case, here's what you need to do:
Step 1: Turn off your phone and charge it
When it comes to this problem, then turning off your phone and plugging it in to charge is the most practical as we will try to establish if the phone is still capable of fast charging. So, assuming you are using the original charger, observe your phone closely while charging to know if it charges as fast as before.
Powering down your device will make sure adaptive fast charging will work since a powered off device meets all the requirements so that fast charging will take effect. If the phone still charges slow even if it's turned off, then we can say it's suffering from a minor to serious hardware problem.
Step 2: Backup your data and reset your phone
Usually we would suggest to try and boot your phone in safe mode to see if third-party apps have something to do with the problem, then we would want you to wipe the cache partition considering the fact corrupt caches may also cause this issue but I don't want you to do that right now because, apparently, the phone isn't charging normally even if powered off. So, instead, I will ask you to backup all your files and data and then reset your device. This will rule out the possibility, once and for all, that the problem is with the firmware. I suggest you do the master reset which requires you to boot in recovery mode first, so you have to disable anti-theft first…
From the Home screen, tap Apps.

Tap Settings.

Tap Accounts.

Tap Google.

Tap the Google ID email address. Repeat for each Google email address.

Tap MORE.

Tap Remove account.

Tap REMOVE ACCOUNT to confirm.
After disable anti-theft, follow these steps to reset  your phone…
Turn off the device.

Press and hold the Volume Up and Home keys, then press and hold the Power key.

When the Samsung Galaxy S6 logo displays, release only the Power key

When the Android logo displays, release the Volume Up and Home keys. 'Installing system update' appears for 30 – 60 seconds, followed by the Android system recovery menu.

Press the Volume down key until 'wipe data / factory reset' is highlighted, then press the Power key.

Press the Volume down key until 'Yes — delete all user data' is highlighted, then press the Power key.

When the master reset is complete, 'Reboot system now' is highlighted.

Press the Power key to restart the phone.
Step 3: Seek professional assistance from a tech
After the reset, don't install anything on your phone yet. Instead, attempt to charge your device to know if it still charges slowly and if so, then you have no other choice but to send it in for checkup and repair, if needed.
I hope this helps.
Galaxy S6 normal charging switch was greyed out after the update
Problem: I have a Samsung Galaxy S6. Three days ago my phone did and update and that night I put my phone on the charger and went to bed. Much to my surprise, when I woke up in saw my phone have switched to a fast charge. I thought this was just something new since it did the update. The next morning the same thing happened. While I was looking at the screen saying it was fast charging, I hit the drop down menu on the lock screen and switched the fast charge off without unlocking my lock screen because I liked to slowly charge my phone over night. But my problem is now I have no idea how to enable it again. I looked all through my settings and even looked online where it said "go to settings, select battery settings, the click the box where it says enable fast charge." Problem is when I do that my phone doesn't have it and doesn't even show the option for fast charge in the battery settings. Can you help me?
Solution: As to the symptom that the device is showing now, it seems like the firmware of the phone was affected by the update that you did recently. Based on your description that the switch was gone or greyed out after after the upgrade there are several factors to consider that this issue is happening. Here are the possibilities that you need to consider that might triggered the problem:
There could be third-party apps prevent the system to function normally.

The normal charging feature might stop from running in the system.

The system caches had become obsolete and triggered the issue to occur.

The firmware itself was corrupted and the charging feature was affected.

A glitch in the system might triggered the issue.
So, to isolate such issue, here are the procedures that you should do:
Step 1: It might be a system glitch, perform force reboot
Usually, due to firmware update there is  a big chance that several services and processes crashed without apparent reason. Through force reboot all firmware will be refreshed and close all unnecessary services that affect on the system. To do so, press and hold the Power and Volume Down keys together for 10 seconds until the device boots up. However, if the issue still the same after the method you can proceed to the next step.
Step 2: Boot your phone in Safe mode
Booting your phone in safe mode is very important to figure it out if there's something to do with the downloaded applications you installed on your phone. So, while in this mode and the device is charging normally, then a third-party app caused the problem and you can uninstall each app until the issue is fix. These are the steps that you should do:
Press and hold the Volume Down and Power keys for 20 to 30 seconds.

Once you see the Samsung logo, release the Power key immediately but continue pressing the Volume Down key.

Your phone should continue booting up and you will be prompted to unlock your phone as usual.

You will know if the phone successfully booted in safe mode if the text "Safe mode" is displayed at the lower-left corner of the screen.
Step 3: The system cache may be corrupted
As the new system had been installed it's not far that the caches in the system will become obsolete and outdated. Although it may sometimes work after the update but most of the time it won't and that's one of the possibilities that several issues will occur. What we have to do now, is to delete the system caches in order for the device to create brand new caches that is compatible to the new system. Here are the steps that you should do to your phone:
Turn off the device.

Press and hold the following three buttons at the same time: Volume Up key, Home key, and Power key.

When the phone vibrates, release the Power key but continue to press and hold the Volume Up key and the Home key.

When the Android System Recovery screen appears, release the Volume Up and Home keys.

Press the Volume Down key to highlight 'wipe cache partition.'

Press the Power key to select.

When the wipe cache partition is complete, 'Reboot system now' is highlighted.

Press the Power key to restart the device.
But if the problem still persists after the procedure, it may be a serious firmware issue and you can proceed to the next method.
Step 4: The firmware might be corrupted, reset your phone
This procedure is very effective especially if it is just a firmware related issue. But take note, that in bringing back your phone to its default settings all files, data and applications you downloaded will be erased. So, before you proceed to the steps we recommend you to create a backup or transfer all of it to your SD card or to your computer. Here's how:
From the Home screen, tap Apps.

Tap Settings.

Under 'Personal,' tap Backup and reset.

If desired, tap the Back up my data slider to ON or OFF.

If desired, tap the Restore slider to ON or OFF.

Tap Factory data reset.

Tap Reset device.

If screen lock is enabled, enter PIN or password.

Tap Continue.

Tap Delete all.
Galaxy S6 no longer charges, charging signs show
Problem: Device is not charging at all tried different cables and different plugs. started yesterday and is now totally dead at 0%, when I plug it in. The Electric symbol shows up, the green light above the home button blinks, but the battery bar doesn't move or show that it is charging. When the screen is off and it's charging, the red light turns on, but it's still not charging.
Solution: There are two factors to consider why the issue is happening on your phone. It could be the device has hardware or software-related problem. As you mentioned that the LED is lighting up every time the device is connected to its charger, thus, there's electric current flowing through the components of your phone. In this instance, the first thing that you should do is to determine if the issue is not only caused by a minor glitch in the system through forced reboot procedure.
More often, it is because of several apps running in the system, there is a chance that the device will become sluggish and other services will be affected and will crash without apparent reason. However, after you finish performing the procedure and the issue persists, then it might be that the battery is defective or there are other factors that triggered it. You can bring your device to the nearest shop in your area and let the technician checked it for you.
CONNECT WITH US
We are always open to your problems, questions and suggestions, so feel free to contact us by filling up this form. We support every Android device available and we are serious in what we do. This is a free service we offer and we won't charge you a penny for it. But please note that we receive hundreds of emails every day and it's impossible for us to respond to every single one of them. But rest assured we read every message we receive. For those whom we've helped, please spread the word by sharing our posts to your friends or by simply liking our Facebook and Google+ page or follow us on Twitter.