The Galaxy A53 is one of Samsung's mid-range devices released in 2022. The company's A series line-up has been so solid ever since it started marketing those devices.
While they're apparently have lower hardware specifications compared to the flagship phones, they run on the latest Android and One UI versions giving you the feel of the high-end devices.
In fact, if you're in the market of phones that look like the S series that sports several of the features, then you'll probably take a look at the A series.
They have a sleek design, cool features and cheaper.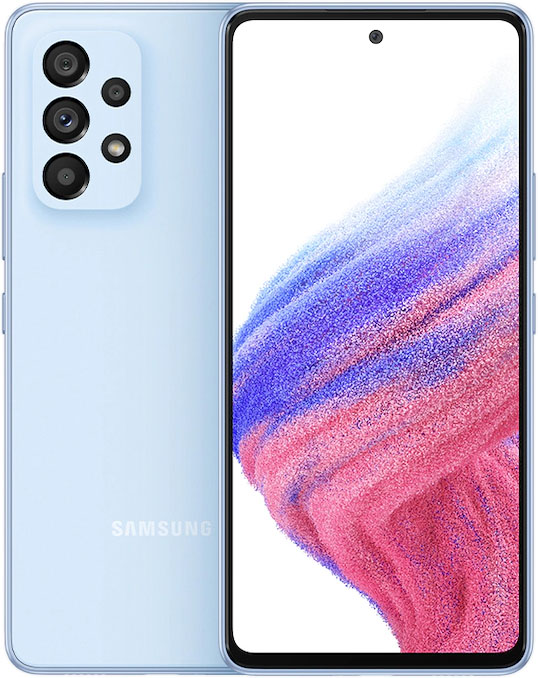 Features
FHD+ sAMOLED 120Hz Display
Wallpaper color phone theming
Gesture navigation
64MP OIS Camera
Always on display
2 Days Battery
Water & Dust Resistant
Reverse wireless charging
Lift to wake
5G Connectivity
Add camera modes
Shot suggestions
Specs
6.5in, Super AMOLED, 120Hz, 800 nits (HBM)
128GB 4GB RAM, 128GB 6GB RAM, 128GB 8GB RAM, 256GB 6GB RAM, 256GB 8GB RAM
Exynos 1280 (5 nm), Octa-core (2×2.4 GHz Cortex-A78 & 6×2.0 GHz Cortex-A55)
Li-Po 5000 mAh, non-removable
64 MP, f/1.8, 26mm (wide), 1/1.7X", 0.8µm, PDAF, OIS
12 MP, f/2.2, 123˚ (ultrawide), 1.12µm
5 MP, f/2.4, (macro)
5 MP, f/2.4, (depth)
32 MP, f/2.2, 26mm (wide), 1/2.8″, 0.8µm
Android 12 with One UI 4.1
IP67 dust/water resistant (up to 1m for 30 mins)
Should you buy a Galaxy A53?
Samsung knew that there's a big market in the entry-level and mid-range Android phones that's why it continues to make cheaper devices. If it can compete with Apple in the top-tier, it can definitely compete with other manufacturers in the lower market. And it appears like Samsung is actually winning the competition with its A Series.
This years line up is actually pretty impressive and the A53 5G alone will make you think if it's worth buying the expensive S Series or choose the A Series which also sports a lot of features you can find in the flagship.
If you can afford to buy the the flagship models, then you go for them. However, if your budget is the issue, then we recommend getting the Galaxy A53 5G.
If you're coming from an entry-level device and want to upgrade to a mid-range phone that almost look exactly like the premium models, then you will definitely appreciate this device.
Galaxy A53 Overview
The Galaxy A53 5G and all the other A Series were launched a few weeks after the launch of the S22. The shipment started on March 22nd and this Samsung's ways of dominating the mid-range market.
While the A Series doesn't get the same attention as the high-end models, a lot of users around the world are still expecting them. Samsung has been successful in the last few years marketing the A models because of their specs, performance and price range.
Galaxy A53 Price and Availability
They started shipping on March 22, 2022 and the A53 models were priced at $349.99 for the base variant and goes higher for variants that also have higher storage capacities.
So even if you buy the model with the highest storage capacity, the price will still be lower than the price of the base Galaxy S22.
The phone's display is actually bigger than the S22 at 6.5 inches with Super AMOLED screen capable of 120Hz refresh rate and 800 nits peak brightness. With a resolution of 1080 x 2400 pixels, 20:9 ratio, you will be getting around 405 PPI density. As for protection, the display panel is well-protected using the Corning Gorilla Glass 5.
It also runs on the latest Android 12 version with One UI 4.1 interface, which makes is look like the interface of the high-end models. All A53 5G models are built with Exynos 1280 (5 nm) chipset which runs on an Octa-core (2×2.4 GHz Cortex-A78 & 6×2.0 GHz Cortex-A55) process and Mali-G68 GPU.
It has a microSD card slot which is shared with a SIM card. You can choose from the following storage and RAM variants: 128GB 4GB RAM, 128GB 6GB RAM, 128GB 8GB RAM, 256GB 6GB RAM, 256GB 8GB RAM.
The Galaxy A53 5G has 4 back and 1 front-facing cameras and these are their specs:
64 MP, f/1.8, 26mm (wide), 1/1.7X", 0.8µm, PDAF, OIS
12 MP, f/2.2, 123˚ (ultrawide), 1.12µm
5 MP, f/2.4, (macro)
5 MP, f/2.4, (depth)
(selfie camera) 32 MP, f/2.2, 26mm (wide), 1/2.8″, 0.8µm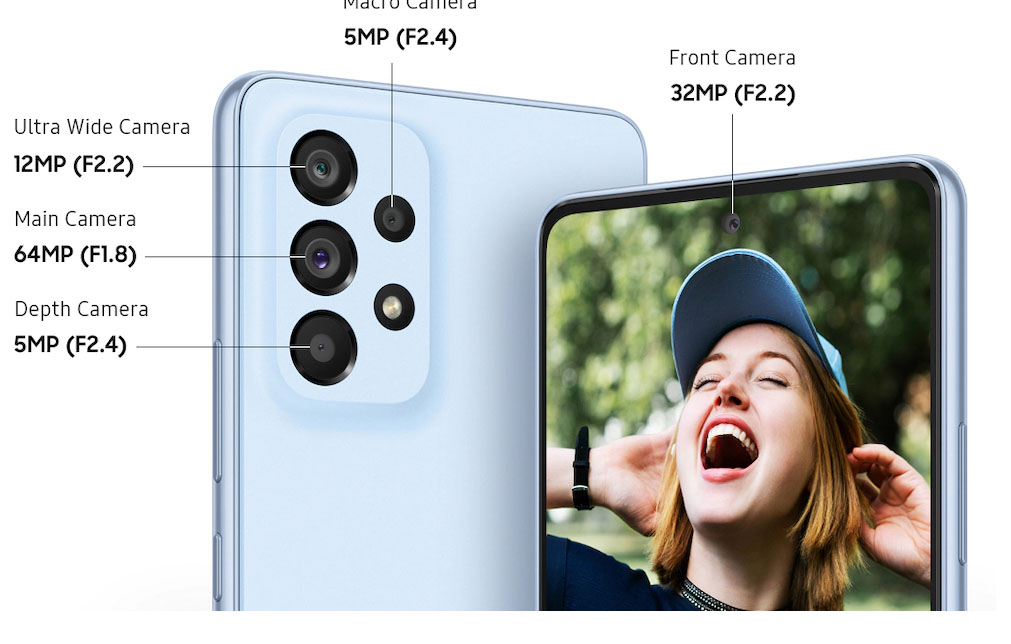 This device can last longer than the S Series as it has a 5000 mAh, non-removable Li-Po battery capable of 25-watt fast charging.
Galaxy A53 Reviews
All eyes are on the new S Series devices. There's always a pressure for Samsung to make sure its flagship devices pack all the good stuffs while its entry-level and mid-range phones will pack the "second best" hardware.
But even if that's true, the A Series are actually pretty ahead of the game against the other brands in the same market. The A53 5G might not be the cheapest of the mid-range devices out there, but it's best in its category.
In fact, it gets a lot of positive reviews from tech sites and vloggers. Phone Arena gave the phone a 9 out of 10 rating focusing more on the phone's performance and design.
CNet gave the A53 8.6 out of 10 rating saying that the maker's "lower-cost phone gets high-end features like a multilens camera, but with some trade-offs." It's one of the very few with a total of 5 camera sensors.
The Verge, on the other hand, gave the A53 a lower rating at 7 out of ten citing the lack of charger, cluttered interface and saturated camera colors being some of the things buyers should consider. But still, a 70% rating for smartphones nowadays is still pretty high. So the bottom line is that Galaxy A53 5G is still a success might gain more traction in the following months.
Galaxy A53 Issues
Battery issues
While the phone has a really huge battery, it doesn't mean it won't encounter battery problems. But most of the time, you might just experience heating problems especially when charging, which will slow down the charging process.
The trick is that if you don't need your phone to charge fast like you want to leave it connected to the charger overnight, then don't use the fast charging feature. Doing so will make sure that the phone won't overheat while charging.
The fast charging feature can be found under Battery and Device care menu. Just navigate to the Battery section and you can turn the fast charging feature off from there.
If the phone runs out of battery fast, make sure to close all the apps running in the background, make the screen a little dimmer, and disable unused services. But if there is indeed a widespread battery issue, you don't have to worry about it too much as Samsung will surely roll out an update to fix it.
Black screen, won't turn on
For units that are stuck on a black screen of death or those that won't turn on or respond anymore, most of the time, those issues are just due to a firmware crash. There's a lot of reasons why the system just stops responding but the most common cause is when the device runs out of resources to be used for other services and apps to run.
Time Needed : 3 minutes
To make your phone respond again, you simply have to do the forced restart, which simulates battery removal.
Press and hold the Volume Down button and the Power key together for 8 seconds or more

This will trigger your phone to shut down and power back up.


Once the Samsung logo appears, release both keys.

Allow the phone to continue the boot process.

You can also try connecting the phone to the charger and leave it as such for 10 minutes or so. Then do the forced restart while the phone is still connected to the charger. These procedures will often fix black screen issues provided that there are no obvious signs of physical or liquid damage.
Performance issues
When your phone starts to slow down in its performance or becomes sluggish, you can also attribute those issues to the apps or the firmware. Basically, what you need to do first is to close all apps running in the background, and then do the forced restart to refresh the memory. That will usually fix minor performance problem.
You can also try running your phone in safe mode to temporarily disable all third-party apps. After that, look for the apps that cause the problem and then uninstall them if necessary.
However, if the problem continues after that, try checking the storage and free up some space if you need to. Then try checking for a new firmware update and download it if there's one available.
You can also use the reset all settings command to bring all settings back to their factory settings without deleting any of your files and data. But if all else fails, then your next move will be to factory reset your phone. That will surely fix the performance problem you're experiencing.
Connection issues
Another problems you might encounter while using the Galaxy A53 5G are connection issues no matter the connection you're using.
For Wi-Fi users, you should just try rebooting your router and your phone and that will usually refresh the connection. Or you can forget the current connection your phone is using and have it reconnect to the network to have a new connection in place.
However, for mobile data users, then make sure that your account has enough credits or isn't barred from using the service. You need to check on that especially if your phone suddenly lost connection without apparent reason or cause.
Another procedure you should try if you have connection issues is the network settings reset. Doing so will reset all the network services on your phone and that doesn't erase any of your files and data. However, you will need to reconnect to the Wi-Fi network again to have a connection. But overall, doing the network reset will fix any network-related problem.
App crashes
App crashes are among the most annoying problems you might encounter here and there. Most of the time, the problem itself is with the app that keeps crashing, especially if it's a third-party application. However annoying they are, most of the time, they're pretty minor that a simple app restart or a phone reboot will fix them.
After all, if the app continues to crash even if its servers are all up and running and that your connection is fast, then you can always uninstall it and then download a fresh copy from the Play Store.
Design
If placed side-by-side with A51 and A52, you might find it difficult to distinguish the A53 simply because there isn't much difference between these devices, at least, externally. We understand that Samsung wouldn't want to spend so much time and resources designing its mid-range products so as not to overlap with its flagship phones.
But the fact is, the A53 can go toe-to-toe with Samsung's flagship phones from the previous year. While it's probably just a tired look, it doesn't need to get a whole lot of improvements and new designs because it actually looks better than its competitors.
The gentle slope leading to the camera island is a good one to break the monotony at the back of the phone. While the Galaxy A53 is mostly made of plastic, which includes the frame and the back, the finish is what makes it stand out among the rest of its competitors.
Size
The Galaxy A53 5G is slightly bigger for a one-hand operation. It has a dimension of 159.6 x 74.8 x 8.1 mm, which is slightly smaller than the A52s (159.9 x 75.1 x 8.4 mm) but bigger than the Galaxy S22 (146 x 70.6 x 7.6 mm). It weighs around 189 grams.
But despite its size, Samsung was able to fit in a bigger battery than the last year's model, which gives users more time to use their phones before committing them to a charger.
Color options
The Galaxy A53 5G is offered in four different colors, namely: Black, Blue, White and Peach.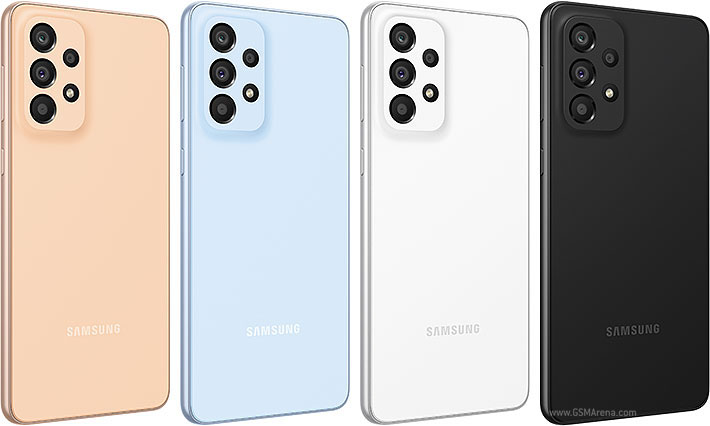 All models have glossy finish, although the back side might seem to appear a little bit flat or matte. And that means that the phone can attract fingerprint and smudges but can also be easily cleaned.
Water resistance
The Galaxy A53 5G has an Ingress Protection rating of 67 (IP67). It means that no ingress of dust can penetrate and phone and the water or liquid protection has a limitation of 1 meter deep for 30 minutes. You can submerge the phone in the pool not deeper than a meter to take some shots and it should still work properly after that.
Some tests conducted by vloggers reveal that the phone can actually withstand being submerged in water for a few hours but remember and the protection we're talking about is just due to the glue that holds the battery and the front and back covers to the frame.
If for some reason the integrity of the glue gets compromised, then the IP67 protection is useless. And all those limitations will decrease over time as the glue weakens.
Display
It has a 6.5-inch display panel that gives you a resolution of 1080 x 2400 pixels which results in around 405 PPI screen density. The big Super AMOLED screen is protected with Corning Gorilla Glass 5.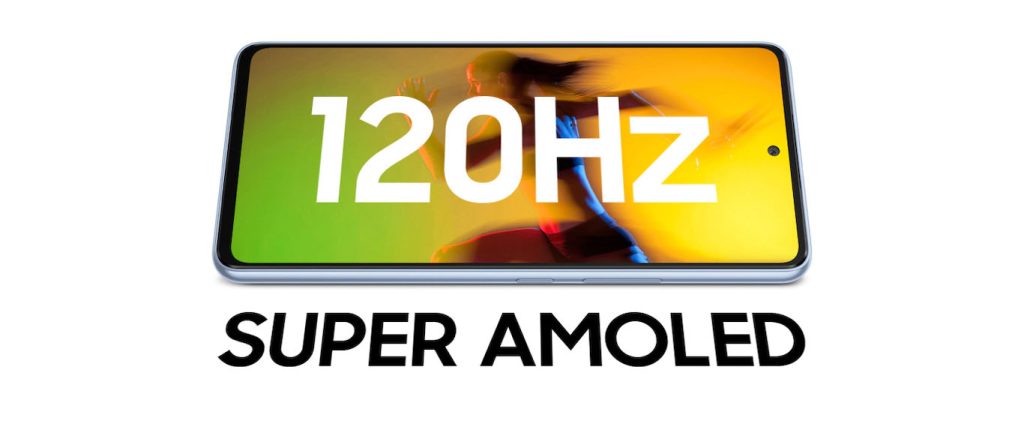 The picture might not be as crisp as that of the S22 but it's good enough for a mid-range phone that also offers 120Hz refresh rate. So you will surely notice how smooth the menu animations are when you scroll down or up.
Platform & Memory
It has been the tradition of Samsung to make its devices run the latest Android version with its updated user interface. So the Galaxy A53 5G runs Android 12 together with One UI 4.1 being the interface.
It packs the company's newest chip the Exynos 1280 (5 nm), an Octa-core (2×2.4 GHz Cortex-A78 & 6×2.0 GHz Cortex-A55) processor with Mali-G68 GPU.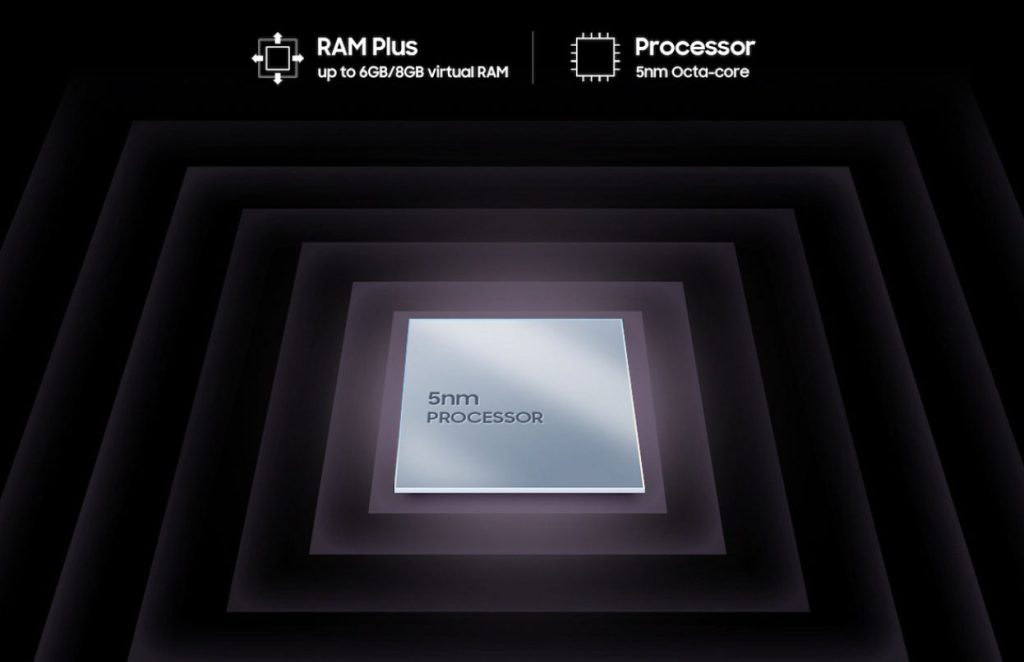 It has a microSDXC slot which shares with the SIM card. It's marketed with the following storage and RAM capacities:
128GB 4GB RAM
128GB 6GB RAM
128GB 8GB RAM
256GB 6GB RAM
256GB 8GB RAM
The price also varies depending on which variant you want to buy.
Cameras
The Galaxy A53 5G has 4 camera sensors at the back, namely;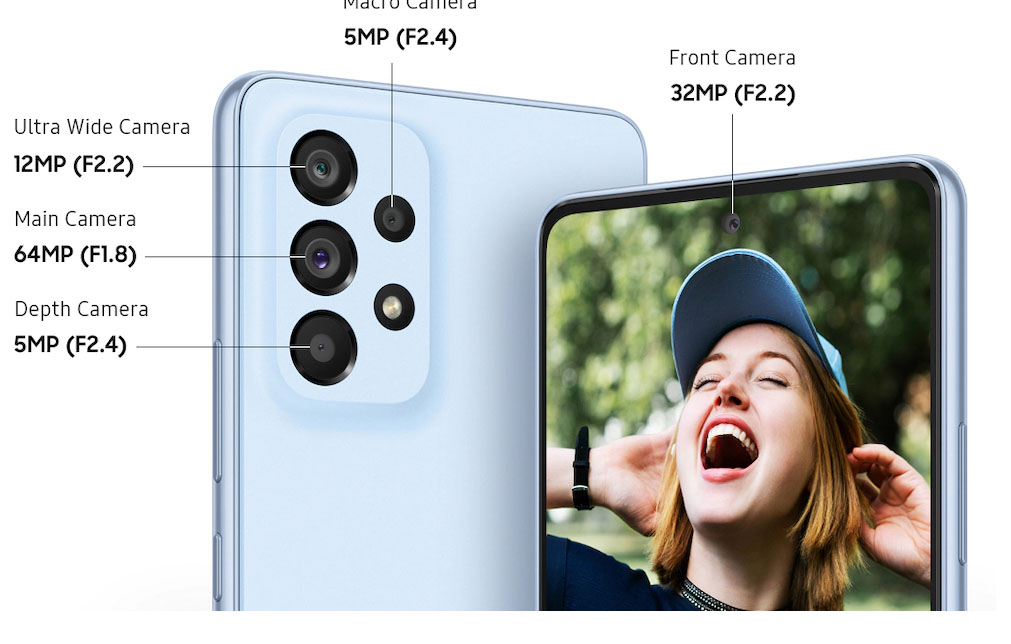 12 MP, f/2.2, 123˚ (ultrawide), 1.12µm – it's the first one from the top and it allows you to take a picture with wider perspective.
64 MP, f/1.8, 26mm (wide), 1/1.7X", 0.8µm, PDAF, OIS – it's the main camera and it's the second one from the top, which allows you to take crisper, highly detailed pictures.
5 MP, f/2.4, (depth) – this doesn't need high megapixels as it's supposed to blur the background.
5 MP, f/2.4, (macro) – if you're taking a picture of small things that are near your phone, then this sensor will do its job well.
32 MP, f/2.2, 26mm (wide), 1/2.8″, 0.8µm – the 32 megapixels will be more than enough to capture your best angles.
The back and front cameras are capable of recording 4K videos at 30fps but only the back camera can record 1080 videos at 60fps, the front-facing one is only capable of 30fps.
Battery life
Last years A52s only has 4500 mAh battery but the A53 5G has 5000 mAh, non-removable Li-Po battery capable of fast charging up to 25 watts. You literally won't need a charger for a couple of days, especially if you're not a gamer or a streamer.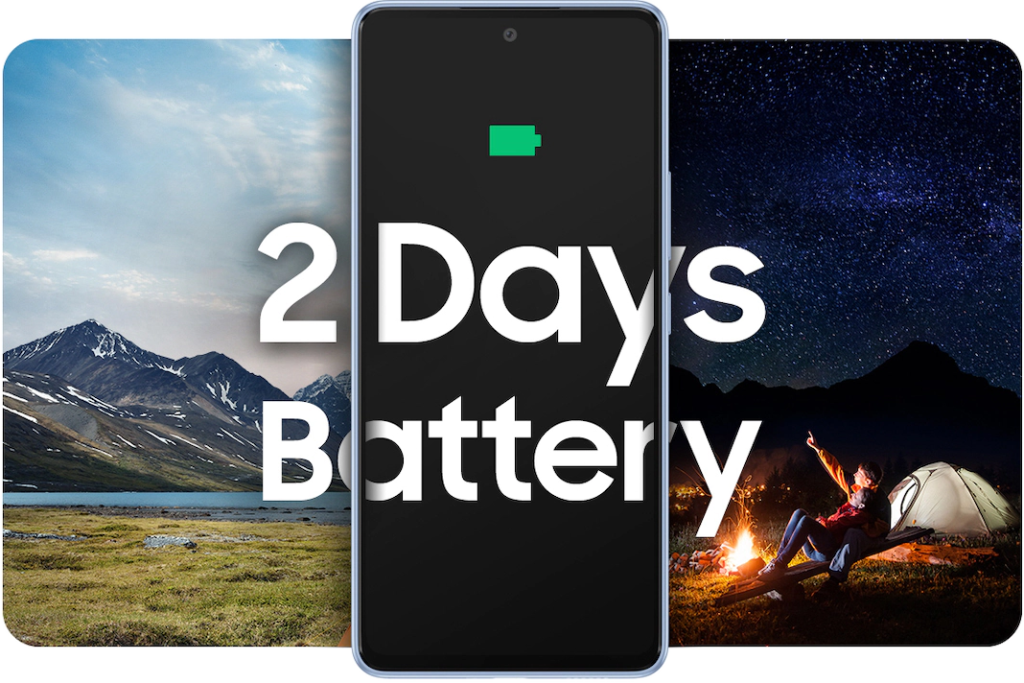 According to GSM Arena, the A53 has a 113-hour endurance rating, which gives you 32 hours of talk time over 3G, 12 hours of web browsing and 19 hours of video playback.
Samsung's Exynos 1280 is power efficient and it has improved its One UI to use less battery than before.
So if you decide to purchase one of these devices, you'll have in your hand a durable phone that gives you a couple of days of straight use.
5G Connectivity & Wi-Fi
Most of the devices in 2022 can connect to the 5G network and the same is true with the Galaxy A53. The 5G network allows users to browse the web with less wait time, watch or stream videos with less buffer and fast file downloads.
Opening web pages will be done in split seconds and you can watch videos at the highest resolution possible. But even though the phone is 5G-capable, it can still work with older networks like 4G, 3G and 2G with the following speed:
HSPA 42.2/5.76 Mbps
LTE-A (7CA) Cat20 2000/200 Mbps
5G (5+ Gbps DL)
It sports Wi-Fi 802.11 a/b/g/n/ac, dual-band capable of file transfer over Wi-Fi Direct. You can also share your internet connection through mobile hotspot.
Galaxy A53 5G FAQ's
What's IMEI?

It stands for International Mobile Equipment Identity, which is a unique identifier of your phone. All devices used for communication have their own unique IMEI.

Where do I find my phone's IMEI?

Launch Settings and navigate to About phone. You should be able to find the IMEI below your phone's serial number.
You can also dial *#06# via Phone app.
Latest posts