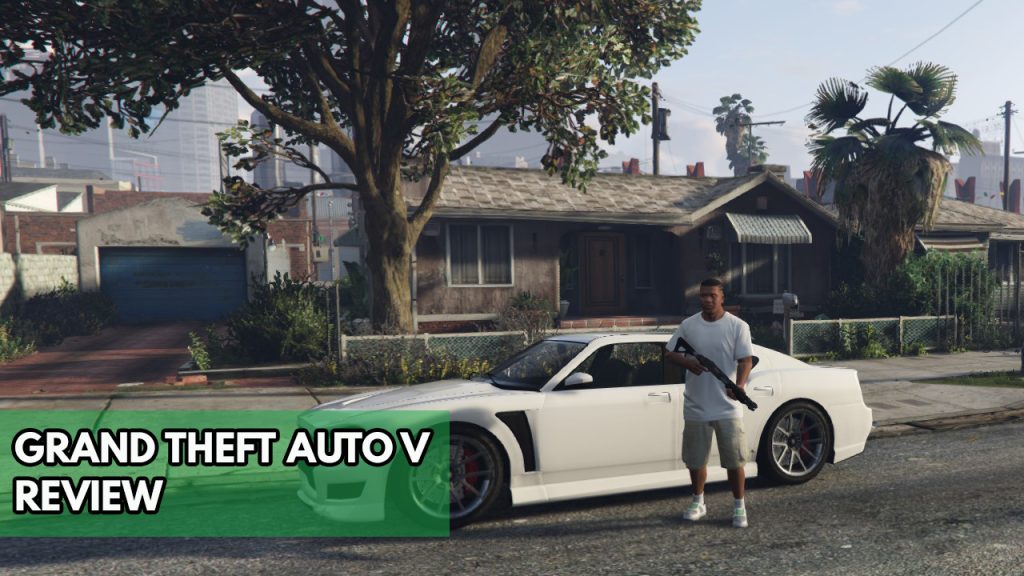 Grand Theft Auto V is a Rockstar North and Rockstar Games action-adventure game that is available for PlayStation 3, Xbox 360, PlayStation 4, Microsoft Windows and also available now for the current gen Xbox Series X/S and PlayStation 5. It is the seventh main installment in the Grand Theft Auto series, following Grand Theft Auto IV. The single-player story follows three lead characters bank robber Michael De Santa, street gangster Franklin Clinton, and drug dealer and gunrunner Trevor Philips—as they attempt to commit heists while under pressure from a corrupt government agency and powerful criminals in the fictional state of San Andreas, which is based on Southern California. Players can freely wander San Andreas' wide countryside and the fictitious city of Los Santos, which is modeled on Los Angeles, thanks to the open-world concept.
In this article we will give you a comprehensive Grand Theft Auto V Review, one of the best open world games available for many platforms.
Rockstar Games Grand Theft Auto V is one of the best open world games available?
One of the best games that you will ever play is GTA V, which may be played in either third-person or first-person mode, and the world can be explored on foot or by car. Up to 30 players can play Grand Theft Auto Online, the game's online multiplayer option, in a variety of cooperative and competitive game styles.
To progress through the game, players must accomplish missions, which are linear scenarios with certain objectives. Players are able to traverse the open world outside of assignments. The environment is substantially wider than previous entries in the series, consisting of the San Andreas open countryside area, which includes the fictional Blaine County, and the fictional metropolis of Los Santos. It may be fully explored immediately once the game begins, though plot progression unlocks further playable stuff.
In this open world game, players fight opponents with melee, weapons, and explosives, and can navigate the world via running, jumping, swimming, or driving. To accommodate the map's scale, the game incorporates vehicle types that were not present in the previous game, such as fixed-wing aircraft. Auto-aim and a cover mechanism can be employed against foes in combat. If players take damage, their health meter will gradually recover to halfway. Players resurrect at hospitals when their health runs out. Law enforcement agencies may respond if players commit crimes, as shown by a "wanted" meter . The meter's stars represent the current desired level (for example, at the maximum five-star level, police helicopters and SWAT teams swarm to lethally dispatch players). Players who leave the area will be tracked down by law enforcement. When players are hidden from the officers' line of sight that appears on the mini-map for a length of time, the meter enters a cool-down mode and gradually fades away.
Player takes control of the main characters Michael De Santa, Trevor Philips, and Franklin Clinton, three criminals whose tales intertwine as they perform missions in the single-player mode. Some tasks require only one character to finish, while others require two or three. Outside of missions, players can swap among characters at any time via the directional compass on the HUD, albeit this ability is limited at different periods in the tale. During missions, the game may transfer characters automatically to fulfill specified objectives. The compass avatar of a character will flash red if he is in danger and requires assistance, if he has advantage it will flash white.
Players can partake in situationally activities like scuba diving and BASE jumping while traversing the game environment, as well as visit businesses like movies and strip clubs. Every protagonist has a cellphone with which they may communicate with friends, initiate activities, and access the game's Internet. Players can use the Internet to trade equities on a stock exchange. Players can buy buildings like garages and shops, enhance their characters' weapons and cars, and customize their appearance with haircuts, tattoos, and clothing,
Grand Theft Auto V Story mode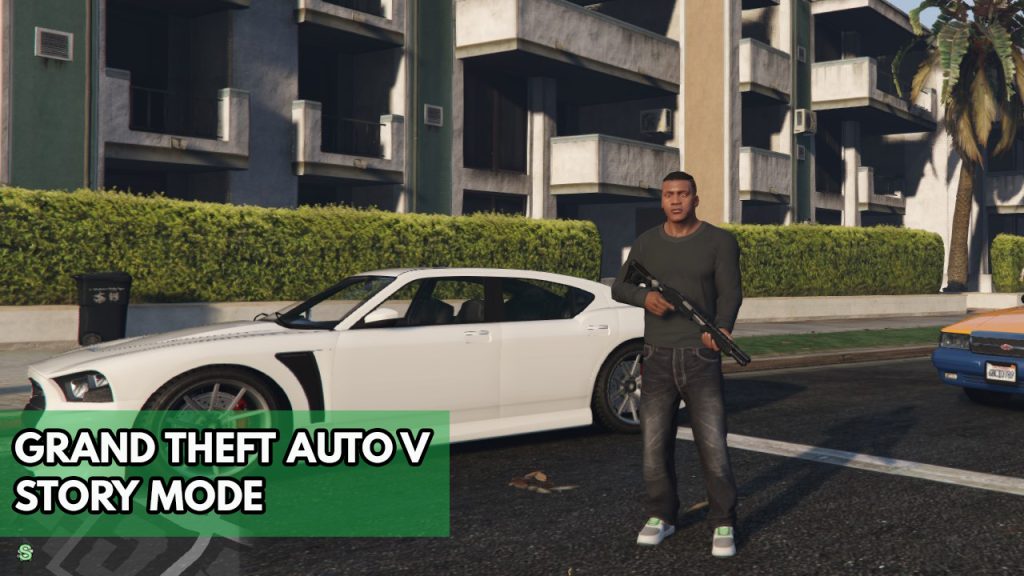 In Ludendorff, North Yankton, Michael Townley, Trevor Philips, and Brad Snider participate in a failed robbery, with the first being assumed killed. After making a secret arrangement with Federal Investigation Bureau agent Dave Norton to remain secret, Michael lives with his family in the city of Los Santos under the alias Michael De Santa. Franklin Clinton, a mobster who works for a crooked car salesperson, meets Michael while attempting to falsely repossess his son's car across town. Later on, the two become friends. When Michael discovers his wife having an affair with her tennis coach, he and Franklin pursue him to a mansion. Which he damages. The mansion's owner, drug lord Martin Madrazo, is seeking reparations. To get the money, Michael returns to a life of crime, enlisting Franklin's help. They raid a jewelry store to pay off the debt with the help of Michael's old pal Lester Crest, a crippled hacker. Meanwhile, Trevor, who lives in misery on the outskirts of Los Santos, hears about the theft and realizes it was Michael's plan; Trevor had assumed Michael had been killed in the Ludendorff heist. Trevor tracks down Michael and brings him back into his life, leading Michael to reluctantly accept him back into his life. The story mode of GTA V is a well written story that you will still enjoy playing the game even without playing the multiplayer mode. Below are latest reviews for online mode.
Grand Theft Auto V Online Mode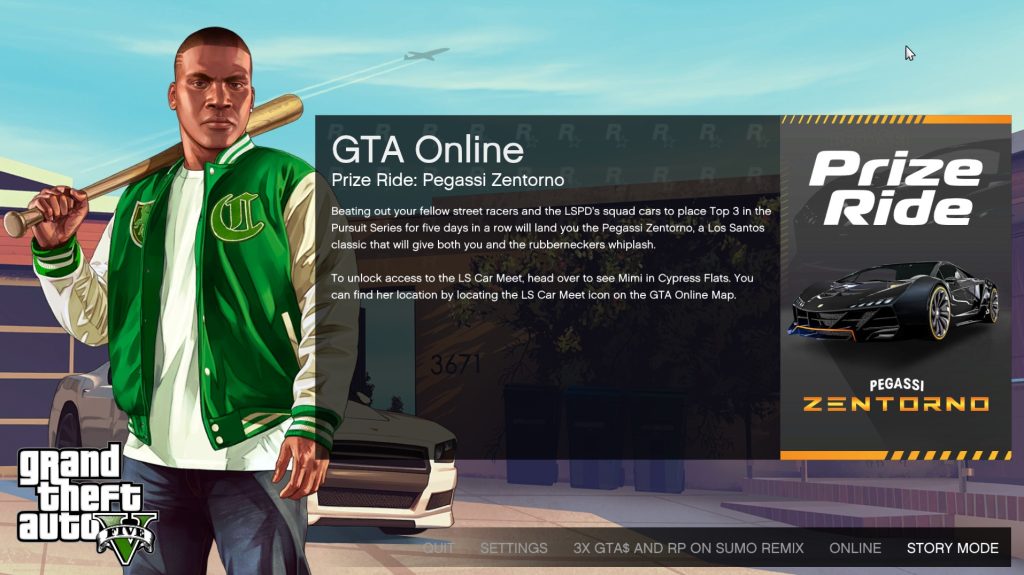 The Grand Theft Auto Online was made in conjunction with the single-player mode as a different experience to be played in a constantly expanding universe. Up to 30 players can freely travel the game environment and enter lobbies to complete jobs. Players can form crews, which are organized groups of players who work together to fulfill tasks. Players can form their own crews of up to five people. Crews earn experience points and climb online leaderboards by winning multiplayer matches.
Many players reported connection issues and game freezes during load screens when Grand Theft Auto Online launched two weeks after GTA V. Rockstar released a technical patch to address the issues, but problems persisted the second week after launch, with some players reporting that their character progress had suddenly disappeared. A new technical patch was issued to address the problems, and Rockstar compensated all players who had been connected to Online from its inception with a $500,000 in-game money. Many reviewers regretted their Grand Theft Auto Online experience due to significant technical faults at launch, but most praised its open-ended exploration and dynamic material as highlights.
Grand Theft Auto Online has regular updates, which introduce new content. Others include themed gameplay content and the much-anticipated Online Heists update. Some gamers claimed that they were barred from Grand Theft Auto Online after utilizing field of vision and cosmetic mods in single-player after the game's PC version release. Nobody has been banned from Online for using single-player mods, according to Rockstar's official site, although recent PC patches have had the "unintentional effect" of rendering such mods unusable. Mods are unauthorized, according to them, and can lead to unanticipated technical issues and instabilities.
GTA V Online Title Update
Rockstar Games will provide Title Updates, commonly known as Patches, on a regular basis to address problems, glitches, and vulnerabilities found in Grand Theft Auto V and GTA Online that have been reported by the public or discovered by Rockstar Games. This typically improves and make the game feel smoother, one of the best patch is the load times update which makes it have faster load times. To make a best version of GTA V the game is regularly updated which is a welcomed improvement.
DLC updates will include new content in certain title updates. DLC upgrades can include everything from new outfits and vehicles to new game modes and features. Here are the currently available title updates for GTA V:
The Contract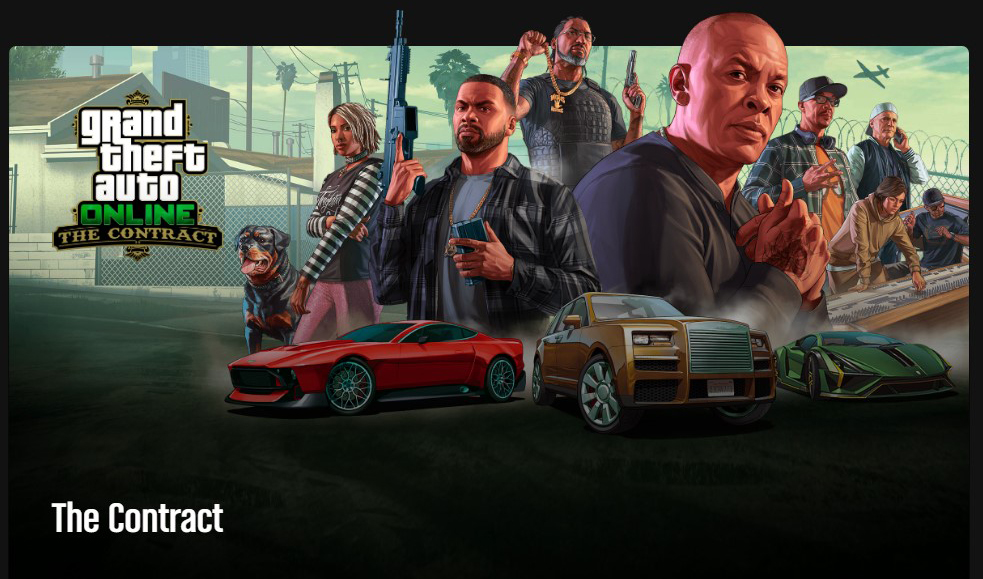 In GTA Online: The Contract, join forces with one of Los Santos' most famous hustlers and his associates in an all-new adventure for solitary gamers and groups that features the return of protagonist Franklin Clinton, manager of F. Clinton & Partner, a "celebrity solutions agency" ready to solve the unique difficulties that plague the high rollers.
You'll be working alongside new and old faces in the Agency, including Franklin's longtime friend Lamar Davis, his faithful sidekick Chop, and the Agency's elite in-house hacker Imani. You'll also assist Dr. Dre in solving a high-stakes theft in the Agency's first A-List client contract.
Dr. Dre's stolen phone is the talk of the town, word on the street is that the phone is loaded with never-before-heard music from Dr. Dre's unreleased work, which you'll need to track down before it leaks to the public. This has the potential to make or ruin your Agency, and you'll be the one who has to deal with it.
As you progress through the investigation, you'll find additional songs from the six-time Grammy Award-winning hip-hop legend, all of which are available only in this major GTA Online update.
Players will also get a behind-the-scenes peek at Dr. Dre at work at Record A Studios, a new music studio where you can hang out with him and a special guest artist, relax, and learn about the hit-making process.
Los Santos Tuners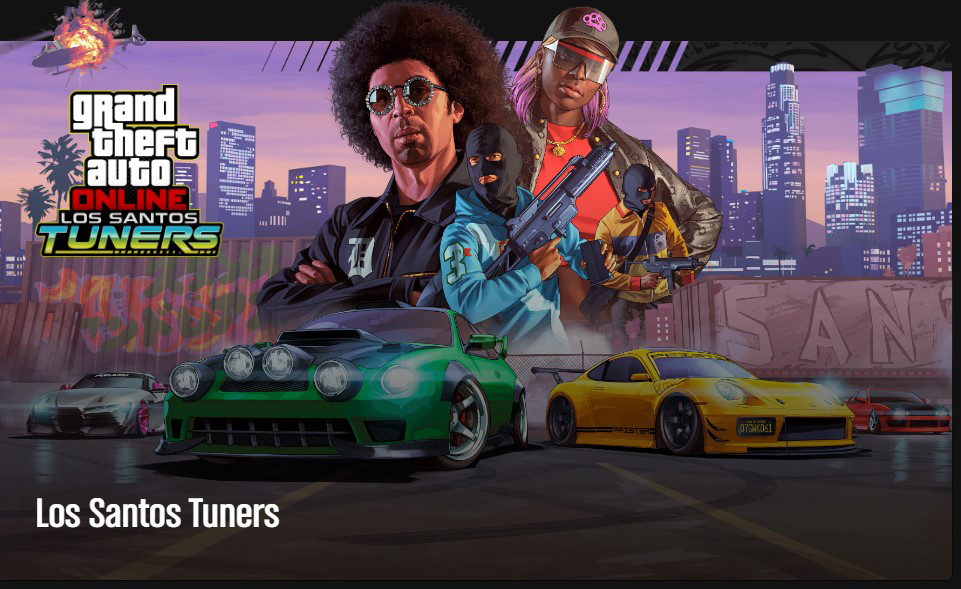 Los Santos Tuners brings an action-packed update for all GTA Online fans, including the LS Car Meet, a club and social place for players to gather together and show off their customized personal vehicles, test new cars with friends on a private track, watch others mod their cars in real time, and more player-requested features, as well as 10 new highly customizable cars in a variety of tuner-inspired styles, a new Auto Shop property, six spectacular new robbery-style Contracts, and many new QOL updates.
Mimi conducts the LS Car Meet out of a run-down warehouse in Cypress Flats. You may become a member for a cool $50,000 and have access to hundreds of ranks of unlocked clothes, new race types, new wheels and liveries, Trade Prices, and special connections for help with final Contract work.
You'll also have access to the Test Track, where you can test the limits of your own car or one of the three Test Ride cars. You can try out the Karin Calico GTF, Annis Euros, and a hands-on preview of the Pfister Comet S2, which will be available next week at Legendary Motorsport.
Members also have access to six new types of Races, a shared Mod Shop for customizing your vehicles while watching others do so, the Merch Shop, and the Prize Ride, which is your opportunity to win the vehicle atop the Vapid Slamtruck through weekly Challenges.
The Cayo Perico Heist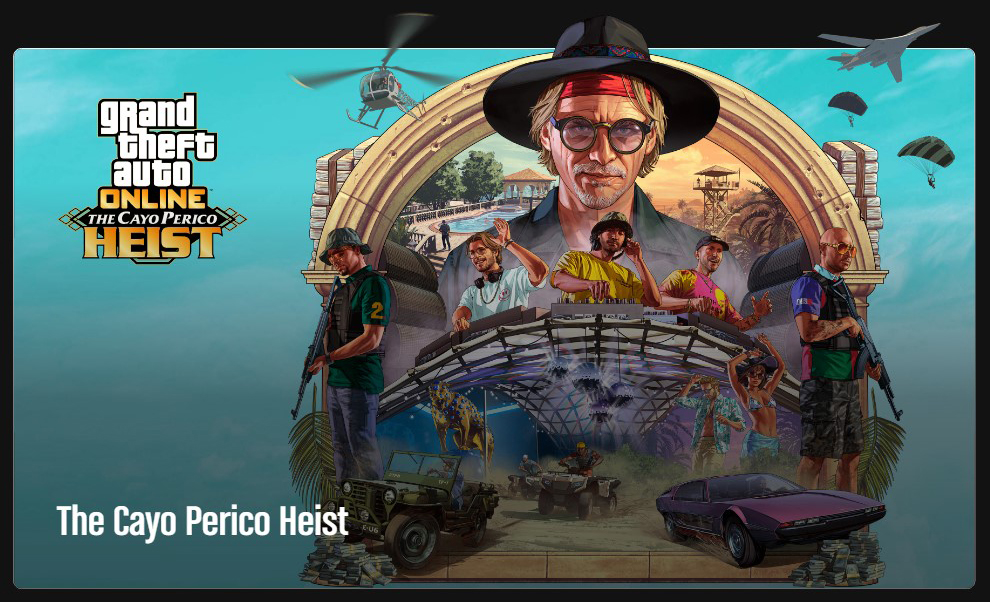 Discover dozens of ways to infiltrate and steal a brand-new location for the ultimate score, whether you play as a lone operator or with up to three other people. Your voyage begins with a meeting with a new acquaintance made at the newest addition to the nightlife scene.
Miguel Madrazo, Martin and Patricia's club-rat son and heir to the family's wealth, is someone you're guaranteed to meet in The Music Locker's ultra-exclusive VIP section. Miguel would do anything to protect the family's "brand," as he is prone to telling anyone within hearing distance.
The Madrazo crime family appears to be at odds with El Rubio, so they're seeking for an experienced raider to break into his near-impenetrable castle, outmaneuver high-priced guards and high-tech security, and steal some vital files.
Miguel has a seat on a private jet going for Cayo Perico, full with DJs – here is your chance to enter and scout one of the most safe strongholds money can buy. When you arrive, slink away from the party to find the file storage complex. While avoiding armed guards and security cameras, keep an eye out for any potential security gaps, such as concealed entrances, exit points, or other security faults. Maintain a low profile while gathering as much information as possible to improve your chances of success when the time comes.
After you've gathered all of the essential equipment, you can chose to do as much (or as little) set-up and preparation as you wish, but keep in mind that your choices will influence how the action unfolds. You should put in the time ahead of time if you intend to send in an airstrike or use a cutting torch to burn through steel beams.
You can also take advantage of additional chances, such as breaking into storage lockers to raid concealed stashes of cash and contraband to boost your bottom line and fatten your take.
The Cayo Perico Heist is the first Heist in which you can complete the entire game by yourself or partner up with a Heist crew for support. Break and destroy Cayo Perico however you like.
The Diamond Casino & Resort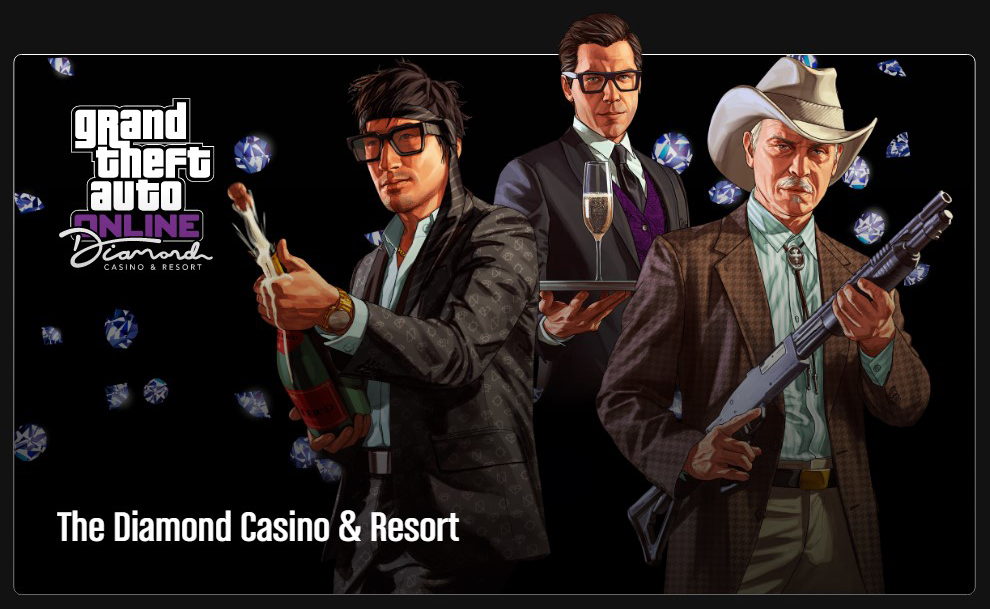 The Diamond Casino & Resort, a large entertainment and luxury housing facility conveniently located in Vinewood and open to all people of Southern San Andreas, has opened its doors today. Whether you're gathering with friends for a variety of activities or seeking peace of mind in your own own Penthouse Spa, The Diamond is here to pamper you.
There are activities for everyone on the Casino floor. Play against the house with Chips, or try your luck at Roulette, Blackjack, and Three Card Poker, or take a seat at one of the Slot Machines, which will reward you with Chips and a variety of special rewards, including exclusive clothes. Inside Track is a daily free-to-spin activity with a variety of incentives ranging from GTA$, exclusive discounts, and clothing items to a changing weekly selection of high-end vehicles on display on the lobby podium, where you may cheer on your favorite horse with friends.
The Diamond Casino & Resort's standard membership is GTA$500 and includes a welcome gift of 5,000 Chips as well as access to the Casino's various amenities and events, including Valet Parking. Visitors to The Diamond (including Members) can receive a daily visiting bonus of 1,000 Chips redeemable at the cashier.
All Penthouses include VIP Memberships, which provide benefits such as complimentary Valet, Champagne, and Limousine Services, as well as Aircraft Concierge and access to High Limit tables and VIP Lounges. In Freemode, you'll also get access to additional cooperative missions and a variety of Casino Work to complete.
Tao Cheng and the rest of the Diamond team are in big trouble. Assist Head of Operations Agatha Baker and Cheng in protecting The Diamond from a hostile takeover by the Duggans, a ruthless Texan petrochemical family looking to expand their business through any means possible. Step out of the infinity pool and into a brand-new story told through action-packed missions for 2-4 players. In The Diamond Casino Heist, pull off the most clever and daring robbery the city has ever seen.
GTA Game Known Issues and Solution
Players who played GTA V may encounter issues especially with the Microsoft Windows platform, the first thing you should do if you're having issues is to check the game's minimum and recommended system requirements if your computer meet the system requirements to avoid any problems.
Minimum System Requirements
OS: Windows 10 64 Bit, Windows 8.1 64 Bit, Windows 8 64 Bit, Windows 7 64 Bit Service Pack 1
Processor: Intel Core 2 Quad CPU Q6600 @ 2.40GHz (4 CPUs) / AMD Phenom 9850 Quad-Core Processor (4 CPUs) @ 2.5GHz
Memory: 4 GB RAM
Graphics: NVIDIA 9800 GT 1GB / AMD HD 4870 1GB (DX 10, 10.1, 11)
Storage: 72 GB available space
Sound Card: 100% DirectX 10 compatible
Recommended System Requirements
OS: Windows 10 64 Bit, Windows 8.1 64 Bit, Windows 8 64 Bit, Windows 7 64 Bit Service Pack 1
Processor: Intel Core i5 3470 @ 3.2GHz (4 CPUs) / AMD X8 FX-8350 @ 4GHz (8 CPUs)
Memory: 8 GB RAM
Graphics: NVIDIA GTX 660 2GB / AMD HD 7870 2GB
Storage: 72 GB available space
Sound Card: 100% DirectX 10 compatible
Issue #1 Keeps Crashing
There are several factors that can cause the keeps crashing issue in Windows . Sometimes it can be caused by an outdated game software, graphics driver, or even Windows software. One of the problems that you might encounter when playing this game is when it crashes. Here's what you need to do to fix this.
Updating graphics card
Simply type Device Manager in the search bar on your desktop and then click the Device Manager icon that appears in the results. This will open the device manager.
Click the Display adapters icon. The list of display adapters will be expanded.
Right-click the dedicated graphics card you are using to play the game and then select Update driver. This will allow you to update your driver.
Choose Search automatically for drivers.
Update operating system
Click the Start button.
Click Settings.
Click Update & Security.
Click Windows Update.
Click check for updates. If an update is available then it will be automatically downloaded and installed.
Issue #2 Voice chat not working
Voice Chat difficulties may occur from time to time for some players. While most people have a stable in-game talking capability, not everyone has the same configuration, software environment, or devices when playing this quality game.
Checking mic settings on your PC
At the lower portion of the screen, right click on the speaker icon and select Open Sound settings.
In the Input section, make sure that your microphone is selected.
Click on the Device Properties link.
Make sure that the Disable box is NOT checked.
Move the Volume slider all the way to 100.
Click on Start test and see if your microphone is now working.
Check in-game voice chat settings
If turning on and off the Voice Chat feature didn't work, the next step is to double-check all of GTA 5's Voice Chat settings. You must go to Settings then Voice Chat . Once you're at the Voice Chat settings screen, go over each of the options to make sure they're all set correctly.
Listening and Talking are the two sections of the Voice Chat settings. The first concerns your audio output settings, while the second concerns your microphone settings. Make sure that the selections in each of these sections are right. For instance, you want to make sure that the Input Device line displays the correct microphone device.
Issue #3 Won't launch issue
If you're playing the game on your Windows PC and it won't launch or takes more than three minutes to load, you're probably experiencing the GTA 5 won't launch issue. You need to verify the game files to fix this issue.
Verifying Game Files
Open Steam client.
In your Steam launcher, click Library.
Find the game then right-click the game your Library and select Properties.
Choose the Local Files tab and click Verify integrity of game files. This will let you verify the game.
Frequently Asked Questions
Is there any cheats for GTA 5?

In GTA 5, you'll find that each code is divided out into the key configuration and code that you must enter, regardless of whether you're playing on Xbox, PlayStation, or PC.

Is GTA 5 fun?

GTA 5 has come a long way since its released and yes it is still fun to play the game.

Is GTA 5 Free?

You need to buy the base game, the online mode is free when you buy the game.

Is GTA 5 compatible with Xbox one?

Yes but it is already phased out. No new updates for that version.

Does Xbox 360 have GTA 5?

Yes but it is already phased out. No new updates for that version.