The GTA 5 in the Epic Games Store is one of the most popular games in the platform and rightfully so. The game has been around for years now yet it continues to draw in players almost endlessly because of its rich content. But some players may encounter problem with the game too. One such problem is the GTA 5 LS-0013 error. If you're experiencing this bug and the game won't start on you, below are the solutions that you can try.
How to fix GTA 5 LS-0013 Error?
There are a number of fixes that you can try if you are unable to launch GTA 5 on Epic Games launcher. For most people, the LS-0013 error code occurs randomly and is easily fixed by simple solutions as it's usually due to a bug in Epic Games launcher.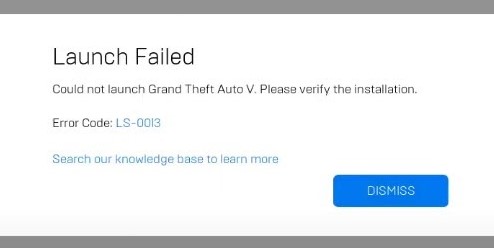 Fix #1: Check if your PC supports the game.
Ideally, you should check ahead of time if your PC can run a particular game before you install it. However, if haven't done so, now is the right time to double check.
These are the minimum and recommended specifications of the GTA 5 Epic Games version:
Minimum system requirements for GTA 5
OS: Windows 10 64 Bit, Windows 8.1 64 Bit, Windows 8 64 Bit, Windows 7 64 Bit Service Pack 1
CPU: Intel Core 2 Quad CPU Q6600 @ 2.40GHz (4 CPUs) / AMD Phenom 9850 Quad-Core Processor (4 CPUs) @ 2.5GHz
RAM: 4 GB
GPU: NVIDIA 9800 GT 1GB / AMD HD 4870 1GB (DX 10, 10.1, 11)
Recommended system requirements for GTA 5
OS: Windows 10 64 Bit, Windows 8.1 64 Bit, Windows 8 64 Bit, Windows 7 64 Bit Service Pack 1
CPU: Intel Core i5 3470 @ 3.2GHz (4 CPUs) / AMD X8 FX-8350 @ 4GHz (8 CPUs)
RAM: 8 GB
GPU: NVIDIA GTX 660 2GB / AMD HD 7870 2GB
Fix #2: Install driver updates.
While updating a computer's software has generally become almost automatic nowadays, it's still important that you manually check if your computer is running the latest version, especially the graphics drivers. To do that, go to the Device Manager > Display Adapters and select Update drivers after right clicking on it.
Alternatively, you can keep your GPU drivers updated all the time by installing the special software from your graphics manufacturer such as NVIDIA GeForce Experience.
Fix #3: Force quit the Epic Games launcher.
Sometimes, refreshing a non-working application is the easiest way to make it function properly again and get rid of random or minor bugs for good.
Make sure that you close and re-open the Epic Games launcher before continuing with your troubleshooting. You need to do this if you are still getting a launch error on Grand Theft Auto 5 at this time.
To do that, you need to open the Task Manager by pressing CTRL + SHIFT + ESC buttons at the same time. Then, once the Task Manager is up, under the Processes tab, look for the Epic Games application and make sure to close it with the End Task button.
Fix #4: Run Epic Games launcher as an Administrator.
The Epic Games launcher error LS-0013 may sometimes occur if the application is not granted access to certain files in your computer. To ensure that the launcher has full access, you can let it run as administrator. Here's how:
Press the Windows Start button and type in "epic games".
Once the Epic Games launcher shows up, right click on it and select "Open File Location."
The Epic Games launcher shortcut should be selected by now so just right click on it and select Properties.
Go to the Compatibility tab and make sure to put a check on the Run as administrator box.
Run GTA 5 again and see if it's now working.
NOTE: The same steps should apply if you're using the Rockstar launcher and you're getting an error on GTA 5 when launching.
Fix #5: Repair the game files.
If you're still experiencing the error code LS-0013 and GTA 5 won't launch at all, the next thing that you can do is to repair the game files.
Close Fortnite (if you're running it).
Open Epic Game launcher.
Click Library on the upper left.
Below the game tile, click on the three-dots icon.
Click Verify.
Wait for the process to finish.
Launch the game and check if the LS-0014 error code returns.
Fix #6: Delete your computer's temporary files.
In case the cause of the problem is caused by a bad cache, you can try to delete your computer's temporary files with these steps:
Press the Windows Start button and type in "%temp%".
Once the Temp folder appears, open it and delete everything.
Deleting your temporary files will not result to loss of your personal data so it can be done safely. The cache needed by your system and apps will be regenerated as needed.
OTHER INTERESTING ARTICLES:
Visit our TheDroidGuy Youtube Channel for more troubleshooting videos and tutorials.