The Grand Theft Auto V: Premium Edition is one of the top games in the Epic Games platform. Just like the Steam version of the game, some players of GTA 5 on Epic Games are reporting crashing issues from time to time. If you are experiencing the same situation, learn what solutions you can try to fix in this guide.
How to fix GTA 5 crashing issue on Epic Games?
GTA 5 crashes can occur due to many different factors. If your GTA 5 keeps crashing, or crashes randomly after launching from Epic Games, you'll need to troubleshoot the issue and identify the main cause.
Below are the troubleshooting steps and solutions that you can do:
Fix #1: Ensure that your PC supports GTA 5.
Ideally, you should consider checking if your PC has the capability to run a game before you install it. Although a game may install without a hitch, your PC may not be able to run it in a quality that you're expecting. Games are always evolving year after year and if your hardware is old, it may not be able to perform well, or suffers from problems such as crashes, lag, or freezes. This is the main reason why developers and publishers release the minimum and recommended system requirements.
Below are the specifications for GTA 5 Epic Games version.
Minimum system requirements for GTA 5
OS: Windows 10 64 Bit, Windows 8.1 64 Bit, Windows 8 64 Bit, Windows 7 64 Bit Service Pack 1
CPU: Intel Core 2 Quad CPU Q6600 @ 2.40GHz (4 CPUs) / AMD Phenom 9850 Quad-Core Processor (4 CPUs) @ 2.5GHz
RAM: 4 GB
GPU: NVIDIA 9800 GT 1GB / AMD HD 4870 1GB (DX 10, 10.1, 11)
Recommended system requirements for GTA 5
OS: Windows 10 64 Bit, Windows 8.1 64 Bit, Windows 8 64 Bit, Windows 7 64 Bit Service Pack 1
CPU: Intel Core i5 3470 @ 3.2GHz (4 CPUs) / AMD X8 FX-8350 @ 4GHz (8 CPUs)
RAM: 8 GB
GPU: NVIDIA GTX 660 2GB / AMD HD 7870 2GB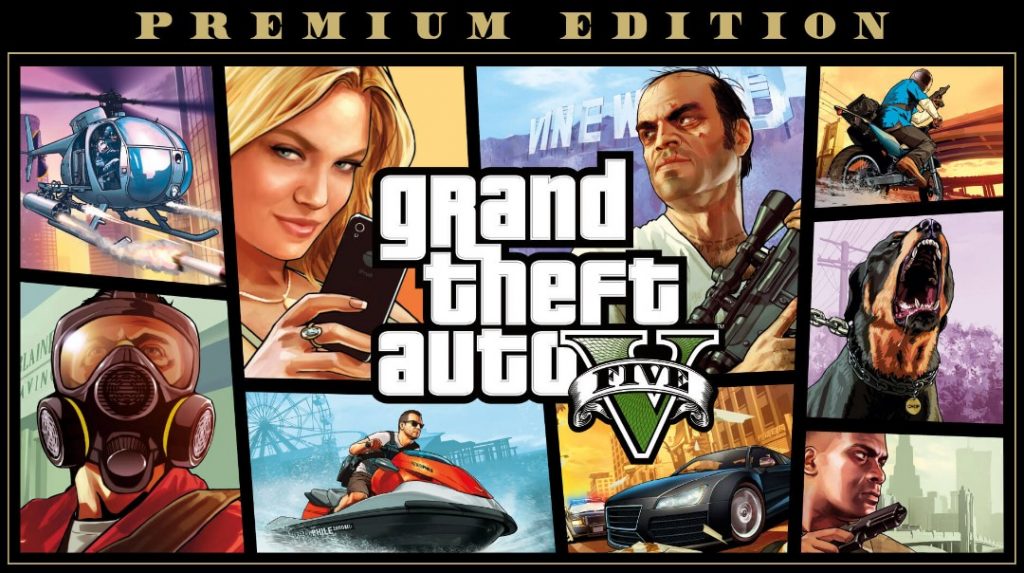 Fix #2: Install the latest drivers.
Drivers are a critical piece of software that enables your Windows OS to work flawlessly with your hardware. If the drivers are outdated or corrupted, your PC may encounter problems when, say, rendering a game. If you're experiencing issues like crashing, black screen, or freezing when playing GTA 5, it's possible that you just need to update your graphics drivers.
You can either manually update your drivers, or use a special software to automatically install them for you.
If you want to manually check for updates, here's how:
Right click the Start button located at the bottom left of the screen.
Select Device Manager. You can also access Device Manager by accessing the Control Panel.
Select Display Adapters.
Then right click the adapter found under the Display Adapters category.
Select Update Driver. Wait for a few minutes to complete the process. Once completed, the performance when you play the games on your Windows PC should also improve.
Alternatively, you can use the correct link below to update your own graphics card driver:
Fix #3: Use lower graphics settings.
If your computer seems to be having a hard time playing GTA 5, or if it keeps crashing randomly on you, try to check if using lower graphics settings will improve the performance, or eliminate the crashes. This is often a problem encountered by those playing GTA 5 on an old computer.
Fix #4: Disable third party apps.
You can also fix crashes by limiting the number of programs or apps running in the background. Some applications may be using the resources the system needs to properly run the game. Closing these other programs can be an effective way to prevent crashes in older computers that barely meets the minimum system requirements.
Fix #5: Verify game files.
In case the problem is caused by damaged game files, you can try to use the Epic Games launcher's Verify tool to fix them. Here's how:
Close the game(if you're running it).
Open Epic Games app.
Select Library on the upper left.
Below the game tile, click on the three-dots.
Select Verify.
Wait for the process to finish.
Launch the game and check if it still continues to crash.
Fix #5: Reinstall GTA 5.
If GTA 5 is still crashing after you've repaired or verified the game files, the final fix that you can try is to delete and reinstall it. This can work if the cause of the problem lies deep within the software. 
OTHER INTERESTING ARTICLES:
Visit our TheDroidGuy Youtube Channel for more troubleshooting videos and tutorials.