This post highlights a few helpful workarounds to deal with the "game security violation detected" error in Windows 10. Read on to learn what to do in case you will encounter the same issue when playing a video game through a launcher on your Windows computer.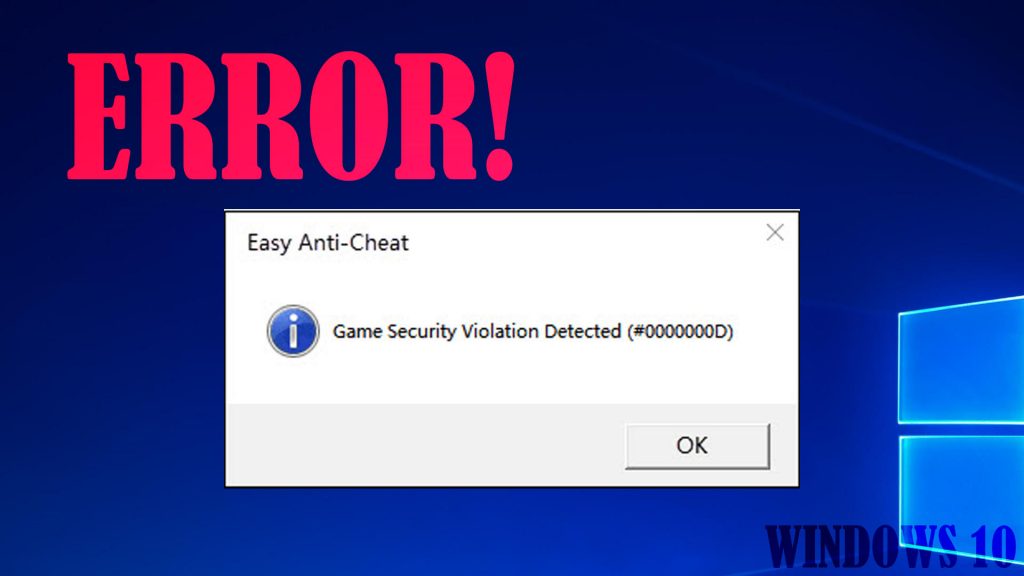 What triggers the "game security violation detected" error?
This error can occur on any computer video games, particularly those that are protected by an Anti-Cheat software. As the error message implies, the problem is most likely attributed to some security issues. Other factors that are deemed potential triggers would include an RGB software, firewall, antivirus, admin permissions, outdated game, launcher or Windows system.
Fixing the error usually denotes ruling out every possible culprit.
Troubleshooting error "game security violation detected" in Windows 10
Before you begin performing any of the outlined solutions, log out of your game client and then sign in again. Doing so refreshes your login session. Once you've done this, retry loading your game. If the error reoccurs, then you may begin ruling out every potential culprit using the subsequent methods.
First Solution: End the application then restart the system.
Gaming applications can be capitulated by different types of errors at some point. If this is the first time you're seeing the error, then it could be just due to some random in-app glitches that caused the gaming application or client to stop working. To fix the problem, ending the problematic application through the Task Manager is recommended. Here's how:
Press both the Win + X keys on the keyboard to launch the Power User menu.
Then, click to select Task Manager on the list.
Navigate to the Processes tab then find and click to select the application that you'd like to end.
Once the application is selected, click the End Task button.
That should force the app to close and stop running in the background.
Closing other unnecessary background applications and services can also help. Any of these background processes can become corrupted at some point and if that happens, there's a tendency that it would interfere with the game or game client's normal operation and result in an error.
Second solution: Disable RGB software.
Some people who faced the same error have managed to fix it by disabling or uninstalling RGB software on the computer system. RGB software is basically a program that's used to control all RGB devices in a single application. With this software, you can sync lighting effects across your devices. While such tools are perfect for aesthetics, some issues can also be triggered. This is usually the case if the anti-cheat game tool detects the RGB software as a hack.
If you're using an RGB tool for your graphics card, motherboard, case fans or any other computer peripherals, try to disable your RGB software temporarily or uninstall it completely. Just follow these steps:
Launch the Task Manager on your computer.
From the Task Manager window, go to the Processes tab.
Locate and select the LightingService then click End Task.
Do the same to other related processes you see such as LightingServices.exe if you're using Asus and SelLedV2.exe if you're using Gigabyte products.
Once you're done ending all RGB programs, close the Task Manager then restart your computer to clear cache from and refresh system apps and services.
Should you wish to uninstall the RGB software completely, just follow these steps:
Open the Run app.
On the Rup app window, type control then click OK.
Navigate to the View by section then select Category from the drop-down options.
Select the option to Uninstall a program under Programs.
On the succeeding window, click to select your RGB software and select Uninstall.
Wait for the system to finish uninstalling the software.
Once it's done, relaunch the game through your launcher and see if the error is gone.
Third solution: Install new updates (both game and game launcher).
Keeping apps and system software up-to-date is highly recommended to ensure optimum performance and stability. Aside from the new features they introduce, software updates also embed essential patches to fix any existing errors inflicted by some stubborn bugs and malware. That said, check and install any pending updates for your games and game launcher/client.
If you're playing your games through Steam, you can update Steam games with these steps:
Launch the Steam application and click on LIBRARY.
Right-click the game in your library and then select Properties from the drop-down menu.
Click on the Updates tab then follow the rest of the onscreen instructions to download and install new updates for your game.
If you want the game to automatically install future updates, just select the Always keep this game up to date option from the automatic updates menu.
You can also set when to update the game according to your preferences. Just select Only update this game when I launch it from the given options.
Other Suggestions
Install new Windows update. Aside from game updates, installing the latest Windows update available can also help fix the error if system bugs are the underlying cause. If you haven't configured your computer to auto-update, then you should consider manually installing a new update for Windows, if available. Usually you will get an update notification with the instructions on how to get the update. Just follow the onscreen prompts to update your device.
Update/reinstall drivers. Several gaming errors are found to be linked to a corrupted or outdated drive on the system. To rule this out, check your drivers from the Device Manager and make sure they are updated. If the graphics driver appears to be corrupted, then reinstalling it will likely fix the problem.
Run game launcher as admin. Running the game and the game launcher as administrator might also be the key to rectifying the error, especially if it's tied to some restrictions. This is usually the case if you run the launcher as a regular user or guest. To allow admin access and privileges to your launcher and game, right-click on your Game Launcher's icon from the desktop and then select Run As Administrator from the dropdown menu options. If prompted, click Yes to confirm action.
Disable/configure security tools. If you're running a security software like a third-party antivirus or firewall on your computer, there's a tendency for it to interfere with any of your programs including the game launcher or game application in use. To rule this out, temporarily disable any security tools on your computer and then relaunch the game. If the error doesn't occur when the security tools are disabled, then it's an indication that the software is tagging your game or launcher. In this case, you will need to configure your security software to set exceptions and allow all access to your game launcher and game.
Hope this helps!
Please visit our YouTube channel to view different troubleshooting and tutorial videos that might be helpful to you.
You Might Also Want To Read: