With the current Note 7 debacle (regarding some batteries reportedly exploding), Samsung's Galaxy Note series is taking hits from all over. We know for a fact though that the older, yet reliable #GalaxyNote4 has proven itself throughout the years. Millions of Note 4s are still being actively used all over the world at this time but being released over 2 years ago, many of them can be expected to start showing some signs of aging.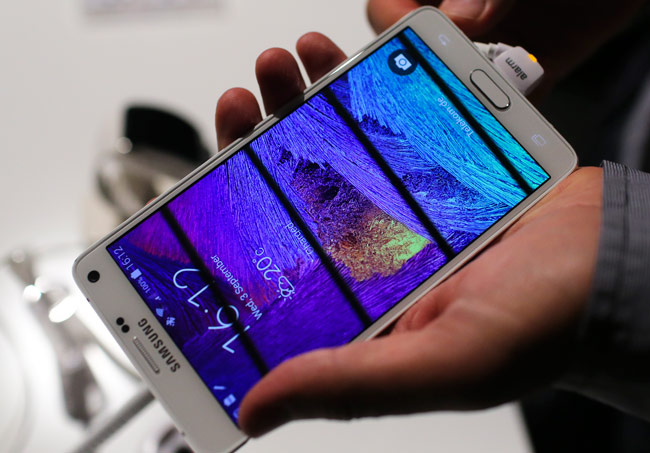 Below are some of the issues reported by some of our readers these past few days:
If you are looking for solutions to your own #Android issue, you can contact us by using the link provided at the bottom of this page, or you can install our free app from Google Play Store.
When describing your issue, please be as detailed as possible so we can easily pinpoint a relevant solution. If you can, kindly include the exact error messages you are getting to give us an idea where to start. If you have already tried some troubleshooting steps before emailing us, make sure to mention them so we can skip them in our answers.
---
Problem #1: Call volume low on Galaxy Note 4
During phone calls and I have the phone to my ear, I can barely hear the person I'm talking to. It's as if they're about 20 feet or more away from their phones microphone. My speaker works with no problem with full volume. My bluetooth works with no problem. It's just the speaker for my ear when I'm holding the phone to my ear. I have attempted a full rest of the phone using the Samsung Smart Switch desktop software using the Samsung USB cable that came with the phone. Everything went perfectly for the firmware install, but the audio problem still exists.. I'm hoping that there may be something that I can do as I'm a vet on social assistance and can't afford to take my phone in for a repair with all the hospital visits I have to make for my son. I've tried researching via Google extensively and the best I've been able to find is the firmware or the some other software issue, but I never installed any apps after I reinstalled the firmware, to no avail. — Brad
Solution: Hi Brad. If this issue only happens when calling a particular contact, you must tell that tell that he/she may have an issue with his/her network. However, if the problem happens during all calls, you should start troubleshooting beyond your level. That nothing happens a full/factory reset is a clear indicator that this is NOT a software glitch. Since you're saying that the speaker works fine as well, the problem may be network-related, that is, your own cellular network. We recommend that you confirm this by recording a voice message and playing it via the speaker. If your recording works fine, contact your carrier to see if there's something wrong with their voice service in the area.
Problem #2: AT&T Galaxy Note 4 notification issue after Marshmallow update | Note 4 notifications stay in the status bar for 30 seconds before fading away
Hi. I have a Samsung Note 4, AT&T, problem after Marshmallow update. After sending a text or ending a call, the alarm icon shows on the status bar for 30 seconds then goes away. No alarm is set. I have cleared the cache, booted in safe mode, no change. Also notice the same when ending a call. In addition I got a new Note 4 (old stock) and updated to 6.0.1 and didn't have the issue. Immediately when I was adding a contact manually the issue showed up on that phone too. Ended up doing factory reset, used the phone for several days with no issue, avoiding manually adding or changing a contact, but when I synced my contacts with AT&T the issue started up again. Any help with this please? Thank you! — Tsmith
Solution: Hi Tsmith. Thank you for sharing your own solution to this issue. We would have told you as well to narrow it down to an app but the solution would have still escaped us since we don't know what specific app function to tinker with. Since the contacts app is not a third party app (we assume it came with the phone), booting the phone in safe mode won't have helped in any way. The same is true of factory reset. Since the contacts app will simply be re-installed after a factory reset, the cause of the problem will never go away. Good job in finding the solution!
For those having the same issue with their AT&T Note 4, here's the solution as provided by Tsmith:
Ok, just got it figured out… I have the Note 4, AT&T with 6.0.1 update, issue with alarm notification coming on for 30 seconds then going away after sending a text or ending a call or changing a contact (same on 2 phones). After some trial and error narrowed it down to the Contacts. Decided to turn on Auto Synchronize and the problem has gone away. It would appear Contacts is trying to sync regardless of the setting but with it turned off the alarm notification would come on for some reason. Maybe this will help someone else – thank you!
Problem #3: Galaxy Note 4 stuck in Recovery mode
My Galaxy Note 4 got an update, and now it is stuck in this continuous recovery booting mode. I took out the battery, the SD and SIM, drained the battery, tried to start it again, same recovery booting. So I tried to master reset using the buttons, won't let me. I don't know if this could be due to have my device set to lock when the SIM is taken out, or whatever. it  just happens when i set up with Samsung and I'd on my device. I have no idea what to do, other than first ask you for some help, then going to BestBuy to see if they can help or contact Samsung. I'm not sure which version of Android is on that phone, but had to choose one to send this. Any help or suggestions welcomed! Thank you ! — Meesha
Solution: Hi Meesha. If the phone no longer boots normally, then the update process (however you do it) may have corrupted the bootloader. This means that your phone is most probably toast right now. Try to manually flash a stock ROM and see if that will work. Use Google to find a good guide online. If this won't work, have the phone replaced.
Problem #4: Galaxy Note 4 won't install system update
Dear. I recently purchase a Samsung Galaxy Note 4 SM-N910C from local market which is currently having 5.1.1 operating system. Yesterday when i factory reset my cell it was showing Marshmallow update which was about 1391 MB. After downloading the software twice, it asked to install it but when i try to install, my device reboot but software version remain same. When my cell turned on again it shows an error message "Failed to update software. Try again using smart switch on your PC or visit a Samsung customer service centre". Please help to overcome this problem. Note: If possible then answer me with in a limited scope because i don't want to update using Kies or Smart switch or anything else like that. even i also tried using Kies and Smart Switch and it shows me that my software is already updated.
Also help me to check even if my device is rooted or not. Regards. — Waseem
Solution: Hi Waseem. There's a number of reasons why a system update won't install (assuming you are trying to install over-the-air update from your carrier). These reasons can range from using custom recovery, software glitch, rooting/flashing procedure gone wrong, to hardware malfunction.
Since you did not provide enough information to isolate the issue, try checking first if your phone runs a custom recovery. You can do that by booting to recovery mode. You'll know if the phone uses custom recovery because it will say something like TWRP or CWM.  To boot in recovery mode, follow the steps below:
Press and then hold the Home and Volume UP keys, then press and hold the Power key.
When the Samsung Galaxy Note 4 shows on the screen, release the Power key but continue holding the Home and Volume Up keys.
When the Android logo shows, you may release both keys and leave the phone be for about 30 to 60 seconds.
Wait until the recovery screen shows up
If you're running a custom recovery, then the phone must be rooted since root access is needed before you can install a custom recovery. Another way to check if your phone is rooted is by going under Settings>Device information>Status. If the Device Status line says "modified" and not "officially" then your Note 4 is rooted. Also, if Knox counter shows that it's set to 0x1, then that's another confirmation that your device has been granted root access.
Make sure that you switch back to stock recovery first and unroot the device next before attempting another OTA update. If you don't know how to install a stock recovery and unroot a device, use Google to look for instructions.
Problem #5: Galaxy Note 4 "Media Server failed. Camera needs to restart." error
I have a Galaxy Note 4 and with the camera I get a warning message "Media Server failed. Camera needs to restart." This is my work cell phone and I do my expenses with Concurs and need to use the camera. Here is what we tried with Rogers and RTT at work:
Shut down the phone and restart
removed the memory card and the battery
Restart
factory reset.
None of those fixed my problem. I have a faulty Galaxy Note 4. I purchase this phone 05/04/2015 from Rogers and it will cost me $186.00 buyback plus the cost of a new phone. I really don't think I should be penalized for getting a faulty phone. How can we fix my situation? — Louise
Solution: Hi Louise. This error can sometimes be caused by a camera app bug but a simple restart should easily take care of it. That even a factory reset did not help is an indication though the problem must be hardware in nature. It can be some other components connected to the camera (motherboard issue) or the camera component/assembly itself. Unfortunately, the only way to fix a hardware issue is either repair or replacement. There's no software magic that you can do on your end to fix it.
Problem #6: Galaxy Note 4 stuck in download mode
My phone has been lagging so much these past few days that I decided to factory reset it. When I did, this prompt showed on the top left:
"Could not do normal boot. ddi: mmc_read failed ODIN MODE (HIGH SPEED) PRODUCT NAME: SM-N910A CURRENT BINARY: Samsung Official SYSTEM STATUS: Custom REACTIVATION LOCK: OFF KNOX WARRANTY VOID: 0x0 QUALCOMM SECUREBOOT: ENABLE (CSB) RP SWREV: S1, T2, R1, A2, P1 SECURE DOWNLOAD: ENABLE UDC START.
Then in the middle is the Android Logo with the message : Downloading… Do not turn off target!!
I've never rooted my rooted my phone or anything. I also owned a NOTE 2 in the past. I've factory reset that several times and I've never had an issue. — Francene
Solution: Hi Francene. What happens when you factory reset your device? Does something change? Can you boot in safe mode? We don't have the power to remotely check your device so we need as much information from users in order to identify the issue. As it stands, your problem description does not help at all. The only picture we're getting is that your phone is stuck in download mode. We don't know what you did differently prior to noticing the problem, or if the phone has suffered hardware damage from getting dropped or wet.
Anyways, if you never rooted this phone (as this issue is usually a product of rooting or installation of custom recovery), we say it's time that you find a way to have the phone replaced.
---
Engage with us
If you are one of the users who encounters a problem with your device, let us know. We offer solutions for Android-related problems for free so if you have an issue with your Android device, simply fill in the short questionnaire in this link and we will try to publish our answers in the next posts. We cannot guarantee a quick response so if your issue is time sensitive, please find another way to resolve your problem. 
If you find this post helpful, please help us by spreading the word to your friends. TheDroidGuy has social network presence as well so you may want to interact with our community in our Facebook and Google+ pages.