The Android world is brimming with all kinds of phones and tablets and while competition can be advantageous for consumers, picking the one that fits your needs can be hard.
We've done the heavy lifting for you to come up with this guide. If you're looking for the best Android phones and planning to eventually get a new phone, you've come to the right spot.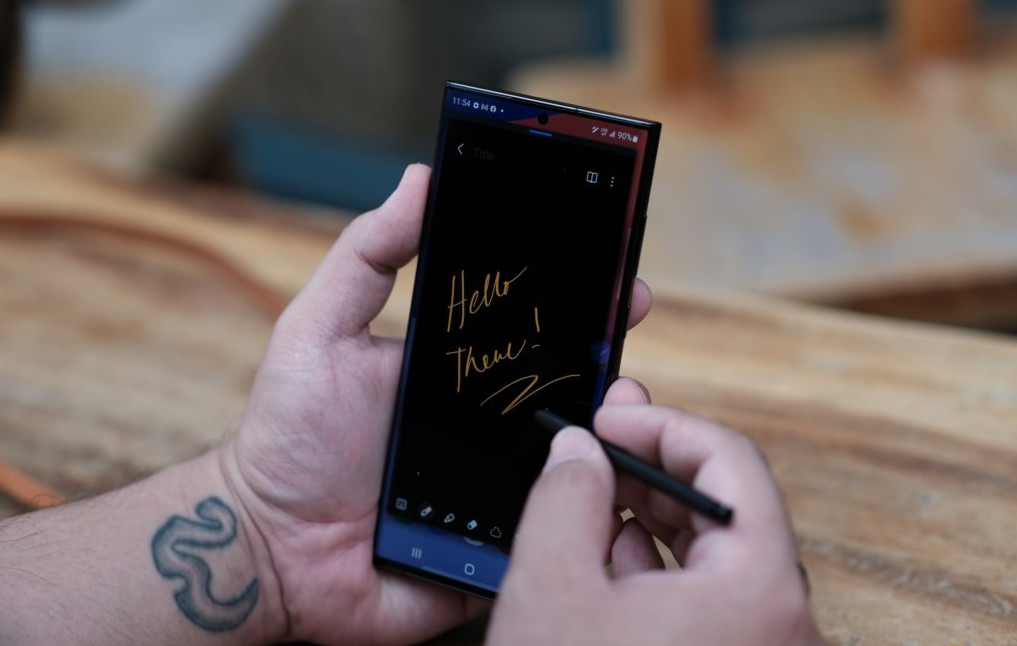 Samsung Galaxy S22 Ultra
The first one on our list of the best Android phone is the Samsung Galaxy S22 Ultra. Unlike the regular Galaxy S22, the Galaxy S22 Ultra is really a Note revival in disguise. Samsung has managed to extract all the best features of their two flagships and merge them in the Galaxy S22 Ultra.
Design
Released together with the Galaxy S22 and S22+, the Samsung Galaxy S22 Ultra emits a more prominent stature because of its bigger build. It has the edge screens unlike the two S22 models so that adds a more distinctive look to it. The Samsung Galaxy S22 Ultra looks more like the older Galaxy Note 20 Ultra than its S22 and S22+ siblings.
It maintains the IP68 water/and dust resistance rating and it also sports an under display fingerprint scanner.
The Galaxy S22 Ultra comes in four colors: Phantom Black, White, Burgundy, Green.
The only drawback in this model is the lack of the ubiquitous 3.5mm headphone jack, so you'll be forced to use a wireless headset with it.
Display
Just like all flagship phones, the thing that makes the Galaxy S22 Ultra an eye-popping candy is its display.
The Galaxy S22 Ultra features a 6.8-inch Dynamic AMOLED 2X panel with an over-the-top QHD resolution of (1440 x 3080). The screen's rated 1750 nit makes it as vibrant and beautiful as any screen can be these days.
If you're planning on playing some action-packed games on this one, you'll find the screen's 144Hz or 165Hz refresh rate as a luxury.
Battery life
With its 5,000mAh battery, like its predecessor, the Galaxy S22 Ultra is yet to see a significant improvement in terms of battery endurance. While Samsung has made great improvements in the software to make tasks and processes more efficient, the pure raw power of the hardware puts pressure on the battery at all times. Hence, battery life on the Galaxy S22 Ultra is mediocre at best and you'll most likely have to charge the phone before the day ends if you put the screen on maximum brightness while doing other heavy stuff such as streaming movies or music.
The best Android phones today provide comfort and convenience and that means that when it comes to charging, wireless charging is a given in the Galaxy S22 Ultra.
S Pen Stylus
The Galaxy S22 Ultra is the only major flagship phone (except the older Note models) that features an S Pen. The new S Pen
The S Pen of the Galaxy S22 Ultra has improved performance over the S Pen of the Note 20 Ultra. The new S Pen now has a better response time of 2.8 ms compared to the older Note 20 Ultra S Pen of 9 ms.
If you're a regular user of the S Pen stylus, you'll most likely lean towards the new Galaxy S22 Ultra S Pen because of this improvement.
Price
The Samsung Galaxy S22 Ultra is one of the priciest Android phones out there with its starting price at $1,199. If you're willing to pay for the privilege of owning one, you can visit the Samsung Store in Amazon.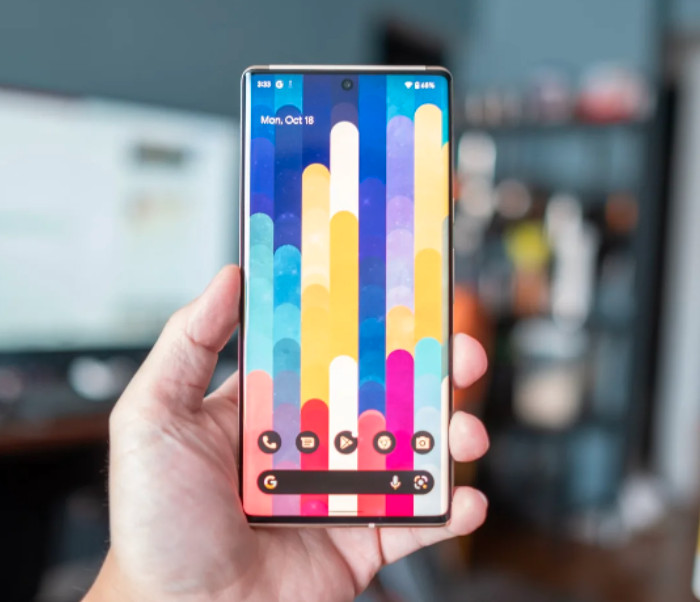 Google Pixel 6 Pro
If you're looking for a true and superb Android phone, the Google Pixel 6 Pro will hardly disappoint. It's beautifully designed and built and its performance screams of premium quality. Overall, the Google Pixel 6 Pro is a big phone that easily makes it to our list of top Android phones, if not the best Android Phone.
Design
At 8.9mm thick and 210 grams, the Google Pixel 6 Pro is the thickest and heaviest Pixel to date. The overall design of this Pixel is a mixed bag. Its industrial design is clearly unique among the current crop of premium Android phones although it's more suitable to a niche group of users.
Although it does appear thick and heavy on paper, the new Google Pixel 6 Pro actually feels thin when in your hand, thanks to its aluminum allow chassis.
Camera placement (in a black bar) on this Android phone is reminiscent of the old Galaxy S10.
This phone also comes fully protected with IP68 rating so, like the Samsung Galaxy S22 Ultra, it's covered for water and dust exposure.
Display
The Google Pixel 6 Pro's expansive 6.7in 19.5:9 QHD+ OLED display is the main reason for its huge size. This dynamic screen supports 10Hz to 120Hz high refresh rate so it's a perfect companion for heavy gaming sessions. I personally prefer playing the fast-paced Call Of Duty Mobile on the Google Pixel 6 Pro over the Galaxy S22 Ultra despite the latter having a higher refresh rate. The screen of the Google Pixel 6 Pro is really more responsive when it comes to games.
With its high pixel density screen of 512ppi, the Google Pixel 6 Pro explodes with stunning colors, prominent blacks, and superb contrast.
Battery life
The Google Pixel 6 Pro's huge battery cell (5003 mAh) is similar to the Galaxy S22 Ultra but overall battery life is better. Together with its more efficient implementation of apps, the battery of this phone performs better than its main rival in the Android space, the Samsung Galaxy S22 Ultra, despite sporting a larger and higher resolution screen.
This phone comes with a 30W fast charger but Google revealed that charging sessions are actually capped at 23W only. The same is true with its wireless charging capability.
Price
One of the main factors to consider when looking for the best Android phones is the price. In this regard, the Google Pixel 6 Pro will not disappoint with its $899 price tag. This price point is very competitive if we compare it to its main rivals like the iPhone 13 Pro Max, Samsung Galaxy S22 Ultra, Xiaomi's Mi 12 Pro, Oppo Find X5 Pro.
Visit the official Google Store on Amazon to find out the latest discounted price.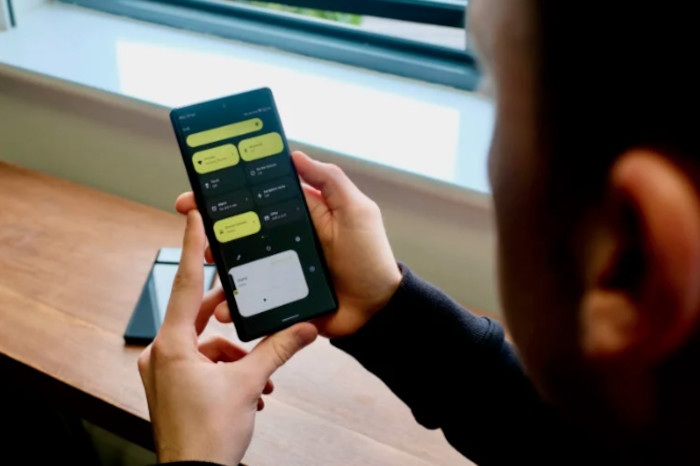 Google Pixel 6
If you're looking for a less extravagant alternative to Google Pixel 6 Pro, look no further than its sibling, the Google Pixel 6. I consider both devices separate in terms of design, display, and pricing. The Google Pixel 6 is targeted more for the average Android users though it comes fully packed with all essential Android features of a modern smartphone.
Design
The Google Pixel 6 is slightly smaller than the Google Pixel 6 Pro at 6.2-inches tall and 2.9 inches wide. It features a completely flat screen unlike the curved left and right sides of the Pro version.
Like the Google Pixel 6 Pro, it has an under-the-screen fingerprint sensor.
The camera array at the rear is similar to that of the Google Pixel 6 Pro that stresses Google's unique industrial look. Google Pixel 6 comes in Stormy Black, Sorta Seafoam, and Kinda Coral.
Display
The display of the Google Pixel 6 is inferior to that Google Pixel 6 Pro with its 1080 x 2340 pixel resolution, but should be more than enough for an average user. The pixel density at 411 ppi is not that bad and the screen looks totally lively and full of colors. While it's admittedly not the best display you can get at this time, it still works remarkably well and responds well when you play fast-action games on it, thanks to its 90Hz refresh rate.
The camera features of Google Pixel 6 are amazing but the most remarkable aspect of this phone is its extraordinary 50MP main camera. The camera assembly boasts of a f/1.9 aperture with a 26mm wide lens. With its Laser autofocus, Optical Image Stabilization (OIS), and omnidirectional PDAF, the Google Pixel 6 camera is capable of capturing crisp images even in low-light conditions.
Battery life
Because of its slightly smaller chassis, the battery of the Google Pixel 6 is understandably smaller as well at 4614mAh. This spec is smaller than Google Pixel 6 Pro's 5003 mAh but battery endurance is similar in both devices. This is because the Google Pixel 6 has a smaller screen, which also reduces its consumption needs.
Using the Extreme Battery Saver feature, you can extend battery life on both devices for up to 48 hours on a single charge. This is, of course, only applies in isolated situations but normally, you'll likely have to charge your Google Pixel 6 after 12 hours of use.
Google Pixel 6 shares the same technology with its bigger sibling when it comes to charging. It has a fast charging feature and can also top up the battery wirelessly with its fast wireless charging capability. It also comes equipped with Battery Share, which means that you can use the phone to charge other devices wireless devices via Qi-charging protocol.
The Google Pixel 6 can fast charge using a 30W fast charger.
Price
One of the determining factors of the best Android phone is its affordability. While can be considered a mid range Pixel phone, at a base cost of $599, the Google Pixel 6 is an excellent choice for those looking for a premium product that doesn't break the bank. Google actually does a good job here of lowering the price point of such a top notch smartphone without sacrificing essential features that define flagship phones.
Check out the Google Pixel 6 on Amazon.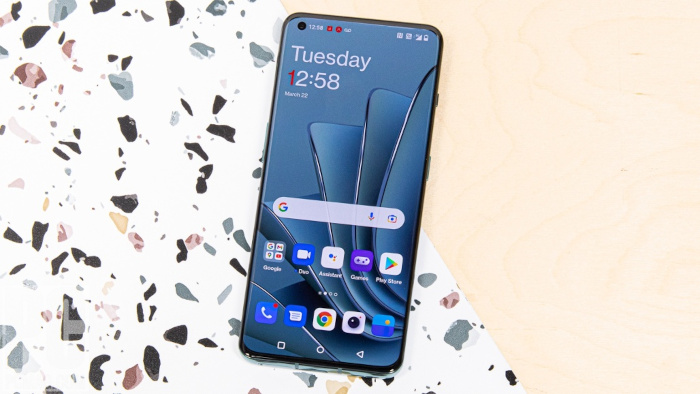 OnePlus 10 Pro
If you're looking for the best Android phone that does not have the Samsung or Google logo on it, the OnePlus 10 Pro checks all the boxes in the checklist for flagship phones. The modern and sleek design of the OnePlus 10 Pro is no doubt in the same level as its main competitors.
Design
The camera design of the OnePlus 10 Pro is eye-catching and can set off curiosity for those who are not familiar with it. Checking the rear side, you'll instantly notice the massive 4-unit camera assembly. Upon closer inspection, you'll notice that there are actually only 3 cameras and the third circle houses the LED flash.
The matte finished aluminum frame is well suited with the Gorilla glass rear panel. The side buttons are obviously a well thought design — with alert slider and Power button on the left, and the Volume buttons on the right.
And finally, the OnePlus 10 Pro now has the IP68 rating, which means that you can use your phone on adventures without worrying that it might get damaged from moisture or dust. IP68 rating means that the device is water-resistant for up to 1.5 meters and has dust protection as well. This has long been demanded by many OnePlus fans in the past.
Display
As one of our of best Android phones in this list, you can expect that the screen of the OnePlus 10 Pro is strikingly dazzling. It shows inky blacks, dynamic colors, and tons of details in an incredible manner though the refresh rate is kind of lackluster. This hardly matters though if you don't plan on using the device as a game platform. Even with inferior refresh rate, the OnePlus 10 Pro display is evidently first-class.
Continuing the trend of most phones in the flagship category, the OnePlus 10 Pro features a curved display at the sides, which fortunately works well in preventing accidental touches (activating the screen).
Battery life
In terms of battery performance, the OnePlus 10 Pro can extend battery life considerably when you turn off its Performance Mode, which is turned off by default in the battery settings. With the phone in full power, meaning Performance Mode is off, I managed to use the phone for up to 12 hours before needing to charge. With Performance Mode on, the phone can last for up to 15 hours.
Performance Mode is a software tweak that underclocks the process and forces the system to perform slower to conserve battery power.
I can say that even with Performance Mode on, the OnePlus 10 Pro remains as snappy when the mode is off (or at least I didn't notice any significant difference in performance at all) while playing Apex Legends Mobile and Fortnite.
With its 5,000mAh, the OnePlus 10 Pro can reliably go with you for most of your day but the 12-hour performance for a single charge is obviously an area that needs improvement.
Price
With its $899 base price, the OnePlus 10 Pro gives the Samsung Galaxy S22 Ultra a run for its money (but for a couple hundreds of dollars less). While not exactly affordable, the OnePlus 10 Pro is a superb Android phone and can unquestionably hold its own against other heavy weights in the flagship category today. It's main draw is its outstanding rear cameras and camera quality but the rest of its specs, on top of its cool design, are equally swell.
Check out the OnePlus 10 Pro on Amazon.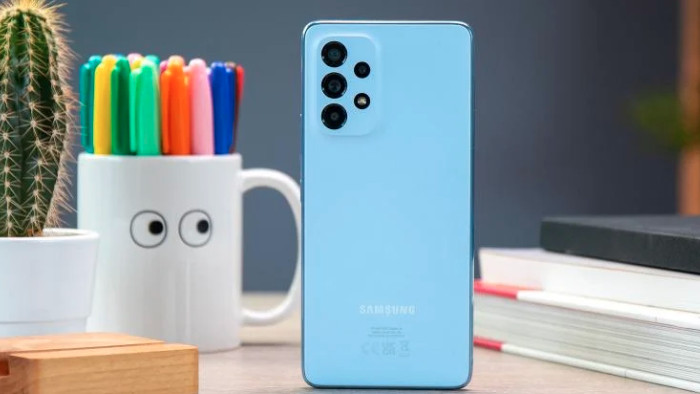 Samsung Galaxy A53
For many people, price is the most important factor when picking the best Android phones for them. It is in this regard that the Samsung Galaxy A53 impresses us. While missing some luxury features from Samsung's flagship Android phones, they are not necessarily essential. The Galaxy A53 is clearly a first-class mid range phone that offers the best Samsung features but in an inexpensive package.
Design
The Samsung Galaxy A53 sports a plastic chassis as opposed to the Armor Aluminum and Gorilla Glass Victus Plus body of the Galaxy S22 Ultra. But this hardly matters at all as the overall aesthetic of the Galaxy A53 looks appealing enough.
The placement of the rear cameras is not unique to Samsung but it's undoubtedly well implemented with a gentle raised bump.
For color selection, there are three options for you — Awesome Blue, Awesome Black, and Awesome White.
It's uncommon for mid-range Android phones to have IP67 protection rating but the Galaxy A53 has it. Having IP67 rating means that the phone is protected from water, moisture, and dust penetration. The device can also be immersed in water of up to 1 meter for 30 meters without damage. This makes this phone a remarkable gadget that you can take with you outdoors.
If that doesn't make the Galaxy A53 the best Android phone for you, read on.
Display
Samsung Android phones are known for their dazzling, vibrant screens and the Galaxy A53 is no exception. The Galaxy A53 flaunts the biggest display in its price range with its 6.5-inch screen, 1080p resolution, and 120Hz refresh rate. The screen itself is very sturdy because it's made of Gorilla Glass 5.
If you're constantly on the go, or has an active lifestyle, you can have peace of mind knowing that the screen can take occasional punishments of scratches, bumps, or even drops.
Battery life
This Android phone has a massive 5000mAh battery so it's not surprising that it performs significantly better than its flagship cousins in terms of battery life. A single charge can last longer than a typical Samsung phone. I was able to use the device with full features on and max screen brightness for about 6 hours. Keep in mind that throughout this time, the screen is on full blast although I set it to turn off on its own after 10 minutes when not in use.
Just like other high-end Samsung phones nowadays, the Galaxy A53 does not come with a charging brick but if you have the older Samsung charger with you, it should work fine with this phone.
The phone can work with fast chargers rated at 25W so if you want to take advantage of this phone's fast charging capability, you can buy a separate charger.
Price
Reasonably priced at $449, it's almost surprising for Samsung to manage to cram all the features and premium hardware into this device without a loss. The Galaxy A53 offers a great device that runs on the latest Android OS version, sporting a massive 6.5 inch display at 120Hz, and using an awesome ultrawide rear cameras.
Check out the Galaxy A53 on Amazon for discounts.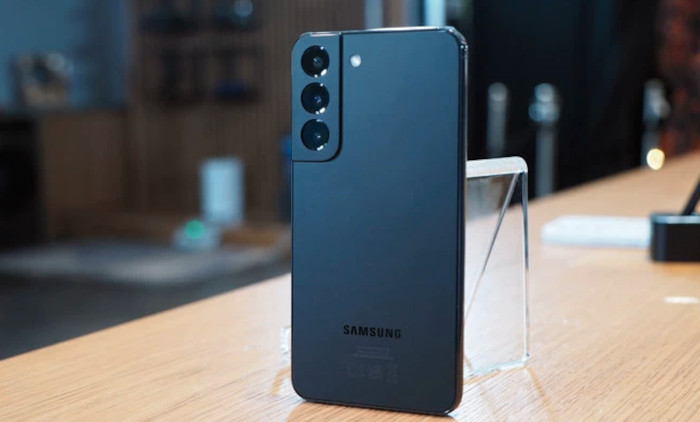 Samsung Galaxy S22
The Galaxy S22 is a compact Android phone that's packed with premium features. In today's trend of phones becoming bigger and bigger, it's good to know that Samsung continues to produce its compact line of phones.
The Samsung Galaxy S22 looks exactly the same to its bigger and more expensive sibling, the Galaxy S22 Plus. Squeezed into its smaller body though are almost the same lineup of features and some hardware. It's basically just a smaller version of Galaxy S22 Plus and it's perfect for those looking to have the best Android phone in their pocket minus the bulk of a bigger device.
Design
As a flagship device, the Galaxy S22 uses the same Armor Aluminum body like the Galaxy S22 Plus and S22 Ultra. With a 6.1 inch display, the Galaxy S22 is smaller, making the phone more easy to handle with one hand.
Looking at the Galaxy S22 for the first time, you'll noticeably get the impression of its flatter appearance. Though the glass part of the body is made of glass, the Galaxy S22 is built with toughness in mind, as the rest of the chassis is of pure Armor Aluminum. As expected, this phone enjoys the protection of IP68 rating, just like its bigger siblings.
The camera assembly neatly wraps around the sides and the physical buttons are all located on the right side.
It features a fingerprint scanner underneath the screen while the stereo speaker, SIM card slot, and USB-C port are all installed at the bottom part.
This phone comes with 128GB of internal storage but if you think that you'll be using your unit to shoot 4K videos or if you plan on installing lots of games, you can opt for the model that comes with a 256GB storage option. This makes it almost unnecessary to have the microSD card slot in this device.
Display
Unlike the mid-range Galaxy A53, the Galaxy S22 has a superior screen. It sports the Dynamic AMOLED with 1080 x 2340 pixels, 422ppi panel. Depending on your activity, the screen can automatically switch between 48Hz and 120Hz allowing for fluid movements on videos and games.
Compared to the more expensive S22 Plus and S22 Ultra, the screen of the smaller Galaxy S22 is not that bright although it is still pretty clear to clear and watch contents in bright sunlight.
The screen also doesn't look cramped, even when viewing certain contents like Google Docs. In general, the relatively smaller size of the screen does not make the Galaxy S22 any lesser than the competition with bigger displays.
Battery life
The Galaxy S22 uses the best there is in terms of processing power with Snapdragon 8 Gen 1 processor. This makes it one, if not the fastest, premium phone in its price range. However, the battery of the Galaxy S22 is mediocre at best if compared to the Galaxy S22 Plus and Galaxy S22 Ultra.
The Galaxy S22 only has a tiny 3700mAh battery. This is an understandable sacrifice that must be made given the smaller frame of this device.
With its smaller battery capacity, Samsung did not feel the need to provide faster wired charging capability. With your S22, wired charging is maxed at 25W while wireless charging can only go as high as 15W.
Price
Aside from its smaller frame, one other pro that you can get from having the Galaxy S22 is its lower price point. Starting at $799, this phone can give almost all the same features that the S22 Plus and S22 Ultra have but for a few hundred dollars less.
Check out the discounts for the Samsung Galaxy S22 on Amazon.
So, what is the best Android phone?
The best Android phone for you greatly depends on your specific needs. If money is not an issue, the easiest route for you is to try the flagship phones from Samsung, Google, and other manufacturers.
If you have other factors to consider, it's important that you know why you're getting a new phone in the first place.
Are you looking for a great quality phone to match your active lifestyle? Do you need it for everyday commuting and casual gaming? Are you planning on getting a compatible phone for your computer? Do you need a phone with great camera performance?
These are just some of the examples of the things that you must ask yourself. The top-of-the-line models may already tick the boxes of your needs.
Some people may choose the best Android phones based on their monetary situation so going to the mid-range types of phones is a good start.
Flagship phones may start at $599 but many other mid-range devices can offer the features that you may be looking for.
At this time, I can say that the best Android phone by far that I've tested is the Samsung Galaxy S22 Ultra but that's just me. Some folks may choose the less expensive Galaxy S22 Plus as it strikes a good balance between affordability and complete suite of high-end features in its price range.
Frequently Asked Questions
What is the best Bluetooth headset for Android?

The best Bluetooth headset for your Android phone should be something that is comfortable to wear even if used for an extended period, has a reliable connectivity, offers great battery life, and of course, sounds impressive. It's also important that your headset frees up your hand during calls so you can do other tasks while, say, you're driving, cooking, or talking.

What is the best Samsung phone?

At this time, I can say that the best Samsung phone that you can get is their premium Galaxy S22 Ultra.

What is the best free video editing app for Android?

There are many free video editing apps out there but i would recommend that before you look for any third party app to install, try to see if the built-in, built-in video editing app of your particular phone works for you.
For example, if you have a Samsung phone, try to use the default video editor from Samsung itself. You can open that by opening the video and going under the video's settings. You should see an editing icon from there.
If the built-in editor does not satisfy your needs, open the Google Play Store app and browse for a video editor. You should have hundreds of options that you can choose from.
One of the most popular video editing app in the Play Store is CapCut but KineMaster, PowerDirector, and Canva are also great picks.

What is the best free antivirus for Android?

If you have security needs for your Android device, I suggest that you install an antivirus or antimalware app from known security brands only. Make sure that you download these antivirus apps from the Google Play Store.
Some of the well-known brands in the security sphere for years now include Avast, AVG, Avira, BitDefender, Norton, Sophos Mobile Security.

What Android phone is the best value for money?

I would personally recommend the Samsung Galaxy A53 for its amazing overall design, vibrant and colorful display, excellent software support (5 years as promised by Samsung), and most of all, affordable price of $449!
Android Troubleshooting & User Guides
Android troubleshooting and user guides. We'll show you how to fix your phones and also provide useful tricks and tips for your favorite device.
Samsung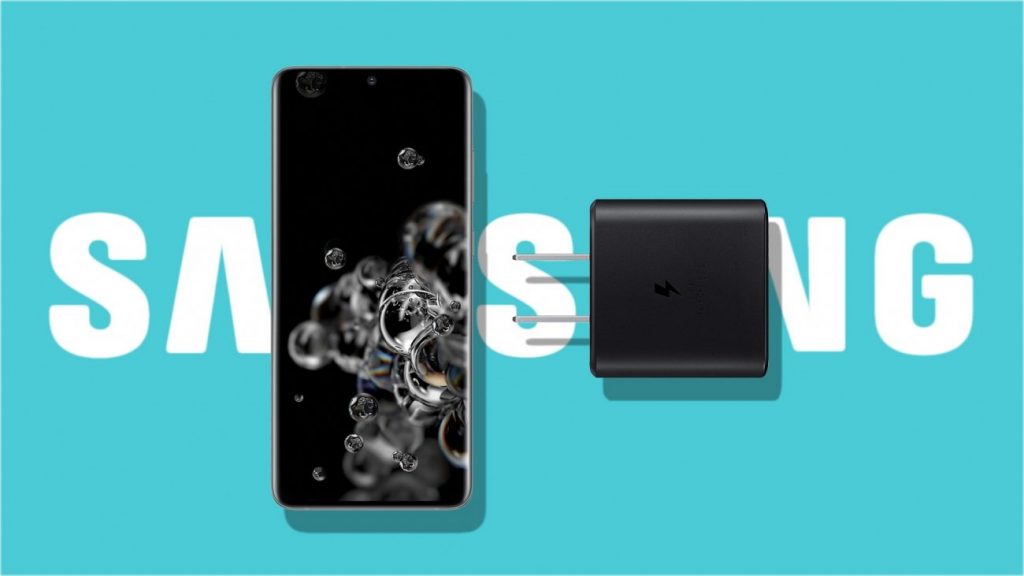 Google Pixel
LG
Others