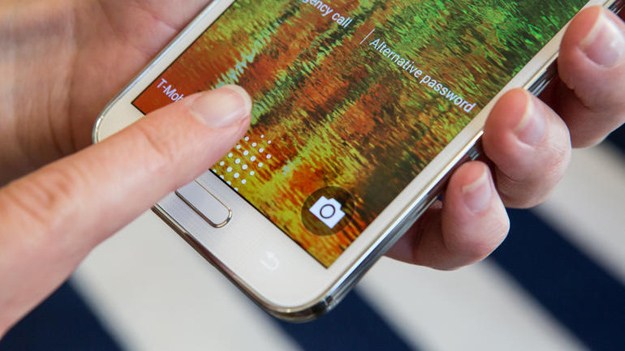 Being locked out of your own phone is one of the most frustrating things that a #GalaxyS5 user can experience. If you're reading this, that's probably because you're looking for a way to unlock your phone again. The first topic in this post is dedicated to addressing this problem. We hope that this will be of help ot you.
If you are looking for solutions to your own #Android issue, you can contact us by using the link provided at the bottom of this page, or you can install our free app from Google Play Store.
When describing your issue, please be as detailed as possible so we can easily pinpoint a relevant solution. If you can, kindly include the exact error messages you are getting to give us an idea where to start. If you have already tried some troubleshooting steps before emailing us, make sure to mention them so we can skip them in our answers.
---
Problem #1: What to do if you forgot your Galaxy S5 fingerprint backup passcode
Hello I am writing to you on behalf of my brother who is currently in Japan and will be overseas for a further 7 weeks.  Please find his email below with the phone issues:
Hello. I am currently in Japan. Last night when I took my Samsung Galaxy S5 mini (recently upgraded to Android 5.1) out of my pocket, and I pushed the power button to open the lock screen, I noticed the fingerprint sensor, which is the normal way I unlock my phone, had disappeared.
The only options I am given are "Enter Password" or "Emergency Call". When I enter the password, I am given the message "Incorrect backup password" – even though I know it is correct, and have repeatedly reset it remotely via my tablet using Android Device Manager.
When I get the password "incorrect" five times, I am given the message "Unable to verify your fingerprint 5 times. Try again in 30 seconds". Then after 15 attempts, it says "Unable to unlock screen – Unable to verify your fingerprint 15 times. If you are unsuccessful 5 more times, you can unlock the device with your backup unlock method. Try again in 30 seconds". This process then continues for infinity, and I am never given an alternative method, such as "Unlock via Google" which is usually visible on my lock screen.
I was wondering if you could help me. Is this a known issue with the Samsung Galaxy S5 mini? Would the fact that I upgraded from Android 4.5 to Android 5.1 a week ago have anything to do with it? Is there any way you could find out from Samsung?
Removing the battery for a long time and re-inserting does not help. Removing the 2degrees SIM card and re-inserting does not help.
Trying in Airplane Mode and not does not help.
Thanks and I hope you can help! My phone is my camera I am using on this holiday so it would be great to get it back.
Please note that my brother is from New Zealand. And we think that the software update that the phone did (which it did automatically) has updated as a Japan version not New Zealand. My brother has not tried a factory reset yet. —  Amelia
Solution: Hi Amelia. If your brother was still able to use the phone days after updating to Android 5.1, then the new OS version has nothing to do with current issue. Samsung's fingerprint sensor does not work 100% all the time. Sometimes, even a tiny speck on the screen or on the finger can lead to misreading. After several attempts of unsuccessful logins, usually five, the device will then ask you to enter the backup password.
There are two things that your brother can try to regain access to his phone. The first one is by forcing the phone to ask for the registered Google account. This can be done by entering the wrong password 20 times. Once the popup  shows asking for the Google account, make sure that he enters the correct credentials. Keep in mind that a Google account does not have to be a Gmail account. It can be a third party email with a separate password. Your brother should know this. If he enters the correct credentials, the device will be unlocked and will ask him to enter another passcode.
If he is unlucky and also forgets his Google account credentials, his only way out is by performing a factory reset. There's no other way than this. As the name suggests, the device will be restored to its factory state, which means everything will be deleted from his device's internal storage. For reference, here are the steps how to do it:
Turn off the device.
Press and hold the following three buttons at the same time: Volume Up key, Home key, and Power key.
When the phone vibrates, release the Power key but continue to press and hold the Volume Up key and the Home key.
When the Android System Recovery screen appears, release the Volume Up and Home keys.
Press the Volume down key several times key to highlight 'wipe data / factory reset.'
Press Power button to select.
Press the Volume down key until 'Yes — delete all user data' is highlighted.
Press Power button to select and start the master reset.
When the master reset is complete, 'Reboot system now' is highlighted.
Press the Power key to restart the device.
Problem #2: Galaxy S6 not sending text messages properly
SMS messages sent from the stock messaging app will not send properly. It will say "Failed to send. Failed to send message to John Doe. Try again?" after a while. Occasionally these "failed" messages get received by the other person, but not frequently. Additionally, I cannot receive most text messages, although occasionally ones will get through, and not always timely. This is a new problem that I haven't experienced before. In fact for the first half of the day the messages sent fine. However, in the second half of the day they stopped working.
I have tried using the Google Hangouts app and the same issue occurs. I can receive and send calls without issue, so I don't think it's a network issue. I have tried turning on/off airplane mode, restarting the phone, and removing the battery/SIM/SD cards. Nothing has solved the issue. I have no issue sending messages via Wi-Fi. It is only text messages that refuse to send properly. Other than attempting a factory reset, are there any tips/ideas as to the potential problem? — Zach
Solution: Hi Zach. The solutions you've tried so far may have not worked because the reason may not be phone-related. A problem like this should be referred to your wireless carrier rather than to third parties like us. Having a working voice service does not necessarily mean everything's working fine on the network side.
Calls and SMS are handled by separate servers on your network. Any problem with your network's SMS Message Center does not necessarily mean that voice service will also be degraded. Message Centers are computers and they can be subject to maintenance or outages. Make sure that you talk to your carrier about the problem so they can give you direct assistance.
Problem #3: Galaxy S5 having difficulty sending and receiving SMS and MMS
have had my phone for over a year now.. and the past month I have had issues with some, not all, but some of my messages (both SMS & MMS) delaying sending.. or even not sending at all. It started a few months ago trying to send MMS. The picture would sit in the message just spinning, not actually sending, I tried to even send a push message, (just a text) right after to see if it was just hung up. Sometimes that would work, sometimes it wouldn't. Now it's happening constantly. I was thinking it was because the new upgrade wasn't downloading on my phone. Therefore I finally took it into Best Buy and they manual upgraded to the 5.1. It continued to happen. I mentioned it to Best Buy while I was there and they said that it had to do with Network and to speak with ATT about it. I spoke with ATT and they replaced my SIM card, thinking that would fix the problem. It has not.
Any help would be greatly appreciated. — Alisha
Solution: Hi Alisha. Since you've already talked to your carrier about the issue, the cause of the problem must be in your phone. The troubleshooting steps that you can try includes wiping the cache partition, deleting the messaging app's cache and data, and factory reset. Make sure that you them in this order.
A system cache is a set of files created by the device in order to load apps faster and smoother after they were installed. Deleting the cache will force the system to create new ones that work. Here's how you wipe the cache partition in your phone:
Turn off the device.
Press and hold the following three buttons at the same time: Volume Up key, Home key, and Power key.
When the phone vibrates, release the Power key but continue to press and hold the Volume Up key and the Home key.
When the Android System Recovery screen appears, release the Volume Up and Home keys.
Press the Volume Down key to highlight 'wipe cache partition.'
Press the Power key to select.
When the wipe cache partition is complete, 'Reboot system now' is highlighted.
Press the Power key to restart the device.
If your texting woes continue after wiping the cache, your next potential solution is deleting the messaging app's cache and data. Here's how:
Go to Settings.
Proceed to Applications.
Select Manage Applications.
Tap the All tab.
Look for Messaging app and tap it.
From there, you will see the Clear Cache and Clear Data buttons.
If both these procedures won't work, don't hesitate to do a factory reset (steps covered above).
Problem #4: Galaxy S5 camera won't focus even after doing software troubleshooting
My phone camera stopped focusing properly a couple weeks ago, and it won't focus on anything further than a foot away. I've checked online, and nearly all of them say to clear camera cache and data, which I've done, but it still isn't working.
I've also tried putting my phone in safe mode in case there is a 3rd party application affecting my camera, but even in safe mode it won't focus. There is no film on my camera lens, and I've tried cleaning it as well.
Now I feel like it's more a problem with the camera than the software, so would the only option now be to get it looked at and maybe the camera replaced?
I've had it for about 2 years now so the warranty is no longer valid so I would at least like to wear out every possible option before I consider getting it looked at. — Jessica
Solution: Hi Jessica. There's only so much that you can do when it comes to software troubleshooting. The most that you can do in this case is do a factory reset to see the difference. If that won't change anything though, it's safe to say that the camera's hardware maybe to  blame.
Problem #5: Galaxy S5 camera takes blurred pictures
The rear camera of my Samsung Galaxy S5 had recently started taking blurry pictures but the front/selfie one is okay.  I've tried clearing the camera cache, I've also tried resetting the phone to factory settings, I've cleaned the camera lens with cotton wool and methylated spirit but none of that worked. The only time when it takes perfectly clear pictures using the rear camera is when I tap on either the top left or top right corner of my phone a couple of times. But once i close the camera app and restart it the blurriness resurfaces. Could this be a hardware related problem that's affecting my rear camera?  Please help. — Godwin
Solution: Hi Godwin. As we have said to Jessica above, software troubleshooting is not the answer to everything. Having done all possible solutions an average user can do, we also think that it's hardware issue. The camera assembly is a delicate component with a few moving parts so it can suffer from daily wear and tear. It's impossible to tell exactly what may be wrong with the hardware without physically taking out the chip itself. The only thing that you can do at this time is to either have the phone repaired or simply replaced.
Problem #6: Galaxy S5 screen rotation stopped working after Android 6.0.1 update
A week and a half after installing Android 6.0.1 pushed OTA by Sprint, my screen rotation stopped working. The phone was not dropped or physically damaged. I took a landscape video, put the phone in my pocket, drove home, and went to watch it; when I turned the phone for the landscape orientation, the screen failed to rotate. I accessed the sensors menu (*#0*#) and the gyro test failed.
In addition, the values for the accelerometer do not seem to change. I wiped the partition cache, booted into safe mode, and factory reset the device. No changes.
I have an app to force the orientation when I want it, and since it won't rotate the camera, I can just rotate photos and videos after I've taken them, but it is a nuisance. Any help would be appreciated. Thank you! — Steve
Solution: Hi Steve. It's the first time that we've heard of Android Marshmallow messing up with an S6's screen rotation as well as some of the sensors. If factory reset did not fix the problem, you can consider manually flashing a stock Android Lollipop ROM. This will put your phone at risk but it's really the only way to go unless you can have the unit replaced.
---
Engage with us
If you are one of the users who encounters a problem with your device, let us know. We offer solutions for Android-related problems for free so if you have an issue with your Android device, simply fill in the short questionnaire in this link and we will try to publish our answers in the next posts. We cannot guarantee a quick response so if your issue is time sensitive, please find another way to resolve your problem. 
If you find this post helpful, please help us by spreading the word to your friends. TheDroidGuy has social network presence as well so you may want to interact with our community in our Facebook and Google+ pages.