This post highlights potential solutions to a problem on Red Dead Redemption 2 that keeps crashing on a Windows 10 computer. Read on to learn what to do in order to solve this issue.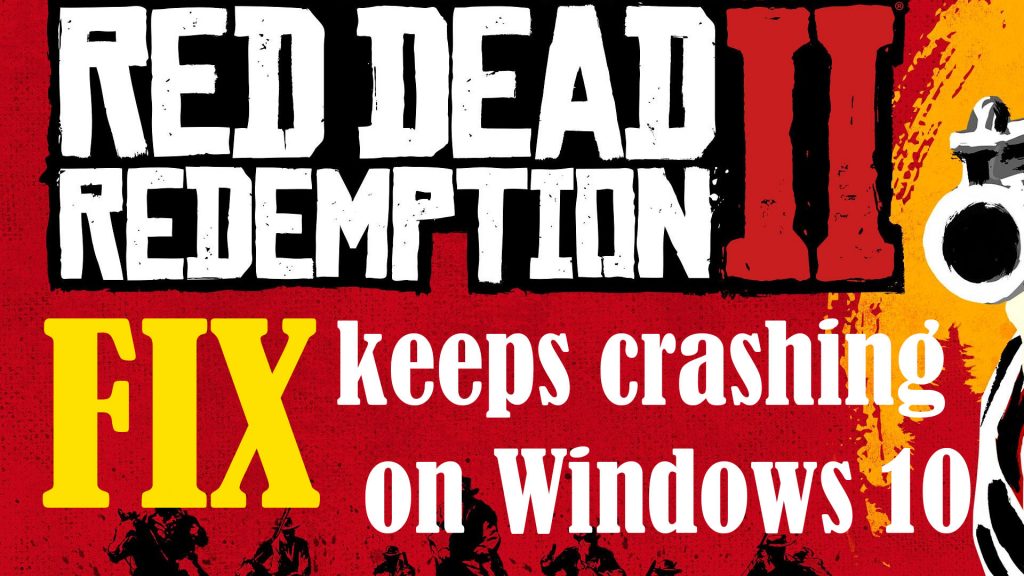 Rockstar Games' Western-themed action-adventure game Red Dead Redemption 2 was officially rolled out for Stadia and Microsoft Windows platforms in November of 2019. Since then, it broke several records and obtained critical acclaim for its well-thought story, characters , music, graphics, open world and level of detail. And for that, Red Dead Redemption 2 is regarded as an example of video games as an art form.
If by any chance you will encounter some issues while playing this game on your Windows 10 computer, particularly unexpected crashing, I've mapped out some simple yet effective tweaks for you to try on
Identify All Possible Triggers
There are many factors that can trigger a computer program and gaming apps to crash or stop working unexpectedly. In most cases, low memory or insufficient storage space is found to be the underlying cause. Other factors that can cause RDR 2 crashing issues include missing or corrupt system files, conflicting applications, and security software like antivirus or firewall restrictions. In some cases, an outdated or corrupted graphics driver is to blame.
Ruling out each of the known causes will help you narrow down, if not, fix the game in no time.
Troubleshooting Random Game Crashing Issue on Windows PC
Before you begin troubleshooting, verify and ensure that your computer meets the minimum system requirements for RDR 2. In order to play RDR 2, your computer must have the following:
Windows 7 or later OS
Intel Core i5 or higher processor
At least 8GB memory
Nvidia GeForce GTX 770 2GB / AMD Radeon R9 280 3GB or later
At least 150GB of HDD space
If there's no problem with the system requirements, try any of the following methods to rule out common triggers and fix the RDR 2 crashing issue on your Windows PC.
First Fix: Quit RDR 2 then restart your computer.
Random software glitches are inevitable and so, you cannot avoid bumping into some issues when using a computer program. If the game was working perfectly fine and suddenly it crashes, chances are that a random error has occurred either in the game program or computer system. Should this be just a minor glitch, restarting the system will likely fix it.
That said, quit Red Dead Redemption and then restart your computer. You can do the standard restart through the Start menu or using the shortcut key combos. The idea is to give the computer a quick breather and at the same time eliminate random system errors that might have caused the game to become unstable.
After rebooting, relaunch RDR 2 and see if the problem is gone. If the game still crashes after the restart, try the next applicable solutions.
Second Fix: Eliminate conflicting programs with clean boot.
To eliminate conflicting programs or system services from the possible triggers, performing a clean boot is recommended. This is when you will set or select which services are permitted to run automatically upon startup. So here's what you should then:
Click the Start button then type msc in the Search box.
Select System Configuration on the results.
On the next screen, click to access the Services tab.
Then mark the check box before Hide all Microsoft services.
To continue, tap the Disable all button and click Apply then OK to confirm.
After confirming, click to access the Startup tab.
Next, click the Open Task Manager link.
Select each startup app or service and then click the Disable button.
If prompted, click Apply then OK to confirm the recent changes you've made to the System Configuration.
After making all these changes, restart your computer and then relaunch Red Redemption 2 to see if it's already working stable.
Third Fix: Run RDR 2 as administrator.
Some games and gaming launchers do require full administrative privileges in order to work properly. Thus, allowing Red Dead Redemption to access all your game files is also a potential solution. Should you wish to give it a shot, here's how it's done:
Access the folder or directory where the RDR 2 game is installed.
Locate then right-click the game's executable file (Red Dead Redemption 2.exe) and click Properties.
On the Properties window, click to access the Compatibility tab.
Then, click to mark the checkboxes next to Disable fullscreen optimizations and Run this program as an administrator respectively.
After checking the two boxes, click the Change high DPI settings button.
Then, click to mark the option to Override high DPI scaling behavior.
Select Application on the dropdown list then click OK to apply changes.
Return to the Compatibility menu then click Apply then OK.
All recent administrative changes will then be applied to the RDG 2 game.
To run the Game Launcher as administrator, simply right-click on the Launcher then choose the option to Run as administrator.
After doing all that, relaunch RDR 2 and see how it works. If the crashing continues, proceed to the next workaround.
Fourth Fix: Scan and repair corrupt system files on your computer.
Missing and corrupt system files may also be the root cause of the problem. To rule this out, you can do a full system scan to download and repair any missing or corrupt files, if needed. Here's how:
Access the system file checker (sfc) by pressing the Windows key + R key simultaneously.
Next, type cmd and press the Ctrl+Shift+Enter keys to run the Command Prompt as administrator. If prompted, click Yes to confirm.
On the command prompt, type sfc /scannow
Then, press Enter on the keyboard to execute the command.
The computer will then start checking system files and download or repair any missing or corrupted files found.
Wait for the system file check results then follow the rest of the onscreen instructions.
After repairing corrupt system files, restart your computer to refresh the system. Then, relaunch RDR 2 to see if the problem is gone.
Other Suggestions
Verifying the game file integrity is also helpful when dealing with relevant issues. The process of verifying game file integrity varies depending on the game launcher/platform in use. like Rockstar, Steam, or Epic Games. What it does in general is to scan and redownload the missing and fix the corrupt game files to fix the problem.
Temporarily disabling any antivirus software or active firewall can also help you determine whether or not the problem is due to security restrictions. If the game is able to run smoothly without any firewall or antivirus enabled, that means you will need to reconfigure the software settings to set exceptions for RDR 2.
Setting the game to high performance mode can also help resolve performance issues including random crashes.
Hope any of the given tweaks is able to get the Red Dead Redemption 2 back up and working smoothly again. Otherwise, you may have to resort to giving the game a fresh reinstall.
Relevant topics that you might want to read: