Do you have a problem with your Samsung TV that keeps turning on and off? This issue can be caused by several factors, including a loose power cord connected to the wall socket, a software issue, or an issue with the Samsung Smart TV remote control. To resolve this, you will need to go through several troubleshooting steps.
Samsung is a South Korean company which is headquartered in Seoul Korea. Throughout 1977, Samsung started making and distributing color televisions in Asia. With over 4 million sold, the company had produced more black-and-white televisions than any other company in the world by 1978. By 1982, Samsung had sold 10 million black-and-white and more than a million color televisions worldwide. Black and white televisions were still in high demand in many developing Asian and South American nations even though they were considered antiquated in North America and Europe at the time.
The 30-inch LCD TV display that set a record for size in the late 1990s was made by Samsung. The company launched the first digital television line and flat-screen television production in 1998. With advancements like the thinnest TV in the world in 2002 and the first double-sided LCD screen in 2006, Samsung has maintained its dominance in the television industry in the early twenty-first century. As of 2020, Samsung is the eighth-best global brand.
Samsung TV that keeps turning on and off? Here are the solution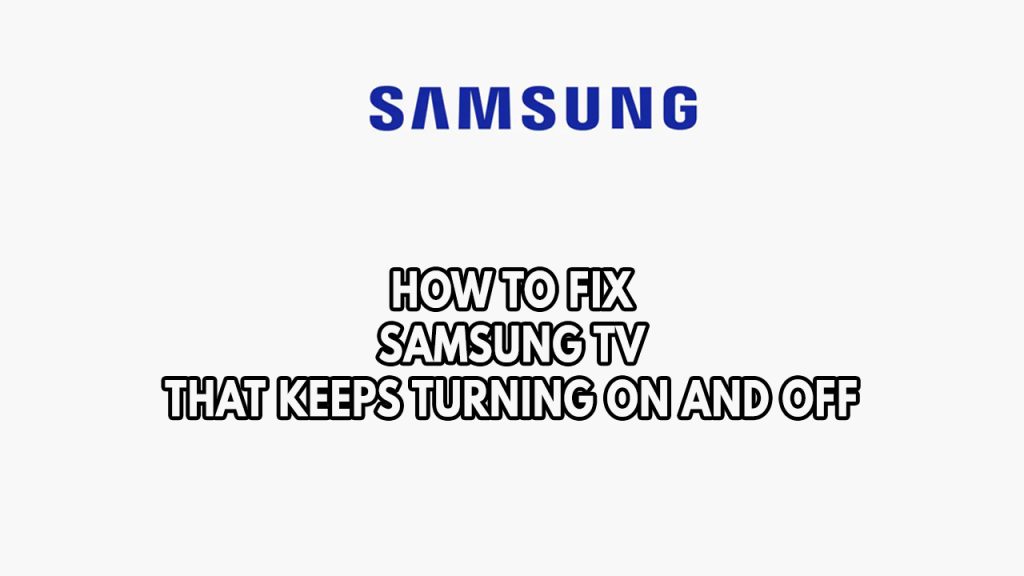 One of the problems you can have with your Samsung TV is that it frequently turns on and turning off every 5 seconds without warning. This can be a bothersome problem, especially if all you want to do is unwind and enjoy your favorite program.
Here's how to resolve the Samsung Smart TVs turning on and off problem.
Fix #1 Check the power cord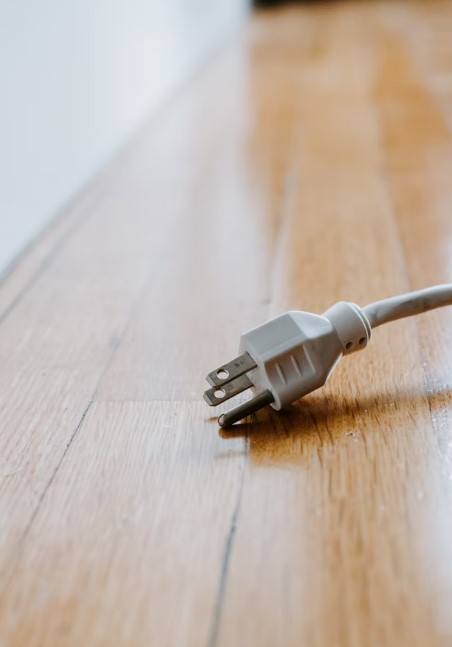 When your Samsung Smart TV keeps going on and off, the first thing you should check is the power cord to make sure it is firmly plugged into the outlet. Instead of using an extension cord, try connecting your Samsung TV directly to the wall outlet.
A power surge is another power connections related problem that could make the LG Smart TV turn on and off. This occurs when a power surge takes place, which can harm your TV's power supply board. Try to utilize a surge protector to shield the power supply from an unforeseen power surge. The Samsung TV is connected to the surge protector, which is subsequently connected to the power outlet. If the problem persists, you can also try to unplug the TV power cord to another wall socket if it still turning off every 5 seconds.
Fix #2 Check HDMI cable and other external devices connected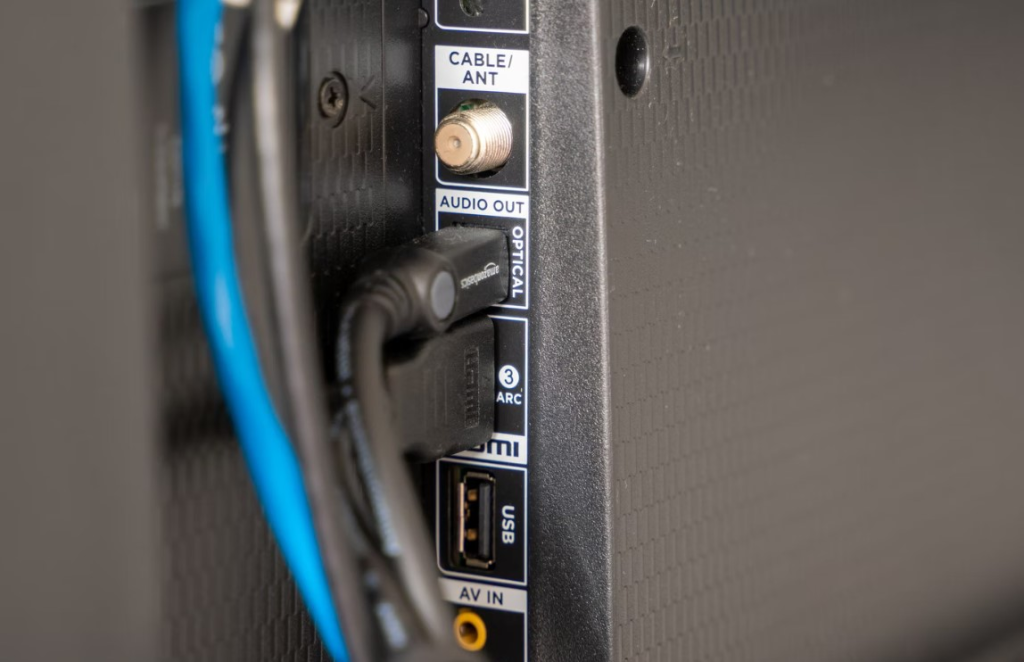 Examine all of the cords, including the coaxial cable, input cable, power cables, DVD player cable, HDMI devices and television wires, for any issues and physical problem. Double check and inspect the back of the device to ensure that all of the wires connected to your television are correctly connected to the relevant ports. Reconnect any wires or connections found to be loose or only partially connected to the port. Determine whether the turning off every 5 seconds is still there after double-checking all wires and connections. After verifying the cable connections, repair any damaged cables before checking to see if the problem with your Samsung TV turning on and off has been fixed. Also try to check for any faulty device that is connected to the TV, as it might be also the issue.
Fix #3 Check Samsung TV sleep timer settings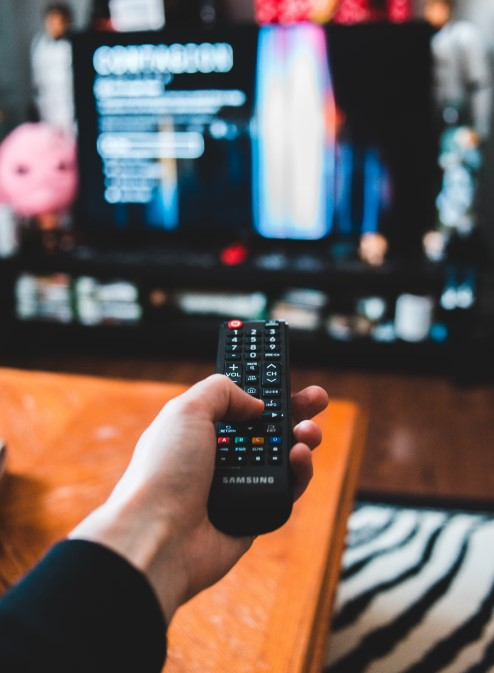 There's a possibility that the Samsung TV turns on and off you are experiencing is simply caused by a power mode setting or an eco solution feature. You can check these in the settings menu if this is the issue.
The feature below will be available for certain TV model.
Turning off sleep timer
Step 1: Take your television remote control and press the Menu button.
Step 2: Select System manager from the pop-up menu, then Time from the drop-down menu.
Step 3: Select Sleep Timer from the displayed menu, then tap the OFF option.
Turning off power saving mode or energy saving mode
Step 1: On your TV remote, press the Menu button,
Step 2: Choose Settings from the list of options.
Step 3: Select Energy Saving Mode from the drop-down menu and turn it OFF.
Turning off Eco Solution
Step 1: On your TV remote, press the Menu button,
Step 2: Choose Settings from the list of options.
Step 3: Select Eco solution.
Step 4: Select Auto power off.
Fix #4 Power cycle your Samsung TV
One common factor that can cause the Samsung TV that keeps turning off and on every 5 seconds or a few seconds is a temporary software glitch. This can be due to the TV's internal memory being overloaded or the TV's software firmware has crashed.
In order to fix this you just need to power cycle your Samsung TV.
Power cycling
Step 1: Turn off your television using the power button on your Samsung TVs remote , then wait 15-30 seconds before turning it back on.
Step 2: If the TV still turns on and off every 5 seconds to a few seconds, switch on your television and unplug it from the wall outlet. Wait 60 seconds before proceeding.
Step 3: Reconnect the power cord to the outlet and turn on your television for 60 seconds to see whether it works.
Fix #5 Check software update
If the Samsung TV is turning on and off can be cause by an outdated firmware. You will most likely be able to resolve the Samsung TV issue if you update your Samsung TV. The TV firmware can be updated in several ways. If the issue is momentary and appears only sometimes. Then, from the settings, you can quickly make the update. Keep in mind that the TV will only detect and download updates if you have an active WiFi connection
Updating outdated TV firmware
Step 1: Go to your TV's Settings and look for the Support option.
Step 2: Scroll down to the Software Update area. It's available for use.
Step 3: To check for updates on the TV, click Update Now.
Fix #6 Factory reset or Hard reset the Samsung TV
If the issue with the TV doesn't go away, there can be an issue with the internal settings. It's possible that an update corrupted the software. It's possible that a third-party app is to blame for the problem.
One of the most effective ways to fix any software problem is to restore factory settings. This can help you solve a number of problems. The settings, backlight settings, display settings, downloaded content, saved preferences, and TV's data will all be erased by a factory reset, however if you have a Samsung account, you can keep these settings. The best way to fix a TV problem, however, is with this method.
Factory reset process
Step 1: Use the TV's remote controller then press Menu button to access the settings menu.
Step 2: Select Support and navigate to the Self Diagnosis option section. The Reset option can be found there on the Self diagnosis option.
Step 3: If prompted for a security pin, enter the one you created. If you don't know the pin security, try the default pin 0000 or 1234. Usually, one of these works.
Step 4: You may be asked if you're sure you want to reset the television. Select Yes to confirm.
Hard Reset option
Step 1: Turn off the TV and any other connected devices that are attached to it.
Step 2: Remove the power cable and cable connections of the tv.
Step 3: For 30 seconds, press and hold the television's power button.
Step 4: Leave the TV unplugged for a further 10 minutes.
Step 5: Reconnect the television, cables and other connected devices and make sure they are properly connected.
Step 6: Turn on the television.
Fix #7 Samsung Warranty
You must get in touch with the service center for repair if the problem cannot be resolved using the above troubleshooting steps. The likely cause is hardware failure, such as a faulty capacitor or blown capacitor. If you do not know how to contact the service center, it is likely written in the user manual of your TV.
Frequently Asked Questions
Why does my Samsung TV keep restarting?

This issue can be caused by several factors, including a loose power cable connected to the wall socket, a software issue, or an issue with the remote.

How do I fix my Samsung TV from restarting?

You can follow the above guide for the comprehensive troubleshooting steps to fix the issue.

Which Samsung Series TV is best?

That would be the QN900B Neo QLED 8K. A stunning 8K TV that is a high end TV.

What size screws are used to mount a Samsung TVs?

M8 x 43mm TV mounting Bolts.

How do I reset my Samsung Television if it wont turn on?

Unplug your television and wait 60 seconds. Press and hold the power button for 30 seconds while the TV is unplugged. After 60 seconds, plugged your TV.