Are you experiencing Vudu error code 28? Several factors can cause this such as DNS settings, Windows security, Windows firewall, and a poor internet connection, to name a few. To fix this you will need to do several troubleshooting steps.
Vudu is a digital video shop and streaming service which is owned by Fandango Media, a partnership between NBCUniversal and Warner Bros. Discovery. Vudu offers digital rentals and purchases of movies through transactional video on demand, as well as integration with digital locker services for streaming digital copies of movies bought as home video. The Vudu Box, a digital media player, was the service's primary focus at first. In 2010, the company started to give up on the hardware market in favor of concentrating on integrating its service and related app platform into third-party products like televisions and Blu-ray players. Since then, the company has made its services available online, through mobile apps, and on digital media players and smart TVs.
Experiencing Vudu error code 28 operation timeout with your Vudu service? Here's how to fix it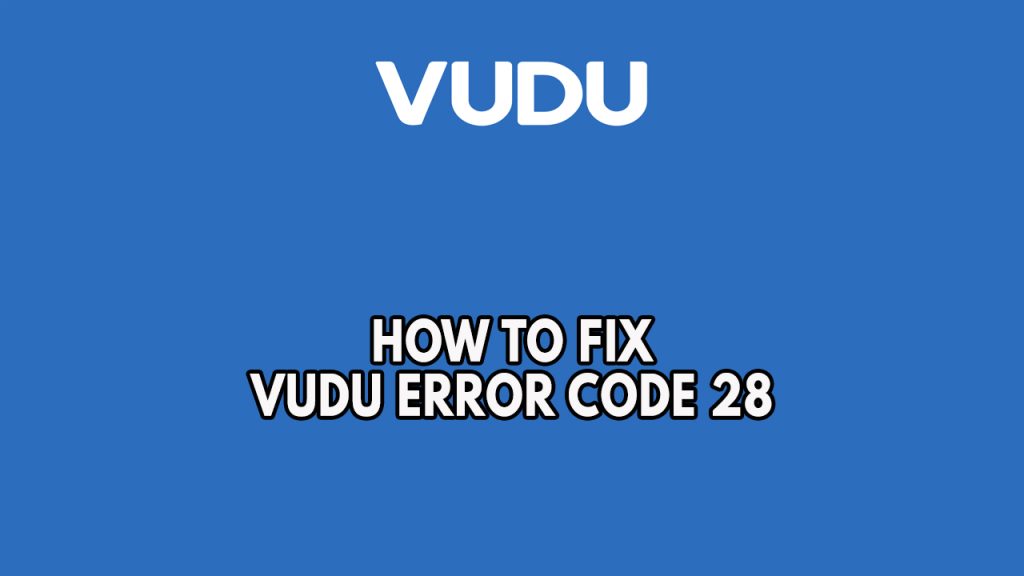 One of the issues that Vudu users might encounter with the Vudu app is the Vudu error code 28. This can be a frustrating experience especially if you want to watch your favorite Vudu movies and show.
Below are the steps to fix Vudu error code 28.
Fix #1 Check internet connection
The first thing you should do if you experience Vudu error code 28 is to check your internet and network connection. You will experience error code 28 if you don't have good internet and if your internet is intermittent. Try to check your internet speed and see if your internet has issues.
Time Needed : 3 minutes
Checking internet speed
Open your browser on your computer or your smartphone.

Choose any preferred internet browser you want.


Type speedtest.net to have your internet speed check.

Speed test site is one of the most popular web tools to check your connection speed.


Press the Go button.

Pressing Go button will start the speed test.


Wait for the results of the speed test to be completed.

Find out how fast is your download and upload speed.

A stable internet connection is required for the Vudu app to stream video. The results should correspond to your internet service provider subscription plan.
The recommended speed on the Vudu app are as follows:
SD – 1 Mbps to 2 Mbps
HDX – 4.5 Mbps to 9 Mbps
UHD – 11 Mbps and higher
If you have a slow, intermittent or no internet then you can check if this is caused by an issue with your WiFi router or network device by doing an internet modem unplug.
Step 1: Turn off the device that has the Vudu application.
Step 2: Unplug the power cords from your Modem and Router.
Step 3: Reconnect your modem and router to the power supply after a minute and turn on the devices.
Step 4: Wait for the modem lights to come on again.
Step 5: Turn on the device that has the Vudu application.
Try to check if you are still encountering error code 28 operation timeout with the Vudu service.
To have a stable internet signal with your WiFi router, Vudu customers can do the following steps:
Step 1: While using the app, try to disconnect any other devices that are connected to the WiFi router. This allows the gadget to utilize the maximum amount of internet bandwidth.
Step 2: Bring the gadget or television closer to the router. This will allow the gadget to receive a significantly stronger Wi-Fi signal.
Step 3: If you have a dual-band router, try connecting the streaming device to the 5GHz channel rather than the 2.4GHz band.
Step 4: If your device has an ethernet port, use a wired connection.
Fix #2 Check Vudu server
There are instances when the Vudu server is unavailable due to an outage, causing problems when you open Vudu. When the server is unavailable for maintenance or an unforeseen outage, you will be unable to stream Vudu shows.
You can use the DownDetector website to see if the Vudu server is offline. If an outage is reported, you will have to wait for it to be resolved.
Fix #3 Temporarily disable Windows security
One of the causes of error code 28 operation timeout might be your antivirus constantly scanning and blocking Vudu. To see if this is the issue, temporarily disable your antivirus and if this fixes the error code 28, add Vudu to the exclusion list of Windows security.
Turning off Antivirus
Step 1: Press Windows Start menu key.
Step 2: Click Settings.
Step 3: Click update & security.
Step 4: Click Windows Security.
Step 5: Click Virus & Threat protection.
Step 6: Click Manage settings.
Step 7: Turn off real-time protection.
Adding Vudu to the antivirus exclusion list
Step 1: Press the Start Menu button.
Step 2: Click Settings.
Step 3: Click Update & Security.
Step 4: Click Window Security.
Step 5: Click Virus & threat protection.
Step 6: Click Manage settings.
Step 7: Click Add or remove exclusions.
Step 8: Click Add an exclusion.
Step 9: Click Folder.
Step 10: Locate and select Vudu installation directory folder.
Fix #4 Windows firewall
Another cause is that your windows defender firewall is blocking the incoming and outgoing connections of Vudu. You should check the Windows defender firewall option such as inbound rule, outbound rule and make sure that the Vudu application is allowed to pass and communicate with the Vudu server.
Adding as an Exception through Windows Firewall exceptions
Step 1: Type Windows Firewall in the search bar on your desktop and then click the icon that appears in the results to open firewall.
Step 2: Choose Allow an app or feature through Windows Defender Firewall.
Step 3: Scroll down until you find Vudu then check all boxes.
Step 4: Click the OK button.
Check if the Vudu error code 28 is fix.
Fix #5 Use alternate DNS server
If the problem persists, change your computer's DNS server address to a different DNS address, such as one of Google's DNS addresses. Changing the DNS server addresses on your computer will significantly enhance your connection and resolve the Fix Vudu failed to connect error.
Changing DNS settings
Step 1: Type Control Panel in the search bar on your desktop and then click the Control Panel icon that appears in the results.
Step 2: Click Network and Sharing Center.
Step 3: Click Ethernet, Wi-Fi, or other connections that you are currently using.
Step 4: Click Properties.
Step 5: Click Internet Protocol Version 4 (TCP /IPv4) then click Properties.
Use the following DNS server addresses:
Preferred DNS server: 8.8.8.8
Alternate DNS server: 8.8.4.4
Step 6: Check the check box beside Validate settings upon exit and then click OK.
After You have finished changing DNS you need to flush your cache
Step 7: Open Command Prompt, type the following command and press Enter.
ipconfig /release
ipconfig /flushdns
ipconfig /renew
Fix #6 Reinstall Vudu
If none of the above troubleshooting methods have worked, Vudu may need to be uninstall and then reinstall to fix the Vudu failed to connect issue error code 28. Most of the time the app requires a reinstallation to fix the issue as experienced by many Vudu users. You will need to log in to your Vudu account after reinstalling Vudu.
Frequently Asked Questions
What does error code 28 mean on Vudu?

It usually means a connection error in connecting to Vudu server.

Why do I keep getting error code 28 on Vudu?

You might have a problem with your internet settings.

How to Fix Vudu Failed to Connect the Network Error Code 28?

Follow our comprehensive guide above to fix the issue.