Are you experiencing the Amazon Firestick keeps losing internet connection issue? There are several factors that can cause this issue such as a poor internet connection, a software bug, or an IP address glitches. To fix this you will need to perform several troubleshooting steps.
The Amazon Firestick is a compact media streaming device that connects to the TV's HDMI port of a TV allowing it to access various online content. It's one of the best ways to access Netflix, Amazon Prime Video , Hulu, or even YouTube on a large screen even if you don't have a Smart TV. Since it is built on the Android platform, you will be able to install various apps to it from the Amazon built-in app store.
Why does my Amazon Fire Stick keep disconnecting from Wi-Fi?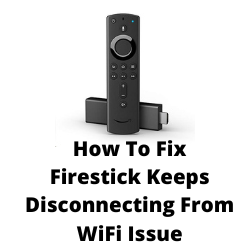 One of the issues that you might experience with your Amazon Fire Stick is when it keeps losing connection. This can be a frustrating experience since you won't be able to properly watch your favorite shows as it keeps pausing or stopping.
Here's what you can do to fix the Amazon Fire TV Stick keeps losing connection issue.
Solution 1: Check your internet connection
One factor that can cause the Amazon Fire TV Stick keeps losing internet connection issue is a poor internet connection. You need to make sure that the Firestick has access to a fast internet speed so that it can stream videos properly.
Perform a speed test on the device using some of the popular online speed checkers such as speedtest.net.
Checking your internet speed
Open a browser on your Firestick.
Go to speedtest.net. This is an online speed test tool that is free to use.
Click on Go. This will start the speed test.
In order to avoid losing internet connection issues you should have a good download and upload speed result. The results should match your subscription plan from your internet service provider.
The recommended speeds are as follows:
4K: 20 Mbps
HD 1080p: 5 Mbps
HD 720p: 2.5 Mbps
SD 480p: 1.1 Mbps
SD 360p: 0.7 Mbps
If you have an issue with the internet connection then you can check if the network problem is caused by your equipment.
Turn off your Fire Stick.
Unplug your Modem and Router from the power source.
Wait for a minute then plug your modem and router back into the power source.
Wait until the lights turn back on.
Turn on the Fire Stick.
Reconnect your Fire Stick to the internet.
Here's what you can do to get a stable internet connection.
Try to disconnect other devices connected to the Wi-Fi router while you use the Fire TV device. This will allow the Amazon Fire Stick to use the maximum internet bandwidth.
Move the Fire TV Stick closer to the router . This will allow the device to get a much stronger Wi-Fi signal.
If you have a dual band router try to connect to the 5Ghz band instead of the 2.4.
You can also try to forget the wireless network then connect to it again.
Go to Settings and choose Network.
Select the existing Wi fi network and choose the "Forget this network" option.
Press the Select button to confirm.
After the Wi-Fi network has been disconnected connect to it again by entering the username and password
Solution 2: Restart Amazon Fire TV
There's a possibility that the Amazon Firestick keeps losing internet connection because of a software glitch. In order to fix his you just need to restart your Amazon Firestick. There are two ways of doing this. The first method is to simply unplug your Amazon Firestick power source then wait for a minute before plugging it back in. The second method is by using the Amazon Firestick remote.
Restart using Fire TV Remote
Long press the home button on your Amazon Firestick remote.
Select Settings menu.
Choose the My Fire TV option.
Select Restart.
After the Fire TV Stick has restarted try to check if the Firestick keeps losing internet connection still occurs.
Solution 3: Check for system update on your Firestick
Sometimes the problem can be caused by a bug present in the outdated software that your Amazon Firestick is using. Try to install the latest version on the Amazon Firestick as this will come with several enhancements and bug fixes that could address this issue.
Getting the latest OS Updates
Open Firestick Settings.
Select My Fire TV.
Open About and select Check for Updates.
If any new updates to the Fire OS are available then they will be automatically installed.
Try checking if the Firestick keeps losing internet connection issue still occurs.
Solution 4: Perform a factory reset on your Fire Stick
If after performing the troubleshooting methods listed above the issue still persists then you should consider restoring the Fire Stick back to its factory default settings. This brings back the device to its factory defaults.
Fire Stick FActory Defaults
Go to the Settings menu.
Select Reset to Factory settings.
Click OK.
Wait for the process to finish.
After the reset has completed setup the device then check if the Fire TV Stick losing internet connection issue still occurs.
Other troubleshooting steps to consider
These are the additional troubleshooting steps you can do in case the above steps fails to fix the problem.
Change DNS settings of the firstick
You should try using Google's DNS servers.
Press the menu button on your remote.
Go to the network and then network status.
Select IP settings and then select DNS settings.
Select Enter manually and put your DNS address 8.8.8.8.
Try using an ethernet adapter
If you are having issues with the Wi-Fi network even if you have already made changes to the wireless settings then another option is to use a wired connection. In order for this to work you will need an ethernet adapter and an ethernet cable that will connect to your router.
Change Wifi connection settings
Sometimes changing the Wi-Fi connection settings of the router will fix this problem. Take note that you will need to login to the router in order to access its settings.
Go to network settings of the router and select the wireless settings option.
Select others options.
Go to internet protocol settings.
Change the 802.11 modes to 802.11n or 802.11 b/g/n.
Click on apply changes.
Restart your router and firestick.
Change WiFi router channel
If there are a lot WiFi router devices in your area and they are using the same channels then this can usually interfere with the WiFi connection. You should try using a different channel on your WiFi device. Take note that in order to do this you will have to access your router admin page.
Go to the Network tab.
Now select WLAN.
Select channel number and change it from auto to manual and select the following channel depending on your connection 5g and 2.4 g. For 5g select 36, 40, 44, or 48. For 5g select 36, 40, 44, or 48.
Select apply changes.
Restart your router and your firestick.
Frequently Asked Questions
Can other electronic devices interfere with my Firestick connection?

If your Firestick is near a microwave or radio devices then it can interfere with the wireless connection.

Why does my Firestick detect a weak signal strength?

The device might be too far from the router. Try moving the device closes to the router to improve the signal strength.

What to do if my Amazon Fire TV is defective?

If it is still under warranty then you can contact the Amazon Firestick customer support team for assistance. The device will either be repaired or replaced.

My Fire TV device has connection issues to the internet

You need to make sure that you are using the correct password to access your Wi-Fi network. You should also check if you have a working internet connection.

What are the internet speed requirements for the Amazon Fire TV Stick?

If you want to stream in SD (standard definition) – then you need a minimum Internet speed of 3 Megabits per second.
If you want to stream in HD (high-definition) – then you need a minimum Internet speed of 5 Megabits per second.