This post highlights potential solutions to the Minecraft Bad Login error in Windows 10. Read on if you need help fixing this error that halts you from playing Minecraft on your Windows computer.
What is Minecraft Bad Login error?
The Bad Login error in Minecraft denotes that your Minecraft login has timed out due to an ongoing issue with the Minecraft session servers. Thus, an error message saying "Failed to log in: Bad login!" occurs.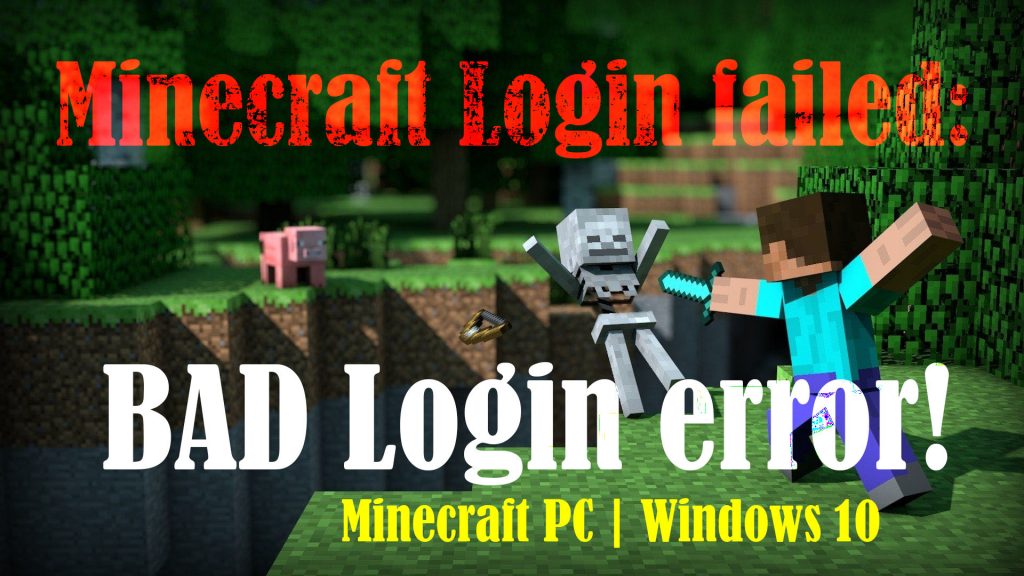 Server downtimes are just temporary and there's not much that can be done on your end but to wait until the server is back up and running again. Nonetheless, there are a few workarounds you can perform to rule out other factors that might have triggered this Minecraft error, should the server be accessible.
Potential Fixes for Minecraft Bad Login error in Windows 10
Before you begin, check out the current status of Minecraft service. There are several tools you can use to access this information and downdetector tool is among them. If there are reported issues with Minecraft, that should resolve on its own in a few hours. All you have to do is to wait patiently and retry playing Minecraft at a later time.
But if waiting isn't an option and you badly need to connect to your server, then you can just run your server in offline mode instead. This however is only recommended if you are able to monitor your players.
If there are no reported issues with the Minecraft authentication server, then you can go ahead and rule out common factors that might have triggered the Bad login error to occur when trying to play Minecraft on your Windows 10 computer.
First workaround: Log out of Minecraft the re-login.
One of the best ways to refresh profile authentication is to log out and log back into your account. If this is the first time you're seeing this error, it could be just a random glitch affecting the game's login system. To deal with such in-game snags, do the following:
Log out of Minecraft.
Close/quit the game.
Relaunch Minecraft then enter your account credentials to log back into the game.
Be sure to enter the correct username and password this time.
After successfully logging in, retry connecting to your server and see if the error is gone.
If the Bad login error reoccurs, try the next workaround.
Second workaround: Refresh your Internet connection.
To rule out network connectivity issues on your Windows 10 computer, refreshing the network is recommended. You can do this by disconnecting and reconnecting to your Wi-Fi network or by turning the modem or wireless router off for a few seconds and then turning it back on again.
Performing this tweak clears our random wireless issues that might have hindered you from connecting to your Minecraft server. So here's what you should do then:
Turn off the modem/wireless router by pressing on its Power button until it powers down.
While it's turned off, unplug its adapter from the power source for about 30 seconds to 1 minute.
After the elapsed time, plug it back in and then reconnect the computer to your Wi-Fi network.
Test your internet connection by loading random websites and pages on your browser. If there's no problem loading sites, the internet is working well. Otherwise, troubleshoot internet connectivity issues for your computer to get back online.
Third workaround: Disable Antivirus and Firewall temporarily.
If the Bad login error occurs while having some antivirus software or Windows firewall activated, try to disable them temporarily. Doing so will help you determine whether or not your security software is preventing Minecraft from working properly.
To disable Windows 10 Firewall, just follow these steps:
Click the Start/Windows icon then type Control Panel.
On the next window, click System and Security.
Click Windows Defender Firewall on the succeeding screen.
Then, look for the option to Turn Windows Firewall on or off on the left pane.
Click to mark the Turn off Windows Defender Firewall (not recommended) option for both Private network settings and Public network settings.
Click OK to apply and save the recent changes.
After saving the settings, restart your computer and then relaunch Minecraft to see if that fixes the problem.
If the error does not appear when running Minecraft with the security tools disabled, that means the need for you to reconfigure the antivirus or firewall settings to allow Minecraft to run and use system resources without any restrictions. Otherwise, you've got to try other application solutions.
Fourth workaround: Update/reinstall graphics card drivers.
Many errors affecting gaming programs are attributed to some faulty or missing graphics card drivers. To make sure this isn't the underlying cause of the Bad login error on Minecraft, try these steps to access the Device Manager and update or reinstall any corrupt or missing drivers, when needed. So here's what you should do then:
Click the Start/ Windows icon on the Task bar then type Device Manager into the text field.
Select Device Manager from the Power menu search results.
Locate and expand the Display Adapters section.
Right-click on our Graphics driver then select the option to Update driver.
On the succeeding screen, select the option to Search Automatically for updated driver software or Browse my computer for driver software.
Should you wish to reinstall a corrupted driver, right-click on the driver then select Uninstall device.
Restart your computer and let it reinstall the missing driver automatically.
You can also use third-party tools to carry out automatic updating and reinstallation of your graphics card drivers.
This tweak should fix the error if it's attributed to an outdated or corrupted video card driver that's affecting Minecraft connectivity.
Other Suggestions
Reset All Host file entries. Temporary files and unwanted cache stored in the system's host file can also trigger the login failed or bad login error on Minecraft's system. To clear this out, removing all the host file entries can help.
Update Java program. Updating the Java program is also a potential solution if the error is tied to an outdated version of the game. Updating this application can be the key to enhancing the game's overall performance and thereby clearing out all sorts of errors including the Bad login or login failed error.
Hope this helps!
Relevant topics that you might want to read: