This post highlights potential fixes to the Fortnite error IS-BV04 build verification failed on Windows 10. Read on to learn what triggers this error to occur while running Fortnite through the Epic Games client on your Windows computer.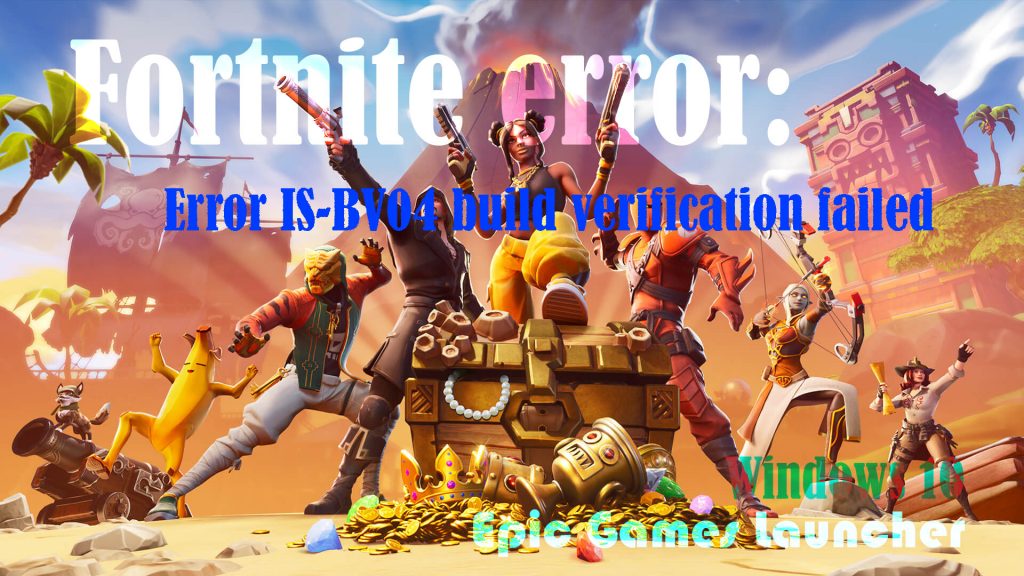 Battle Royale game Fortnite emerges among the most popular on the Epic Games Store alongside Rocket League and GTA V, with over a hundred and twenty five million users and counting. However, Fortnite also has its own share of setbacks. In fact, many people are complaining about different types of errors they encounter from downloading up to playing Fortnite on their Windows computer through Epic Games.
Error IS-BV04 build verification failed
One of the common errors encountered by Fortnite players with the Windows 10 Epic Games launcher is the error IS-BV04 build verification failed. When this error occurs, you won't be able to install or run the Fortnite game on your computer via Epic Games due to a mismatched hash problem.
As Epic Games explained, this error code usually shows up when the computer's hard disk uses the incorrect or invalid file system that's needed to install or run the game. Another factor is a faulty memory.
Fixing Fortnite Epic Games error IS-BV04 build verification failed
If you're getting the same error while trying to install Fortnite on your computer using the Epic Games client, you can try any of the given solutions below.
Before you begin, restart your computer. A simple reboot can help eliminate minor system glitches that might have contributed to data corruption and thereby halt the program installation via Epic Games. It is also a simple way of clearing out any corrupt residual data from the Windows system. After restarting, retry installing Fortnite.
If the error still shows up, then you can try any of the recommended solutions by Epic Games to deal with this error code with Fortnite.
First Fix: Perform a Memory Test
As mentioned earlier, this error code can also be triggered by a problematic RAM on the computer. To rule out a faulty memory from the underlying causes, perform the following:
Click the Start/Windows button on the Status bar.
Type Windows Memory Diagnostic then press Enter on the keyboard to see search results.
From the Search results, click to select Restart Now and check for problems (Recommended).
Wait for your computer to finish checking for any errors tied to faulty RAM.
If there are no errors, retry installing or running the game . If there are errors detected, then you may have to consider optimizing or upgrading your RAM.
Second Fix: Verify HDD system format
If your computer is not using the modern file system (NTFS) as the system drive default, there's a higher chance for errors like this to occur when installing or running the game. Thus, verify your computer's HDD format with these steps:
Click the Start button to open the menu.
Go to This PC (formerly File Explorer).
To continue, right-click on the drive where Fortnite Epic Games is installed and then click Properties. It's usually in drive C:\, if not drive D:\.
On the Properties windows, click on the General tab then see if the File System value is set to NTFS. If it's set to the older file system FAT32, then you will need to change it to NTFS format.
Follow these steps to convert FAT32 to NTFS format:
First, locate the disk drive that you need to convert. For example, C: or D: drive.
Then, press the Windows + R keys on the keyboard to open the Run app.
On the Run dialog box, type cmd then press Enter. The command prompt window opens next.
On the command line prompt, enter this command
convert drive /fs:ntfs
The drive in the above command line stands for the letter of the drive that needs to be converted like c: or d: drive, respectively.
After converting the drive format, check and see if the error is gone.
Third Fix: Update Fortnite
It's highly recommended to keep your apps and games up-to-date. This is by far the best way to keep apps and games optimized and stable. To check for any new patch update available for your Fortnite game, just open the Epic Games Launcher on your computer then select the option to Check for Updates.
If a new patch is available for Fortnite, download and install it to update the game. To get this done successfully, your computer must have a stable internet connection with a speed of at least 5Mbps. Also ensure that there's ample storage space to allocate update files.
Fourth Fix: Uninstall then reinstall Fortnite
If none of the aforementioned fixes works, then you may have to consider reinstalling Fortnite. This is usually needed if the game itself has been totally corrupted and therefore no longer able to work as intended.
Should you wish to proceed, just follow these steps to uninstall Fortnite from the Epic Games platform:
Open the Epic Games launcher on your computer.
Go to the Library tab.
Select Fortnite from the games menu then click on Settings.
Finally, click Uninstall and confirm if prompted.
When the game is completely uninstalled, restart your computer to clear out cache and refresh the entire system components.
After restarting, open the Epic Games Launcher again and reinstall Fortnite.
That should give Fortnite a clean fresh relaunch, free from any errors including the IS-BV04: Build verification failed prompt.
Other Suggestions
Other people who have encountered the same error with Fortnite on Windows 10 Epic Games Launcher have managed to fix it by cleaning the system registry with CCleaner, followed by a clean restart. Others have found wonders from creating a new partition on the same hard drive and installing the game on there.
The built-in Program Install and Uninstall troubleshooter in Windows can also be used to fix any corrupted registry keys and repair associated errors that prevent programs from being installed, updated or uninstalled.
Verifying Windows system file integrity using the built-in repair tools file checker can also help scan and fix Fortnite errors that are tied to a corrupted system file.
Hope this helps!
Relevant topics that you might want to read: