This post highlights a few potential solutions to deal with the Age of Empires 3 initialization failed error in Windows 10. Read on to learn what this error code means, what triggers it to occur in Age of Empires 3 Windows version.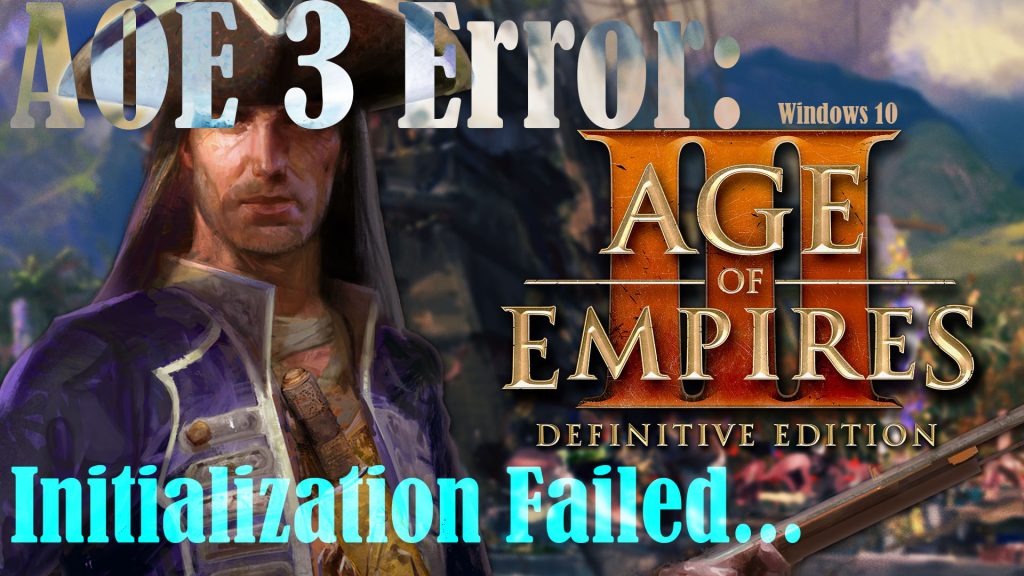 When it comes to real-time strategy games of the century, Age of Empires 3 emerges among the most incredible and popular titles. Nonetheless, popularity does not exempt the game from having random flaws and errors.
A common error encountered by AOE 3 players in Windows 10 is on the initialization failed error. Keep reading for more details about this error as well as the potential solutions.
What causes Age of Empires 3 initialization error?
The Age of Empires 3 initialization failed error usually occurs when launching the game. This happens due to several reasons including inactivated graphics packages on the computer, corrupted game files, and invalid parameters, to name some.
Aside from Age of Empires 3, this error also occurs on other PC games, particularly the ones that are recently installed.
If you happen to bump into the same error while launching Age of Empires 3 on your Windows 10 computer, I've mapped out some helpful workarounds that you can try on.
Troubleshooting Age of Empires 3 initialization error in Windows 10
Before you start applying the suggested solutions, verify and ensure that your computer meets the minimum system requirements to run the game. To give you some input, here's the minimum system requirements for Age of Empires 3 PC:
CPU : Intel Core 2 Duo 2.2 GHz or AMD Athlon 64 X2 2.0 GHz
CPU SPEED : Info
RAM : 2 GB
OS : Windows XP
VIDEO CARD : 64 MB NVIDIA GeForce 6800 or ATI Radeon X1300
PIXEL SHADER : 3.0
VERTEX SHADER : 3.0
SOUND CARD : Yes
FREE DISK SPACE : 12 GB
DEDICATED VIDEO RAM : 64 MB
Now, you can compare this information with the actual details shown on your computer's system properties menu.
After confirming that all system requirements are met, you can start ruling out every possible culprit with any of these subsequent methods.
First solution: Install new update for the game.
Game developers are constantly rolling out updates to keep games stable, optimized and free from bugs. Updates are not only bringing in new features for the game but also embed essential patches to get rid of existing bugs that make the game somehow erratic.
That said, verify and ensure that you have the latest version of Age of Empires 3 software.
Should you need to download the game update, you can visit the AOE official website to view the latest patch or software version available.
Once you get there, start Age of Empires 3 then go to the main screen of the game. Click Help and Tools then click the option to Update Game.
Don't forget to restart your computer after updating to ensure that all recent software changes are properly implemented. It's also a way of giving the game a clean fresh start.
If updating doesn't fix the problem or there are no available game patches, try the next applicable solutions.
Second solution: Configure system to enable DirectPlay Settings.
DirectPlay is a component of DirectX API that serves as a network communication library. With this module enabled, video games are allowed to connect to the Internet, network or modem link to find game sessions for players. Given the fact that this is a legacy software, it is disabled in the system by default.
It then turned out that some AOE players have managed to rectify the AOE 3 initialization failed error by enabling DirectPlay. Thus, it might be worth a shot to fix the problem on your end. Should you wish to try this tweak, just follow these steps to enable the DirectPlay module on your Windows 10 computer:
Launch the Start menu then type Turn windows features on or off and click on if from the search result. The Windows features window opens.
Click the Plus(+) sign to expand the Legacy components folder.
Then, click to mark the checkbox before DirectPlay.
After checking the DirectPlay box, click OK.
That should activate the module. Restart your computer to refresh and apply the recent changes to the system settings. Then, try launching Age of Empires 3 again to see if that fixes the initialization problem.
Third solution: Disable Antivirus or Firewall connection.
Loading, crashing, and stuttering issues in computer games are often tied to an antivirus software or firewall connection. This happens when the antivirus or firewall detects some security threat or risks when loading a certain game. In retort, the antivirus or firewall blocks the game or prevents it from loading or using some system resources. In short, the game won't be able to work as intended.
To make sure that this isn't the root cause of the initialization failed error with AOE 3, try to disable any antivirus or firewall connections on your computer. After disabling the security software, relaunch Age of Empires and see if the problem is gone. If that fixes the problem, you will need to reconfigure the antivirus/firewall settings to set exceptions for Age of Empires 3 and allow the game to use its needed system resources in order to load properly and work smoothly.
Fourth solution: Download/install the latest version of DirectX.
DirectX refers to a set of Windows components that allows software, particularly games, to work directly with the video and audio hardware. That said, check and ensure that your system has the latest DirectX version. If not, you can visit the Microsoft Support page to view more detailed instructions on how to get the latest API version.
After downloading the package, install it on your system with administrative privileges.
Fifth solution: Update/reinstall graphics or video card drivers.
Faulty drivers can also be the underlying cause of the problem, so make sure that the system has all necessary drivers in good shape.
To check on your graphics or video card drivers, just launch the Device Manager menu with these steps:
Click on the Start button to launch the Start menu.
From the Start menu, click Settings.
In the Settings screen, click Devices.
Then, click Printers & scanners or Connected devices under the Related Settings section.
Finally, click Device manager.
While on the Device Manager screen, locate your graphics drivers.
If the driver appears to be outdated, right-click on the driver name then click Update on the pop-up menu.
If the driver appears to be corrupted, right-click on it then select Uninstall.
Restart the computer then allow it to search for the correct driver for your system.
You can also use a third-party driver updater/installer if you are not confident enough to update/reinstall drivers manually.
These tools can be downloaded for free or via one-time purchase for the complete version.
Other Suggestions
If none of the aforementioned procedures worked and you're still getting the initialization failed error when trying to launch Age of Empires 3, then you may have to consider uninstalling and reinstalling the game. This is often needed if the previous installation was faulty or some files of the game have gone corrupted. Many people who faced the same dilemma have resorted to this option and ended up resolving the issue, so it might as well do some wonders for you.
The PC version of the AOE 3 game can be downloaded straight from the Microsoft Store and Steam.
Hope this helps!
Relevant topics that you might want to read: