We've been receiving a lot of system-related problems from Samsung Galaxy S6 Edge (#Samsung #GalaxyS6Edge) owners. So, in this post I will address some of the emails we received from our readers. There are nine issues I cited here. If you tried to contact us, read on to see if your concern is among the ones I included.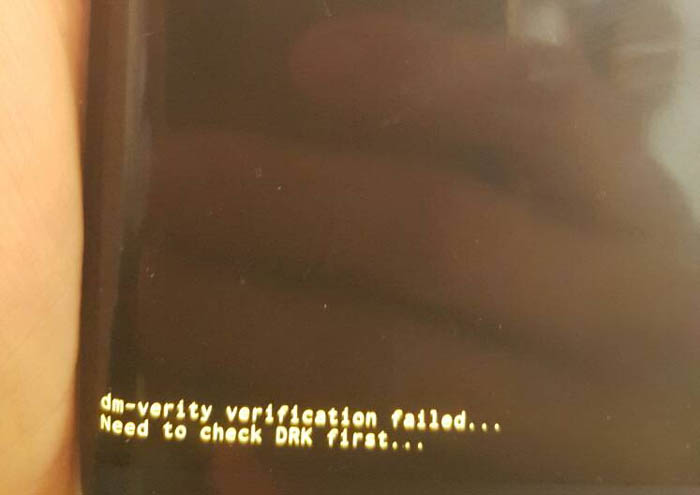 The first problem is about the Galaxy S6 Edge showing the screen with "dm-verity verification failed" error. According to the owner, he couldn't get past fingerprint security and that he didn't want to perform a reset to avoid data loss. Instead, he tried to access the phone using the ADB method (a very risky one) and now the phone is stuck on that error.
Continue reading to know more about the other issues and how to fix them. You may encounter them in the future so it's better to know how to tackle them now.
If you found this page because you were looking for a solution to your problem, I suggest you visit our Samsung Galaxy S6 Edge Troubleshooting page as it contains all problems we already addressed. Find issues related to yours and try the solutions. If they won't work, then contact us.
Galaxy S6 Edge showing "dm-verity verification failed" error
Problem: HELP! My Samsung Galaxy S6 Edge went through what seems to be the common problem of the fingerprint unlock randomly deciding to not recognise my fingerprint. When asked for a backup password this no longer worked either. Before it locked I unfortunately turned off data and Wifi so all ways of solving the unlock issue were useless, with the only option being a factory reset.
Due to this, i wanted to try and retrieve my files from my phone before doing this, which proves difficult without being able to unlock the phone. After a lot of research, I came across using adb to pull the files. In numerous cases people were able to do this from the systems Recovery mode. Long story short, downloaded (as far as i know) what was needed for my Mac Book pro to use the Adb and I plugged my phone into the computer but my device couldn't be found. I then pressed "Apply update using adb" on the phones menu to seek that made it work (after reading somewhere it would). It still could not find the device.
After a few minutes, on the phone screen at the bottom, it said "dm-verity verification failed…" and went back to the recovery menu, where it continues to state that at the bottom of the screen.
Now, if i try and power up my phone properly, I just end up with a repeated flash of the Samsung start-up screen.
I know I have obviously not fully understood anything i was doing but if there is anyway this can be fixed or the files can still be pulled from the phone before I Factory Reset, I would appreciate any and all of your help! Thanks!
Suggestion: This is exactly the reason why users should stay away from rooting, flashing custom ROMs and messing up with ADB–you will end up having a soft-bricked phone if something goes wrong. The "dm-verity verification failed" error or screen shows up only if the EFS folder or its contents are tampered, deleted or changed. The EFS folder contains very sensitive and important files and data that are unique to your phone only, one example of this is the IMEI. It looks like the folder has been messed up and basing on your description, you haven't created a backup because, in the first place, you couldn't get into your phone.
There's not much we can do about this. The best thing to do is contact your service provider. If anything else, it has information about your phone's serial number and IMEI. Try to see if its technician can do something about this. Third-party technicians can't do anything either because they cannot restore the correct contents of the EFS folder.
Galaxy S6 Edge has issues with Go Locker and its ads
Problem: I downloaded Go Locker recently, and have used it on older phones and never had these problems. However now when I use it, it gives me pop up ads that covers the entire screen. So how do I get rid of them while still using Go Locker.
I also use the S Voice a lot, because I do a lot of traveling for work. She the Hands Free (Car Mode) is a big help, but since I installed Go Locker I have had the following problems.
It will wake up in lock screen, but won't take my commands. You can see the sound bar moving when I speak. Then the loading circle pops up like it's processing the command, but then S Voice closes out and does nothing. I know my mobile data signal is strong, and should have no problem loading. Yet this happens every time; which forces me to physically unlock the phone and press the S Voice icon. Only once I do that it will work.
I am desperate to get these issues fixed. Please help!"
Troubleshooting: As to the ads, there's not much we can do about them if they came with the app. That could be the only way the developers could earn from their app. If you really have issues with those ads, then purchase the pro version, if possible. Or, if you're rooted, you can install AdFree from Play Store; it blocks all ads from all apps.
Now, if some of the core functions of your phone has issues after installing Go Locker, then you have to make a decision either to uninstall the app or continue using your phone without those core features. It might be a compatibility issue. Contacting the developer and reporting the problem may result to the resolution of this problem.
Galaxy S6 Edge won't boot up after Knox Security setup
Problem: I attempted to set up Knox Security on my S6 Edge Phone, now my screen is just showing the initial log in screen off and on since last night at 7:00 p.m. and my phone won't turn on.
Troubleshooting: Try booting in safe mode and disable Knox Security so you can continue using your phone. After that, make sure to file a report to Samsung so this problem will be addressed by the company's engineers and/or developers. If the phone can't boot up in safe mode either, then you really need to perform a master reset through the Recovery Mode. But please note that there's no way you can backup your data.
Boot in Safe Mode
Turn off your Galaxy S6 Edge.
Press and hold the Power key.
When 'Samsung Galaxy S6 Edge' appears, immediately release the Power key and then press and hold the Volume Down button.
Continue holding the Volume Down button until the phone finishes the restart.
When you see Safe Mode on the lower left corner of the screen, release the button.
Master Reset
Turn off your Samsung Galaxy S6 Edge.
Press and hold the Volume Up, Home and Power keys together.
When the device powers on and displays 'Power on logo', release all keys and the Android icon will appear on the screen.
Wait until the Android Recovery Screen appears after about 30 seconds.
Using the Volume Down key, highlight the option, 'wipe data/factory reset' and press the Power key to select it.
Press the Vol Down button again until the option 'Yes — delete all user data' is highlighted and then press the Power key to select it.
After the reset is complete, highlight 'Reboot system now' and hit the Power key to restart the phone.
Galaxy S6 Edge frozen on carrier logo
Problem: The phone screen was displaying the name of the phone – Samsung S6 Edge in white and black and the carrier name Optus kept flashing back and forth – so I tried to turn it off by pushing the power button. After a good 20 min the front screen stopped flashing and now the optus icon screen appears frozen. Lit up and the phone will not turn off.
Troubleshooting: Apparently, the system crashed on your phone that's why it's frozen on a specific screen. All you need to do is press and hold the Volume Down button and the Power key together for 20 seconds. The procedure will perform the simulated battery disconnect, which will force reboot your phone.
Galaxy S6 Edge won't turn on
Problem: Today I went into work and my phone was fine and at 70 percent. I have had this phone for maybe three months. I went to go check the time about an hour or 2 later and my phone will not turn on. I purchased a charger and plugged it in and let it sit for half an hour and it still would not turn on. I am stumped because I would usually just take out the battery but now I have no idea how to fix this. Please help me. Thank you.
Troubleshooting: It might be just a system crash. Press and hold both the Volume Down and Power keys simultaneously for 20 seconds or until the phone boots up. If it didn't respond, then there's a more complicated problem. Read our troubleshooting guide on how to fix a Samsung Galaxy S6 Edge that won't turn on.
Galaxy S6 Edge showing "Unauthorized actions have been detected"
Problem: When l switched on my phone l got a message saying unauthorized actions have been detected so l was given a cancel and restart option l pressed restart and it failed to restart and l was adviced to use a verizon software to recover my phone.
Troubleshooting: Just do the master reset and then call Samsung. The company's rep will tell you that they already know of the problem but there's no resolution as of the moment. You will then be advised to contact the dealer where you bought the phone or your service provider to have it replaced.
Galaxy S6 Edge deleted photos and videos
Question: On 2 occasions my Galaxy S6 Edge has deleted all my music plus photos & videos in the Gallery & also wiped my messages. I have AVG Antivirus active & this didn't prevent the occurrence. The first instance happened after turning the phone on, which was turned off overnight. About two weeks after doing a factory reset it happened again, after going to the gallery to view a photo I had just taken. PLEASE HELP.
Answer: It seems like on both occasions, a reset was performed thus deleting everything that's saved in the phone's internal memory. The first incident may have been caused by an update, I think, but I'm not really sure. The second is, of course, user-initiated. Well, factory reset will delete everything so don't do that more often.
Can't go beyond the fingerprint security
Problem: I have tried my fingerprint security option and it will not work. I also have typed in the backup password and it does not work. How can I use this phone?
Troubleshooting: Well, the fingerprint lock option is yet another security measure that can't easily be bypassed. If the phone failed to recognize your fingerprint, then there's not much you can do but reset the phone to clear off all locks and regain access. Just follow the steps above on how to reset the phone and you'll be fine. But just so you know, you will lose all your data, files, photos, music, videos, etc. that are saved in the phone's internal storage.
Question on Clean Master, CM Speed Booster, Battery Doctor
Question: I have a simple, yet important question. These 3 apps, Clean Master, CM Speed Booster and Battery Doctor, do they really do anything for your phone? I use them multiple times daily, and I find when I try to clean the RAM, it almost immediately fills back up. Maybe it's doing something internally that I'm just not seeing? Thanks.
Answer: If the phone has been running for several months already, accumulated a lot of data, became sluggish and you don't want to perform a master reset, then the Clean Master will help you eliminated redundant data and files. But that's all there is to it; it doesn't do much. The CM Speed Booster and Battery Doctor don't offer much either.
If you want to get rid of cached data and files but you don't know where they're located and if you want to speed up your phone just like it was new, then I suggest you perform a full hard reset to bring the phone back to its default settings deleting everything that is stored in the phone's internal storage. There's no need to install these apps.
Now, about the RAM usage, don't worry so much because RAM exists to be used. If you keep closing apps and services manually with the thought of lowering down RAM usage with the belief that the phone will run faster, you're wrong. You might even slow the phone down by frequently force closing system services and apps.
I hope this answers your question.
Connect with us
We are always open to your problems, questions and suggestions, so feel free to contact us by filling up this form. We support every Android device available and we are serious in what we do. This is a free service we offer and we won't charge you a penny for it. But please note that we receive hundreds of emails every day and it's impossible for us to respond to every single one of them. But rest assured we read every message we receive. For those whom we've helped, please spread the word by sharing our posts to your friends or by simply liking our Facebook and Google+ page or follow us on Twitter.