This post highlights a few potential solutions to a problem on the Coin Master app that keeps lagging or stuttering in Android 11. Read on to learn what causes this game to become sluggish and how to fix it.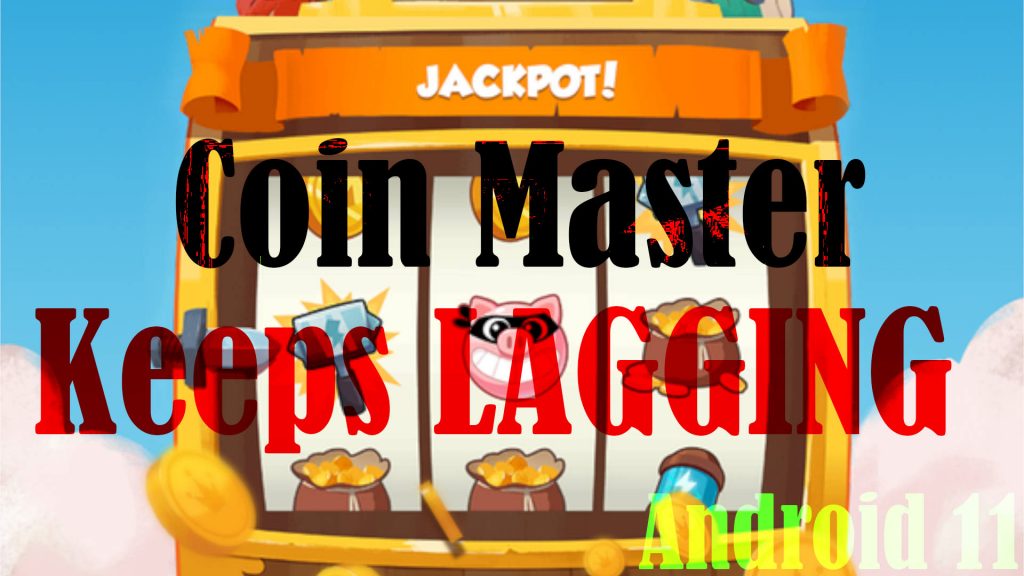 In the App Stores, the Coin Master app is tagged under the Adventure Game category but it actually utilizes gambling mechanics. The main objective of the game is to win coins to upgrade items so that you can build up villages. If you're playing this game on your Android smartphone or tablet and for some reason it keeps on lagging or stuttering, chances are that you're dealing with performance issues, if not internet connectivity issues on your device.
Thankfully, there are several tweaks that can be used to rule out the underlying cause and fix your lagging game.
What makes game apps laggy?
A sluggish or laggy app is an indication of performance issues in mobile devices. This is often the case if the device is running low on storage.
Other factors that are tied to app lagging issues include data corruption, system conflicts, in-app bugs and faulty updates. If sluggishness is transpiring only in online or server-based apps, internet connectivity issues such as high ping are likely the underlying cause. The same thing can happen if the app itself is outdated.
Unless hardware damage is not present, the problem will likely be rectified by performing some workarounds from optimizing storage to clearing out software-related errors.
Troubleshooting Coin Master lagging and stuttering in Android 11
The following procedures are generic solutions to lagging app problems in mobile devices that are running on the Android 11 platform. Actual screens and menu options may therefore vary depending on the device in use.
First solution: Quit the game then reboot your device.
Sluggishness may occur randomly while using certain apps. In most cases, it's just transpiring as a minor flaw that typically resolves on its own. But the simplest, yet very effective solution to random app problems is to quit the app then reboot the device.
A simple restart can rectify various types of system errors including those that caused gaming apps like Coin Master to slow down.
So if you haven't already, quit or force close Coin Master and then perform a soft reset on your Android device.
Just turn off the device like you usually do and then turn it back on again. Wait for it to reconnect to Wi-Fi and once it's connected, you can try launching Coin Master again and see how it's doing this time.
Second solution: Refresh your internet connection.
Internet connectivity issues such as slow internet, intermittent or unstable connection or no internet connection at all could also be the main reason as to why online apps like Coin Master slows down or stops working as intended. To clear this out, optimize your internet connection with these subsequent procedures.
First, turn Wi-Fi off for a few seconds and then turn it back on. This simple tweak helps clear out minor internet issues that cause problems among online applications.
Another tweak is to disconnect from the Wi-Fi network and then reconnect. It's another way to refresh the internet connection on the device.
Alternatively, you can enable Airplane mode to disconnect all wireless features at once. After 30 seconds, disable Airplane mode again to reconnect all wireless features of the device. This tweak has been proven to work wonders on many people when dealing with internet connectivity issues in Android devices.
Resetting network settings can also be regarded among the last options when dealing with network issues tied to invalid or incorrect network configurations. This is usually needed if the problem started after changing or customizing the network settings on the device.
Third solution: Optimize storage.
A common factor that's tied to performance issues is low storage. Usually, you'll get a warning prompt saying that the storage is running low or something similar. But there are also some devices that don't prompt a warning message, so it won't hurt to double check.
If your device storage is already low, then this could be the main reason why your apps are acting up or performing slowly. Gaming apps typically demand and utilize a huge portion of memory and system services in order to work as intended. That said, check the current memory status of your device and optimize storage if needed. To view available storage in Android 11, just follow these steps:
Tap Settings from the Home or Apps screen to get started.
Select Device care.
Tap Storage on the succeeding menu.
More details of available and used storage will then be displayed.
If the available storage is less then 2 gigabytes, then you will need to free up space by deleting old and unwanted contents.
Fourth solution: Install pending updates.
Software bugs are also another factor that you should consider ruling out when dealing with lagging apps in mobile devices. And the quickest way to do this is to install new updates. Software updates released by developers not only bring in new features but also embed important fix patches to get rid of any existing bugs that cause widespread issues.
To check for available software updates, just go to Settings-> Software Update menu. Usually, you'll get a notification if a new software version is available.
Before updating, make sure that your device has ample battery life and storage space to allocate the update file.
Once everything is set, just tap Download and Install then follow the rest of the onscreen prompts to start updating.
Fifth solution: Clear app cache and data.
Apps typically store temporary files or residual data. These files are called cache. Cache files are stored in the app's storage and will be used the next time you launch the application. In time, accumulated cache and data can make the app slow down, especially if any of these data fragments gets corrupted. That said, clearing app cache and data from time to time is highly recommended.
To clear app cache and data in Android 11, just refer to these steps:
Go to Settings.
Tap Apps.
Select Coin Master from the list of apps.
Tap Storage to access the app's storage.
Tap Clear Cache to delete all temporary files accumulated by the app.
Or, tap Clear Data then tap OK on the pop-up warning to confirm action.
Please note that clearing data will reset the app to its factory default state and so any personal settings saved on the app will be deleted.
Other Suggestions
Switch network. If multiple Wi-Fi networks are set up on your device, forget/delete the current network in use and then switch to another network available. This will help you determine whether or not the problem is attributed to a corrupted wireless network.
Connect to a wired setup. Switching to a wired connection can also help rule out wireless connectivity issues from the underlying cause. If possible, connect your device directly to your modem or wireless router using a compatible Ethernet cable and see if that solves the problem.
Reinstall Coin Master. This is usually deemed an extra measure if all else failed to fix the problem. The app might have been totally corrupted and therefore no longer at its optimum performance. That said, the app needs a clean, fresh reinstall.
Remove/unmount SD card. If you're using an SD card, try to remove the SD card from your device and then retry launching Coin Master without the SD card. Sometimes, a corrupted SD card can also trigger hiccups to the device and thereby cause certain apps to slow down.
Check for outages. Also consider checking on the Coin Master outage map. You can use any of the available real-time problem and outage detector tools to check if there's a global outage that caused problems to Coin Master.
How about third-party anti-lag tools?
If you want, you can also try using third-party anti-lag apps for your Android device. Anspeeder, Dr. Booster, Speed BOOSTER, PINGER, and Game Booster are just some of the tools that are designed to address relevant issues such as high ping lag, frame rate drops and unresponsiveness.
These tools can be downloaded for free or via one-time purchase through the Google Play Store so you'll know where to go should you wish to try them.
Hope this helps!
Relevant topics that you might want to read: