This post will guide you what to do if Smite keeps stuttering during a match on your computer. Such a problem can be minor and might be fixed by doing a couple of basic troubleshooting procedures. So continue reading to learn more about it.
Among the minor gaming issues you may encounter every now and then is the stuttering. When it happens, you can't surely enjoy your game as the controls become glitchy and your character may already be dead by the time you're able to regain control over it.
Smite is one of the games that's having this kind of problem recently. But based on its update history, its developers are making sure every little issue gamers report is addressed. The game is pretty stable so if it starts to stutter without apparent reason or cause, then you may have to look at other factors before doing something about the game.
It's always possible that factors like internet connectivity and hardware specifications are the reasons why you're having such a problem. So they should be among the first things you have to look into. With that being said, here are the things you need to do:
Fix #1: Force close the game and open it again
You may already be in a game before you noticed that Smite is stuttering. So it depends on you if you want to finish it and play through the stutter. But the moment the match is finished, try to restart the game by simply force-closing it and then launching it again from Steam or Epic Games client.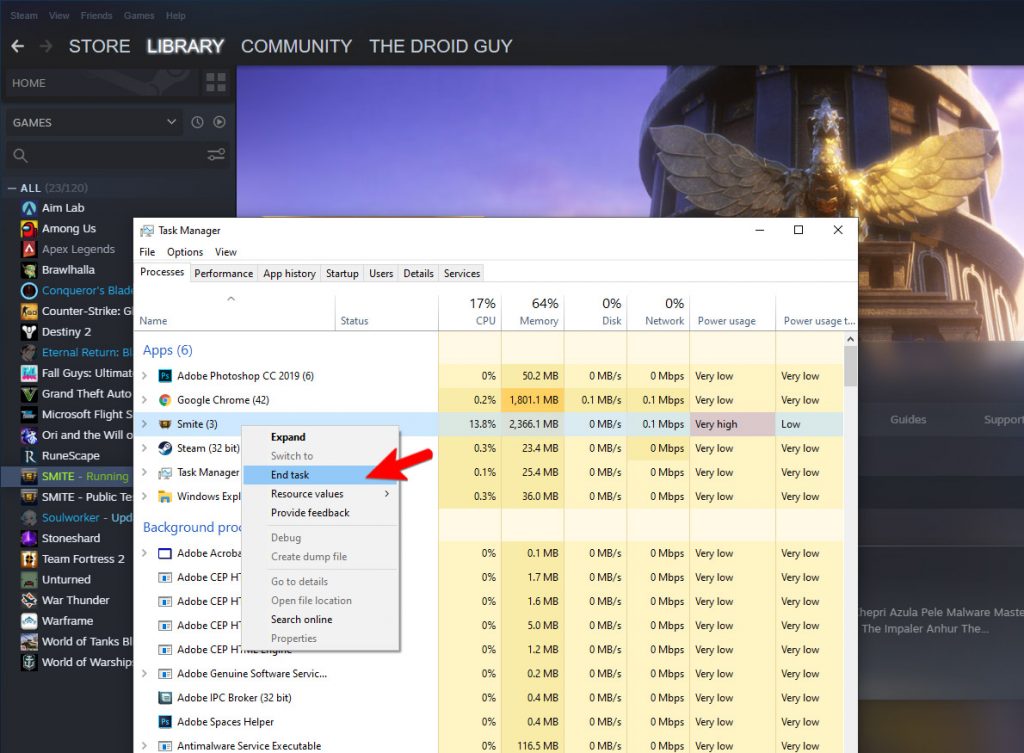 Right-click on the Taskbar and click Task Manager.
Look for Smite, click on it and then click the End task button at the lower-left corner of the window.
After doing that, try launching the game and see if it still stutters during the match.
Fix #2: Delete the game's cache
There are times when a game's cache gets corrupted, and when it happens, it may result in stuttering, freezing or even crashing. So if the first solution fails to make Smite work smoothly, the next thing you need to do is to clear the game's cache.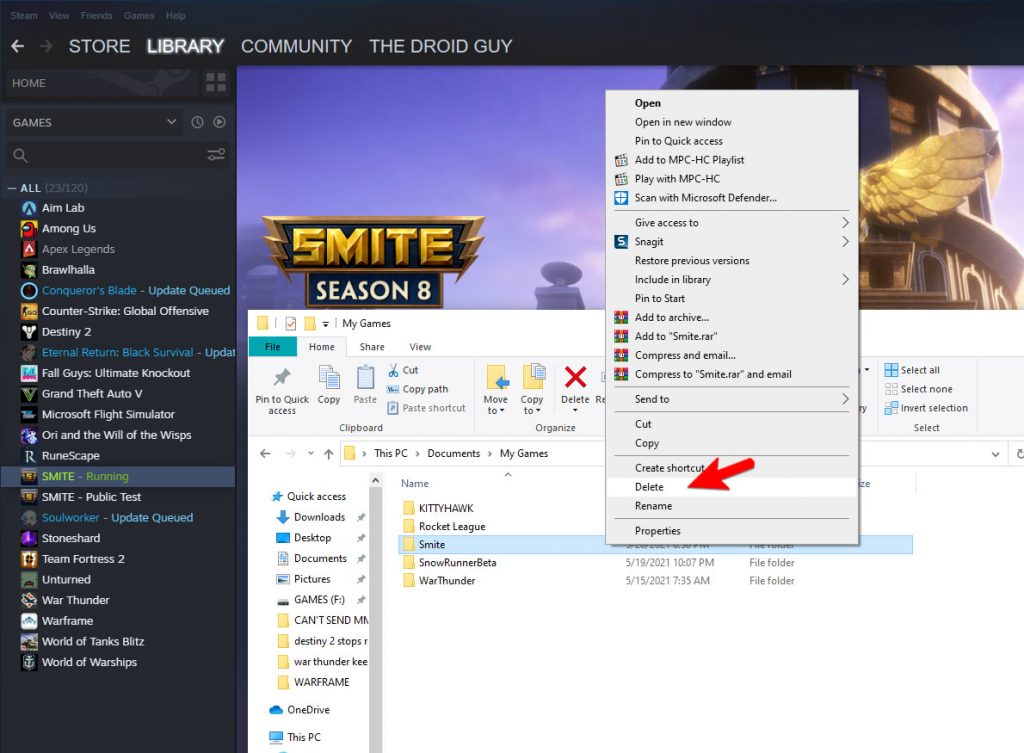 It's a set of temporary files created by Windows to make the game run smoothly. But it has a tendency to get corrupted. So follow these steps to delete the game's cache so that it will be replaced.
Open a File explorer, or any folder. 
On the left pane, look for the folder named "Documents" and click on it. 
Double-click on My Games folder to open it. 
Now, look for the Smite folder and then delete it. 
Once you've done that, launch the game again to see if the problem is fixed.
Fix #3: Check your Internet connection
After doing the first two solutions and your game still stutters, the next thing you have to look into is your Internet connection. It's because the download and upload speed of your connection has to be stable so that data and other things are downloaded to and sent from your PC in real-time.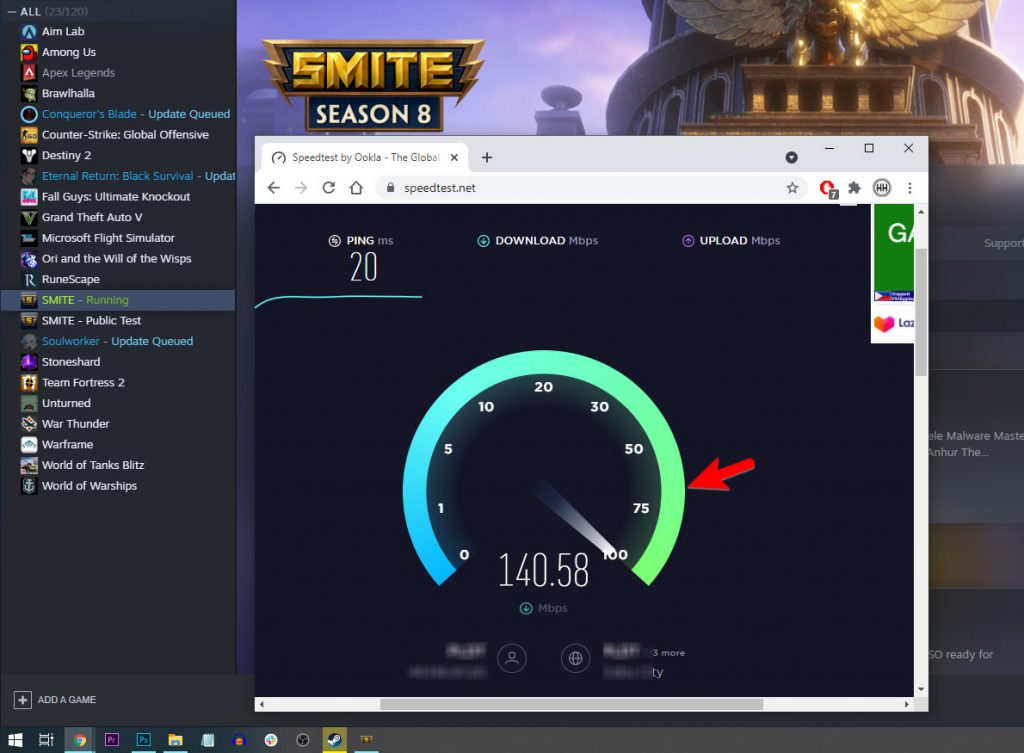 Having a slow connection during a match will naturally result in this problem. A simple speed test will tell you the status of your connection. If the results of the test are close to what you should be getting, then there's no problem with your Internet. However, if you have a slow connection, then that might be the reason why the game stutters.
You may have to wait it out until the connection goes back to normal or you can contact your Internet Service Provider to have it checked.
Fix #4: Scan game files and repair them
It is also possible that Smite's game files have been corrupted, or that some of them got deleted or messed up. So the next procedure you have to do is to verify the integrity of the files and have Steam fix them if necessary. There's an option that will automate such a process. Here's how: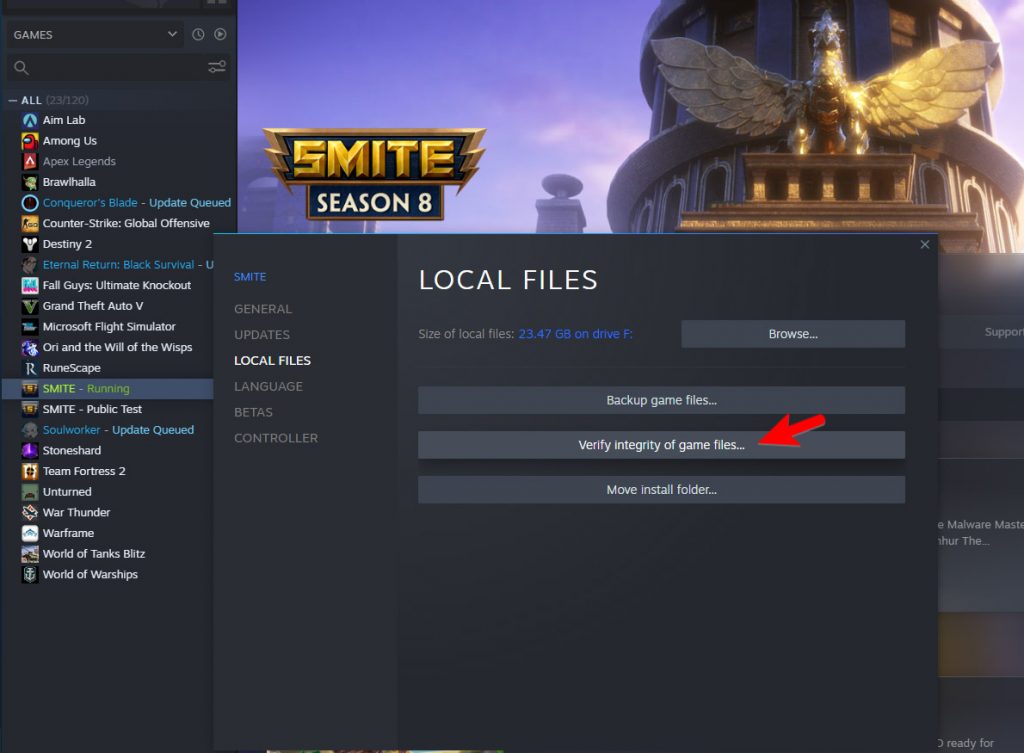 Launch the Steam client.
Navigate to the Library tab, right-click on Smite and click Properties.
Navigate to Local Files and then click Verify integrity of game files.
Wait until the verification is finished.
It may take several minutes for the client to finish the scan but just wait for it until it's done. If the verification returns positive, then there's nothing to worry about.
Most of the time, this procedure will fix any minor game issues. However, if the problem continues after this, then move on to the next solution.
Fix #5: Uninstall Smite and reinstall it
After doing the previous procedures and Smite still continues to stutter during the match, then you have no other choice but to reinstall. Reinstalling means that you have to uninstall it first before downloading a fresh copy from Steam or through Epic Games client.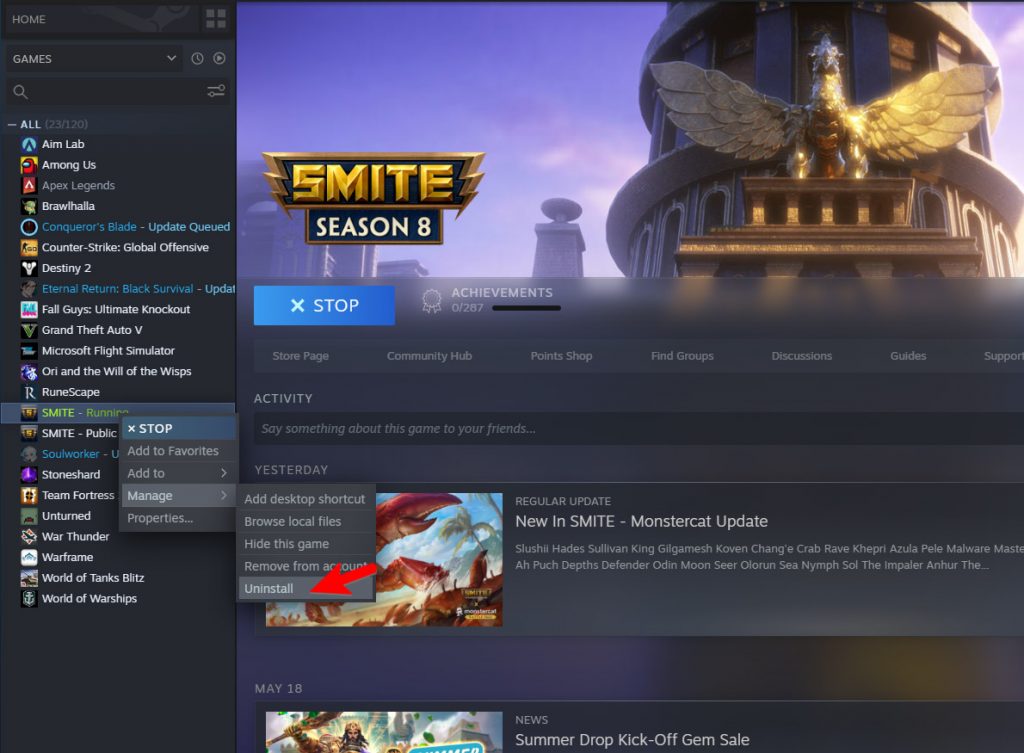 When it comes to fixing issues like this, reinstalling the game often does the trick. But as long as you've synced your account, you don't have to worry about your progress or level as you can retain it once the game is fixed and reinstalled. So follow these steps to uninstall Smite from your computer:
Launch the Steam client.
Navigate to the Library tab and right-click on Smite.
Hover over Manage, and click Uninstall.
Click Uninstall one more time to remove the game from your computer.
After the game is uninstalled, restart your PC.
Download the game and re-install it.
It's better to restart your computer before reinstalling the game so that it's memory will be refreshed. After the installation, you can now play the game smoothly.
We hope that this troubleshooting guide can help you one way or the other.
Please support us by subscribing to our YouTube channel. Thanks for reading!
ALSO READ: