Having trouble downloading and installing Ragnarok X: Next Generation on your Android 11 smartphone or tablet? If so, then this post highlights some basic tweaks you can use to rule out every possible culprit. Read on for more detailed instructions.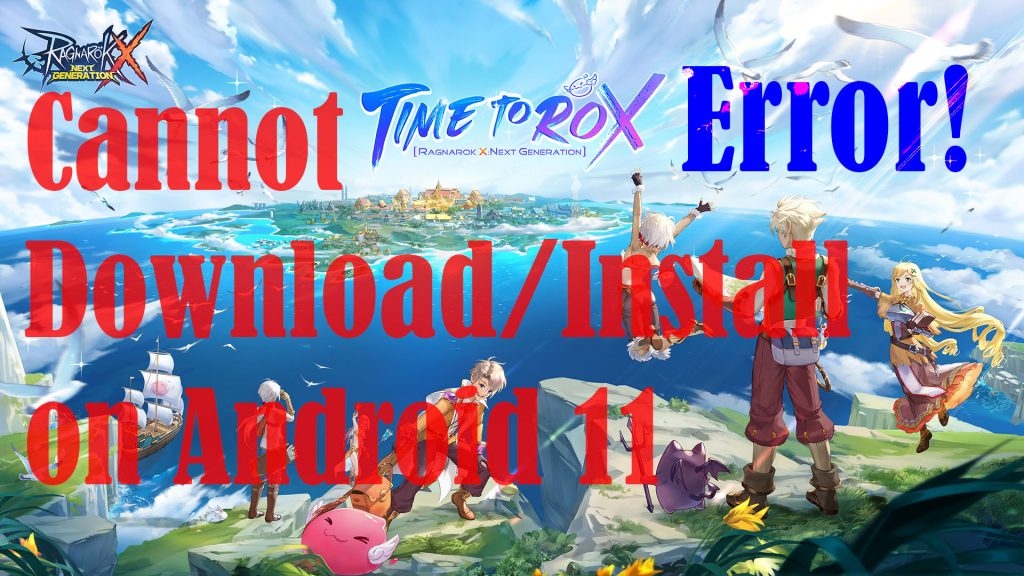 Ragnarok X: Next Generation is one of the latest role playing (MMORPG) games rolled out recently on Android and iOS devices. For now, the game is specifically available in nine Southeast Asian countries.
Aside from modern graphics, Ragnarok X also embeds a number of social features from the original version including the guild system and friends list.
If you're living in the SEA regions where Ragnarok X: Next Generation is first rolled out and for some reason, you cannot download and install the game on your Android 11 device, I've mapped out a few helpful tweaks that you can try to fix the problem on your end.
Possible causes of app downloading and installation errors
There are many possible reasons that could hinder Play Store downloads on your smartphone or tablet.
The most obvious is unstable, slow or no internet connection. Other factors would include memory-related issues on the device as well as some random glitches with the Play Store app. The same thing can happen if the game's download server is experiencing real time issues, congested or temporarily unavailable.
These are the main factors that you should consider ruling out when troubleshooting the problem on your end.
Potential solutions and helpful workarounds
Before you begin troubleshooting, verify and ensure that the game is indeed available in your region and that you've met the minimum system requirements of the game.
If everything is good with the game availability and system requirements but still you couldn't get to download the game on your Android 11 device, then you can go ahead and try these subsequent fixes.
First Fix: Refresh your Internet connection.
To rule out random internet connectivity issues such as slow internet, intermittent or no internet connection, you can try a modem/router reboot or power cycle. This is a recommended solution when dealing with unexpected internet problems in mobile devices and even in computers.
To power cycle the modem/router, simply turn it off by pressing the power button until it powers down. While it's powered off, unplug it from the power source. After 1 minute, plug it back in.
Wait for the modem/router light indicators to become stable.
On your Android device, reconnect to your Wi-Fi network. If your device is set to connect automatically, allow it to re-establish connection to your Wi-Fi network. Once the device is connected, open the Play Store and then retry downloading the Ragnarok X Next Generation app.
Second Fix: Restart your device (soft reset).
Minor system errors and glitches might also have hindered download requests and thereby results in app downloading or installation errors. To clear this out, perform a soft reset or simply reboot your device.
Restarting is by far deemed the simplest yet very effective solution to random system issues including those that are affecting internet services.
So if you haven't already, turn your device off for a few seconds and then turn it back on. Wait for it to re-establish network connections and once everything is set, retry downloading Ragnarok X via Play Store.
Third Fix: Clear App Cache and Data (Play Store).
In some instances, downloading errors can also be attributed to in-app glitches. This means that the underlying cause of the problem could likewise be from within the Play Store app itself. Among the common culprits that you should consider clearing out are corrupted residual files or cached data from the Play Store app. So here's what you can try doing next:
On your Android device, tap Settings from the Home screen or Apps viewer.
Then, tap Apps.
Select Google Play Store from the list of apps.
On the Play Store app info, tap Storage.
To clear temporary files from the Google Play Store app, tap Clear cache.
To remove all app data including any corrupted data fragment that's causing in-app glitches, tap Clear data then tap OK on the pop-up menu to confirm.
Please note though that clearing data will permanently delete all of the app's data including all files, settings, accounts, databases and the like. This means the need for you to re-sign into your Google account and set up your account settings later.
You can do the same for Google Services Framework or Google Play Services.
Other Suggestions
To rule out insufficient memory from the underlying causes, care to check the current memory status of your device. Make sure that the available storage is not less than 1 gigabyte. If the available storage is less than that, then you should free up some space by deleting old and unwanted contents.
If you're getting an error message saying that "Unable to download/install the app. Server is currently unavailable" or something similar, there's not much that can be done on your end but to wait until the server is accessible again and retry downloading the app at a later time.
If you see Google Play — Error 8 when attempting to download the app and the download stops, verify and ensure that you have Google Play Services installed on your device. If it's already installed, try to disable and re-enable the application.
Removing and re-adding your Google account on the Play Store app can also be deemed as the last resort. Doing so will resolve downloading errors attributed to a corrupted or invalic account. And if none of that works, you may contact Google Support for further assistance.
Hope this helps!
Relevant topics that you might want to read: