This post highlights a few potential solutions to a problem on the Call of Duty Mobile app that's stuck on loading and doesn't launch on an Android 11 device. Feel free to try any of the given methods should you need additional inputs on how to deal with the same issue with Call of Duty Mobile app.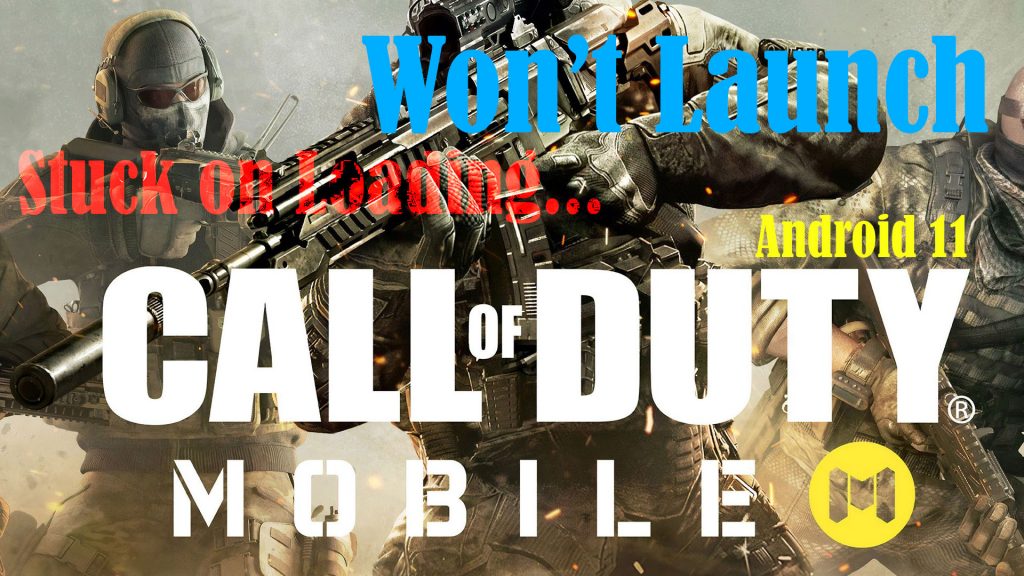 What could stop gaming apps from launching?
There are many reasons as to why an app would fail to load or be unable to launch properly on a mobile device. It's possible that something from within the app is preventing it from opening as intended or it could be that something from within the phone's system is hindering the app's normal start-up routine. As a result, the app gets stuck while loading.
To deal with such a problem, you will need to rule out every possible culprit. And this likewise denotes the need for you to troubleshoot both the device and the erratic application.
Mapped out below are a few methods that have been widely used to troubleshoot app loading errors in Android devices. You can try any of these tweaks to fix Call of Duty Mobile that doesn't launch or gets stuck on loading in Android 11.
Possible Solutions to Call of Duty Mobile stuck on loading Issue
To check the app's functionality, try relaunching Call of Duty Mobile after performing each of the given solutions.
A. Ruling out System issues on the Device
The following workarounds will help eliminate common factors that can cause Android apps to fail launching or get stuck on loading. Don't forget to reload COD Mobile app after performing each method to check and see if the problem is fixed. Proceed to the next applicable solution if needed.
First method: Restart your Internet.
Internet connectivity issues on the phone such as slow internet, intermittent or unstable connection or no internet connection at all are among the factors that can cause loading errors to internet-based apps. Unfortunately, you cannot play COD Mobile or launch the game without a stable internet connection.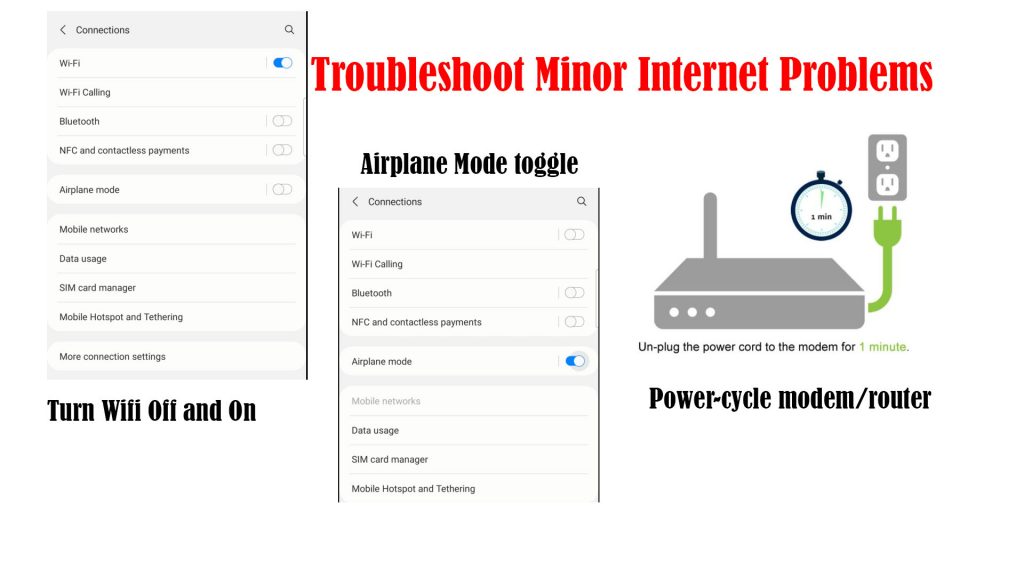 So, here's what you can do to fix random internet issues on your device:
Disconnect from and reconnect to your Wi-Fi network. You can do this by turning Wi-Fi off for a few seconds and then turn it on again. Doing so refreshes the phone's wireless internet connection and eliminates any associated network problems on the device.
Airplane Mode tweak. Performing this tweak is also a known effective solution to random internet problems in smartphones. Simply toggle the Airplane Mode switch on for a few seconds and then off again.
Reboot the modem or wireless router. If the first method doesn't work, restarting the modem/router can be deemed the next option. This process is also known as modem power-cycling — a simple yet very effective solution to various types of internet problems on any device with a wireless setup.
Second method: Quit other background apps.
Apps that are left running in the background may also interfere with other apps. That said, try ending all background apps on your phone with these steps: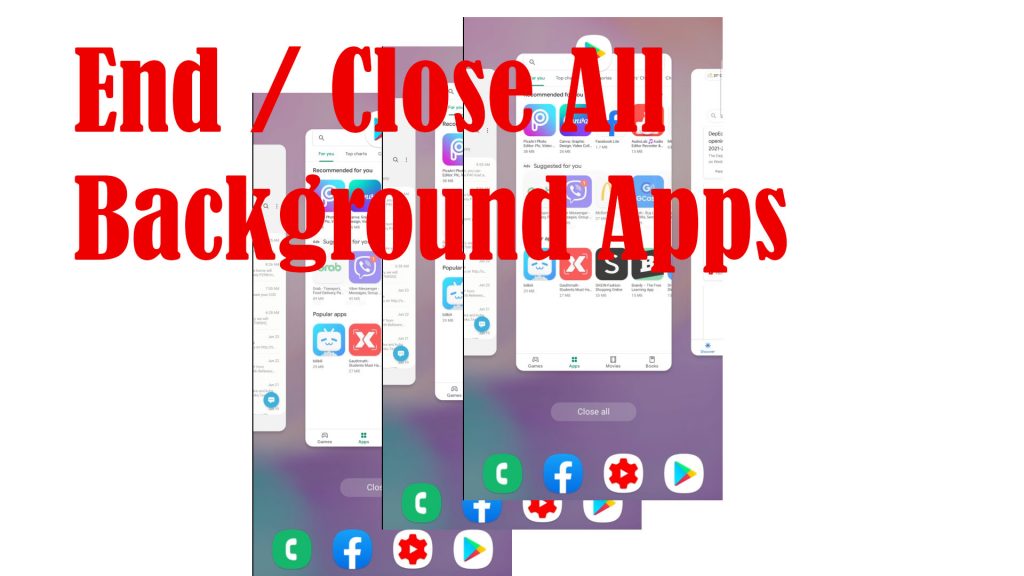 Tap the Recent app key (three short lines) on the bottom-leftmost corner to view all running and recently viewed apps. App cards of all background apps will appear.
To close these apps, tap End All.
All app cards will then disappear from the Recent apps menu.
At this point, you can try launching Call of Duty Mobile and see if it's working already.
Third method: Optimize/clean up storage.
Memory issues such as low RAM is also among the possible reasons as to why apps won't be able to launch or get stuck on loading. That said, check your phone storage to see if it is almost full. At least 1GB of available storage is good enough for the phone to work properly. Below that, you should consider clearing up some space.
Just follow these steps to access the storage menu in Android 11: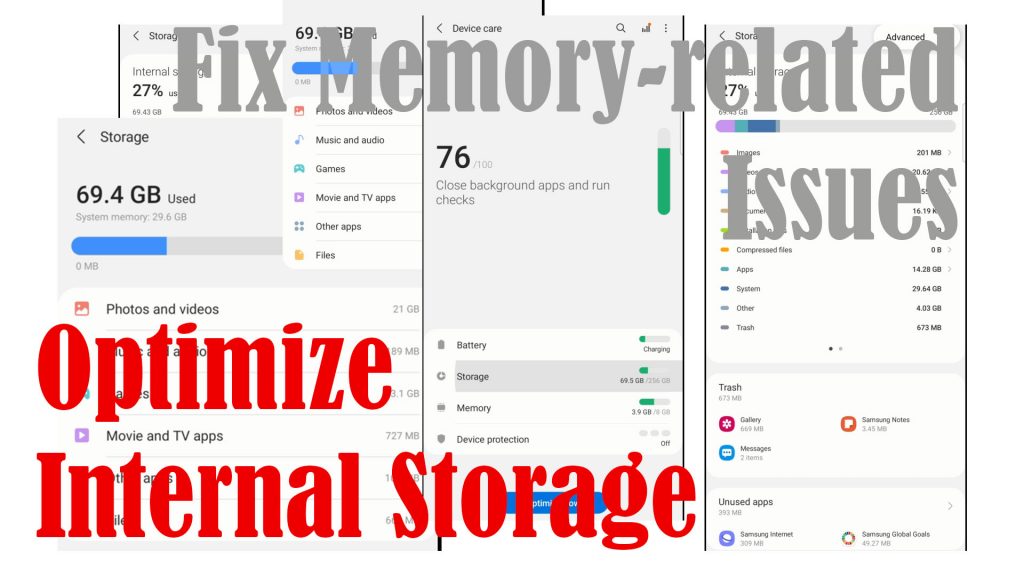 Go to Settings.
Tap Battery and device care.
Tap Storage.
On the internal storage menu, you will see more details of storage usage.
If your phone is running low on storage, free up space by deleting trash, unused apps and other old unwanted contents.
Fourth method: Restart the phone (soft reset).
For first instances, random system glitches are most likely the root cause of the problem. To clear this out, performing a soft reset or restarting the phone is recommended. Doing so will likewise eliminate errant temporary data that might have triggered random system flaws and app glitches on the device.
Just turn off the phone for a few moments to give it a pause. Then, turn it back on again.
This does not affect any saved data so nothing will be deleted afterwards.
B. Ruling out In-app Glitches
App launching errors can also be directly attributed to in-app glitches. That said, it's possible that the COD mobile app is glitching and therefore unable to launch as intended. To eliminate common in-app glitches that might have ruined the app's start-up routine, try these methods.
First method: Force Stop App
The COD app might have been left opened and eventually crashed or got stuck in the background. As a result, it's unable to launch when triggered. To fix this problem, you can use the Force Stop command to end the COD app.
Here's how it's done in Android 11: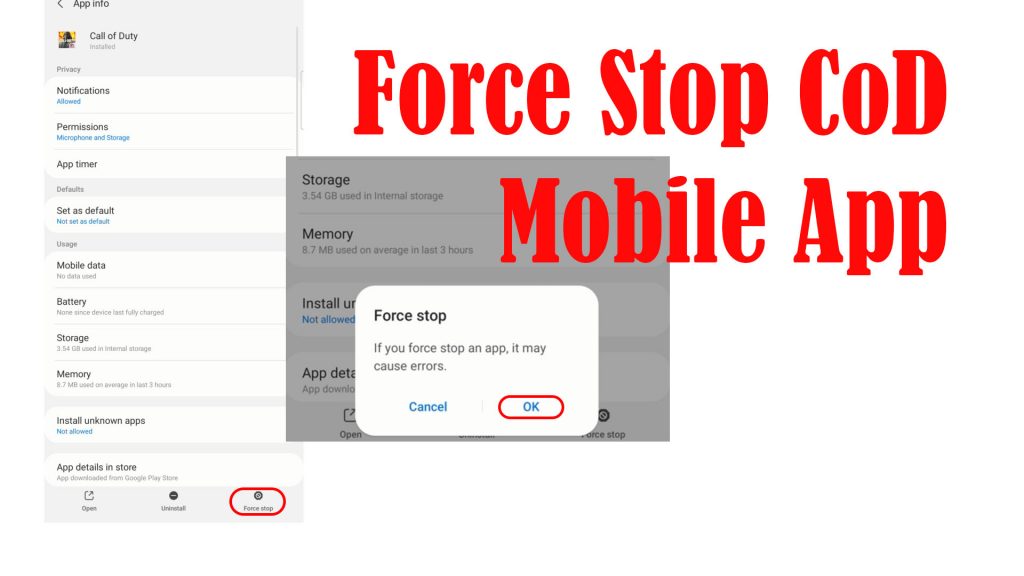 Tap Settings.
Tap Apps.
Select Call of Duty Mobile from the list of apps.
Then, tap Force stop at the bottom-rightmost corner of the App info screen.
If prompted, tap OK on the pop-up menu to confirm.
That should force the app to close and stop running in the background.
Second method: Clear App Cache and Data
Residual files that are stored as cache and temporary data that have gone corrupted can also trigger in-app glitches. To make sure that these aren't halting the app from launching, you can try clearing cache and data on the COD Mobile app.
Just follow these steps: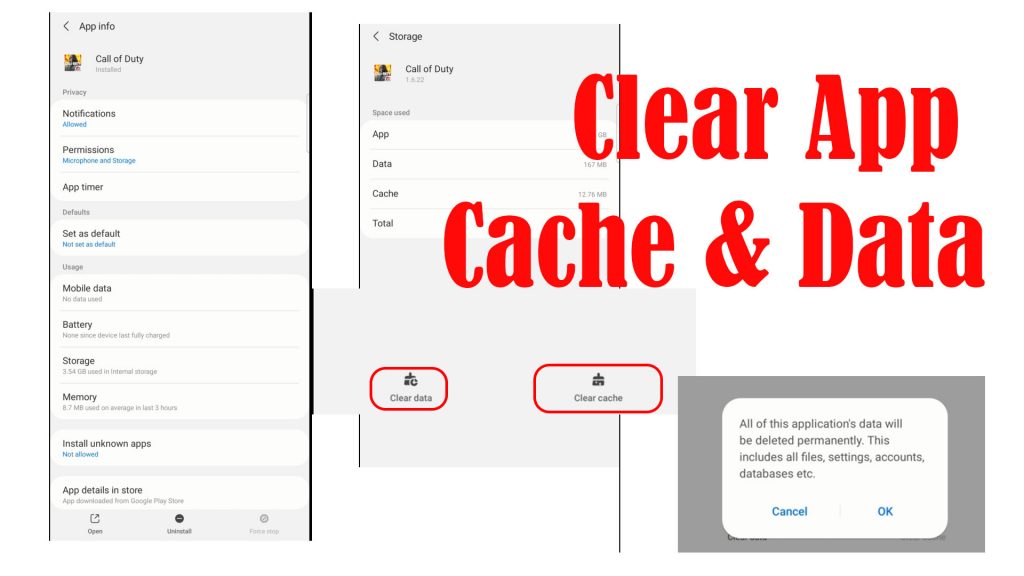 Tap Settings.
Tap Apps.
Select Call of Duty Mobile from the list of apps.
On the App info screen, tap Storage.
To clear the app cache, tap Clear cache at the bottom. Doing so will delete all residual files that are stored as cached in the app's memory.
To delete all app data, tap the option to Clear data and then tap OK on the pop-up menu to confirm.
Clearing data will permanently delete all of the app's data including all files, settings, accounts, databases, game progress and the like. That said, this tweak is optional.
Both of these methods can help clear up storage space and make the app perform better and faster.
Third method: Install Pending App Updates
Keeping the app up-to-date is recommended to ensure optimum performance. App updates released by software developers usually embed bug fixes to eliminate any existing bugs that make the app unstable.
If you haven't set your apps to update automatically, then you can check and install pending app updates on the Android 11 Play Store with these steps: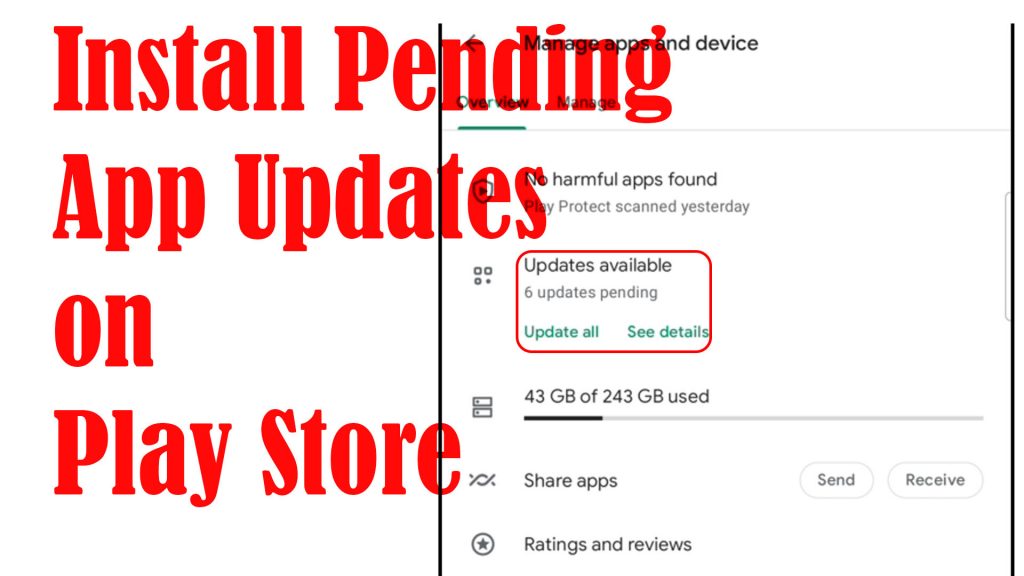 Open the Play Store app.
Tap on your Profile icon on the Play Store menu.
Select the option to Manage apps and device.
Then, tap Updates available to show apps with pending updates.
Look for Call of Duty Mobile and then tap the Update button next to it.
Should you wish to implement all pending app updates at once, tap the Update all button.
Wait for all apps to finish updating and then restart your device. Restarting the phone after installing updates is recommended to ensure that all system changes and improvements are properly implemented.
Fourth method: Reinstall App
This is by far deemed a drastic solution to app-related issues in mobile devices. Reinstalling the app is usually needed if none of the previous tweaks is able to fix the problem. The app might have been totally corrupted and therefore needs a fresh install.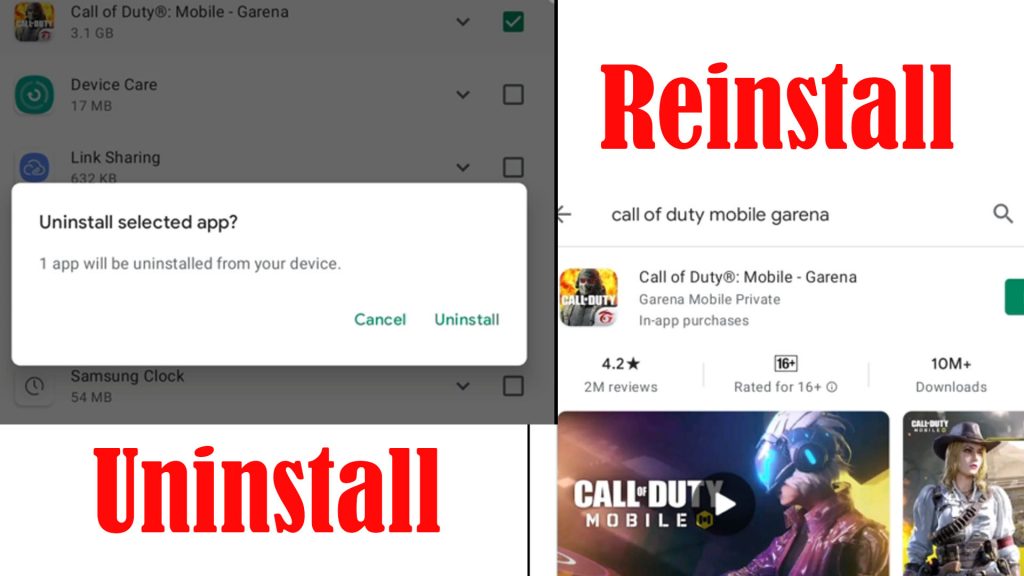 But you have to note though that this will delete all your files from within the application. Should you wish to proceed, just follow these steps to uninstall and reinstall Call of Duty Mobile on your Android 11 device.
Go to Settings.
Tap Apps.
Select Call of Duty from the list of apps.
Then, tap Uninstall at the bottom center of the App info screen.
Tap OK on the pop-up window to confirm. The app will then be uninstalled from your device.
After uninstalling the app, restart your phone. Load up the Play Store app then download and install Call of Duty Mobile. Give your device another restart and then retry loading the freshly installed COD app. It should work properly by then.
Hope this helps!
Relevant topics that you might want to read: