Are you planning to replace or delete a profile in your Netflix account but don't know where to begin? If you do, then this is the article you are looking for. As we will provide a guide on how to delete a Netflix profile using your computer, mobile gadget or a streaming device.
What is Netflix?
Netflix is considered the leading entertertainment streaming service in the world. With over 209 million subscribers worldwide, it offers a vast selection of movies, tv series and documentary shows that caters to all ages. In order to have an account, you have to select a monthly plan from the different subscriptions available depending on what country you are in.
What is a Netflix profile?
A subscriber can create a Netflix profile where they can personalize their streaming experience. A maximum of five profiles can be created which you can share to the members of your household. A profile has the option to choose their own language preference, select their playback settings, personalized My List or Ratings and create their profile lock.
How to create a Netflix profile?
Check the guide below on how to create a Netflix profile for your account. Take note that this feature is only available for devices made after 2013.
Sign in to your Netflix account.
Access the Manage Profiles.
Choose Add Profile.
Choose your preferred name for the profile. If the profile is intended for young children, select Kids.
Click Continue to save the changes in your Netflix account.
The Netflix profile that you have created should now be reflected on your account. Repeat the steps above if you want to create an additional Netflix profile.
How to delete a profile in a Netflix account?
Deleting a Netflix profile is straightforward and easy. You can do this by either using a web browser, a mobile or a streaming device. Refer to the steps provided if there is an unused Netflix profile that you want to delete.
Delete a Netflix profile using a web browser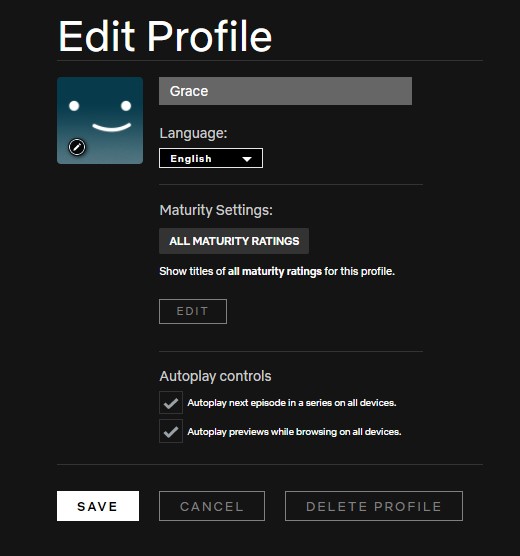 Open your preferred web browser.
Go to the Netflix official website.
Sign in using your username and password.
Select Manage Profiles.
Click the profile you want to delete from your Netflix account.
Scroll down at the bottom, select Delete Profile.
A message will reflect on the screen confirming the deletion of the profile which includes the removal of the profile's viewing history in your Netflix account. Click Delete Profile to complete the process.
Deleting a Netflix profile from a mobile device
Open the Netflix app and sign in.
Tap the Profile icon found at the top-right corner of the screen.
Select Manage Profiles.
Tap the profile you want to delete.
Click Delete Profile.
Then select Delete Profile again to delete successfully.
Delete profile in Netflix using a streaming device
Although there are some minor differences depending on what streaming device you are using, the steps are almost similar with one given below.
On the Home Screen of your streaming device, access the Netflix app.
Go to Manage Profiles. 
Tap the profile you want to delete under Manage Profiles.
Tap Delete Profile. Once a message reflects on the screen, Tap the Delete Profile button again to remove the profile you want to eliminate.
OTHER INTERESTING ARTICLES:
Visit our TheDroidGuy Youtube Channel for more troubleshooting videos and tutorials.