Are you experiencing Netflix not working on LG TV? Several factors can cause this issue such as an issue with the Netflix app, a poor internet connection, or even a corrupted cache. To fix Netflix not working on LG TV you will need to perform several troubleshooting steps.
A number of consumer electronics are produced by the South Korean manufacturer LG. One of their key offerings is the LG Smart TV range, which includes a number of innovative and standout features. Because they offer the highest quality and value for the money, LG TVs are well-liked by consumers.
Why is Netflix app not working on LG Smart TV?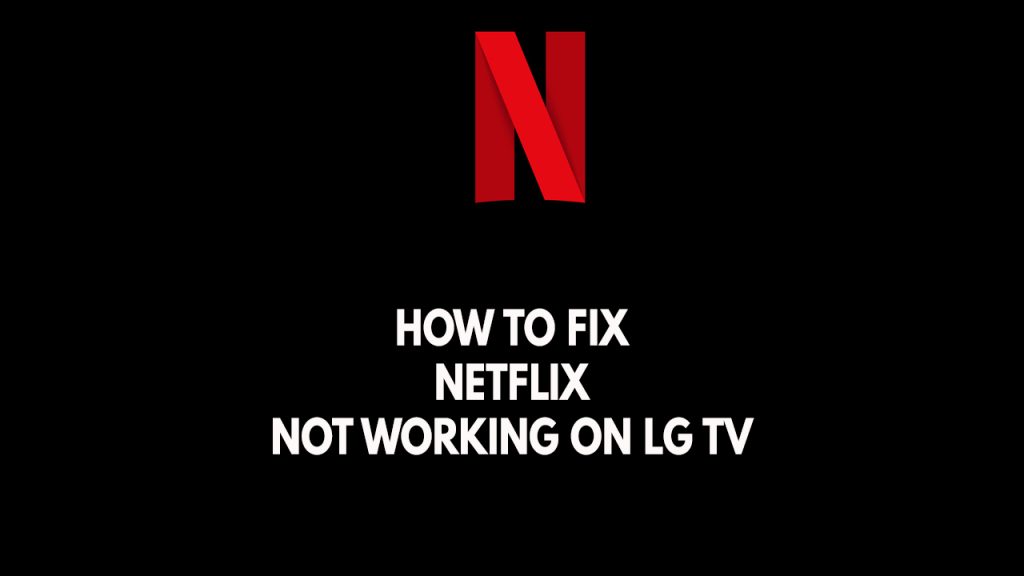 One of the issues that you might encounter when using your LG TV is when the Netflix app does not work. This can be a frustrating experience for LG smart TV owners especially if you want to relax and watch your favorite Netflix show.
Here are the recommended troubleshooting methods to fix the Netflix app not working issue on your LG TV.
Fix #1 Check internet speed
Many LG TV owners overlook this, but in this situation, you should verify your internet connection as the first step because it can be the cause of the issue. You'll need an additional device that is connected to your Wi-Fi or router, such as a laptop or smartphone, to check your internet speed.
The recommended internet download speeds for playing TV shows and movies on Netflix Streaming app are SD 1mbps, HD 720p 3mbps, HD 1080p 5mbps, and 4K/Ultra HD 15mbps
Time Needed : 3 minutes
Open your browser on your computer or mobile device.

Choose any preferred internet browser you want.


Type speedtest.net to have your internet connection speed check.

Speed test site is one of the most popular web tools to check your internet connection speed.


Press the Go button.

Pressing Go button will start the speed test.


Wait for the speed test results to be completed. The download and upload speeds are the most critical information to obtain. Compare your results to the Netflix streaming platform's recommended speed.

Displays the speed test connection result.

If your WiFi connection is slow, try the following procedures to see if it's due to your networking devices:
Step 1: Unplug your Modem and Router from the power source to restart the devices.
Step 2: Wait for a minute then plug your modem and router back into the power source.
Step 3: Wait until the blinking lights turn back on.
You can also try to move the router closer to your LG TV to get a better internet connection. If your LG TV has an ethernet port you can use an ethernet cable to have an ethernet connection.
Fix #2 Power Cycle LG TV
Smart TVs can also be power cycle, it is recommended to power reset your LG TV and remove the power cable cord from the wall for 30 seconds before reconnecting it and turning on your LG TV to fix Netflix app. You can also use the LG TV remote to power off your LG smart TV.
Power cycling LG TV
Step 1: Remove the power cord cable from the back of the television or from the power outlet, whichever is more convenient.
Step 2: Hold down the power button on the TV's side for 3-5 seconds.
Step 3: Connect the power cord to the TV and turn it on.
Fix #3 Check Netflix outages
On occasion, an outage will cause Netflix on your LG smart TV to stop functioning. You won't be able to access Netflix on any of your devices during an outage. You may receive error messages, experience a Netflix crash, or become trapped in a loaded spinning circle. Visit DownDetector to see if the problem you're having is related to an outage. You can find out here how Netflix is doing in your area. Wait for Netflix to fix the problems on their end if it is currently unavailable. You will be able to view Netflix material on your LG smart TV after Netflix has fixed the issue.
Fix #4 Update your LG smart TV
Netflix on your LG smart tv may not work properly if the firmware is out of date. If it has been a while since you updated the firmware on your LG smart TV, doing so can help you resolve this problem.
Updating LG smart TV
Step 1: On the LG remote control for your LG smart TV, select settings.
Step 2: Select all settings by scrolling down.
Step 3: Select the general option.
Step 4: Click on about this TV.
Step 5: Select check for updates from here.
Step 6: Install the most recent LG TV firmware version.
Fix #5 Factory reset LG Smart TV
If none of the previous solutions are successful in resolving Netflix not working on LG TV, a factory reset is recommended. If you reset your LG smart tv, all settings will be reset to factory defaults.
Resetting your LG television to its factory default settings will solve the problem if Netflix is still not functioning on it. Follow these instructions to reset your LG television:
Resetting LG smart tv
Step 1: On your remote press the setting button.
Step 2: Select general.
Step 3: Select Reset to initial settings.
Step 4: Reinstall Netflix app after you've reset to initial settings your LG Smart TV.
Some factory reset will uninstall Netflix app, you can download the Netflix app on the LG content store of your LG smart TV.
Frequently Asked Questions
Can you add apps to LG Smart TV?

Yes you can install apps using the LG content store.

How do I install apps on my LG Smart TV which are not available in the LG Content Store?

You can only install apps that is available on the content store.

Is LG UHD TV AI ThinQ a smart TV?

Yes it is a LG smart TV.

Is LG UHD TV 4K a smart TV?

Yes it is a LG smart TV.

Does LG make a 32 inch Smart TV?

Yes LG makes 32 inch smart TV too.