Published by Activision and developed by Infinity War and Raven Software, Call Of Duty Warzone has been a Day 1 hit and has effortlessly become one of the most popular battle-royale games today. Unfortunately, Call Of Duty Warzone is also yet to improve in a lot of aspects as many gamers report problems such as the Dev Error 5759.
If you're experiencing this error right now, this troubleshooting guide should help.
What does COD Warzone dev error 5759 mean?
The Call Of Duty Warzone dev error 5759 is a fatal PC error which follows after the game has crashed, or when the computer can no longer continue running it. It's one of the frustrating errors to fix as it usually means that the problem lies within the device and won't go away on its own unless it's been addressed.
The full error message reads:
"DEV ERROR 5759. DirectX encountered an unrecoverable error. To contact customer service support, go to http://support.activision.com/modernwarfare."
In some cases, the error message may mention that your GPU does not the minimum system requirements of COD Modern Warfare, which is the base game of Warzone.
Causes of COD Warzone dev error 5759
There are several known reasons for dev error 5759. Let's discuss each of possible causes in the list below.
Random game glitch.
Bugs and glitches are part and parcel of both old and new games. Even well-built apps and games from world-class developers have bugs, and some of them are even game-breaking. Although Warzone is already a polished product during release, it requires constant updates to fix errors and glitches from time to time.
If you only experience the dev error 5759 once or twice, it may be due to a randomly triggered bug that develops out of nowhere.
Some bugs like the ones related to DirectX may also be caused by a unique problem in your device and has nothing to do with how the game was coded. There are several known "DirectX encountered an unrecoverable" errors for the Call Of Duty titles over the years and some of them are caused by factors associated with Windows or certain hardware components or graphics card.
Damaged game data.
Game files may sometimes become corrupt, which can then lead to all sorts of error codes such as the Warzone DirectX dev error 5759. The most common reason for file corruption is when the "saving" process is interrupted, like when a PC or console loses power. At other times, game files may be damaged if an update installation is also disrupted when the device shuts down in the middle of the process.
If you started receiving the dev error 5759 after your PC crashed or stopped working in the middle of an installation or "saving," you may be dealing with bad game data.
Outdated software environment.
If your computer's software environment is running outdated drivers and apps, it might also lead to certain game errors. It is important that your video card receives regular updates in order for it to work with new games.
The same is true for your PC's Operating System. Windows, just like apps and drivers, must be constantly updated so it can deal with new changes to the programs like video games you're running.
Interference from third party software.
Other applications that run together with Warzone may complicate things and create problems. Some gamers have noticed that certain applications with overlays such as Discord, MSI Afterburner, and even Steam, may cause issues with Warzone.
You can try to check if you have this issue by watching out if the dev error 5759 occurs when a particular application is loaded with Warzone.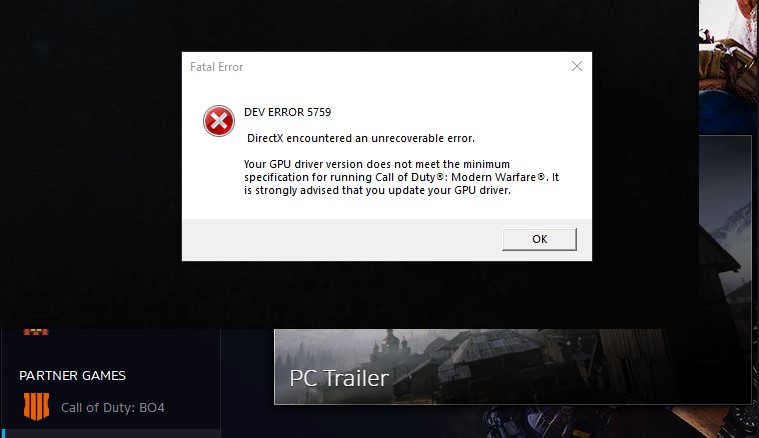 How to fix Call Of Duty Warzone dev error 5759?
As far as solutions to Warzone dev error 5759 is concerned, there's been a list of workarounds that are known to help. Not everyone may find all or some of these fixes to work though, as the causes can vary in every machine.
Fix #1: Restart the game/launcher.
Restarting the game or the Blizzard Battle.net launcher sometimes help in fixing dev error 5759.
Alternatively, you can simply reboot your PC and see if that will help.
Fix #2: Check for the latest GPU drivers.
Updating your graphics card drivers is an important task of a PC gamer. Although this task can be automated with the help of special software like the NVIDIA GeForce Experience, you should consider checking manually for the latest GPU drivers if you are dealing with a game problem like dev error 5759.
For your GPU drivers, click on any of the links below.
How To Check For And Install GPU Driver Updates | NVIDIA GeForce
How To Fix No AMD Graphics Driver Is Installed Issue | AMD Ryzen
Fix #3: Repair broken game files.
In case there's a problem with bad or corrupt game data, you can use the built-in repair tool in the Battle.net launcher called Scan and Repair. This is a straightforward and effective way to ensure that your Warzone game files are in good shape.
Once you've tried the scan and repair option, be sure to restart the game and check if the Warzone dev error 5759 returns.
Fix #4: Run game in DirectX11 mode.
Some Warzone issues were fixed by forcing the game to run DirectX 11 mode instead of DirectX 12. Try it and see if that will help you fix your Warzone "DirectX encountered an unrecoverable" error or dev error 5759.
Here's how:
Open the Battle.net (Blizzard application) launcher.
Select the Call of Duty: MW game in the left panel (Below PARTNER GAMES).
Click on OPTIONS.
Select Game Settings.
Enable ADDITIONAL COMMAND LINE ARGUMENTS.
In the box, enter -D3D11
Click Done button at the bottom.
Run the game again and see if the dev error 5759 returns.
Fix #5: Delete the Call Of Duty game cache.
Deleting the game's cache may help if you've encountered the "DirectX encountered an unrecoverable" error. Here's what you need to do:
Close Warzone and all Blizzard applications.
Navigate to C:\Users\[your name]\Documents\Call of Duty Modern Warfare\ (this may vary depending on the installation path of your game).
Create a copy of all folders and keep it in another folder. This will save as your backup in case you'll encounter a problem with your troubleshooting later on. 
Once you've copied your game cache in another folder, go back to C:\Users\[your name]\Documents\Call of Duty Modern Warfare\ and delete all the stuff in the Call of Duty Modern Warfare folder.
Start Warzone again and see if the dev error 5759 is fixed.
OTHER INTERESTING ARTICLES:
Visit our TheDroidGuy Youtube Channel for more troubleshooting videos and tutorials.