Outriders has finally arrived and by far, this game delivers big time. But just like any other new game with an online multiplayer component, Outriders have a number of serious connectivity issues including the "internet connection" error that we're dealing with today.
If you're getting the message that Outriders "could not connect to Outriders servers," check out this troubleshooting article to know what to do.
What is Outriders "Internet Connection" error?
Many players have flocked to the newly released game from Square Enix, Outriders and as such, there's been an unexpected surge of connection issues such as the one we're dealing with today. The Outriders "Internet Connection" error has been observed to occur mostly with the free demo version of the game and not so much with the paid version. The internet connection error usually appears when a player tries to join a party, or when trying to play with a friend.
Internet connection error also is not platform specific as it's been reported in all platforms (PC, Stadia, and consoles).
Causes of Outriders internet connection error
The Outriders internet connection error is largely due to servers being unable to handle high traffic although there are also cases wherein the root cause is found within the computer or with a player's home network.
Below are the known causes for this issue:
Square Enix server problems.
Outriders servers seem to be overwhelmed during the release date of the game, with many gamers having trouble signing in, getting the internet connection error during matchmaking or the game crashing once a multiplayer session has started.
Internet connection errors can almost always be expected for popular titles such as Outriders so Square Enix must have anticipated the problem ahead of time. Unfortunately, this seems to be a little concern for them that even after over a week since the release date, many players are still encountering server issues.
Random game bug.
For those who are lucky enough to have missed the Outriders servers glitch, the problem may lie within their PC or console. Some connection errors are triggered randomly at times, especially with new games.
Unstable wifi connection.
If you rely on wireless connection on your PC or console, there's also a chance that the Outriders internet connection error you're getting is not entirely a server bug but rather an issue with your wifi. Consider troubleshooting for possible wifi issues if there's no known server problem at the time when you're getting this error.
Corrupted Outriders cache.
Another possible reason for this error can be a bad cache. Console players may sometimes encounter performance and loading problems due to an outdated or corrupted system cache.
NAT issues.
NAT type issues is commonly encountered by gamers playing on consoles. Make sure that your PlayStation or Xbox are permitted by your network to connect to Outriders servers. If your router's NAT type is set to strict or restrictive type, you may encounter connection errors.
Corrupted game files.
On top of corrupted cache, game files may also become corrupted and cause issues. This is true whether you're playing Outriders on Steam, Stadia, PlayStation, or Xbox.
Game files may be damaged if the auto-saving process of the game is interrupted, like when the PC or console is powered down when the game is still saving.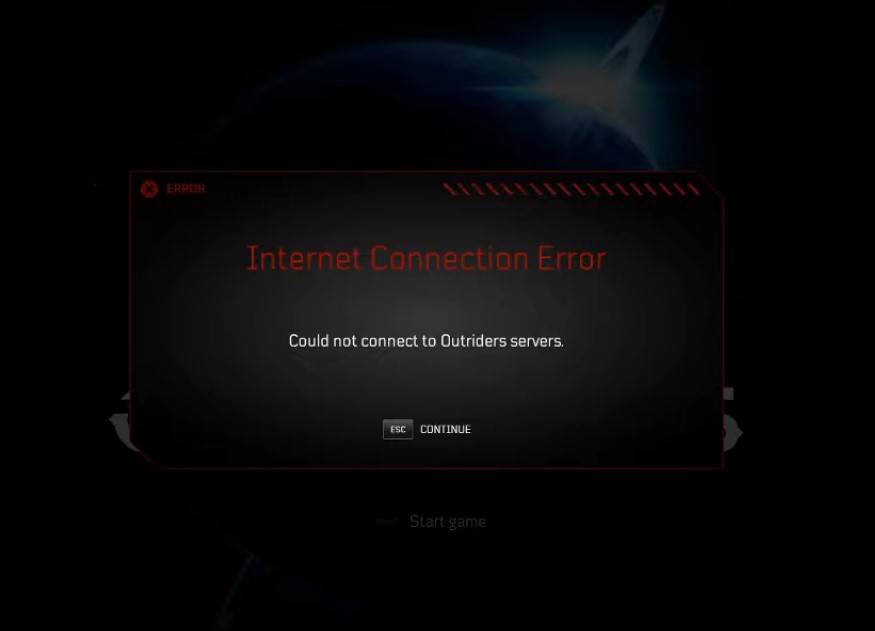 How to fix Outriders Internet Connection error?
The latest Square Enix looter/shooter game is best enjoyed with other players. Not only does it makes playing doubly fun but it also adds the benefit of getting more loot.
If you are having difficulty connecting to Outriders servers because of the internet connection error, these are the solutions that you can try:
Solution #1: Check the Square Enix server status.
Most cases of internet connection error are fixed by simply waiting until the servers can go back in full capacity. To know if there's any on-going server problems, you can visit the official Square Enix server status page.
If you are active on Twitter, you can check out the official Outriders account for up-to-date server-related and game information.
Solution #2: Restart your computer or console.
If there's no server issues at all, you can assume that the cause of the problem either lies within your device, or with your home network.
To check if the error is due to a random bug, consider restarting your computer or console.
To address a possible corrupted system cache, you can turn off and unplug your console (PS4, PS5, Xbox One, Xbox Series X|S) from the power source for about 5 minutes. This should refresh the system cache of the console and hopefully clear the connection bug.
Solution #3: Troubleshoot your home internet connection.
When it comes to fixing internet connection errors in Outriders, it's important that you consider your own home network. If you have a slow internet connection while trying to play Outriders online, it may not be able to establish a solid connection to the game servers.
Run a speed test.
The first step in troubleshooting your connection is to check the download and upload speeds. Try running a speed test to see if it's causing the connection issue.
Power cycle the router.
Keeping the router in good working condition is important. And one of the ways to make that happen is to ensure that you reboot it once every few days. That way, the device is refreshed and hopefully be able to avoid developing bugs.
Update your router firmware.
Another thing that you can try is to ensure that you router uses the latest available firmware. If you have no idea how to do it, get help from the router manufacturer or your Internet Service Provider.
Use wired connection.
If you've been using wifi, try to see if connecting your computer or console directly to the router with a LAN/Ethernet cable makes a difference.
Solution #4: Check your NAT type.
Making sure that your console is not blocked by your router from communicating to Outriders game servers is another important consideration at this point. This means checking if the NAT type on your device is set to open. You will know the status of your console's NAT type by doing a speed test.
OTHER INTERESTING ARTICLES:
Visit our TheDroidGuy Youtube Channel for more troubleshooting videos and tutorials.