Are you experiencing an issue with your Blizzard game? It may be caused by a bad or corrupted game data. In this article, we'll explain to you why game files become corrupted and how to use the Blizzard Battle.net desktop app's Repair tool to fix them.
Do game files become corrupted?
If you've been using a computer for a while now, you may have experienced that a certain file, folders, or applications refused to open or load. Most of the time, this situation is caused by a corrupted or damaged file/s.
The same is true for games. If one of your game fails to launch, keeps crashing, or takes a long time to load something, it may be due to a corrupted game file or files.
Sometimes, certain errors may also indicate that there's a damaged file somewhere.
Blizzard games are not immune from corrupted game files. In fact, popular Blizzard games like the Activision Call Of Duty Warzone and Black Ops Cold War have a long list of errors potentially attributed to bad game files.
In many cases, corrupted game files in the Blizzard app or Battle.net client can be fixed relatively easily. In some cases, a simple reboot of the device is enough to correct a glitch due to a corrupted game file.
In situations wherein the real reason for the damaged game files are deeper, certain procedures like the Blizzard Scan and Repair tool may be necessary.
Reasons why Blizzard game files may become corrupted or damaged
There are four known reasons why some Blizzard games may not work as expected due to corrupted data. Let's discuss each of the briefly.
Loss of power while saving.
The most common reason why game saved data or files may be damaged is when the saving process is interrupted. For example, if you're playing Call Of Duty Black Ops Cold War singleplayer campaign and your PC shuts down due to a power outage when your game is trying to auto-save, the save data may become corrupted causing the game to crash. In some cases, you may not be able to continue the campaign at all using that damaged checkpoint data.
For more severe cases, the game may fail to launch entirely, or may keep crashing.
Damaged storage device.
The other common cause for data corruption issues is bad hard drive or storage medium. If the part of your hard drive called segment where the file is stored become damaged due to wear and tear or failure, your game may fail to work properly, especially if the affected file or files are critical.
Third party software.
Some applications that gamers use like Cheat Engine, ArtMoney are designed to create or edit files. Also known as memory editors, these programs are usually used by gamers to "cheat" in games, like when changing values to add more money in a game.
While they may be useful if used properly, they can also lead to damaged files if a user does not know what he's doing.
Malware.
Malicious software or viruses can also damage game files. Some viruses are specifically designed to cause havoc to certain programs, files, or folders.
How to scan and repair Blizzard (Battle.net) game files
For superficial file damage, a reboot of your PC may help but in some cases, outdated or damaged game files may require intervention from specialized repair tool like the Blizzard client's Scan and Repair.
If you have no idea how to use Scan and Repair tool, follow these steps: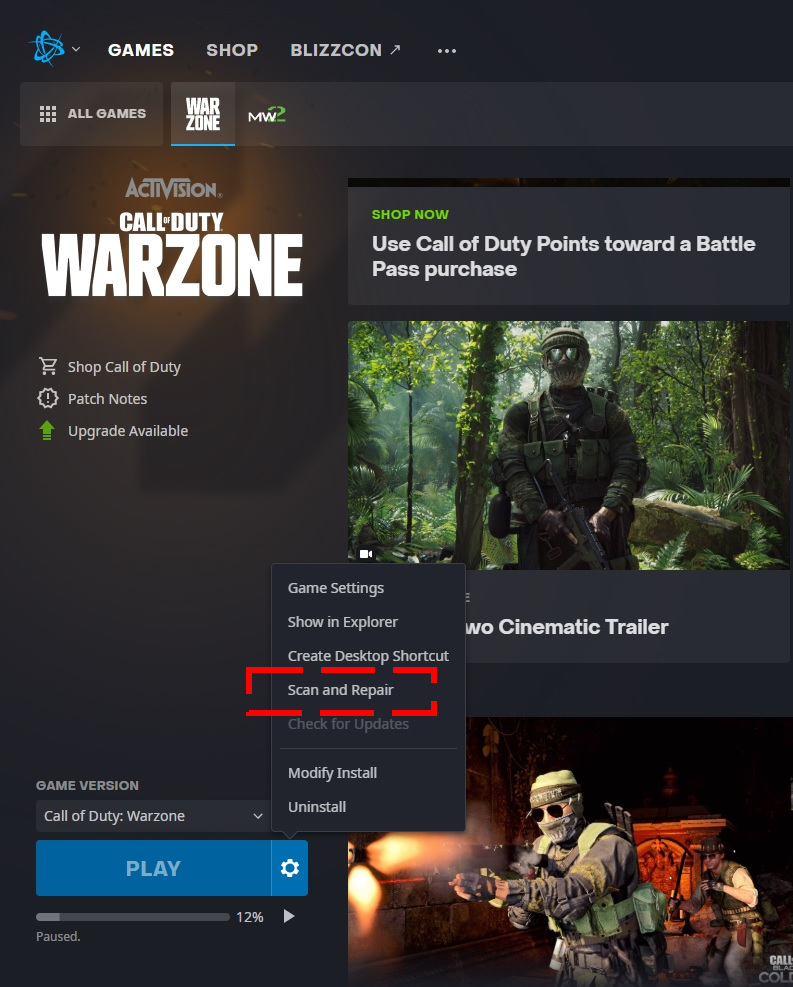 Open the Blizzard Battle.net desktop app on your PC.
Click the icon of the game you are trying to repair.
Click on OPTIONS (middle of the screen, COG/GEAR icon).
Click on Scan and Repair.
Click Begin Scan.
Wait for the repair to finish.
The Scan/Repair option cannot fix all types of corrupted files. Depending on the severity of the problem, this tool may be an effective way to update the damaged files to bring them back to their working state or can be totally useless. If the damaged video game files are caused by a storage device failure, or any other issues such as malware or viruses, the problem may return.
Scan/Repair feature is also limited to games within the Blizzard Battle net desktop app. This means that other games you installed using other launchers such as Steam, Epic Games, etc. can't use this tool.
OTHER INTERESTING ARTICLES:
Visit our TheDroidGuy Youtube Channel for more troubleshooting videos and tutorials.