The latest iteration to the Sniper Elite series, developed by Rebellion Developments, has finally been released and just like any new game, many PC players are finding out that the game can crash randomly for some reason. While this issue is not widespread and majority are playing the game just fine, there are significant number of people who are experiencing Sniper Elite 5 crashing issue since it was released on May 26, 2022.
If you are one of the unlucky players experiencing this problem, this guide will show you the solutions.
How to fix Sniper Elite 5 crashing on PC?
If Sniper Elite 5 keeps crashing on you and there's no clear reason for it, you'll need to perform a set of troubleshooting steps to identify the cause and resolve the issue.
Below are the fixes that you can try.
Fix #1: Check the Sniper Elite 5 system requirements.
The latest game from the Sniper Elite series, Sniper Elite 5, does not require a high end PC build in order to run. However, you still have to consider checking if your PC can handle it. This is important, especially if your computer is old and not built primarily for gaming.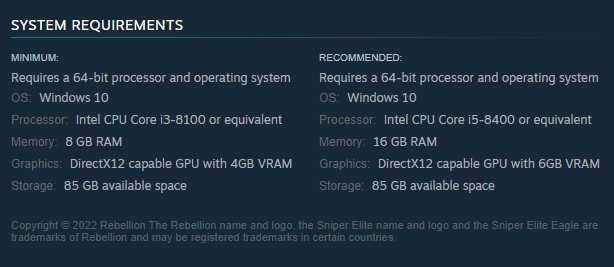 Below are the minimum and recommended specifications:
Minimum system requirements for Sniper Elite 5:
CPU: Intel CPU Core i3-8100 or equivalent
RAM: 8 GB RAM
GPU: DirectX12 capable GPU with 4GB VRAM
Hard drive: 85 GB available space
Recommended system requirements for Sniper Elite 5:
CPU: Intel CPU Core i5-8400 or equivalent
RAM: 16 GB RAM
GPU: DirectX12 capable GPU with 6GB VRAM
Hard Drive: 85 GB available space
If your PC does not meet the stated requirements, be sure that you upgrade the hardware before trying Sniper Elite 5 again.
Fix #2: Update the Sniper Elite 5 game software.
Keeping the game software updated is the next important step that you must do. New games tend to be buggy and require a series of patches and hot fixes so be sure that the game software is running its latest version at this time.
By default, updating Sniper Elite 5 on Steam is very easy but in case you're new and have no idea how to do, simply head over to your Games Library in Steam, find Sniper Elite 5, and click the UPDATE button.
Fix #3: Check for corrupted game files.
Some games may crash if their local files are corrupted. To check if that's the case, you can use the Verify integrity of game files tool in Steam. This is usually an effective method to fix crashes for Steam games. Here's how it's done: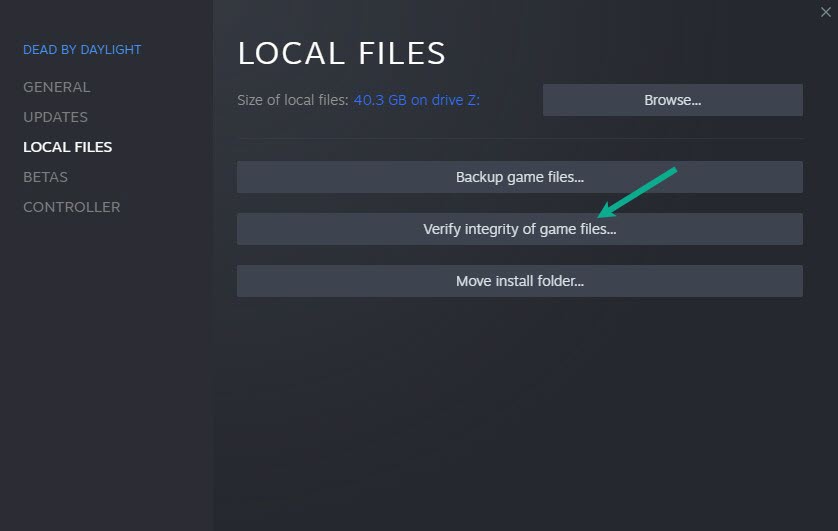 Go to the Library after starting Steam.
Find Sniper Elite 5 and right click on it.
Choose Properties.
Select the Local Files tab.
From the menu, choose Verify Integrity of Game Files.
Allow some time for the operation to complete.
After the operation is completed, restart your computer.
After you verify game files, launch the game again and check if the issue remains.
Fix #4: Install graphics drivers.
If verify game files did not make a difference, another simple solution that may help you resolve the Sniper Elite 5 crashing problem is to keep your GPU drivers up to date. Outdated graphics drivers are a common source of many gaming issues.
If Sniper Elite 5 keeps crashing and you don't know why, it's most likely due to an out-of-date graphics driver. Fortunately, fixing crashing issues like this one is as simple as installing the latest recent graphics drivers.
Simply go to your manufacturer's website and get the most recent graphics driver version. The Nvidia GeForce Experience app for the NVIDIA GPU is available for download from the Nvidia website. Users with AMD graphics cards can find further information on the AMD website.
You may also upgrade your graphics drivers manually by heading into Device Manager. Here's how it works:
Press the Windows key on the keyboard.
Type in "control panel" and select Control Panel.
Change the View by dropdown to Small icons and click on Device Manager.
Once the Device Manager is opened, click the dropdown for Display adapters.
Find your GPU and right-click on it.
Select Update driver.
Select Search automatically for graphics driver.
Fix 5: Check for Windows updates.
An outdated Windows OS can sometimes be the primary reasons for game crashes. If Sniper Elite 5 keeps crashing on your PC, make sure that you check if there's any pending Windows update that you are yet to download and install right now.
To update Windows, follow these steps to update: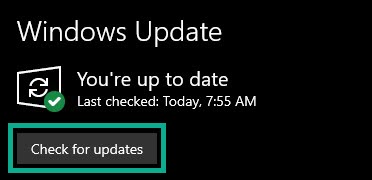 On your keyboard, press the Windows + I buttons to open up the Windows Settings menu.
Select Update & Security.
Go to Check for updates under the Windows Update section.
If there is a feature update available, select Download and install.
Wait for the installation of updates to finish then restart your PC.
Fix #6: Turn off Full screen Optimizations.
Some players have noticed that their Sniper Elite 5 game only crashes when playing it on fullscreen. Keep in mind that majority of players don't have an issue when this game runs on Fullscreen so this can be isolated cases only. Still, you want to check if there's a bug with your machine that causes the game to crash when you play Sniper Elite 5 in Fullscreen mode.
Here's what you need to do:
Open the Steam.
Go to your Games Library.
Right-click on Sniper Elite 5 and select Manage.
Click on Browse local files to open the installation directory.
In the Local Files folder, find the Sniper Elite 5 exe file and right-click on it.
Select Properties.
Select the Compatibility tab.
Make sure that you check the box beside Disable fullscreen optimizations.
Click on Apply and then OK to save changes.
Launch Sniper Elite 5 again and check if the crashing issue continues.
Fix #7: Close other applications.
If you still have the Sniper Elite 5 crashing problem after disabling fullscreen optimizations, the next thing that you want to do is to check if another program is causing it. If you're running any other software right now, just close it and see if that will fix the crashes.
Some background programs may consume more system resources, such as CPU or memory, resulting in a considerable reduction in system performance. As a result, difficulties such as starting crashes, lagging, and not loading might occur.
Simply close any background programs in the Task Manager and see if it works. To do so, start Task Manager by pressing Ctrl + Shift + Esc.
If none of the above solutions have worked, you should try stopping background programs to see if it fixes the crashing problem.
The goal is to close any apps that aren't being used while gaming to see if any of them are causing the game to crash. You may gradually narrow down the likely cause by using the process of elimination.
Fix #8: Disable your antivirus.
Some antivirus software may interfere with certain programs, especially if they're not configured properly. If you're running any security software or antivirus right now, try to see what happens when you turn it off temporarily.
If you don't have any third-party security software and are simply using Windows Defender, here's how to disable it:
Press the Windows key + I buttons to access Windows Settings.
Go to Privacy & security on the left.
Click Windows Security.
Click on Virus & threat protection.
Click on Manage settings below Virus & Threat protection settings.
Toggle the switch for Real-time protection to OFF.
Check to see whether the problem has been fixed after deactivating Windows Defender. Remember that if you don't use a third-party antivirus, this method will work. To avoid conflicts, Windows Defender will disable itself if you have a third-party antivirus application installed.
After you've completed troubleshooting, turn on Windows Defender to keep your computer safe.
Fix #9: Disable Overlays.
Are you running any overlay feature while playing Sniper Elite 5? An example of an overlay is Discord overlay or Steam overlay that you can see on top of the game.
Some software that millions of gamers use everyday has an overlay feature and for most people, they do work without causing problems to games. However, some Sniper Elite 5 players have noticed that their game seems to crash when they have an overlay on.
Again, this may be caused by a unique glitch in select computers only but it's worth checking by turning them off if you have them.
The exact steps to disable overlay depends on the app. Below are some of the steps that you can do to disable commonly used apps with overlay:
Nvidia GeForce Experience
Open the Nvidia GeForce Experience.
Click on Settings (gear icon).
Click on the General tab.
Click on the toggle switch for In-Game Overlay option to disable it.
Reboot your PC and check if Sniper Elite 5 is still crashing.
Discord
Open Discord.
Click on the User Settings (gear icon). This should be on the right side of your avatar.
Select Game Overlay from the left pane.
Disable Enable in-game overlay.
Select Activity Status from the left pane
Make sure the overlay is turned off for the specific game you are playing by clicking on the monitor icon on the right of the game.
There are a lot of other applications (such as Xbox Game Bar, Spotify, MSI Afterburner, etc.) that have overlay option in them so be sure to check every program you're running right now and see if you can disable the overlay in it.
Fix #10: Use a dedicated GPU over integrated GPU
If you're still experiencing the Sniper Elite 5 crashing issue, ensuring that you're running the game using the dedicated GPU can be the solution.
There are usually two graphics cards in a gaming PC — the integrated GPU and dedicated GPU. The latter refers to the additional hardware (such as NVIDIA GPU or AMD GPU) that you connect to the motherboard. The integrated GPU refers to the basic graphics card that comes with your CPU, which is usually Intel.
By default, your PC should automatically use the more powerful dedicated GPU instead of the integrated GPU but this can be changed by accident or by a glitch.
You can follow these steps to ensure that your computer is using the dedicated GPU.
If you have an NVIDIA GPU:
Right-click on a blank space on your desktop.
Select Nvidia Control Panel.
Go to 3D Settings.
Select Manage 3D Settings.
Open the Program Settings tab and choose Sniper Elite 5 from the drop-down menu.
Pick your preferred graphics processor (usually High Performance NVIDIA Processor) for this game in the next dropdown. If you don't have the preferred graphics processor option, then your integrated GPU may be disabled.
Fix #11: Enable High Performance in Power Options.
Steam users who changed their Power Options settings from Power Saver or Balanced to High Performance were able to Sniper Elite 5 crashing issue.
Selecting the High Performance option allows the system to fire up everything in terms of performance without being constrained by the need to conserve battery power. This means that the CPU, GPU, and other components will not be limited in any way. The increased performance can occasionally aid in the elimination of crashes, particularly on older or struggling systems.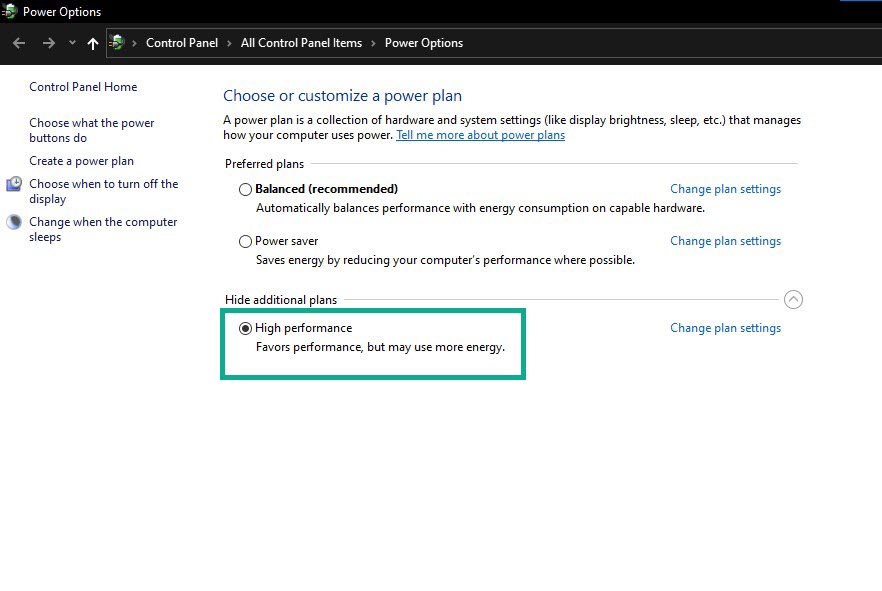 If your Windows system is now set to Balanced mode under Power Options, just switch to High-Performance mode for improved results. However, this approach will use more power or battery life on your laptop.
Open Control Panel by clicking on the Start button and typing "control panel." Alternatively, you can pull up Windows Settings and look for Control Panel from there.
Select the Control Panel app in the search result.
Select Hardware and Sound
Click Power Options.
Click on High Performance to select it.
Shut down the PC completely and run Sniper Elite 5 again.
Fix #12: Delete and reinstall the game.
At this point, you have almost exhausted all the possible solutions for this problem. If nothing has fixed the crashes right now, consider deleting and reinstalling Sniper Elite 5.
Fix #13: Play on Clean Boot.
The last solution that you must try, if reinstallation did not fix the crashes, is by running Sniper Elite 5 on Clean Boot.
A clean boot will launch Windows with only the necessary drivers and apps installed. This can help you determine whether the issue is due to a software or process conflict. If SNiper Elite 5 keeps crashing, try running it on Clean Boot to determine if a third-party software is interfering with it. Here are the steps to do that:
Press the Windows Key + R.
Type "msconfig" and click OK in the Run dialog box.
Choose the Services Tab, then put a check on Hide All Microsoft Services and select Disable All.
Click Apply, and Click OK. This prompts you to restart; choose Restart Later.
Press the Windows Key + R one more time.
Type "msconfig" and click OK in the Run dialog box.
Choose Start Up and select Open Task Manager.
In the last tab called Start-up Impact disable all the ones with High Impact.
Reboot your system and it will start up in the clean boot mode.
Run Sniper Elite 5 in this mode and see if it will play normally.
If the game continues to crash, the problem might be with your computer's software. Begin by activating one service at a time in the same way, then stop when the problem reappears. Remove the service or program that is causing the issue.
FAQs
When was Sniper Elite 5 released?

The Sniper Elite 5 release date is May 26, 2022. 

Is Sniper Elite 5 single player?

Yes. Sniper Elite 5 has several modes and one of them is Single Player.

Is Sniper Elite 5 coop?

Yes. Sniper Elite 5 also has an Online Co-op mode which allows two online players to play together.

Is Sniper Elite 5 cross-platform?

Yes. Sniper Elite 5 has a cross-platform multiplayer feature as well.
OTHER INTERESTING ARTICLES YOU MAY LIKE: