As expected, the #Samsung Galaxy #Note5 comes with a lot of useful features. Some are already present in prior versions of Note devices while others are totally new-fangled. Considering the alterations made to the phone's current interface, some users are having trouble finding some essential settings to configure. In fact, analogous questions have reached our mailbag just recently. In line with our promise to help, I've decided to tackle some of these questions in this post.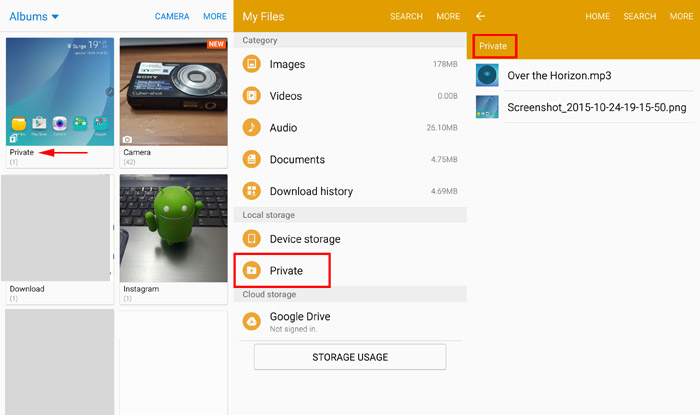 That being said, this piece contains answers to settings-related questions we've got from users and prospect owners of the Galaxy Note 5. Here are the questions about the Galaxy Note 5 settings I addressed in this content:
Question: Does the Galaxy Note 5 have File Manager?
"I am planning to buy a Galaxy Note 5 and transfer raw photos to my computer.  Does the note 5 have a file manager? Thank you" – Leon
Answer: As the name implies, File Manager helps you manage all your files efficiently. Like the prior versions of Note devices, the Galaxy Note 5 also comes with built-in File Manager application. You can find it within the Samsung folder. Just open the App drawer and you should see the Samsung folder listed among the first few apps in the drawer, just before all other apps.
Question: How to capture still photos from recorded video?
"On my note 4, i was able to go through a video that I'd taken frame by frame and then "capture "one as a photo. This worked wonders when trying to get good pictures of my baby niece. I'd take a video then get wonderful pictures from it. No more barely missing the "perfect" moment. Is there a way to do this from my note 5? I've not had any luck finding out how. And please don't tell me to take a screenshot. With the camera capturing 30 frames per second, taking a screenshot is not the same."
Answer: For some reasons, grabbing stills during video capture is no longer supported in the Galaxy Note 5. This means you can no longer capture still photos frame by frame while recording a video. The only way to capture still photos from a video is through opening a recorded video. Follow these steps:
Open the camera app.
Play the recorded video and then pause it at the frame you want to capture.
While the video is paused, go to Settings (under Menu controls) and then click on the Capture
When the nudge controls appear on top of the screen with the central capture control, just nudge the video frame by frame and then grab the photo you want.
Still photos are saved in JPEG (JPG) file format under Screenshots
Your other option is to settle with some third-party apps designed for such purpose like Video Kit for instance.
Questions: How to change default apps?
"I've been an iPhone power user since iPhone 3. So far, I love the Note 5. Hopefully someone can help with these issues:
Default apps – is there a way to change the default mail app to either 'Nine' or 'Outlook 'or something that could also work with voice commands?
Answer: You can change the default mail app on your Galaxy Note 5 to any other third-party mail apps you prefer. First thing you should do is to download and install the app you want to set as default, and then follow these steps:
Go to Settings.
Navigate to the Device tab.
Tap Apps.
Go to Default Applications.
Tap the Clear default button next to each default applications. Doing so will erase your current default apps settings.
Once you're done clearing the default apps, scroll up a bit and then tap Messages under Set defaults section.
Tap to select the mail app you want to set as default.
If prompted with the message, confirm your choice by tapping on OK. You can also change the default home screen launcher in this menu.
Alternatively, you can reset and change the default apps by tapping OK from popup messages, when performing certain actions for the first time. For example, if you click a link or URL for the first time, you will be asked which browser app you would prefer to use to open that link. Read the entire message because it also asked if you want to set that browser as default. Once you click OK, the same browser app you picked will be used the next time you do such actions, making it the default app for such action.
Camera – is there a way to have the "Pro" mode as the default when opening camera.
Answer: The Galaxy Note 5 camera app is programmed with Auto Mode as default mode and there's no option for users to change the default camera mode to any other modes available. You can only switch between these modes while editing photos or videos. It's programmed that way.
Package disabler – is there a way to find out what each package does to determine if something is safe to disable or not?
Answer: Usually, the device will prompt you with a warning message by the time you attempt to disable an important application or service on your phone, especially those that are associated with the main Android system. To play safe, just disable the unnecessary services or apps you don't use (bloatware). And most importantly, read the warning prompts before you proceed with disabling any services and built-in apps to avoid any problems afterwards.
Question: How to create auto signature in text messages?
"Automatic signature cannot be added in texts. Unhappy with losing this feature as it was convenience I enjoyed with previous Galaxy phones. Just got this and considering not keeping it."
Answer: You can actually create or add automatic signatures to text messages on your Galaxy Note 5. All you have to do is enable the Signature option on your phone's messaging app settings. Here's how:
Tap Apps from the Home screen.
Tap Messages.
On the Messages (Inbox) screen, tap MORE located in the upper-right.
Tap to select Settings from the given options.
Tap Signature to enable the feature.
To edit the signature when the settings is enabled, tap Edit Signature then enter or edit the signature you want to show on your outgoing messages.
Tap Save to save your changes.
Note: Menu options may vary between carriers. The aforesaid steps work for Note 5 Verizon variants.
Other ways to create an auto signature for your messages
Create a text shortcut using these steps:
Go to Settings.
Navigate to the System tab and then select Language and input.
Select Samsung keyboard.
Tap Text Shortcuts.
Select Add New.
Enter the first three letters of your signature under Shortcut section.
Type in your full signature in "Expanded phrase" section and then tap Add.
While creating a message to send, enter the first three letters then select your signature from the given options.
Save your signature to the clipboard and use it to your outgoing messages. Here's how it's done:
Launch the messaging app and then open a new blank message.
In the message body, type in your signature and then copy it to save in your clipboard. To copy your signature, press your thumb on the screen until you see the Copy option.
Delete contents of your message and then close it.
To test, reply or open a new message.
Press your thumb in the body of the message until you see the option to Paste/Clipboard.
Select Paste if you only got a single item saved in the clipboard, otherwise, select Clipboard.
Connect with us
We're here to help! Feel free to complete and submit the Android Questionnaire Form we provide in our Troubleshooting Page should you have anything you'd need to learn about your Android device like the Galaxy Note 5. Use the same form to reach our support team and get help in resolving any device issues you may have. Just be sure to provide us with essential details about the problem for us to be able to get back to you with the most efficient solutions and/or recommendations. You may also view our suggested solutions and workarounds to specific problems we've received from our Mailbag on our T/S pages.