This post shows how to increase touch sensitivity on the Galaxy S21 smartphone. Read on if you find the need to improve your new Samsung smartphone's touchscreen response, especially when using a screen protector or relevant accessories on it.
Samsung Touchscreen Responsiveness
There are times when your phone seems very slow to respond to touches and that made you think that it's already performing sluggishly. However, even new smartphones will act the same, especially with some screen protectors on.
Aside from screen accessories, there are also other factors that can cause slow touchscreen response rate and that would include hindrances between the hand and touch screen, random app glitches, memory issues and worst, hardware damage.
Modern smartphones like the recently rolled out Samsung Galaxy S21 series may likewise succumb to similar issues in which the device seems to respond slower than expected, especially with a screen protector installed.
If you're experiencing the same dilemma and need some input on how to deal with it, then increasing the phone's screen sensitivity can be considered among the potential solutions. And if you need help activating this feature on your new Samsung Galaxy smartphone, then you can refer to this quick demonstration.
Easy Steps to Increase Touch Sensitivity on the Galaxy S21
This method can also be used when increasing touch sensitivity on other Samsung Galaxy smartphones with the same firmware version with the S21 series. Actual screens and menu items may slightly vary between device models and carriers.
1. Once you've got everything set, go to your Home screen and then swipe up from the bottom to access the Apps viewer.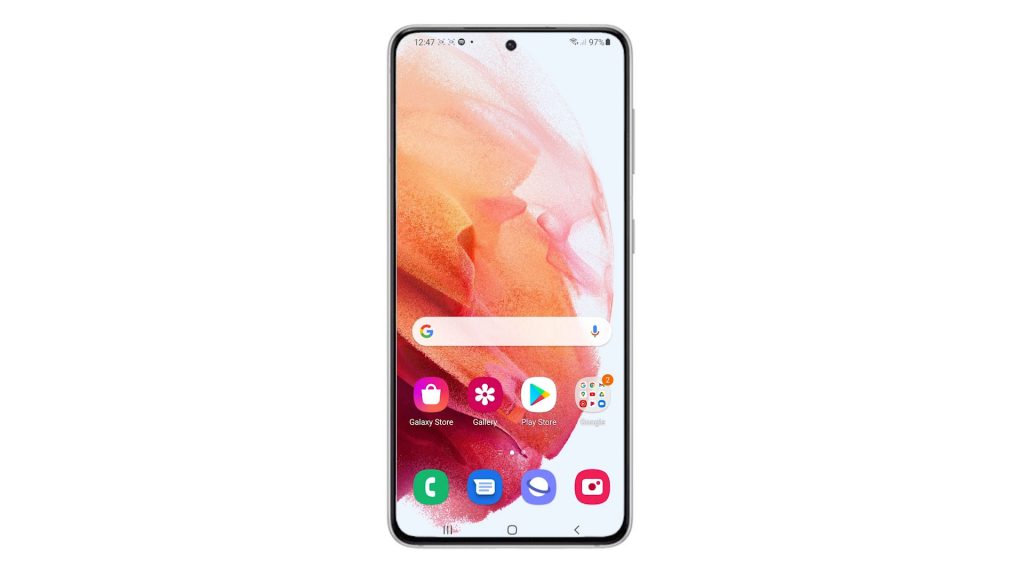 Different app icons or shortcut controls will populate the next screen.
2. From the Apps viewer, locate and then tap the Settings icon to proceed.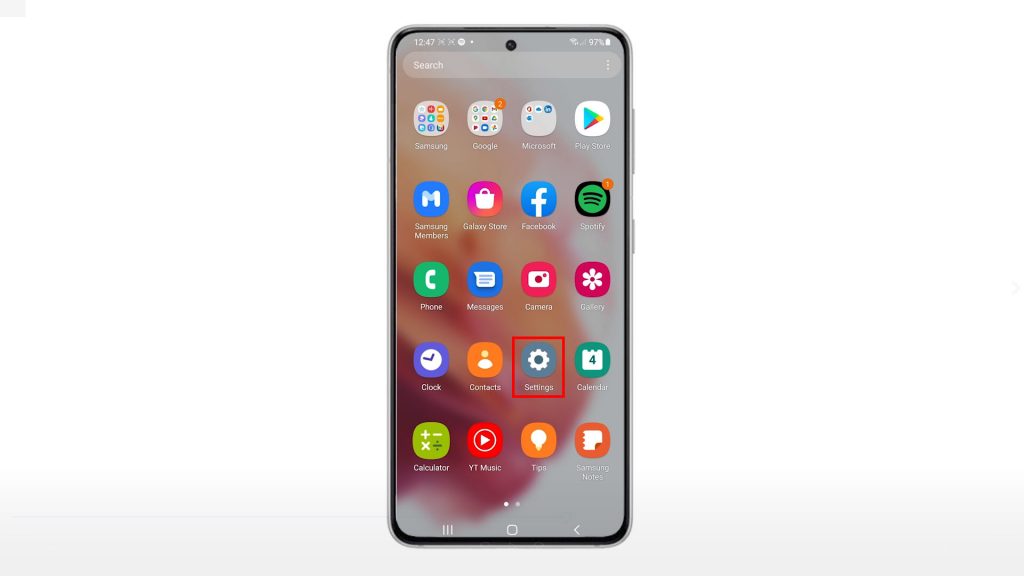 The Settings menu opens next. Here, you will see all the basic and advanced features you can use as well as settings to manage.
3. Locate and then tap Display to proceed.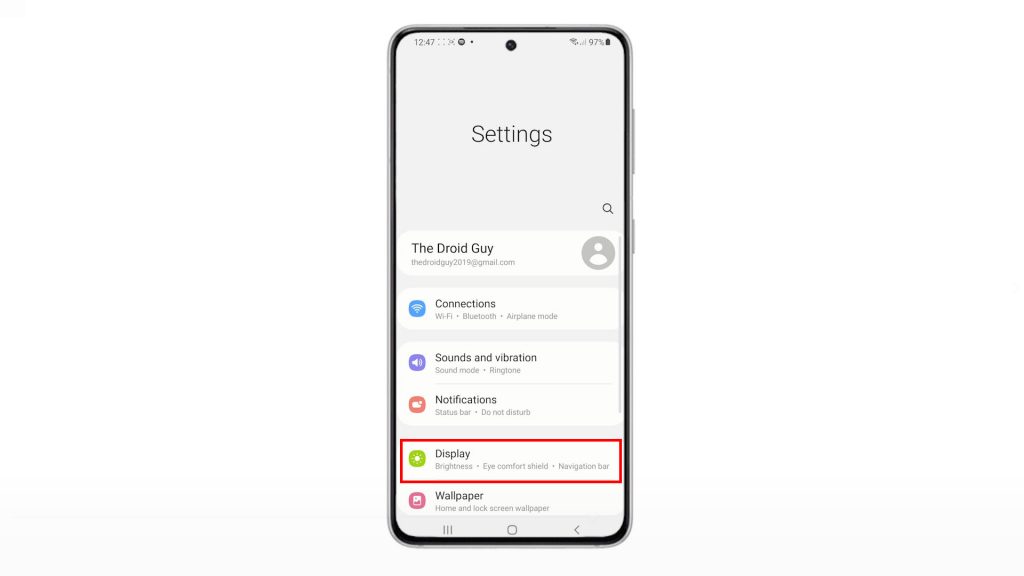 The Display settings menu will load up on the next window.
4. Scroll down to view more items and display settings. Then, toggle to turn on the Touch sensitivity switch.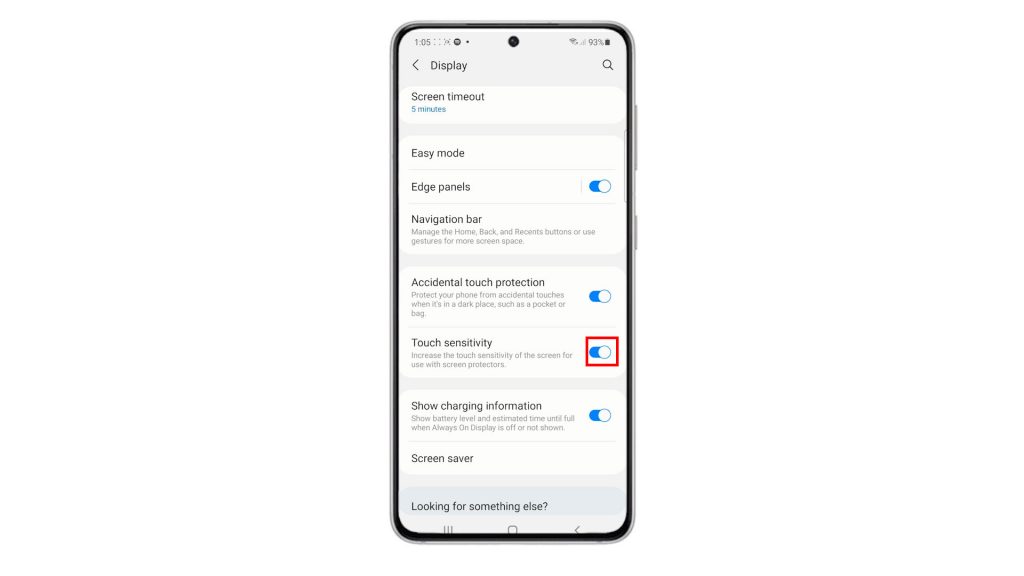 Doing so will enable the phone's display feature that increases the touch screen sensitivity for use with screen protectors.
A shortcut method to enable touch sensitivity is by opening the quick settings panel and then tapping on the Touch sensitivity icon to enable the feature.
Enabling this feature is also recommended when using non-leather gloves while touching the screen. If you really need to wear gloves while using the phone, then you should tap the screen firmly for best results.
Touchscreen Not Responding Completely
In the case where your phone's touchscreen is unresponsive, performing a force restart would be necessary. Erratic apps or fatal system errors are more likely causing the device to act up and stop responding to touches.
If the phone's touchscreen suddenly stops responding after an accidental drop or liquid exposure, then that could be a direct indication of hardware damage. Unfortunately in this case, there's not much that can be done on your end but to take your device to an authorized service center for hardware assessment and repair.
Hope this helps!
More Video Tutorials
To view more comprehensive tutorials and troubleshooting clips on different mobile phones and tablets, feel free to visit The Droid Guy channel on YouTube anytime.
You might also want to read: