The #GalaxyS6, released over 2 years ago, may be considered "old" in today's smartphone saturated world but millions are still actively using it at this time. That said, we continue to receive hundreds of reported problems each week pertaining to this device. This article answers some of the commonly reported troubles for this phone. We hope you'll find this material helpful.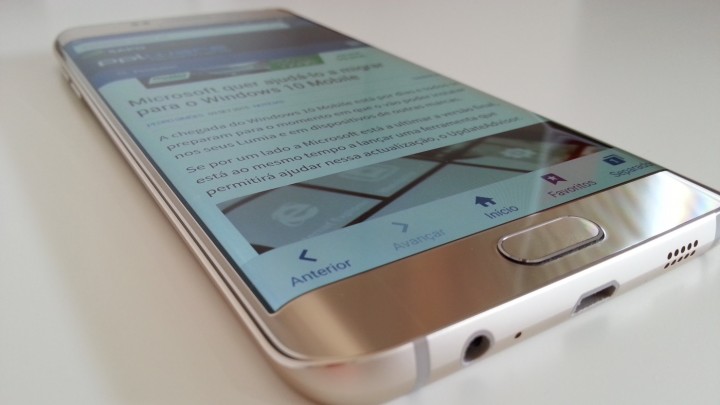 If you are looking for solutions to your own #Android issue, you can contact us by using the link provided at the bottom of this page.
When describing your issue, please be as detailed as possible so we can easily pinpoint a relevant solution. If you can, kindly include the exact error messages you are getting to give us an idea where to start. If you have already tried some troubleshooting steps before emailing us, make sure to mention them so we can skip them in our answers.
Below are specific topics we're bringing for you today:
Problem 1: Wet Galaxy S6 edge screen has screen discoloration, reboots randomly
I have a Samsung Galaxy S6 edge. Around 9 months ago, it got dropped into water. After several days of being left in rice it turned back on although my screen display is slightly lighter than it used to be. The last month or so if anything on my screen is blue or yellow my phone screen flashes uncontrollably and then reboots my phone. Is this issue fixable at all please? — Suebrannan
Solution: Hi Suebrannan. If by fixable you mean fixable by software solution, then we're sorry to disappoint you. A water damaged hardware can never be fixed by doing some software magic. Your best bet right now is to let a professional check the hardware so the extent of damage can be assessed. If you're lucky and the problem is on the screen assembly only, replacing it might fix the issue permanently. If damage spread to the motherboard and affects multiple components, repair or parts replacement should not be a good option. A phone with water damaged motherboard can eventually develop more problems later on, especially if corrosion has already started somewhere. In this case, we suggest that you simply have the phone replaced.
Bear in mind that repairing a water damaged electronic device is tricky and in a lot of times, only ends up with more problems. If possible, let Samsung handle the repair for you.
Problem 2: Galaxy S6 not showing photos taken by camera app
Hi. Further to an overnight update on my Samsung S6, when I now use the quick link in the camera app to go to my recent photos, all images are pulling through, not just the ones taken on my camera. So recently received whatsapp images and anything recently downloaded. This is super annoying – is there anyway to revert back to just seeing the camera roll? Thanks. — Nicky
Solution: Hi Nicky. Make sure that you try to reset the settings of both camera app and Gallery app. If resetting won't help at all, consider deleting their cache. The delete cache option will wipe your unsaved photos so make sure to back them up before doing the steps below:
Open the Settings menu either through your notification shade (drop-down) or through the Settings app in your app drawer.
Navigate down to "Apps". This may be renamed to something like Applications or Application Manager in OEM skinned versions of Android 6 or 7.
Once in there, click on an application.
You'll now see a list of stuff that gives you information about the app, including Storage, Permissions, Memory Use, and more. These are all clickable items. You'll want to click on Storage.
You should now clearly see the Clear Cache and Clear Data buttons for the application. Tap Clear Data. Make sure that you do these steps in both camera app and Gallery app.
If the problem won't be fixed at all, a factory reset may be needed. Keep in mind that Android keeps evolving and manufacturers like Samsung can sometimes remove or add features in some of the apps. If a factory reset won't change anything at all, then there's no bug at all. Everything you see now should all be how developers want everything to appear.
Problem 3: Galaxy S6 can't sign in to apps
I am locked out of certain apps on my S6 edge after my grand son returned it to me after playing games. When opening the app, a key pad is displayed. I assume he put in a password, of which he has no idea and nor does I. Went to a T-Mobile store to get some help, and was told the only solution was to reset my phone and lose all my info. Need help! — Jimmylip
Solution: Hi Jimmylip. What apps are you having problems with? If these apps are part of paid service, like that of a bank, we suggest that you contact the company's technical support team. There's no third party support team like us who can help you with it. The same is true if you're having a hard time logging back in to any other app like a social network app. You either have to reset your password via the app, or contact the app maker itself.
And next time, please be sure to give as many information as possible. For example, telling us the names of the apps you're having problems with should have helped us provide more specific help.
Problem 4: Water damaged Galaxy S6 turning on and off, charging erratically
Samsung S6 got water damage. it worked for a short while after drying out. however then the coverage and 4G went off and can't get a signal. however wifi still works.
I diverted the calls to another number and inserted SIM card back into the damaged phone and the signal and 4G came back. The battery went dead and cut off so it stopped working again. Then later the battery went dead fully for hours and then I charged it 100% without turning on and the signal went on again. Then battery went dead again and problem has returned. It only seems to work when calls are diverted and will stop if the battery goes dead but if the phone is turned off before the battery cuts out it will go back on fine. Is there something I can do? — Catherina
Solution: Hi Catherina. The Galaxy S6, S6 edge, and S6 edge + don't have water resistance protection like the S7 and S8 have. Submerging it in water for even a second can let moisture or enough amount of water inside the motherboard. At times, drying the phone in a right way by turning it off, removing the battery, and dismantling the motherboard can work without causing any problems. However, in most cases, water damaged electronics end up with both short term and long term problems depending on the damaged component/s. Because your phone is clearly exhibiting problems right after it got wet, you want to know the extent of the damage so you can be advised on whether to have it repaired, or simply replaced. And no, software tricks are out of the question here. There's nothing that you can do to make a water damaged work by changing some settings, or tweaking some codes. The least that can happen here is repair, while the worst may end up with a replacement phone because the motherboard is messed up. Make sure to talk to Samsung or to your trusted technician so the hardware can be examined.
Problem 5: Galaxy S6 edge plus charging port not working, won't charge
Hello. I have a Samsung S6 edge plus and my nephew broke the charging area on the phone where you plug the charger in. But the phone still charges on the charging pad but the phone goes dead and shows a grey battery with white bolt in it and it just keeps blinking. It starts to charge but it just stays at 0%. Sometimes, it goes to one and goes right back to 0.
i left my house yesterday and came back and the phone was dead even when i left it on the charging pad. I need help fast and bad. — Brushes2blushes
Solution: Hi Brushes2blushes. Try to see if recalibrating the battery will make the phone charge properly. We know it's a long shot, since you said that the charging port is broken, but it's the only software troubleshooting that you can do together with a factory reset. If it won't work, send the phone in for repair or replacement.
In order to recalibrate the battery, do the following steps:
Use the phone by playing games or doing tasks to hasten power discharge, until the phone turns itself off.
Turn the phone on again and let it turn itself off.
Charge the phone without turning it back on.
Wait until the battery says it fully charged to 100%
Unplug the charger and turn the phone on.
If the phone says it's not 100% anymore, turn it off, plug the charger back in and wait until 100% charge is reached.
Unplug the charger the turn the phone on again.
Use the phone until you drain the battery down to 0.
Repeat the cycle once.
Problem 6: Galaxy S6 screen won't turn on, stays black
I have a Samsung Galaxy S6. It's 2 years old and I recently got the new S8 plus. I kept the S6 for my kids to play games on. When I went to put the s6 on the charger it refused the charge. The screen is black and won't light up. I have tried all of the trouble shooting you have provided and nothing seems to work. I don't care if the whole phone is wiped clean as I don't use it personally anymore. Is there a way to erase everything and start over? Is there a possibility that the phone battery is just completely depleted? — Brandy
Solution: Hi Randy. Is there a chance that the phone may had been exposed to water or physically impacted? Any of them can damage the hardware, which in turn can appear as the situation you're in right now. In that case, the best thing that you can do is to let a professional check the hardware.
However, if the phone was never dropped nor got wet before, you may be able to fix the issue on your end. If the phone still shows signs that it's turning on like an LED light when charging, making sound notifications when receiving incoming SMS, vibrates when restarted, or rings when you call it, then there's a chance for a fix. Try to see if you can restart the phone to an alternate mode so you can do follow up troubleshooting. Here are the steps:
Boot in Recovery mode:
Charge the phone for at least 30 minutes.
Press and then hold the Home and Volume UP keys, then press and hold the Power key.
When the Samsung Galaxy logo shows on the screen, release the Power key but continue holding the Home and Volume Up keys.
When the Android logo shows, you may release both keys and leave the phone be for about 30 to 60 seconds.
Using the Volume Down key, navigate through the options and highlight 'wipe cache partition.'
You can either wipe the cache partition or do a factory reset when in this mode.
Boot in Download Mode:
Charge the phone for at least 30 minutes.
Press and then hold the Home and Volume DOWN keys, then press and hold the Power key.
When the Samsung Galaxy logo shows on the screen, release the Power key but continue holding the Home and Volume DOWN keys.
Wait until the Download screen appears.
If you can boot the phone in download mode but not in other modes, that means that your only way out may be to flash a stock or custom firmware.
Use Google to look for a guide on how to do it.
Boot in safe mode:
Charge the phone for at least 30 minutes.
Press and hold the Power button.
Once the Samsung Galaxy logo appears, release the Power key and immediately press and hold the Volume Down button.
Continue holding the button until the phone finishes rebooting.
Once you see the text "Safe mode" at the bottom left corner of the screen, release the Volume Down button.
The only difference of safe mode from normal mode is that the former prevents third party apps from running. If you can boot the phone in safe mode but not in normal mode, uninstall all apps until the issue (that prevents you from booting normally) is eliminated.
If your phone is completely dead and remains unresponsive when doing the different hardware button combinations, have it repaired or replaced.
Problem 7: AOL and Gmail messages appear Galaxy S6 email inbox
I have an Samsung Galaxy S6. SM-G920F. I have an Account with AOL and Google, Gmail. The enquiry concerns my Email. When I receive an Email i.e. in my Aol Account the same Email appears in my Gmail. Likewise an Email sent to my Gmail the Email appears in my AOL Account. Effectively the same Email appears in both my Accounts. Also the same thing happens on my Apple iPad. — David
Solution: Hi David. We don't think emails sent to one account is being copied to another. There are two scenarios why that's why it may appear that way to you though.
First, the sender of said messages may be intentionally sending copies of the same messages to both accounts. This means that both your AOL and Gmail receive exactly the same messages because that's how the sender wants it to be. To see if that's the case, try to log in to each of your account in your computer browser or phone browser. If the same messages appear in the inboxes of both AOL and Gmail, there's really no problem in this one at all. If you don't want to receive copies of emails to both accounts, what you need to do is to tell the sender to just send an email to one.
Another scenario that's probably happening is that you're using a shared inbox in your email app. For example, if you use Gmail app to download your messages from multiple accounts, there's an option to use All Inboxes to allow you to see all messages from multiple accounts without switching from one account to another. Try to play around with the email app you're using and see if it has a similar feature.
Problem 8: Galaxy S6 edge + won't install update
Hello. My S6 edge+ wont update. i keep getting a notification saying a schedule time to update but when i update it manually, it prepares the update and that's fine. But when it actually turns the phone off to update it, it just stops after a while, restarts, then comes up with an error message saying it couldn't update.
And also i keep getting a "unauthorized actions have been detected" even though I've reset the phone twice and i haven't even done any "actions" apart from set the phone up and try to update it. — George
Solution: Hi George. We don't know the full history of your phone but usually, an over-the-air update won't proceed if the system detects that it's not compatible. Rooting the device or running some non-official firmware can sometimes cause this problem. At times, installing an app that blocks updates can also lead to this situation. To see if there's anything software-related that causes this problem, do a factory reset and restore everything back to stock (if you rooted and/or running custom firmware). Once you've done a factory reset, check how update installation works. Make sure not to install anything before attempting to update the phone.
If that won't work, connect the device to a computer and use Samsung Smart Switch to update it.
Problem 9: Galaxy S6 fast charging not working, won't charge when phone is turned on
Hi. I have a Galaxy S6 and have had it for about a year. Since Saturday 24TH I have been having issues with my phone charging. I have been into an O2 store and was told by a member that it could be the charge port as it is loose and advised me to see how it is in about a month or so. The charge takes longer than it did before and was wondering what else I could do as cannot take the back off. The phone doesn't charge while being used. Hope to hear from you soon. — Rob
Solution: Hi Rob. Most cases of fast charging problems not working are caused by a bad charging port. If your device's charging port appear loose and broken, having the damaged part replaced may bring fast charging feature back. An issue like this can be fixed by changing settings or tweaking the software.
Problem 10: Galaxy S6 edge won't charge, randomly turns itself on and off
I have a Samsung Galaxy S6 edge and my phone doesn't charge. I've tried 4 different chargers and the results are still the same. It sometimes charges after I restart it. After I take it off, the charger will start vibrating and telling me that it's still charging. The screen recently started turning on and off even when I'm not using the phone. — Carissa
Solution: Hi Carissa. Has the phone suffered any physical damage or got wet? If any of these two occurred, stop whatever you're doing. You won't be able to fix it with software troubleshooting. Bring it Samsung or to a local shop instead so the hardware can be checked.
If the phone is in perfect condition however and was never physically damaged at all, try to establish a baseline by doing a factory reset. After a reset, all software settings should be returned to their known, working state. If the problem is caused by any software glitch or by a problematic app, the phone should work normally after you factory reset it. Be sure to observe how it charges immediately after a factory reset, when there are no apps installed.
Problem 11: Galaxy S6 S Planner won't change appointment times when crossing to different timezone
Hi. I have an issue with S Planner. When I enter an event, say, 0930 to 1030 it will display on the S Planner calendar page as 1030 to 1130. I have missed several appts after reading the wrong time! I travel frequently around Australia where some states have daylight saving (+1hr) and some states do not. Is it an issue of the phone detecting different locations, syncing with outlook, daylight saving? How do I fix this? — Kenzk
Solution: Hi Kenzk. Your phone may be a smartphone but it's not smart enough to automatically detect you just entered a different timezone. You must help it adjust itself by setting the correct time and date of the area you're in, or by enabling Automatic date and time feature under Settings>General Management>Date and time. When enabled, Automatic date and time option should automatically adjust the system's date and time based on the date and time the network you're connecting to is using. If that won't work either, you'll have to manually change the time in your Calendar appointments.
Problem 12: Galaxy S6 has black screen, won't turn on
Black screen, blue blinking light. I've tried all these reset ways but nothing worked!!! been to carphone warehouse today and they have downloaded new software. At the moment I'm unaware if this is working. if this doesn't they said my phone's got to be sent away for repair. All I'm concerned about is my photos that are on my device. I know i will lose them. Is there any way i can restore these from here first? i have a Samsung S6 edge. Please someone help me and fast! — Nicola
Solution: Hi Nicola. In order for another device like a computer or another mobile device to access the contents in your phone's internal storage device, you need to give it permission. And permission in Android can only be done by tapping an option in the screen, which is no longer working. This means that even if a computer detects and recognizes your device, it won't still be able to unlock it to copy your photos. What you want to do here is to give explicit instruction to the shop that will repair your phone not to wipe it during repair. Just ask them to replace the screen (if that's where the problem lies), and see if you can get your phone back to working normal order afterwards.
Problem 13: Galaxy S6 won't charge with stock charger
My Samsung Galaxy S6 won't charge with the charger it came with. It got water on the phone around a month ago. Sometimes, I can plug it into a wall and it will work but I can plug it into a computer and it will charge with the same charging cable yet it won't charge from a wall. and I've tried multiple wall plugs the only other plug it seem to like is at work? And I'm just confused now. — Mastersmk1
Solution: Hi Mastersmk1. Do a factory reset and see what happens from there. With all software settings reverted to their defaults, your phone should charge normally again IF, the main cause of the problem is software-related. If the problem remains immediately after a factory reset, you can bet bad hardware is to blame. Have it repaired or replaced.
---