In this post, we will try to troubleshoot a Samsung Galaxy S5 that won't charge when plugged in but shows a battery with a yellow triangle with exclamation mark inside it. I will also include the possible causes of the problem and what the symbol means.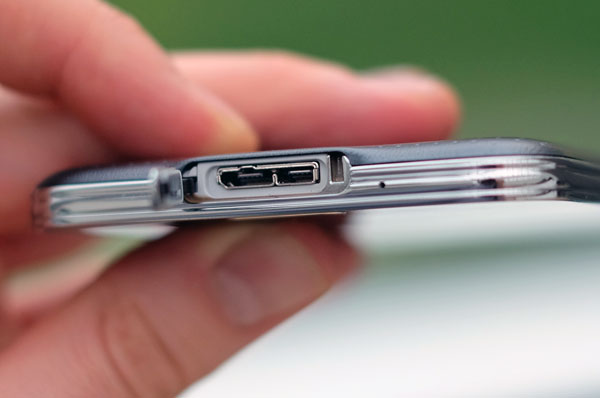 One of our readers emailed us regarding this issue. According to him, he dropped his phone on a wet pavement and when he tried charging it, the symbol showed but the device didn't charge. Water damage? Maybe. But in order to come up with a solid conclusion as to what the problem really is, we need to troubleshoot it. Before we go any further, however, here's the actual message from our reader who sought assistance…
"Hi droid guy. I have a Samsung Galaxy S5 and I have been using this phone for more than a year now without any problem. Just recently, I dropped the phone on a wet pavement and when I picked it up, it was already off. I remember the battery was already low when I dropped it so I thought it got drained already. When I arrived home I immediately plug it on the wall outlet and instead of charging, it showed the battery with a triangle and exclamation point on it. I thought it was a symbol of drained battery so I left it charging while I went out to buy food. When I got home and checked it, the same symbol was visible on the screen so something wasn't right. I don't know what it means and I surely don't know what to do about it. Can you help me? Thanks." — Justin T.
If you have other problems with your phone, visit our Samsung Galaxy S5 Troubleshooting page as it contains hundreds of solutions to problems we've addressed before. Find an issue that is related or the same as yours and try the solutions we provided. If they didn't work for you, then feel free to contact us but make sure you provide us with necessary information about your problem so we can give accurate solutions. Don't worry, it's free.
Possible Causes
This list will show you that the problem can be minor and complicated but it boils down to the battery.
Displaced battery
Bent connectors
Busted battery
Liquid damage
Battery removed
Related problem: Phone won't charge and a yellow triangle with exclamation shows up when charging.
Troubleshooting / Potential Solutions
First of all, the symbol that shows the battery with yellow triangle with exclamation mark inside means that the phone…
can't detect the battery
can't recognize the battery
detects a busted battery
has a short circuit.
Now, here are the things you can do to troubleshoot the problem…
ALSO READ: How To Fix Samsung Galaxy S5 Charging Problems [Troubleshooting Guides]
Step 1: Check if the battery is properly mounted
Simply remove the back panel and pull the battery out. Wait for a few seconds and replace the battery, this time, make sure that it is properly mounted and that its connectors touch the receptacles at the back of the phone.
Secure the battery with the back cover and then plug it again to see if it charges.
Step 2: Clean the connectors, look for possible bent pins
If the phone didn't charge, then open the back portion of the phone and remove the battery. This time, get a dry cloth and clean the connectors on the battery.
After you're done cleaning the connectors, closely inspect the connectors at the back of the phone for corrosion and bent pins. If there's even a single misaligned pin, that might be the reason why the phone can't detect the battery. Gently realign it and everything will be okay after that.
RELATED POST: How To Fix Samsung Galaxy S5 Not Charging & Slow Charging Issues
Step 3: Use a different battery
If you made sure you properly mounted the battery and that there were no bent pins and corrosion, then it's time you tried a different battery. At this point though, it's impractical to buy a new battery since we don't know if it's really the issue.
So, if you have a friend or know someone who has the same phone as yours, try to borrow his/her battery and try it on your phone to see if it charges.
Step 4: Check LDI for possible liquid damage
The LDI or Liquid Damage Indicator can be found on the battery. If it turns pink, red or purple, it means the phone or the battery was exposed to moisture or liquid and if so, the battery may have been short-circuited and got busted.
In the case of our reader who dropped his phone on a wet pavement, it could be a liquid damage after all if the previous steps didn't work.
The thing is, you can't determine exactly the extent of the liquid damage. Yes, the Galaxy S5 is water-resistant but it's not waterproof; meaning, liquid can find its way into the phone somehow.
READ ALSO: How to fix Samsung Galaxy S5 that won't charge properly, Power Sharing notice popping up
Step 5: Have a technician take a look at it
As far as troubleshooting is concerned, you've done your part to no avail. So, it's time you let someone with proper skill set to check your phone and evaluate the extent of the damage.
We really can't tell what will happen next but if it were liquid damage, then there's a possibility that the Power or charging IC was compromised. If so, the motherboard needs to be replaced and it's almost the same as buying a new phone.
Connect with us
We are always open to your problems, questions and suggestions, so feel free to contact us by filling up this form. We support every Android device available and we are serious in what we do. This is a free service we offer and we won't charge you a penny for it. But please note that we receive hundreds of emails every day and it's impossible for us to respond to every single one of them. But rest assured we read every message we receive. For those whom we've helped, please spread the word by sharing our posts to your friends or by simply liking our Facebook and Google+ page or follow us on Twitter.