Hello Android community! We bring you another post that covers issues on the #GalaxyS6 series. For those who requested for help but are yet to see their issues published, please continue on watching for more articles in the next few days.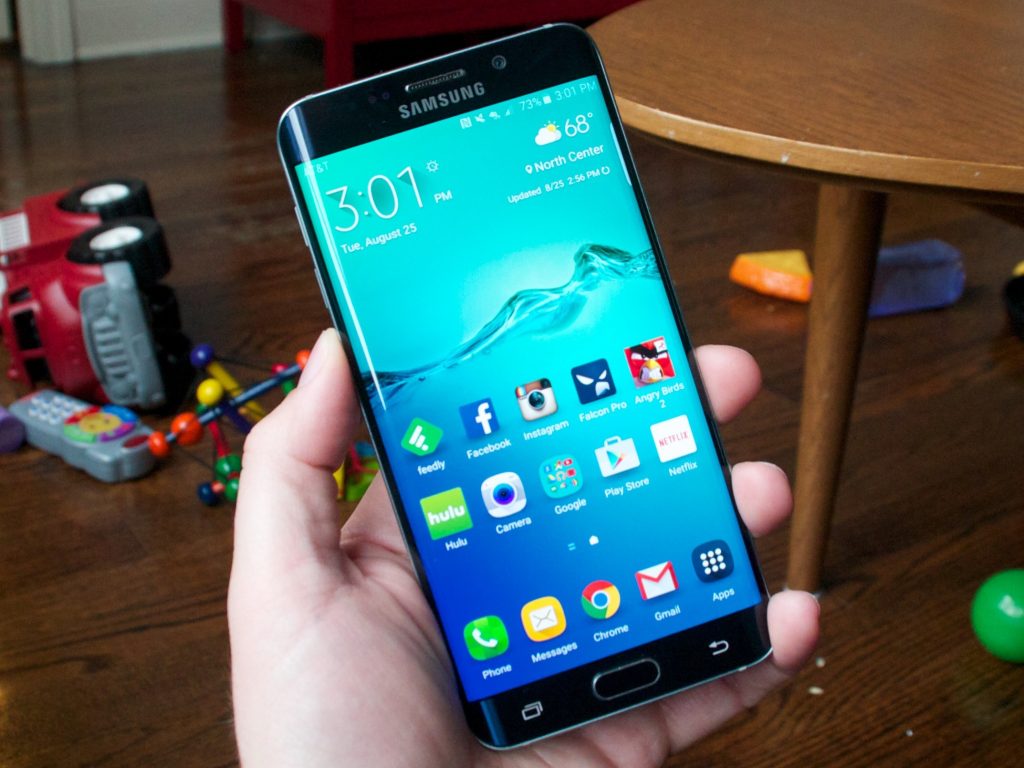 These are the topics covered in this post:
If you are looking for solutions to your own #Android issue, you can contact us by using the link provided at the bottom of this page, or you can install our free app from Google Play Store.
When describing your issue, please be as detailed as possible so we can easily pinpoint a relevant solution. If you can, kindly include the exact error messages you are getting to give us an idea where to start. If you have already tried some troubleshooting steps before emailing us, make sure to mention them so we can skip them in our answers.
---
Problem #1: Galaxy S6 Edge randomly restarts by itself
I was using my S6 Edge, it was working fine before the day my phone fell down. It broke my entire screen i was unable to see anything but i soon realised that the touch is working. I was able to do things like control the sound mode, pick up calls, play music and all such things which i can do with my imaginations…but from the day it fall down it frequently restarts on its own. When I'm turning it on and I unlock it, after few minutes it will restart. Sometime it's working  but due to its screen completely broken I'm not able to see why it's happening because before it was working perfectly fine. So i am scared a bit to replace my screen into new. I wanted to know that if I replace the screen of my s6 Edge will it'll be fine after i do a master reset.
Please help me and suggest me what should i do. In India the screen replacement is costing me 11000rs. Please help! i will be very glad if you will do so! — Abhishek
Solution: Hi Abhishek. Screen replacement will most likely NOT fix the random reboot issue. Even when the screen is bad, it still won't result random reboot issue. Other components may have been damaged after your phone fell causing the reboot problem now. We suggest that you submit your phone to a more thorough hardware check so the malfunctioning component/s will be identified.
A factory reset won't obviously fix a random reboot issue due to a bad hardware so there's no point doing it.
Problem #2: Water-damaged Galaxy S6 Edge screen not working  properly
Hi. I have a Samsung Galaxy S6 Edge. i accidentally dropped it in the toilet, it went dead. got some technician to fix it, worked fine for a about a month then my battery deteriorated so bad that it barely lasts an hour with constant operation and wouldn't even last half the day if i don't touch it. So i got a replacement battery and got a technician to fix it. While testing it out it started heating up the display IC region… and the display went blank. So we put back the original battery, phone is working, touch screen working but display blank. 2 weeks later display comes up on its own but with a mirror image of the upper display showing on the bottom quarter of the screen with some flickering. Please any idea if this could be from the display IC or do i have to get a new screen. Thank you. — Obinna
Solution: Hi Obinna. The best party that can tell what the phone needs is the guy who initially repaired it. We can't know what's the condition of the hardware. If the issue is isolated to the screen assembly only, you'll be lucky. If the problem lies on one of the chips on the motherboard itself, your best option will be to get a replacement. Replacing the motherboard does not always work and there's a high chance that a technician will not be able to identify all malfunctioning parts. That said, we'd strongly suggest that you simply skip having the phone repaired again or the screen replaced as the phone may likely fail again afterwards.
Problem #3: Galaxy S6 won't boot normally and gets stuck in bootloop
So I sent an email to [email protected] only too be redirected here (no more support questions to that email). It's past midnight and I have to be up early so IM just going to copy and paste the email I sent. Thanks for your time:)
Hey there. I encountered your website while looking for help for my S6 Edge. However your responses don't seem to address my problem. While watching videos on YouTube my galaxy S6 Edge crashed and entered boot loop. I think, it starts at the logo page but when it tries to move on to the part where the word Samsung appears in blue letters, it freezes and goes back to the logo page.
From what I've seen, I'm supposed to access my recovery mode (Volume Up, Home button, power button), but I can't. I would hold all three and my screen would go black and the LED will turn lightest blue. It doesn't go to the logo screen unless I let go which isn't supposed to happen, right? It's supposed to go to the logo screen and that's when I let go of the buttons, but it doesn't, the screen stays black. I can access Odin mode but that's it.
I've seen on your website that someone else has this exact problem but they attempted to root their phone whereas I haven't ( don't even know what rooting is lol). Apparently bootloop happens when someone alter their OS or something like that–I'm sure you know what I'm talking about. I never attempted this on my phone. Everything is stock so to say. Someone else had this exact problem-on your website where they couldn't access recovery mode during bootloop but they tried messing with the firmware where as I have not. I do have two apps that are from a third party (modded Pandora app and Spotify app where I can use their services for free but I've had them installed for over a year and they never caused any problem). Could they be the problem? Maybe they have virus and it tried messing with my OS (probably not how rooting works but whatever).
I don't know but its past midnight. This happened like 30 min ago. the only thing that changed is that it's now completely stuck on the part where Samsung materializes in blue letters, and the phone is really hot.
I'm going to take the S6 too a phone repair shop or T-Mobile(my carrier). please get back to me on your thoughts. I want people to know in case they get stuck on bootloop WITHOUT altering anything at all-like rooting or custom OS. Thank you. — Alex
Solution: Hi Alex. Bootloop issue is almost always a consequence of software modification. Although the most common forms of software modifications include rooting and flashing, there had been some unexplained bootloop cases after installing an OTA (over-the-air) update. It appears the bootloop case you're experiencing is due to a corrupted bootloader, a special set of codes that runs before the operating system upon boot up. Because we don't know the full history of your phone, we can't be certain what causes the bootloader to work properly. You may still be able to save the phone by flashing a stock firmware to it (if you can get it to Download Mode). If you want to know how to do that, search Google for a good guide. If the phone is still within warranty, we strongly suggest that you have the phone replaced to resolve the issue.
Problem #4: Galaxy S6 Edge having trouble playing videos
On my Samsung Galaxy S6 Edge Plus, whenever I play a video on Youtube, on my video player, or any other video playing website, my phone keeps pausing and unpausing. The video also keeps randomly opening the Google App and turning the Volume Up and Down randomly, all without me pressing anything. I tried turning off my phone, factory reset and master reset, safe mode, wiping out cache partition, mount/system, and the problem still persists. Some days the problem stops but by the next day or 2 it continues again. It still happens even if I save a video on my phone and play it using video player so It can't be my internet connection. Do you have any ideas that could work? — Coy
Solution: Hi Coy. The first thing that you want to do is boot the phone in safe mode. This will help you determine if one of your third party apps is to blame. If the issue fails to occur while safe mode is on, that's a clear indication that you've installed a bad app. Here's how to boot your S6 in safe mode:
Press and hold the Volume Down and Power keys for 20 to 30 seconds.
Once you see the Samsung logo, release the Power key immediately but continue pressing the Volume Down key.
Your phone should continue booting up and you will be prompted to unlock your phone as usual.
You will know if the phone successfully booted in safe mode if the text "Safe mode" is displayed at the lower-left corner of the screen.
Observe the phone for at least 24 hours to know the difference.
To go back to normal mode, just restart the phone.
Now, if nothing changes while safe mode is enabled, you must do another round of factory reset and observe the phone for a few days. Make sure you don't install anything during this time.
Finally, if the issue happens still, you can bet you have a hardware issue. Find a way to have the phone replaced.
Problem #5: Galaxy S6 not receiving Whatsapp, SMS, SnapChat messages on time
I have a Galaxy S6. I got it in July so it's still fairly new. I have problems with my network and Wi-Fi. At first I noticed that all my Whatsapp groups were quiet for long periods and then all of a sudden thousands of Whatsapp messages will come through all at once. This also happens with Facebook Messenger and when I try to post a Snap on Snapchat. During these "quiet times", the "signal bars" at the top of my screen will be about 3 bars (unsure about the exact amount, but I do know that it is regarded as "enough") but the main thing, the "data sign" at the top will be present and give the indication that I have internet access, but I can't even load the homepage on Google. To be able to access Internet again, I have to restart my phone or switch my data off and on repetitively.
The other part of the problem, my WiFi sign will show that I am connected and have good strength, but my internet won't work. Sometimes the outgoing-arrow goes crazy when I try to use the internet, but my incoming-arrow won't show anything (I think it's similar with the data). While I have this problem, my friends around me are all receiving Whatsapps and we will be using the same carrier or same WiFi source. And sometimes I will receive a text message informing me about a missed call but the call doesn't appear in my call log list, and my phone was on during the time I "should have" received the call. Hope you can help. Extremely frustrated. — Clara
Solution: Hi Clara. Make sure that your phone uses a fresh system cache. Sometimes, updates can corrupt the system cache which is being used by the device to load apps quickly. To ensure that the phone has good system cache, we suggest that you manually delete. Here's how to do it:
Turn off the device.
Press and hold the following three buttons at the same time: Volume Up key, Home key, and Power key.
When the phone vibrates, release the Power key but continue to press and hold the Volume Up key and the Home key.
When the Android System Recovery screen appears, release the Volume Up and Home keys.
Press the Volume Down key to highlight 'wipe cache partition.'
Press the Power key to select.
When the wipe cache partition is complete, 'Reboot system now' is highlighted.
Press the Power key to restart the device.
If wiping the cache won't result to anything positive, your next step is to ensure that ALL your apps are compatible and updated. Keep in mind that incompatible apps can create a conflict with the operating system, which in turn can manifest into different issues. The issue you're having may be one of them. Try to uninstall apps that you can't update and maybe you'll be lucky to hit the cause of the issue right on. There's no surgical way to know for sure what's causing an issue like this so you must isolate the cause this way.
Finally, don't hesitate to do a factory reset if nothing changes. Sometimes, factory reset is the only available solution to a software issue. Check the steps on how to perform it below:
Back up your files.
Turn off your Samsung Galaxy S6 Edge.
Press and hold the Volume Up, Home and Power keys together.
When the device powers on and displays 'Power on logo', release all keys and the Android icon will appear on the screen.
Wait until the Android Recovery Screen appears after about 30 seconds.
Using the Volume Down key, highlight the option, 'wipe data/factory reset' and press the Power key to select it.
Press the Vol Down button again until the option 'Yes — delete all user data' is highlighted and then press the Power key to select it.
After the reset is complete, highlight 'Reboot system now' and hit the Power key to restart the phone.
Problem #6: Galaxy S6 fails to turn back on after several attempts of flashing ROM
Hello. I have a big problem. Last Friday, I woke up and my phone (Samsung S6) was stuck in the Samsung screen. after doing some internet research it seemed that the only solution was doing a factory reset. Now I didn't have any of my stuff backed up so I decided to wait a bit longer to see if I could find something else. Today, Monday, I did, I downloaded the firmware from the official Samsung site and applied with Odin. I got the phone to turn back on, but it was acting a bit weird and slow so I did my back up (finally) and decided to do a factory reset just to give the phone a new clean start. When I tried doing the factory reset it said that it was failed. so I rebooted the phone. when I did that it got once again stuck in the Samsung logo but since now I had my data backed up I decided to do it. Again, another factory reset, it said failed again (I took a picture of the full code) but this time when I went to reboot it the phone turned off, and I don't know how but I could feel something went wrong. I think even the phone felt different, so I waited for it to reboot. It never happened. Now the phone won't turn back on again and I'm desperate and with no clue of what to do. I can't get in to download mode or recovery . Should I start digging my phone's grave or is there any hope left? .thanks. — Alexandra
Solution: Hi Alexandra. If the phone is totally unresponsive at this time and you can't access Recovery or Download mode, you may have pretty messed up the bootloader. That means you may have a hopeless case here. As far as solution to the issue is concerned, the best thing that you can do is to have the phone replaced. You can opt for possible repair but Samsung usually finds thorough hardware diagnostics time consuming and not economical. Most of the time, requests for repair turns into replacement so you might just as well request for replacement straight away.
---
Engage with us
If you are one of the users who encounters a problem with your device, let us know. We offer solutions for Android-related problems for free so if you have an issue with your Android device, simply fill in the short questionnaire in this link and we will try to publish our answers in the next posts. We cannot guarantee a quick response so if your issue is time sensitive, please find another way to resolve your problem. 
If you find this post helpful, please help us by spreading the word to your friends. TheDroidGuy has social network presence as well so you may want to interact with our community in our Facebook and Google+ pages.