Hello everyone and welcome to our #GalaxyS6 post for today. We have 11 S6-related issues in this one so hopefully you'll find our suggestions helpful.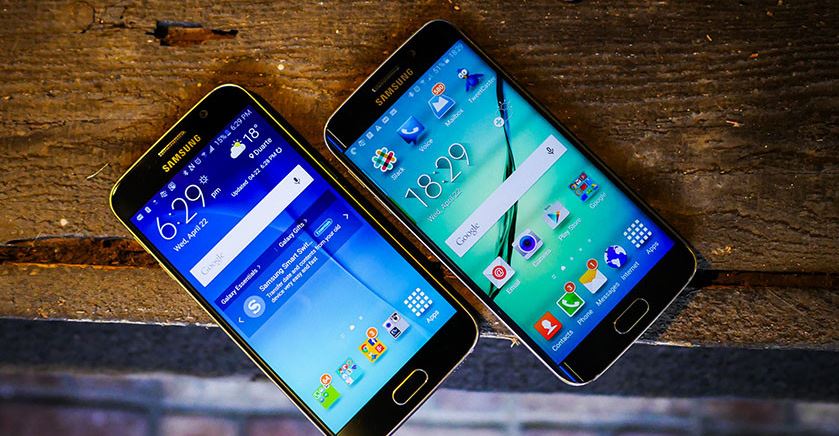 If you are looking for solutions to your own #Android issue, you can contact us by using the link provided at the bottom of this page.
When describing your issue, please be as detailed as possible so we can easily pinpoint a relevant solution. If you can, kindly include the exact error messages you are getting to give us an idea where to start. If you have already tried some troubleshooting steps before emailing us, make sure to mention them so we can skip them in our answers.
Below are specific topics we're bringing for you today:
Problem 1: Galaxy S6 shuts down on its own a few minutes after a starting
Firstly, the whole problem started from updating the firmware through Odin. The first firmware (Mashmallow from Sammobile) I downloaded didn't work. Then I downloaded another version of Mashmallow from same site and that works. Next now is phone hangs on "Android is starting… Optimizing app x of xx". After much battling like 2 days, clearing cache, factory reset from recovery mode and re-flashing the OS, phone was able to boot up. But never last 5 mins, keeps shutting down or restarting after boot. Tried SAFE MODE but it's same. Working firmware G925VVRU4CPC2-Mashmallow and G925VVRS4DQE1-Nougat. Other Verizon firmware did not flash successfully, using the latest Odin. I've tried to do update OTA from Mashmallow but responded no update available and shuts down or restart. Only Odin upgrades the firmware to Nougat. I've also tried to get recovery from TWRP or CWM but no version for Verizon.
Another step was opening and detaching the battery for like 30mins and reconnects, stays a little longer then shuts down. I went ahead to change the battery from a working S6 edge, but it's still same. Now I've done everything possible, but phone keeps shutting down or restart after successfully booting up in less than 2 mins. I need your candid help on this, probably it may be an hardware issue somewhere or still software issue. The device has never been rooted. Waiting patiently for your candid support. Thanks. — Shygo
Solution: Hi Shygo. By installing the software manually (flashing), we assume that you're aware of the risks, one of which is happening right now. The best possible solution that you can try at this point is to flash the bootloader back to stock. If that won't help either, you're out of luck. You may have just bricked your phone for good.
Below are the sample steps on how to flash a bootloader. Exact steps may be slightly different for your phone model:
Look for the correct firmware for your phone model and download it. Make sure that you select the right one. It should be the same exact firmware that ran previously on your device. We assume that you list down the firmware version somewhere. If you did not take note of it before, there's a chance that you may pick the wrong one. As you may know now, using an incorrect firmware can cause complications so good luck with that.
Let's now say that you have identified the correct firmware. You then want to download it to your computer. The firmware file should have a bunch of files in it like AP_, BL_, CSC_, etc.
Look for the file that starts with a label BL; this should be the corresponding bootloader file for this firmware. Once you've identified the bootloader file, copy it to your computer's desktop or to any other folder that you can easily access.
Proceed with the rest of the flashing procedure using the Odin program.
In Odin, click on the BL tab and make sure to use the bootloader file you've identified earlier.
Now, make sure that the "Device Added" status and its "ID:COM box" has turned blue before hitting the START button. This will initiate the flashing of your phone's bootloader.
Restart the phone once the procedure is finished.
Problem 2: Galaxy S6 app shows constant lag and slow video
Hello! I work with an online company. I communicate with lessons through an App. Today I updated to the Android Nougat on my S6. The main part of my job is to communicate with students through videos and slides in the App. First, classes with the new update were terrible, constant lag, video was slow, speech was delayed! Is there any way i can fix the issue immediately? This is my job and source of income. I have to get it fixed or i won't be able to keep the job since i am in a different country and they rely on this. Please help me with a solution! thank you! — Kassen777
Solution: Hi Kassen777. Instead of looking for some device troubleshooting and solutions, we want you to focus instead to two possible areas where the problem may lie. The first one is connectivity. If you experience lag during video calls or when doing normal calls via the internet, there's a chance that it can be connectivity-related. Make sure that you connected to a high-bandwidth wifi network or mobile data network. If you time your video calls or online classes during peak hours, or when your wifi network is strained by multiple users at once, you can't expect to have a smooth online experience. Do some troubleshooting to determine if it's a connection issue. If you're in a mobile data connection only, it's possible that the signal may be cutting off intermittently causing the lag or delays. If you're on a wifi network, try to work with your internet service provider to try determine if you're having some wifi troubles. The same thing goes if you're in a mobile data connection.
The second factor you might want to check is the app itself. Well, there's nothing much that you can do about it really other than to let the developer know of your troubles. But first, you must ensure that there's no connectivity-related issue that affects how the app works. Some apps can't work properly if a device internet connection is spotty so your first priority is to eliminate the possibility that your connection is problematic. If you're absolutely sure that it's not your connection, contact the app developer and let them about the problem.
Problem 3: Galaxy S6 internet connection is very slow when connected to wifi
Hi Guys, I am having the same issue as CL on the tread posted on (https://thedroidguy.com/samsung-galaxy-s6-troubleshooting) on Problem #7. Your suggestion is to look into the wifi connection. I think this is not the issue, especially on my case. I think it is the Samsung device. At my place there were 1 laptop, 5 phones (4 of them iPhones and mine the sole Samsung), all other devices can connect to wifi without an issue – can do streaming, browse Facebook,Youtube. You name it they can do it. I am subscribed to a high bandwith plan with my provider so it is really not an issue. Since I started downloading this upgrade to Android 7, everything went bad. As CL encountered as well, connecting to LTE works fine but when connecting to wifi it is soooooooo slooow to the point you want to throw your phone to the wall, especially when other people at come can enjoy what they are browsing / streaming on their phone.
in terms of Wifi congestion – even if I am the only one connected to wifi still the same sloowness.
Things I have done: 1. Reset my router – benefit of the doubt 2. Assign a static IP from my router to my phone – didn't help 3. Use the DNS thing in my phone using advanced setting – didn't help 4. Did factory reset on my phone – hoping it go back to Android 6 but no, it is still with Android 7 and yep didn't help. Anything else you can suggest? — Allan
Solution: Hi Allan. We hope that by resetting the router, you mean the good old reconfiguration of settings and not a simple turning on and off of the device. If you are absolutely positive that there are no settings or modifications to the default settings of the router that may limit or throttle down the speed of your phone, then you may be right to say that it's a smartphone issue after all. If you simply restarted the router though, we encourage you to reset all its settings to default by doing a factory reset on it, or by simply making sure that there's no speed limiting configuration put in place that affects your smartphone. Each router has its own way how to change the bandwidth a certain connected device receives bandwidth so if you can't figure that out, ask your internet service provider or the router maker for support.
In a smartphone, there's a thing called network chip. This is one of the components in the motherboard that manages all networking-related tasks for your phone, be it mobile data, Bluetooth, wifi, among other similar functions. Like any other chip, it runs on a complicated interactions of firmware and hardware so it can also fail at times. Though your case is rare, it may happen if a variable or other factors happen to occur in an erratic manner. This can sometimes happen after installation of apps or a new Android operating system. If the only different thing you did was to install a new Android update and a factory reset did not fix the problem, you should consider reverting the firmware back to its previous version via flashing.
Also, you can try to check if your problem only happens when you're on  your home wifi by connecting to other wifi network. If the same problem occurs even on a known fast wifi network, you may want to consider getting the phone replaced instead of flashing it.
Problem 4: Computers can't detect Galaxy S6
Hello. I am not able to connect my Samsung to my laptop. I did not have problem with this before. Suddenly, out of nowhere my laptop stopped recognizing my phone. After I plug it in to computer I receive message: "USB device not recognized. The last USB device you connected to this computer malfunctioned, and Windows does not recognize it." I am frequently updating my phone software. I recently purchased new laptop, which as well as old one does not recognize my phone. I followed few instructions about downloading drivers and keyes, but none of this ideas worked. What can I do? — Gosia
Solution: Hi Gosia. If two computers, one being a new one at that, are unable to read or detect the phone, that's a clear indication that it's a phone problem. Before you try to do some device troubleshooting, make sure that you try Samsung Smart Switch app first. Simply install the app to your computer before attempting to connect your phone to that computer again. If the same problem happens, factory reset your S6. Here's how to do that:
Turn off your Samsung Galaxy S6 Edge.
Press and hold the Volume Up, Home and Power keys together.
When the device powers on and displays 'Power on logo', release all keys and the Android icon will appear on the screen.
Wait until the Android Recovery Screen appears after about 30 seconds.
Using the Volume Down key, highlight the option, 'wipe data/factory reset' and press the Power key to select it.
Press the Volume Down button again until the option 'Yes — delete all user data' is highlighted and then press the Power key to select it.
After the reset is complete, highlight 'Reboot system now' and hit the Power key to restart the phone.
Problem 5: Galaxy S6 active is dead, won't charge or turn back on
Hi. I have an S6 active that I was charging and using the GPS maps at same time. It shut itself off and was dead after that. The phone was pretty hot, but not as hot as day before when I was using it and the screen letters on the GPS app got scrambled. I tried each of your steps from this website https://thedroidguy.com/samsung-galaxy-s6-troubleshooting Basically tried every type of boot up style which did not work. Also the charging indicator does not light up when plugged in. Not sure on the operating system it has. — Larry
Solution: Hi Larry. If your phone appears dead because it doesn't charge or show any signs of life at all — sound notifications, vibrations, LED lights — then it's most probably dead. Try using another known working charger first and see if that will recharge the phone. Otherwise, your only other option is to send it in for repair or replacement.
Problem 6: Galaxy S6 sent texts come out as gibberish for recipients
Hello. I am on a Samsung Galaxy S6 from T-Mobile. Recently, I updated to Android 7.0 but since then I have not been able to text my grandma or my mom. The texts come out as gibberish for them. They have old basic phones. At first I thought that may be the problem but my brother has the same phone and is able to text to them. Is there any way I could fix it for my phone? Thank you for your time. —  Kobe
Solution: Hi Kobe. Try to wipe the cache and data of messaging app you're using and see if it works. Keep in mind that clearing an app's data is the virtual equivalent of reinstalling the app so all your messages will be deleted. Make sure to back important conversations before doing it.
Below are the steps on how to clear an app's cache and data:
Open the Settings menu either through your notification shade (drop-down) or through the Settings app in your app drawer.
Navigate down to "Apps". This may be renamed to something like Applications or Application Manager in OEM skinned versions of Android 6 or 7.
Once in there, click on an application.
You'll now see a list of stuff that gives you information about the app, including Storage, Permissions, Memory Use, and more. These are all clickable items. You'll want to click on Storage.
You should now clearly see the Clear Cache and Clear Data buttons for the application.
If wiping the app's cache and data won't help, do a factory reset.
Problem 7: Galaxy S6 screen flickers, won't power back on
I have a Samsung Galaxy S6 phone. The last update occurred on 3/1/17. No problems until last Friday 4/7/17, when it shut down and I could not bring it up again. I recharged it, turned it on, but got nothing except the two white lights on either side of the home button. On Sunday 4/9 I still couldn't start it, so I did a soft reset and everything was fine until tried to bring it to life on Monday. Nothing happened, although I would get an occasional background flicker. Tried soft reset again; nothing. And still nothing. I have not tried all the other things you suggest because (1) I don't trust myself and (2) without being able to see anything on the screen, I'm not sure how to proceed. Any suggestions? I did receive a phone call on it at some point. Thanks. — Joan
Solution: Hi Joan. The phone's screen appears broken. We suggest that you don't try anything else except to let a professional check it. We think the device can use a repair so letting a technician confirm that is your best bet.
You can't fix an issue like this by doing some hardware button combinations, much so with software solutions. In fact, there's no software solution that you can try in this one since the screen is blank. This may end up with a screen replacement so be sure to prepare some extra cash for the repair fee and part replacement.
Problem 8: Galaxy S6 does not charge, only charges when it's off
When I plug my phone in to recharge, nothing changes on the phone. The "charge" icon does not appear visually, the phone does not make an "auditory recognition" of being attached to the recharge cable, and the phone will not take a charge. None of this happened like this previously, before today. I have had the phone for 1.5 years. If I "power off" the phone and plug the charge cord to it, the "lightning bolt" or "charging symbol" appears on the screen, and the phone will take a charge, but, I am reminded by the phone repeatedly (once every couple minutes), by an auditory (buzz) and visual "charging symbol," until the phone is fully charged. So, I can charge the phone, but, I must turn the phone off by Powering it down, before it will take a charge. Odd!! I tried the Soft Reset to no avail. Any Advice? Thank you. — Mark
Solution: Hi Mark. Below are the things that you must try:
Use another known working charging and cable. Try to use a good Samsung charger if possible.
Recalibrate the battery by doing the following steps:

Use the phone by playing games or doing tasks to hasten power discharge, until the phone turns itself off.
Turn the phone on again and let it turn itself off.
Charge the phone without turning it back on.
Wait until the battery says it fully charged to 100%
Unplug the charger and turn the phone on.
If the phone says it's not 100% anymore, turn it off, plug the charger back in and wait until 100% charge is reached.
Unplug the charger the turn the phone on again.
Use the phone until you drain the battery down to 0.
Repeat the cycle once.

Factory reset the device. Check the steps provided above.
If all these three items won't solve the issue, there must be a hardware issue causing this charging problem.
Problem 9: Galaxy S6 not getting signal reception, keeps saying NO SERVICE or EMERGENCY CALLS ONLY
Hello Good day. I have been experiencing this "NO SERVICE" problem or "EMERGENCY CALLS ONLY" on my Samsung Galaxy S6 SM-G900F lately. I checked my IMEI and everything, but they're all okay. The thing is I'm not really sure if i got this after I got the update or after I rooted the phone. I tried everything — wipe cache partition, factory reset multiple times, IMEI checking. I even tried installing other custom roms, but Everything failed. I also tried restoring its original Kitkat firmware but still the same issue. Right now, I'm using the Marshmallow update i installed manually. what can i do to get my service back? Please help me.oh by the way. My phone has a branded carrier when i purchased it. — Bingradiamoda
Solution: Hi Bingradiamoda. You should contact your carrier so they can re-activate your account or device again, whichever is necessary. Unless there's an unknown software glitch that damaged the phone's software permanently,  your carrier should be able to assist you with this problem.
Problem 10: Galaxy S6 stuck in boot loop after an update
I have a Samsung Galaxy S6. Recently it started getting stuck into a reboot loop. There was a recent OS update which, maybe by coincidence preceded this problem. I tried a soft reboot and also a hard reboot. Then I downloaded the repair assistant for Verizon from Samsung.com. It failed several times until I realized that USB 3 cable won't allow it to work. I switched to a regular USB cable from another Samsung phone and the repair assistant worked immediately. However, the problem persists. When the charging cable is unplugged from the phone, it immediately starts back into the reboot loop.
At first I thought that the battery might be going bad but it has never had problems taking or holding a charge and even now behaving correctly. The phone operates well even if the charging cable is disconnected from a power source and the phone is left to the battery as the power source. The problem only occurs when the cable is detached from the phone. I suspect that the port could be physically damaged, however, I want to know before proceeding with a charging port replacement, is it possible that this is being caused by a software or firmware issue instead of a hardware issue? I would hate to replace a part only to find that it is not the real solution. thank you for your time and consideration. — Tim
Solution: Hi Tim. You're right, you don't want to commit to a repair procedure if the cause of the issue is software-related in the first place. That's also the main reason why we always emphasize doing the basic software troubleshooting steps first instead of recommending repair right away. To know if your particular problem is due to bad software, make sure that you factory reset the device. With factory reset, all software settings are returned to their known, working state so if the problem returns after doing it, you'll know that it's not due to software at all.
It's very likely that the problem is caused by a bad charging port so if nothing will improve after a factory reset, go ahead with repair.
Problem 11: AT&T Galaxy S6 drains battery power fast after switching to T-Mobile network
I have changed my carrier from AT&T to T-Mobile in CT, USA. We get not bad reception here as i live next to I-95. it has been only 3 days. And i can see my Samsung S6 battery is draining really fast for very minimum use of talk/text/yahoo mail app/Whatsapp.
I used to use those four apps majority of the time and my phone would last me more than 24 hours. but with the same amount of usage regardless of using 4G / wifi, i can see the difference between the battery drain AT&T vs T-Mobile. Does anyone have this issue or have encountered this one?  I have Android 6.0.0. please let me know if i can fix this problem by fixing something in my phone. I really got a good deal for T-Mobile and I would like to stick with them. Thanks. — Pinu
Solution: Hi Pinu. Dealing with a battery drain issue can be tedious, even for seasoned Android users simply because there are usually no obvious reasons for it. Your case may be the exemption though since you noticed it right after shifting to T-Mobile. That means that for whatever reason, your phone may now be working twice or more as hard for whatever reason. There's really no telling why that happens though but it's possible that your phone now demand more computing power everytime it's connected to T-Mobile network. If you want to minimize battery drain, you should try to drastically change your usage habits. Some of the concrete things that you can start doing right away should include the following:
lowering down screen brightness to the lowest comfortable setting possible
utilizing power saving modes (Power Saving Mode and Ultra Power Saving Mode)
uninstalling unnecessary apps (the more apps you install, the higher the chance of battery drain)
turning off sync and auto updates for social network apps. These types of apps regularly communicate with remote servers to update contents so turning off their sync function or auto update feature should help.
---