Some users have reached out to us for help on how to fix Spotify not showing as status on Discord. If you are experiencing this problem as well, then you are routed on the right page. As we will show you the best solutions that you can apply in this post.
What is Discord?
Discord is one of the commonly used applications for players who want to communicate with their teammates and friends while playing games online using private servers. Aside from video calls, voice chats and text messaging features, the app can also be used to share images, videos and stream live games. Other applications that people normally use everyday can also be connected to Discord such as Spotify, Facebook, Twitter, Instagram to name a few.
How to fix Spotify not showing as status on Discord?
If Spotify is not showing as status on your Discord profile, you can try some of these solutions that we have laid out to fix the problem.
Fix #1. Link Spotify correctly on Discord.
If "Listening to Spotify" status is not reflected in your Discord account, it could be that the app is not properly linked. You need to ensure that your Spotify account is integrated correctly to eliminate this problem. Here are the steps on how to link Spotify to Discord.
Open your Discord account on your computer.
Click the gear icon located at the bottom left corner of the screen to access the User Settings.
Go to the Connections tab.
The Spotify icon should be found under "Connect your accounts" along with other applications that can be linked to Discord.
Click the Spotify icon to link.
A new popup window for Spotify will appear. Enter your Spotify login credentials and agree to the terms in order to link the account to Discord successfully.
After you have completed the steps, access your Discord account again and try playing a song to identify if the status will show on your profile.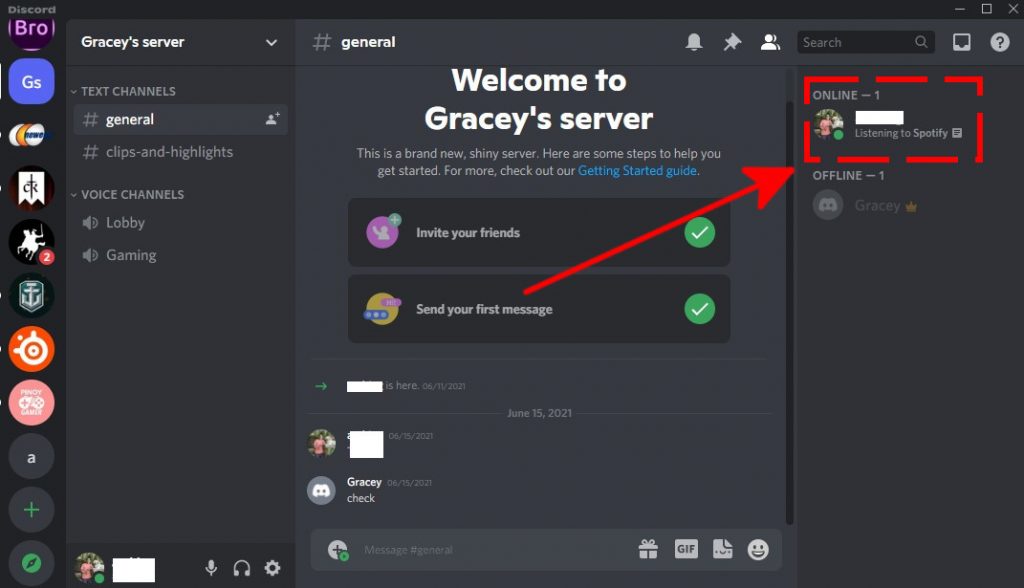 Fix #2. Clear cache and password in your browsing data.
Sometimes, clearing cache and other data in your browsing history can fix many issues in your computer. If you are having a problem accessing a website, an application you always used is acting up, or a certain feature in an application is not properly working can be due to the cache stored in your computer. Ensure to log out from Discord and Spotify before you clear the cache and password in your browsing history. Once you have cleared it out, you can access your Spotify on Discord again.
Fix #3. The "Display currently running game as status message" should be enabled.
Some Discord users have disabled this setting which can cause a conflict with the Spotify status. In order for Spotify to show as status in Discord, this feature must be enabled. The steps are provided below for your reference.
Launch the Discord app on your computer and login to your account.
Click the gear icon to access the User Settings.
Select Game Activity found on the left menu.
On the right pane, enable "Display currently running game as status message."
Try to play a song from Spotify to check if the status is already displayed on Discord.
Fix #4: Reinstall both Discord and Spotify on your computer.
If the three solutions have already been applied and Spotify is still not showing as status on Discord when being used, then you have to uninstall and reinstall these applications. There might be a bug that has developed in the Discord application that is causing this problem which can only be removed if the app is uninstalled.
OTHER INTERESTING ARTICLES:
Visit our TheDroidGuy Youtube Channel for more troubleshooting videos and tutorials.