This post highlights a few potential solutions to fix Control 2020 that keeps freezing and gets stuck in Windows 10. Read on to learn what triggers this game to suddenly freeze and gets stuck while running on your PC.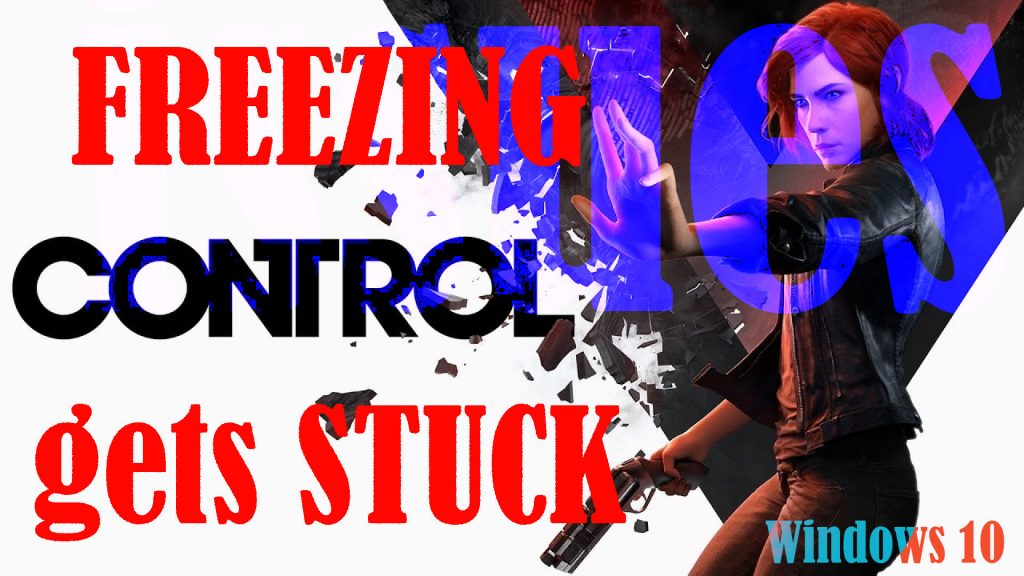 Control is a popular third-person tactical shooter game for those who are interested in puzzle-solving, paranormal fantasy gameplays. The scope of Control's gameplay is much greater compared to existing games in the same genre. But random in-game errors are common.
If you play this game on your Windows 10 computer and the game will just freeze or get stuck on a certain screen, you're facing a widespread performance dilemma.
What causes Control to freeze or get stuck?
Among the factors that you should consider ruling out when dealing with performance issues depicted by random freezes or stuck displays in PC games include system bugs and glitches, faulty apps, outdated systems, bad updates, antivirus and firewall connections. In some instances, freezing issues are an apparent indication of low memory on the affected device. The same thing can happen if the game or some core game files have gone missing or corrupted.
To fix the problem, you will need to eliminate every possible culprit until the game runs smoothly again. Nonetheless, it would be a different story if faulty hardware is to blame.
Before opting for hardware upgrade or repair, you can perform some basic procedures to rule out software-related factors that might have caused Control to stop and freeze during gameplay.
Troubleshooting Control game that keeps freezing in Windows 10
Before you begin, verify and ensure that your computer meets the minimum or standard system requirements for Control. Here's a summarized details in case you need to review them:
CPU: Intel Core i5-4690 / AMD FX 4350
RAM: 8 GB
HDD: 43 GB of storage space
GPU: NVIDIA GeForce GTX 780 / AMD Radeon R9 280X
OS: 64-bit Windows 7, Windows 8, Windows 10
DirectX: Version 11
Screen Resolution: 720p or better
Network: Broadband Internet Connection
Once you've verified that your computer system is eligible to run the game, you can start eliminating individual culprits with these subsequent procedures. Don't forget to test-run the game after performing each solution to determine whether or not the problem is solved.
First solution: Quit the launcher then restart.
You might have thought that the game is glitching but it's also possible that the problem is with the game launcher in use. Just like any other programs, game launchers can also succumb to random errors and therefore are unable to operate properly. When this happens, any game you play through that launcher will likewise appear to be faulty. Oftentimes, the transpiring errors are just minor and can easily be rectified by restarting the launcher app or the entire system.
That said, quit or force close the game launcher to close then restart the computer. Note that you need to use the Task Manager to ensure that the launcher app is ended. Just follow these steps:
Click the Start/Windows icon to launch the Start menu then type in Task Manager.
Select Task Manager app from the search results.
While on the Task Manager screen, click to open the Processes tab and then locate your game launcher on the list.
Right-click on the launcher then click End Task.
If you see any other unused programs that are using most of the system resources, you might as well end it. Doing so will prevent these programs from causing conflicts while running the Control game through your launcher.
Close the Task Manager after ending all possible background processes and services.
Configuring boot-up settings to stop unnecessary programs to launch during boot-up is also recommended. This will allow the system to execute a clean boot. Here's how it's done:
Open the Start menu then type Run.
Click on Run app from the search result.
On the Run dialog box, type msconfig and press Enter.
On the succeeding window, click to open the Services tab then click to mark the checkbox before Hide all Microsoft services.
After checking the box, click the Disable all button.
Next, click to open the Startup tab then click the link to Open Task Manager.
On the Task Manager screen, right-click on each startup item then click Disable.
Close the Task Manager then get back to the Startup tab of the System Configuration window then click the OK button.
Once you're done configuring the start-up settings, restart your computer to clear and refresh all apps and system services. After rebooting, retry running Control through your launcher and see if the problem is fixed.
Second solution: Scan, download and repair missing/corrupted game files.
Modern launchers are already preloaded with a system command that helps users repair and download corrupted and missing files of the game. The command to verify game files integrity is often executed when dealing with performance-related issues on a game. The actual steps vary depending on the launcher app in use.
If you play Control on your Windows computer through Steam, verifying the game files integrity is carried out with these steps:
Launch the Steam platform.
Navigate to the Steam Library then find Control from your saved games.
Right-click on the game then click Properties.
Click the Local Files tab then click the option to Verify Integrity of Game Files.
If you play Control on your PC through Epic Games, this is how you verify integrity of game files:
Open the Epic Games launcher.
Navigate to the Library section.
Click on the three dots next to the Control game.
Finally, click Verify.
Game files scanning will then instigate. The entire process could take several minutes so you need to be patient. Any game file that has gone missing or corrupted will then be redownloaded or repaired in the process. After the game file verification and repair, close the launcher then run the game again.
Third solution: Scan and repair corrupted system files.
System files can become corrupted over time. When this happens, complex system errors are likely to manifest and eventually cause certain apps to misbehave. To rule out complex system errors from the underlying cause, you can perform a system scan using the built-in command prompt. Just follow these steps:
Launch the Start menu and then type cmd.
Right-click Command Prompt from the results.
Select the option to Run as Administrator.
Click Yes on the next screen to confirm.
The Command Prompt window with administrative privileges will then launch.
Type in the command sfc /scannow and press Enter.
System scanning will then commence. After several minutes, you will be prompted with a message regarding the current status of your system files. Based on the scan results, the computer will tell you what to do next. Just review the onscreen instructions to learn what to do next.
Other Suggestions
To rule out security issues from the underlying cause, temporarily disable any security tools you've got on your computer such as antivirus or firewall. After disabling the antivirus or firewall, run the game again. If the game does not freeze while the security tools are disabled, chances are that the game has been barred. In this case, you will need to reconfigure the antivirus/firewall settings to grant permission or set exceptions for the Control game.
Also ensure that your computer has ample storage. As mentioned earlier, low memory could be the main reason why performance issues occur on PC games. If necessary, free up some storage space by deleting unwanted files and obsolete programs.
Keeping the system software up-to-date is also recommended. Microsoft often pushes firmware updates containing essential patches to get rid of any existing bugs that made the system unstable.
Hope this helps!
Relevant topics that you might want to read: