Do you want to know how to Install Epic Games Launcher on your Steam Deck? It's convenient to have all the games on your PC on your Steam Deck. If you game in PC, you'll probably have Epic Games Launcher besides the Steam launcher. If you buy games that are not from Steam then you can also install it on your Steam Deck. There is a simple way to Install Epic Games Launcher to your Steam Deck. In this article, we will be showing you how to install Epic Games Launcher on your Steam Deck.
Steam Deck is a handheld device produced by Valve that was release in 2023. An all-in-one, gaming device that works with PC gaming. Your Steam Deck's library will be open once you log into your Steam account and have access to all of your purchased titles. For a better understanding of each game's compatibility, you may also check its compatibility rating. Any view in your libraries' compatibility rating can be dynamically filtered if you're looking for a certain game compatibility. The full-size controls are conveniently located for extended play sessions on the device, whether you're using trackpads or thumbsticks.
Install Epic Games Store on Steam Deck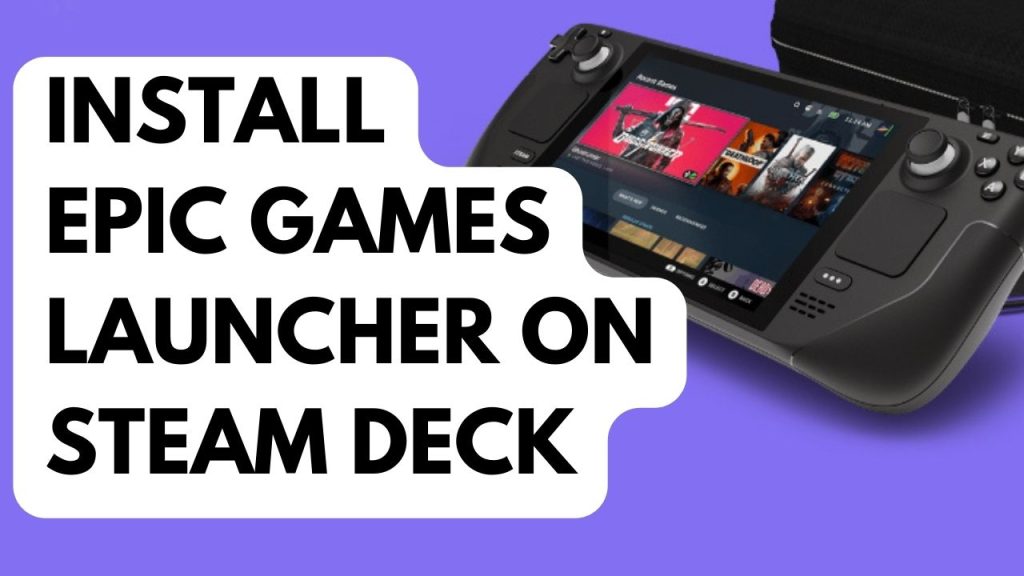 Numerous third-party games never make it to Steam because of license problems, platform exclusivity, or other factors. You can easily install Epic Games Launcher on Steam Deck.
Installing Epic Games Launcher
Step 1: Press the Power Button of Steam Deck.
Step 2: In the power menu, Select Switch to Desktop Mode.
Step 3: While on the Desktop mode, Open Discover app.
Step 4: Find Heroic Games Launcher.
Step 5: Install Heroic games launcher.
Step 6: Open Heroic games launcher.
Step 7: Login your Epic Games account on the Launcher.
Fix for Epic Games not working on Steam Deck
The Proton software layer from Valve enables the Steam Deck to run Windows games without the need for configuration. A layer of compatibility that enables Linux and the software to function together while imitating a Windows environment is called Proton, which is Valve's customized version of Wine. However, there may be times when you need to make adjustment so that the game can play on your Steam Deck.
Changing Proton Version
Step 1: Go to game settings.
Step 2: Select Properties.
Step 3: Go to Compatibility tab.
Step 4: Select the Proton Version.
If you cannot change your proton then you can follow the troubleshooting steps below:
Resetting Steam Deck
Step 1: On your Steam Deck, press the Steam button.
Step 2: Go to System tab.
Step 3: Scroll down and select Factory Reset.
Steam Deck Recovery Instructions
Step 1: Download the recovery image on Steam.
Step 2: Prepare a USB key (8GB minimum) for recovery image:
On Windows use the Rufus utility. Select the recovery file and write it to your USB drive.
On MacOS you can use Balena Etcher to write the recovery file to your USB drive.
On Linux you can also use Balena Etcher to write the recovery file to your USB drive – or from the command line:
bzcat steamdeck-recovery-4.img.bz2 | dd if=/dev/stdin of=/dev/sdX oflag=sync status=progress bs=128M(set /dev/sdX to the USB device you inserted)
Step 3: Use a USB-C adapter or hub to plug the boot disk in.
Step 4: If it isn't turned off already, turn off your device. In order to enter the Boot Manager, hold down the Volume Down button while pressing the Power button. When the chime sounds, release the Volume Down button.
Step 5: In the Boot Manager, boot from the 'EFI USB Device'.
Step 6: Once the Steam booted you can choose recovery options for Steam deck.
Re-image Steam Deck – Performs factory reset
Clear local user data – Reformats the home partitions
Reinstall Steam OS – This will reinstall SteamOS
Recovery tools – Make changes to the Steam Deck boot partition.
Adding Non-Steam Games to your Steam Deck Library
You can also add epic games to Steam Deck library. After you install the epic games, follow the steps below:
Step 1: On your Steam Deck's Desktop mode or Desktop Environment, Launch Steam application.
Step 2: Go to the Games tab and select add non steam games to my library.
Step 3: There will be a list of your applications in a new window titled "Add a Game." Search through this list until you locate the game you just installed.
Step 4: Click Add selected programs after selecting the checkbox to the left of the game's title.
Step 5: Close Steam then return to gaming mode shortcut.