You can easily uninstall a game on the Steam Deck from the storage section menu of Steam Deck Once the game has been uninstalled all of its components will be removed from your device. If you want to play the game again it will have to be redownloaded and install. In this article we will be showing you on how to uninstall games on steam deck.
A portable gaming device called the Steam Deck was created by Valve Corporation. With the ability to be played handheld or by connecting to a monitor, the now-available machine will function similarly to the Nintendo Switch. Every game in the Steam library, including Windows PC games, may be played on this x86-64-v3 system's built-in gaming inputs. This is possible because of the Linux-based Proton compatibility layer. The system is an open platform, thus users can install suitable software such as additional games or operating systems.
Steam Device Technical Specifications
Processor:
AMD APU
CPU: Zen 2 4c/8t, 2.4-3.5GHz (up to 448 GFlops FP32)
GPU: 8 RDNA 2 CUs, 1.0-1.6GHz (up to 1.6 TFlops FP32)
APU power: 4-15W
RAM: 16 GB LPDDR5 on-board RAM (5500 MT/s quad 32-bit channels)
Storage:
64 GB eMMC (PCIe Gen 2 x1)
256 GB NVMe SSD (PCIe Gen 3 x4 or PCIe Gen 3 x2*)
512 GB high-speed NVMe SSD (PCIe Gen 3 x4 or PCIe Gen 3 x2*)
Resolution: 1280 x 800px (16:10 aspect ratio)
Display size: 7″ diagonal
Brightness: 400 nits typical
Refresh rate: 60Hz
Touch enabled: Yes
Sensors: Ambient light sensor
Bluetooth: Bluetooth 5.0 (support for controllers, accessories and audio)
Wi-Fi: Dual-band Wi-Fi radio, 2.4GHz and 5GHz, 2 x 2 MIMO, IEEE 802.11a/b/g/n/ac
Channels: Stereo with embedded DSP for an immersive listening experience
Microphones: Dual microphone array
Headphone / mic jack: 3.5mm stereo headphone / headset jack
Digital: Multichannel audio via DisplayPort over USB-C, standard USB-C, or Bluetooth 5.0
Input: 45W USB Type-C PD3.0 power supply
Battery: 40Whr battery. 2 – 8 hours of gameplay
microSD: UHS-I supports SD, SDXC and SDHC
External connectivity for controllers & displays: USB-C with DisplayPort 1.4 Alt-mode support; up to 8K @60Hz or 4K @120Hz, USB 3.2 Gen 2
Uninstall Steam Game in Steam Library on your Steam Deck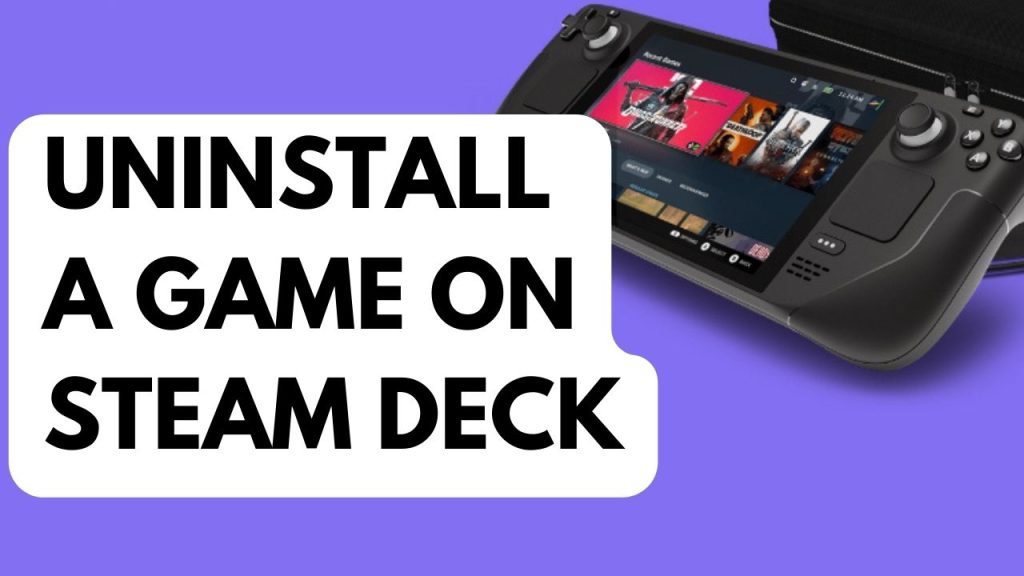 You can manage your games with ease using the Steam Deck, which is one of its advantages. Using the device, you may download and install games with your Steam account. You may quickly delete a game using it if it is running out of storage space or you no longer play it. Here's what you need to do.
Uninstall Steam Games
Step 1: Press the Steam Button.
Step 2: Go to Settings.
Step 3: Go to Storage tab.
Step 4: Select the Steam Game to uninstall then press X.
Step 5: Click Uninstall or Tap confirm to uninstall Steam Game.
After you have click uninstall you will have successfully uninstall a game on your deck. Make sure you are on gaming mode and not on desktop mode. Make sure the game progress is also save on your Steam cloud or manually save files.
Fix for Stuck in Uninstalling
Do a force restart. The Steam Deck's system will be refreshed and any momentary glitch that might be the root of the issue will be fix by doing a power cycle on it. By holding down the power button for 10 seconds, you can force your device to restart if it is on stuck on uninstalling.