The native Steam Deck resolution setting is 1280×800. If you want to have a a higher Steam Deck's resolution setting then this can be done with the device whether you are using it on handheld mode or using an external display to display a higher resolutions. In this article we will be showing you on how to change the default resolution of your Steam Deck in to a higher screen resolution.
The Steam Deck is a portable gaming hardware developed by Valve. You may play on the go or attach an external display monitor with the recently released Steam Deck. On this system, you can play any game, including those for Windows PCs, that you purchase from the Steam library. This is made possible via the Proton compatibility layer for Linux. Due to the open platform nature of Steam Deck, users can install any essential software, including fresh non-Steam games or other operating systems.
Steam Deck Technical Specifications
Processor:
AMD APU
CPU: Zen 2 4c/8t, 2.4-3.5GHz (up to 448 GFlops FP32)
GPU: 8 RDNA 2 CUs, 1.0-1.6GHz (up to 1.6 TFlops FP32)
APU power: 4-15W
RAM: 16 GB LPDDR5 on-board RAM (5500 MT/s quad 32-bit channels)
Storage:
64 GB eMMC (PCIe Gen 2 x1)
256 GB NVMe SSD (PCIe Gen 3 x4 or PCIe Gen 3 x2*)
512 GB high-speed NVMe SSD (PCIe Gen 3 x4 or PCIe Gen 3 x2*)
Resolution: 1280 x 800px (16:10 aspect ratio)
Display size: 7″ diagonal
Brightness: 400 nits typical
Refresh rate: 60Hz
Touch enabled: Yes
Sensors: Ambient light sensor
Bluetooth: Bluetooth 5.0 (support for controllers, accessories and audio)
Wi-Fi: Dual-band Wi-Fi radio, 2.4GHz and 5GHz, 2 x 2 MIMO, IEEE 802.11a/b/g/n/ac
Channels: Stereo with embedded DSP for an immersive listening experience
Microphones: Dual microphone array
Headphone / mic jack: 3.5mm stereo headphone / headset jack
Digital: Multichannel audio via DisplayPort over USB-C, standard USB-C, or Bluetooth 5.0
Input: 45W USB Type-C PD3.0 power supply
Battery: 40Whr battery. 2 – 8 hours of gameplay
microSD: UHS-I supports SD, SDXC and SDHC
External connectivity for controllers & displays: USB-C with DisplayPort 1.4 Alt-mode support; up to 8K @60Hz or 4K @120Hz, USB 3.2 Gen 2
Change the Resolution in Handheld Mode and External Display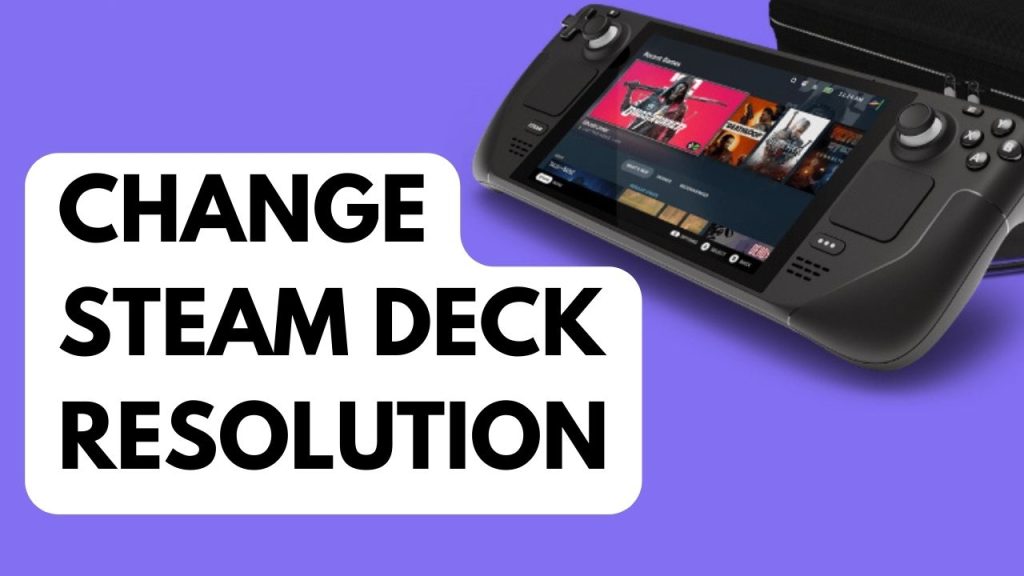 If you want to change the resolution because some of the visual quality when you play games is not right then you can set resolution in to a higher resolution or a lower resolution allowing players to fix performance issues with the screen.
Here 's how to change the Steam Deck resolution when you play games.
Changing Steam Deck Native Resolution (Gaming Mode)
Step 1: On your Steam Deck, press the Steam Button.
Step 2: Go to Library.
Step 3: Select the game you want to change the native resolution or you want a max display resolution.
Step 4: Press the the line button on your Steam Deck.
Step 5: Select Properties.
Step 6: Go to General Setting.
Step 7: Under Game Resolution, Change the game resolution.
After you have change the game resolution, try to check if it fixed resolution issue you encounter on the screen of your Steam Deck.
Fix If You Can't Change Game Resolution
Update Steam Deck
Step 1: On your Steam Deck, press the Steam Button.
Step 2: Go to Settings.
Step 3: Go to System.
Step 4: Check for any Software Update..
Factory Reset
Step 1: On your Steam Deck, press Steam.
Step 2: Go to System tab.
Step 3: Scroll down and select Factory Reset.
Reinstall Steam Deck OS
Step 1: Download the recovery image on Steam. (Make Sure it is the latest version)
Step 2: Prepare a USB key (8GB minimum) for recovery image:
On Windows use the Rufus utility. Select the recovery file and write it to your USB drive.
On MacOS you can use Balena Etcher to write the recovery file to your USB drive.
On Linux you can also use Balena Etcher to write the recovery file to your USB drive – or from the command line:
bzcat steamdeck-recovery-4.img.bz2 | dd if=/dev/stdin of=/dev/sdX oflag=sync status=progress bs=128M(set /dev/sdX to the USB device you inserted)
Step 3: Use a USB-C adapter or hub to plug the boot disk in.
Step 4: If it isn't turned off already, turn off your device. In order to enter the Boot Manager, hold down the Volume Down button while pressing the Power button. When the chime sounds, release the Volume Down button.
Step 5: In the Boot Manager, boot from the 'EFI USB '.
Step 6: Once the Steam booted you can choose recovery options for Steam deck.
Re-image Steam Deck – Performs factory reset
Clear local user data – Reformats the home partitions
Reinstall Steam OS – This will reinstall SteamOS
Recovery tools – Make changes to the Steam Deck boot partition.