If you have Steam Deck stick drift issues and you want to know how to address the issue then you have come to the right place as this article will show you on what to do with stick drift issue. Several factors can cause this issue such as an outdated firmware, temporary glitch with Steam Deck, or just dirt that cause joystick drift issues. To fix Steam Deck stick drift, you will need to perform several troubleshooting steps.
The Steam Deck is a portable gaming hardware developed by Valve. The recently launched device allows you to play while you're on the go or by connecting an external display device. All games, including those for Windows PCs, that you buy from the Steam catalog can be played on this system. The Proton compatibility layer for Linux enables this. Users of Steam Decks can install any necessary software, including new non-Steam titles and other operating systems, due to the open platform nature of the software.
Technical Specifications
Processor:
AMD APU
CPU: Zen 2 4c/8t, 2.4-3.5GHz (up to 448 GFlops FP32)
GPU: 8 RDNA 2 CUs, 1.0-1.6GHz (up to 1.6 TFlops FP32)
APU power: 4-15W
RAM: 16 GB LPDDR5 on-board RAM (5500 MT/s quad 32-bit channels)
Storage:
64 GB eMMC (PCIe Gen 2 x1)
256 GB NVMe SSD (PCIe Gen 3 x4 or PCIe Gen 3 x2*)
512 GB high-speed NVMe SSD (PCIe Gen 3 x4 or PCIe Gen 3 x2*)
Resolution: 1280 x 800px (16:10 aspect ratio)
Display size: 7″ diagonal
Brightness: 400 nits typical
Refresh rate: 60Hz
Touch enabled: Yes
Sensors: Ambient light sensor
Bluetooth: Bluetooth 5.0 (support for controllers, accessories and audio)
Wi-Fi: Dual-band Wi-Fi radio, 2.4GHz and 5GHz, 2 x 2 MIMO, IEEE 802.11a/b/g/n/ac
Microphones: Dual microphone array
Headphone / mic jack: 3.5mm stereo headphone / headset jack
Digital: Multichannel audio via DisplayPort over USB-C, standard USB-C, or Bluetooth 5.0
Input: 45W USB Type-C PD3.0 power supply
Battery: 40Whr battery. 2 – 8 hours of gameplay
Fixing Steam Deck Stick Drift Issues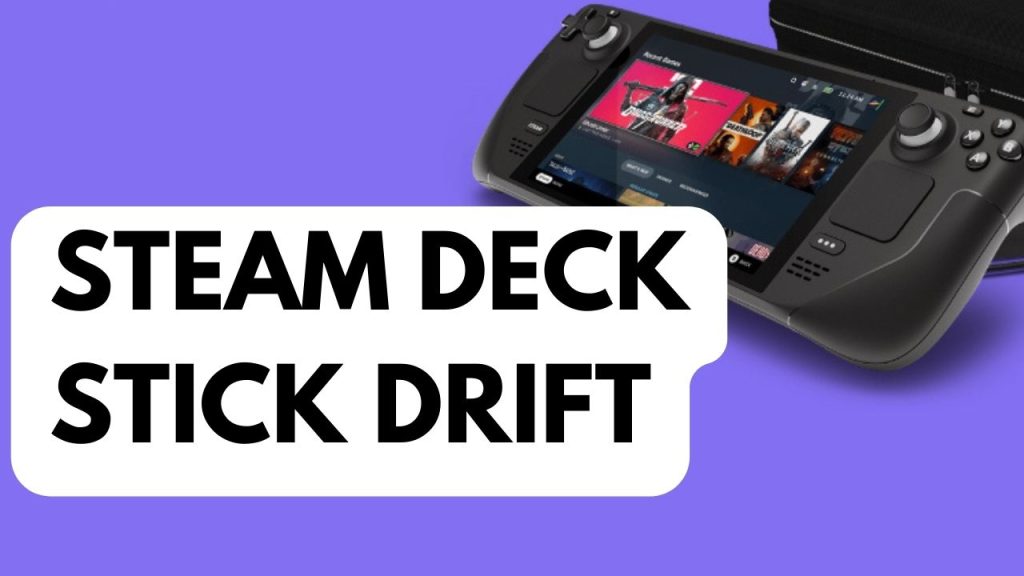 For Steam Deck users whose Steam Deck who has stick drift issue such as when the inputs does not register or it will move on random then you need to address the issue by following the recommended fixes below.
Here's how to fix the Steam Deck Stick drift issue.
Fix #1 Restart Steam Deck
One of the common causes of a drift issue is a temporary glitch or software problem. In order to fix this you just need to do a restart your device. You can push the power button for 10 seconds to do a force restart.
Fix #2 Firmware Update
The next thing to do is to do a firmware update with your device, you might have deadzone calibration issue introduced on the earlier version of firmware on the first batch of Steam Decks that was release. The recent firmware update has already fix the deadzone calibration issue of Steam Decks. It is recommended to update since the reported stick drift by Steam Deck users has fix the issue.
Updating firmware
Step 1: Press the Steam Button.
Step 2: Go to Settings.
Step 3: Go to System.
Step 4: Check for any Software Update.
Fix #3 Check for Dust
Your Steam Deck parts might have dust in the thumbstick that is causing stick drift. You can try to clean it or try an air compress to clean the thumbstick.
Fix #4 Calibrate Steam Deck
If you are still getting the drift issue then you can calibrate the stick and see if it fixes the issue.
Step 1: Press the Steam button.
Step 2: Select Power.
Step 3: Switch to Desktop mode.
Step 4: Tap Big Picture Mode.
Step 5: Go to Controller Settings.
Step 6: Select Controller,
Step 7: Press the Calibrate button.
Step 8: To make the center dot black, move the slider for the problematic stick to the right then click Ok.