The easiest way for everyone to interact via voice, video, and text is through Discord. Keep in touch with your friends and communities through conversations, chatting, hanging out, and other activities. Voice calls, video calls, text messages, and media files can be used for private or public conversations between users. If you want to know how to install discord on Steam Deck then this article will help you on installing the discord app.
The Steam Deck is a handheld gaming hardware developed by Valve. You may play on the go or by connecting the Steam Deck to an external display monitor. Even games designed for Windows PCs can be played on this platform if purchased through the Steam store. This is made possible by the Proton compatibility layer. Because the software is open platform, users of Steam Decks can add any essential programs, including new non-Steam games and alternate operating systems.
Steam Deck Technical Specifications
Processor:
AMD APU
CPU: Zen 2 4c/8t, 2.4-3.5GHz (up to 448 GFlops FP32)
GPU: 8 RDNA 2 CUs, 1.0-1.6GHz (up to 1.6 TFlops FP32)
APU power: 4-15W
RAM: 16 GB LPDDR5 on-board RAM (5500 MT/s quad 32-bit channels)
Storage:
64 GB eMMC (PCIe Gen 2 x1)
256 GB NVMe SSD (PCIe Gen 3 x4 or PCIe Gen 3 x2*)
512 GB high-speed NVMe SSD (PCIe Gen 3 x4 or PCIe Gen 3 x2*)
Resolution: 1280 x 800px (16:10 aspect ratio)
Display size: 7″ diagonal
Brightness: 400 nits typical
Refresh rate: 60Hz
Touch enabled: Yes
Sensors: Ambient light sensor
Bluetooth: Bluetooth 5.0 (support for controllers, accessories and audio)
Wi-Fi: Dual-band Wi-Fi radio, 2.4GHz and 5GHz, 2 x 2 MIMO, IEEE 802.11a/b/g/n/ac
Channels: Stereo with embedded DSP for an immersive listening experience
Microphones: Dual microphone array
Headphone / mic jack: 3.5mm stereo headphone / headset jack
Digital: Multichannel audio via DisplayPort over USB-C, standard USB-C, or Bluetooth 5.0
Input: 45W USB Type-C PD3.0 power supply
Battery: 40Whr battery. 2 – 8 hours of gameplay
microSD: UHS-I supports SD, SDXC and SDHC
External connectivity for controllers & displays: USB-C with DisplayPort 1.4 Alt-mode support; up to 8K @60Hz or 4K @120Hz, USB 3.2 Gen 2
Install Discord or Non Steam Game on Steam Deck Using Desktop Mode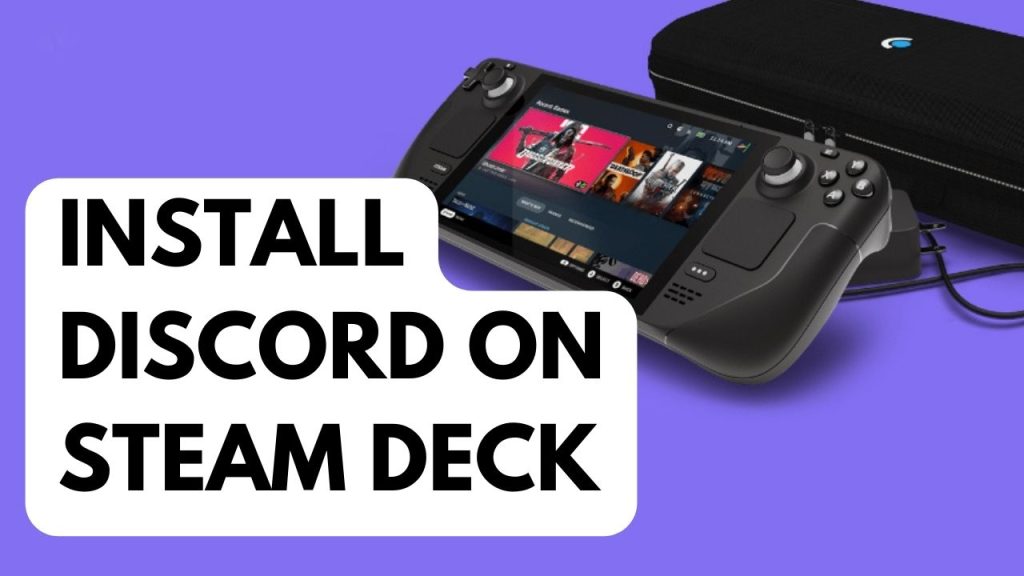 If you have come to know how to install discord on steam deck then you have come to the right place. Follow the instructions below to install the discord app and make sure you have a stable internet connection.
Add Discord on Steam Deck
If you are on gaming mode, then you have to switch to desktop mode. You can only install discord on steam deck using the desktop mode.
Adding Discord app
Step 1: Press the Power Button of Steam Deck.
Step 2: In the power menu, Select Switch to Desktop Mode.
Step 3: While on the Desktop mode, Open Discover app.
Step 4: Type Discord on the search bar of discover app.
Step 5: To add discord on steam deck click install discord. This will download discord.
Step 6: Click Launch discord on steam deck to open discord app.
Step 7: Login your Discord account.
Step 8: You can also add discord on the gaming mode, you can do this by right clicking discord and add to non steam game.
Step 9: On the gaming mode you can find discord on the Steam Library under Non Steam tab.
Another way to add the discord app in the desktop mode is by doing the following steps below.
Step 1: On your Steam Deck's Desktop mode or Desktop Environment, Launch Steam application.
Step 2: Go to the Games tab and select add non steam games to my Steam library.
Step 3: There will be a list of your applications in a new window titled "Add a Game." Search through this list until you locate Discord app you just installed.
Step 4: Click Add selected programs after selecting the checkbox to the left of the game's title.
Step 5: Close Steam then return to gaming mode shortcut.