There are several factors that can cause your ARK Survival Evolved Steam game to have fps drop issues. This can be due to a hardware resource issue, a graphics setting issue, or issues with the game files. To fix this you will need to perform several troubleshooting steps.
ARK Survival Evolved is an action adventure game developed and published by Studio Wildcard for the Linux, Windows, macOS, PS4, Xbox One, Android, iOS, Nintendo Switch, and Stadia platforms. The aim of this game is to survive in an open world island filled with monsters and other prehistoric animals. You will need to hunt, harvest resources, craft items, grow crops, research technologies, build shelters, and tame animals in order to survive.
Fix FPS issues in Ark: Survival Evolved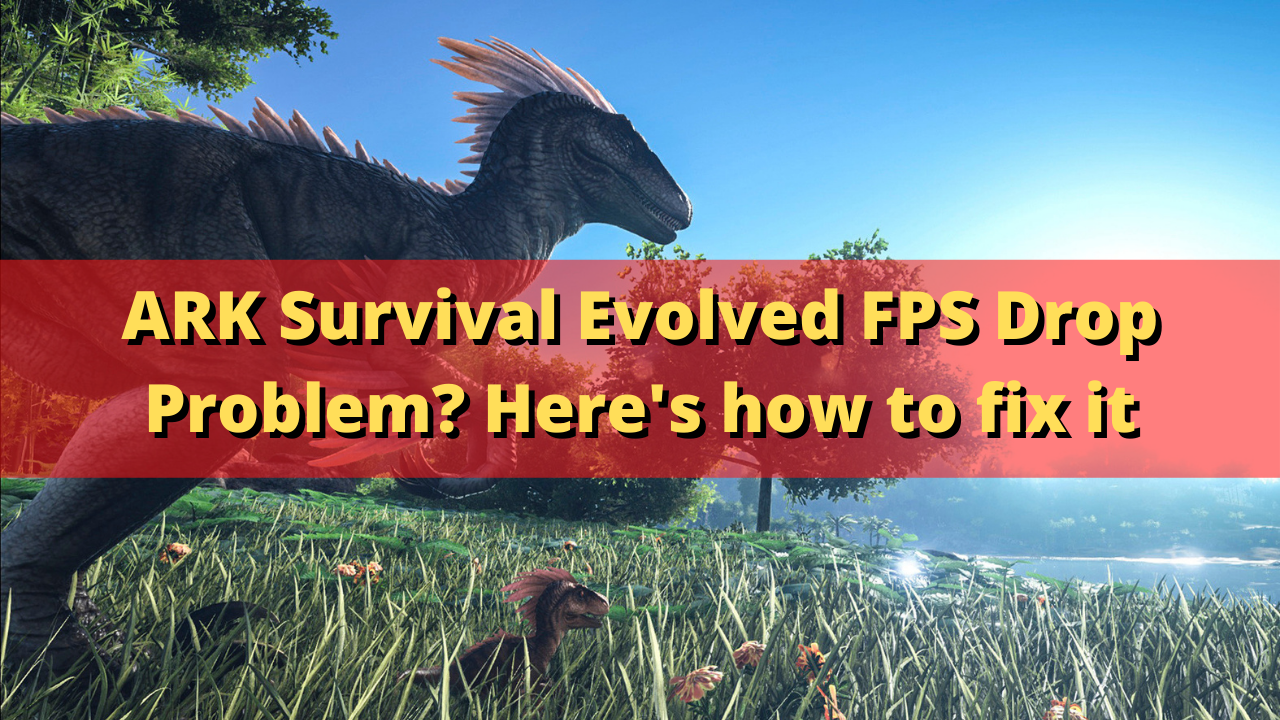 One of the problems that might occur when playing the Steam version of ARK Survival Evolved is when you get fps drops. This usually happens there are a lot of screen activity or it can just happen randomly. You will notice that the game will slow down with your character moving at a slow pace.
Here's what you can do to fix these FPS issues.
Solution 1: Check your PC hardware
One of the reasons why Ark Survival Evolved will have frame rate problems is because your computer is not powerful enough to run the game. Studio Wildcard has listed the minimum system requirements needed for this game. Your computer should meet the system requirements in order to prevent any FPS drops.
Minimum system requirements:
OS: Windows 7/8.1/10 (64-bit versions)
Processor: Intel Core i5-2400/AMD FX-8320 or better
Memory: 8 GB RAM
Graphics: NVIDIA GTX 670 2GB/AMD Radeon HD 7870 2GB or better
DirectX: Version 10
Storage: 60 GB available space
Additional Notes: Requires broadband internet connection for multiplayer.
Solution 2: Update your graphics driver
If your computer does not have an updated driver software then there's a possibility that you will experience fps drops. Having an outdated graphics driver means that your video card won't have the latest performance enhancements as well as bug fixes to make your games run better. You need to make sure that your computer has the latest graphics driver installed by manually checking for the updates.
Time Needed : 3 minutes
Update graphics driver manually
Right click on the Start button.

This will show you several options.

Click on Device Manager.

This will open the device manager window.

Click the arrow before Display adapters.

This will expand the display adapter list.

Right click on the selected graphics card then choose Update driver.

This will allow you to update your driver.

Select Search automatically for drivers.

This will search online for any new drivers and install it.
You can also update the graphics driver using the Nvidia GeForce Experience app if you have an Nvidia card or the Radeon Software if you are using a Radeon card.
With the latest drivers installed, restart your computer then check if the ARK Survival Evolved low fps issue still occurs.
Solution 3: Update your Windows operating system
Another reason why you will experience low FPS is because your Windows operating system has pending updates that you have not installed yet. These updates will usually have performance enhancements as well as bug fixes that could make your PC games run better
Manually download Windows updates
Right click the Start button.
Click Settings.
Click Windows Update section found on the bottom left side of the new window that appears.
Click Check for updates.
If new updates are found then click on the Install now button.
After the new updates have been installed you will have to restart your computer then check if the ARK Survival Evolved FPS problem still occurs.
Solution 4: Close background application running when playing ARK Survival Evolved
You will experience the ARK Survival Evolved FPS issues if there are too many programs running in the background while you are playing the game. Make sure that no other applications, such as your Chrome browser, are running as this will use your computer system resources leaving a less amount of CPU, GPU, and RAM available for the game.
Close running applications
Open task manager window by right clicking the Start button then select Task Manager.
Make sure to click on More details.
Click on the Processes tab.
Right click on the apps running and select End task.
Try to play ARK and check if the fps problem still occurs.
Solution 5: Set the launch options
There's a possibility that the ARK Survival Evolved game will freeze because of certain options that are active when you run the game. You should try to remove these launch parameters from the Steam client.
Removing launch parameters
Launch Steam client.
Click Library
Right-click ARK Survival Evolved and select Properties.
Click SET LAUNCH OPTIONS.
Remove any launch options currently shown then click ok.
Relaunch ARK Survival Evolved then check if the game still gets framerate drops.
Solution 6: Delete any game mods
If the ARK Survival Evolved framerate problem occurred after you installed certain game mods then the problem is most likely caused by the mods. Although these mods can usually enhance your gaming experience there are instances when it can also cause issues. Try deleting any game mods you are using by deleting the contents of the Mods folder from the ARK folder.
Solution 7: Verify the integrity of game files
There's a possibility that the FPS issue is caused by a damaged game file or missing files. In order to fix this you will need to verify the integrity of these files using the Steam client.
Verify integrity of game files
Open Steam client.
Click on your Steam Library.
Find ARK Survival Evolved then right click it and open Properties.
On the new window that appears click on Local Files.
Click Verify integrity of game files…
Run the game then check if this will fix ARK FPS problem.
Solution 8: Reinstall ARK Survival Evolved
If after performing the above troubleshooting steps the ARK freezing issue still occurs then this might already be caused by broken installation files. You should uninstall Ark then install a fresh version.
Uninstalling the game
Go to the Steam Library tab.
Right click on ARK Survival Evolved then click on Manage then select uninstall.
Click on Uninstall again to uninstall the game.
Installing the game
Go to the Library tab.
Right click on ARK Survival Evolved then click on install.
Click next to proceed with the installation.
Feel free to visit our YouTube channel for additional troubleshooting guides on various devices.