One of the hottest Battle Royale games today that's being played by millions everyday is Garena Free Fire. Just like PUBG and Call Of Duty: Mobile, Garena Free Fire can be played on a Windows 10 PC (or older OS) using an emulator. If you prefer to play this game on a bigger screen, this guide will walk you through how to install in on your computer.
What is Garena Free Fire?
Free Fire, also known as Free Fire Battlegrounds, is a battle royale game published by Garena and is considered one of the most popular games in this genre. The game starts with up to 50 players being dropped on an island in order to survive by searching for weapons and equipment to kill opponents.
It became the most downloaded game in 2019 and is a huge hit in Asia and Latin America. The game is available for everyone globally but it has not achieved the success of similar games like Fortnite and Call Of Duty Mobile in the United States.
Why is Garena Free Fire not available on PC?
Garena Free Fire is only available officially in both Android and iOS devices. If you are wondering if there's Garena Free Fire for PC, the answer is both yes and no. No because Garena did not develop an official PC version of the game at all. However, it's also a Yes as Free Fire Battlegrounds can be played on a Windows 10 PC (or older versions of Windows) using a third party software called an emulator. Many people prefer to use BlueStacks when it comes playing popular mobile games on their computers. However, there are also many other third party emulators that you can use.
In this guide, we'll suggest that you stick with using the Bluestacks emulator.
What are the system requirements to play Free Fire on a PC?
Garena does not list of minimum and recommended system requirements for PC but players who have tried playing it recommends that you should have at least the following specifications:
CPU: Core i3 2.4GHz
Memory (RAM): 4GB
Graphics card: Intel HD Graphics 4000
Storage space: 4GB
Operating System: Windows 7, 8, 10 (64-bit)
Internet: Fast broadband internet
Personally, i would strongly suggest that you exceed these specifications if you want a smooth experience by getting a faster CPU and Graphics card. Since you'll be playing online, make sure that your internet connection is at least 15Mbps or up and if possible, try to use a LAN connection instead of wifi. This can give you a strong advantage over traditional mobile players.
Two ways to play Garena Free Fire on your PC (Windows 10)
There are two methods that we recommend if you wish to enjoy Garena Free Fire PC version. The first one is by using BlueStacks iOS or Android emulator. The second is by basically similar to the first one but you can opt to not use BlueStacks instead. This is done by installing an alternative emulator from LDplayer.net.
Method 1: Play Garena Free Fire on your Windows 10 PC with BlueStacks
If you want to play the survival shooter game, Garena Free Fire on PC, the first option that we recommend is to use BlueStacks. Here's what you need to do: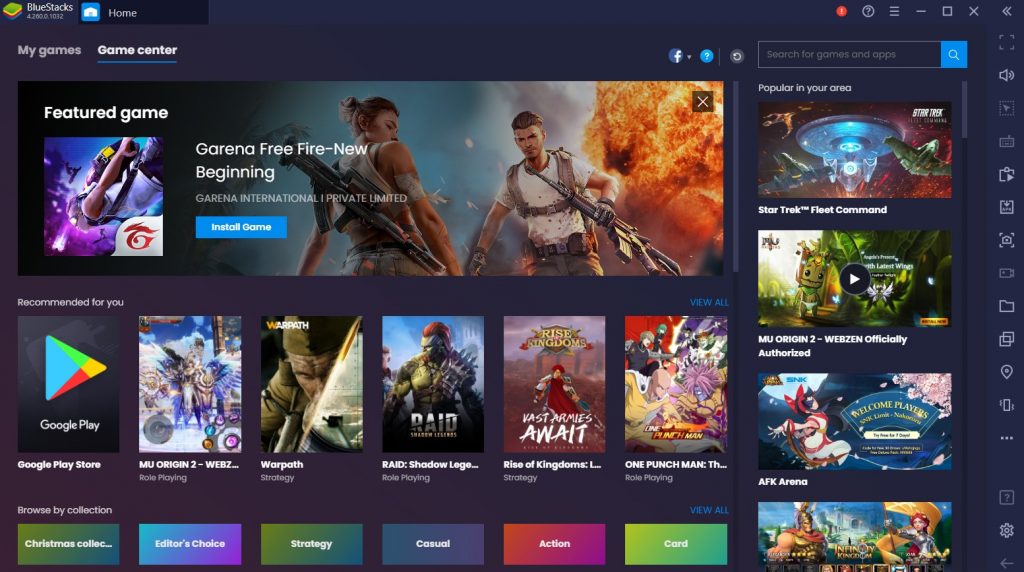 Download and install BlueStacks on your PC.
After BlueStacks has been installed, login using your Google account.
Open the Google Play Store app in BlueStacks and search for Garena Free Fire.
Click the Install button to start adding Garena Free Fire PC version.
Method 2: How to play Garena Free Fire on PC without using BlueStacks
The other method to play Garena Free Fire is to use an alternative to BlueStacks.This has been tested to work in January 2021 and the performance of the game is similar to that when using BlueStacks. Here's what you must do:
On your PC, open a web browser and go to LDplayer.net.
Click on Download LDPlayer button.
Open the downloaded file and install LDPlayer.
Click Allow access button if a prompt for Windows Defender Firewall comes up.
Click on System Apps and find Play Store.
Login using your Google account.
Find Garena Free Fire and click on Install button.
Any of the above steps should help you get going with Garena Free Fire PC version. Just like in any survival shooting game of Battle Royale genre, a lot of factors can come into play to ensure a flawless performance of Garena Free Fire on PC. Make sure that your PC is in top shape and your internet connection fast and reliable enough to keep your gameplay smooth.
Are there other emulators that you can use to play Garena Free Fire on your PC?
There are many other iOS and Android emulators that you can use to play Garena Free Fire on PC but we can't be sure that they are safe. Among the other emulators that some people use include:
GameLoop
MEmu
Prime OS
NoxPlayer (may contain malware)
FURTHER READING:
Visit our TheDroidGuy Youtube Channel for more troubleshooting videos and tutorials.