Is your Netflix app not working on your Insignia Smart TV? There are various factors that can cause this problem such as an outdated app or software, a software glitch, or even a poor internet connection. To fix this, you will need to perform several troubleshooting steps.
Insignia is a brand that makes several tech products and is usually associated with Best Buy. Its TV line of products is well known and can compete with other popular brands. While offering relatively cheaper prices than the competition, they don't usually carry premium features such as HDR10+, 120Hz support or gaming-focused features like VRR.
Why is Netflix suddenly not working on my Insignia TV?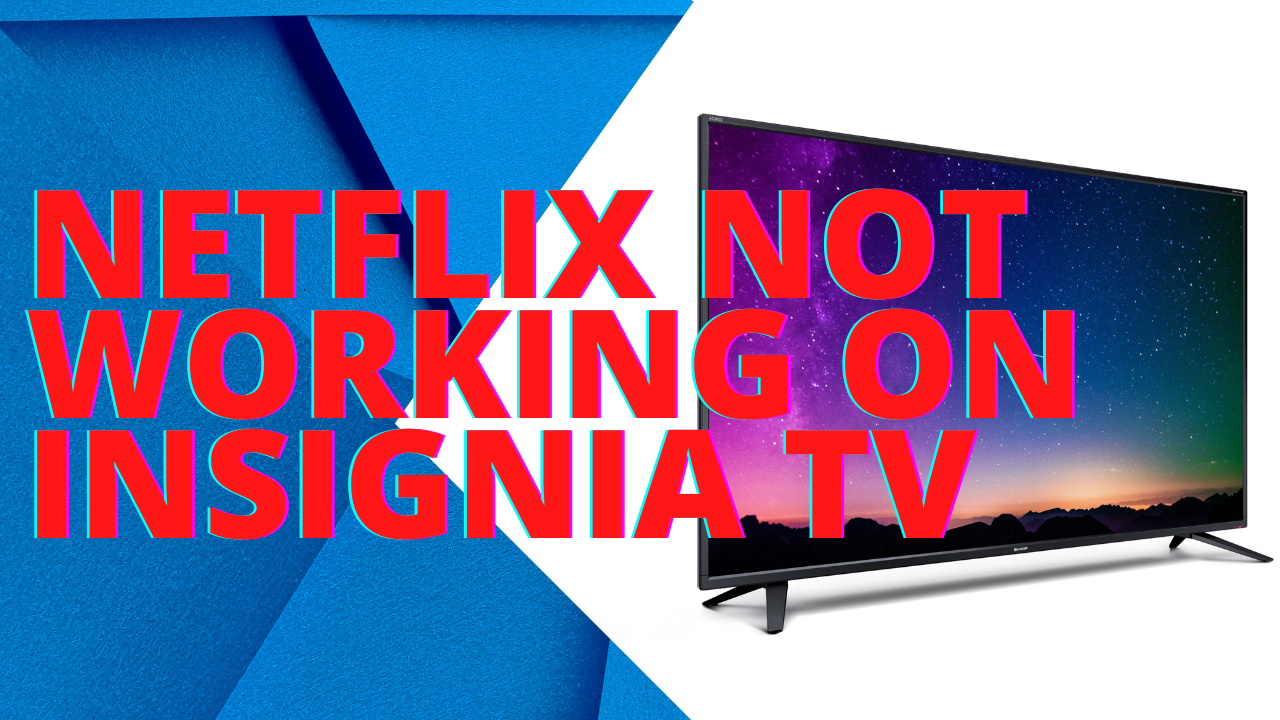 One of the streaming apps that you will most likely use constantly in your Insignia Smart TV is the Netflix app. This app allows you to access a wide library of movie and tv show titles for a low monthly fee.
Sometimes though there are instances when the Netflix app will fail to work. Here's what you need to do when faced with this problem.
Solution 1: Power reset your Insignia Smart TV
The first you should do when dealing with Netflix app is to do a restart. This will refresh the TV software and eliminate any temporary glitches that could be causing issues with Netflix as well as other apps.
Restart Insignia Fire TV
Unplug your device power cable from the power source and wait for a full minute.
Plug your device back and turn on the Insignia TV
Wait for another minute after turning it on.
Try to check if the Insignia TV Netflix app is now working.
Solution 2: Check your internet connection
One reason why the Netflix app freezes or can't get past the Netflix logo screen is when there is a problem with the internet connection.
You should check the internet speed that your Insignia TV is getting.
Checking your internet speed
Open a web browser on your Insignia Smart TV.
Go to speedtest.net. This is an online speed test tool that is free to use.
Click on Go. This will start the speed test.
In order to prevent any Netflix app issues, you should have a good download and upload speed result. The results should match your subscription plan from your internet service provider.
The recommended speeds are as follows:
SD (480p): 3 Mbps
HD (720p): 5 Mbps
Ultra HD/4K (2160p): 25 Mbps
If you have a slow internet connection, then you can check if the network problem is caused by your equipment.
Turn off your Insignia Smart TV.
Unplug your Modem and Router from the power source.
Wait for a minute then plug your modem and router back into the power source.
Wait until the lights turn back on.
Turn on the Insignia Smart TV.
Reconnect your Insignia Smart TV to the internet.
Try Netflix and check if the issue is resolved.
Here's what you can do to get a stable internet connection.
Try to disconnect other devices connected to the Wi-Fi router while you use the Netflix app. This will allow the TV to use the maximum internet bandwidth.
Move the TV closer to the router. They shouldn't be more than 25 feet away from each other. If possible, install both devices in a location without walls in between them.
If you have a dual band router, try to connect to the 5Ghz band instead of the 2.4.
Solution 3: Disable the Instant On feature
Having the Instant On feature enabled will usually create conflict with some of the installed apps. Try turning this feature off by navigating to Settings – General – Instant On, make sure to turn off the switch.
Solution 4: Confirm if Netflix is down
Sometimes the problem could be due to offline Netflix servers. This usually happens when the server is undergoing a scheduled maintenance or if an unexpected outage has occurred. you can go to the DownDetector website and check if other people are also experiencing issues with Netflix. If an outage is being reported, then you will just have to wait for this to be resolved.
Solution 5: Clear the cache and data of the Netflix streaming app
There's a possibility that corrupted cached data in Netflix is causing the problem. To fix this you will need to clear data and clear cache of the app.
Press home button on the remote control then go to Settings.
Scroll down and select Applications then to Manage applications.
Select the Netflix app and press ok.
Select Clear Cache and Press ok.
Go back then select Clear Data and press ok and wait for the insignia smart tv to clear Netflix app cache and clear data.
Turn off your device then wait for a minute. Turn on your device and try Netflix.
Solution 6: Reinstall Netflix
If the Netflix application in your Insignia TV is corrupted, then you will need to uninstall this and perform a fresh reinstallation.
Press home button on the remote control then go to Settings.
Scroll down and select Applications then to Manage applications.
Select the Netflix app and press ok.
Click on Uninstall to completely uninstall Netflix.
Go to apps section and find Netflix and download and install the app.
You will need to login you your Netflix account before you can use the app.
Solution 7: Factory reset your Insignia TV
If Netflix issue persists, then you will need to perform a factory reset. This will restore your TV back to its original default settings. It's usually performed when the TV software is corrupted, the TV has some settings issues, or certain apps you installed is affecting the performance of the TV.
Factory reset Insignia TV
Navigate to your TV "Settings" using the TV buttons.
Select the "System" option.
Select the option "Reset to Factory Defaults", and your TV will revert to its factory settings.
After performing the reset try to check if this fix Netflix issue you are experiencing.
Frequently Asked Questions
Netflix suddenly stopped working on my TV.

Try to confirm first if the Netflix servers are online. If the servers are online, then proceed with the usual troubleshooting such as restarting the TV, checking the internet connection., and reinstalling Netflix.

Why does the Netflix show keep buffering?

This is most likely caused by a slow internet connection. Try restarting the router and your TV then check if the issue still occurs.

Why is Netflix freezing?

This could be due to memory issues with the TV. Try restarting your TV and check if the issue persists. If it does, then try checking the internet connection.

Is an Insignia smart tv good?

Insignia is an affordable TV brand that offers most of the features that a regular consumer will need. If you are after high end features such as Dolby Atmos support or 4K HDR 10+ then you might want to consider other brands.

Can I download apps on Insignia tv?

Yes, you can as long as you have the Smart TV model and have a good internet connection.