One of the common problems in Need For Speed Heat is DirectX error. If the game keeps crashing and showing a DirectX error after, this troubleshooting should help you fix it.
What is DirectX?
By design, the PC architecture has never been intended for gaming unlike dedicated gaming consoles such as the Xbox, PlayStation, etc. And because PCs don't have a universal set of components, building games can be very challenging. This is where DirectX comes in. With DirectX, game developers are given a useful tool that makes programming tasks way easier.
In simple terms, DirectX is a common standard designed by Microsoft that games and other multimedia applications can follow in order to have a universal interface between Windows Operating System and a hardware component. If DirectX does not exist, every developer will need to know what particular hardware he intends to work with, what are the capabilities of the component, or how he's going to make his game or application talk to the said component. With DirectX, the developer simply has to build his game or app and the hardware manufacturer only needs to provide a DirectX capable driver.
Over the years, Microsoft has released several versions of DirectX. At the time of this writing, the latest DirectX is version 12.
Causes of DirectX error on Need For Speed Heat
DirectX is an important component of Windows Operating System and as it develops into a sophisticated collection of Microsoft APIs (application programming interfaces), there's a higher chance of some things to go wrong. This is the main reason why so many people experience DirectX-related issues all the time.
If you are experiencing crashes on Need For Speed Heat and there's a DirectX error that shows up afterwards, it may be caused by one of the following:
Outdated graphics driver.
Need For Speed Heat may crash, show a DirectX error, or both due to old or outdated GPU drivers. If the game seems to be having a slow performance issue, or if it keeps showing a black screen and crashing after you've updated the OS or the game client, it may be caused by bad driver. Driver issues typically occur after Windows or the game has been updated.
Fortunately, driver-related issues are easily fixed by simply installing the latest versions.
Coding issues with the new DirectX version.
Having the latest version of DirectX may not always mean the end of problems. Some Need For Speed Heat players have reported crashes, audio issues/no audio, FPS drop, black screen problem, and other display issues with DirectX 12. While the game is designed to work with DirectX 11, it defaults to DirectX 12 if you have it installed in your PC. If the crashing problem occurs right after you've installed DirectX 12, this latest version may be the main reason for it.
GPU special software glitch.
At times, the graphics settings of your GPU may be to blame for certain errors. For example, some players have noticed that certain games may experience DirectX error if they pick the wrong display scaling option in NVIDIA Control Panel.
Interference from third party apps.
Other applications may cause conflicts with some games. If you have other software running while you're playing Need For Speed Heat, try turning them off to see if there's a difference.
Windows is not up-to-date.
If the game crashes unexpectedly and there seems to be no clear pattern, it may be due to your Windows OS being outdated. Like your game client, drivers, and other software components, the OS must be kept updated to lessen the chances of bugs, errors, and other problems.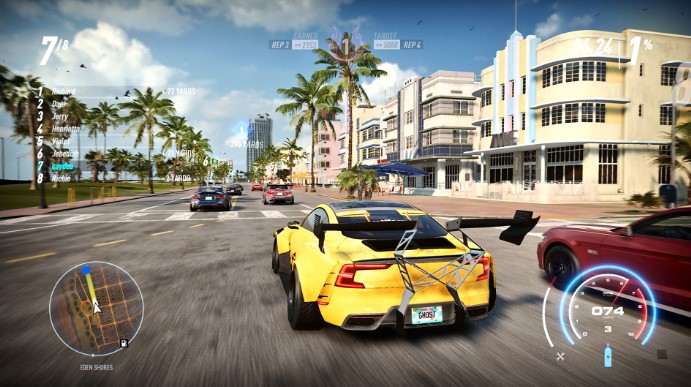 How to fix Need For Speed Heat DirectX error?
Now that we've taken care of the possible causes for your Need For Speed Heat error, let's take a look at the solutions.
Fix #1: Check for updates.
An important first step in fixing Need For Speed Heat error is to ensure that the software environment of your PC is fully updated. To do that, you must check for updates for these components:
apps such as games
drivers particularly for your GPU drivers
Windows Operating System.
Make sure that all of these software components are running their latest version before you do the rest of the solutions below.
Fix #2: Try using HDMI.
If you're using a different display cable other than HDMI, try changing that. Many players reportedly encountered DirectX errors when using DVI-D. If you have that, try to see if switching to HDMI helps.
Fix #3: Disable Display Scaling in NVIDIA Control Panel.
Some players managed to fix their DirectX error by simply turning off display scaling on their GPU. Here's how to do that:
Open NVIDIA Control Panel.
On the left pane, select Adjust desktop size and position.
On the right pane, under Apply the following settings, select No scaling.
Click on Apply.
Fix #4: Use lower graphics settings.
If you're running the game at a higher display settings, try to lower them to fix the DirectX issue. For example, if Need For Speed Heat is currently being played at 4K, consider switching to a much lower display resolution. Many players reported to have fixed their DirectX issue this way.
On the GPU level, you can also disable scaling, just like what you did with your display scaling. Here's how:
Open NVIDIA Control Panel.
On the left pane, select Adjust desktop size and position.
On the right pane, under Apply the following settings, select No scaling.
Under Perform scaling on, select GPU.
Click on Apply.
Fix #5: Lock the game to 30 FPS.
If your PC has a performance issue, or if it barely meets the minimum system requirements of the game, you can try to lower the frame per second or FPS to improve overall performance. Here's what you can do:
Open NVIDIA Control Panel.
On the left pane, select Manage 3D Settings.
Select Program Settings tab.
Select Need For Speed Heat. 
In the next section, find Vertical sync and select Adaptive (half refresh-rate).
Load the game, go to Settings, and disable in-game V. Sync.
OTHER INTERESTING ARTICLES:
Visit our TheDroidGuy Youtube Channel for more troubleshooting videos and tutorials.