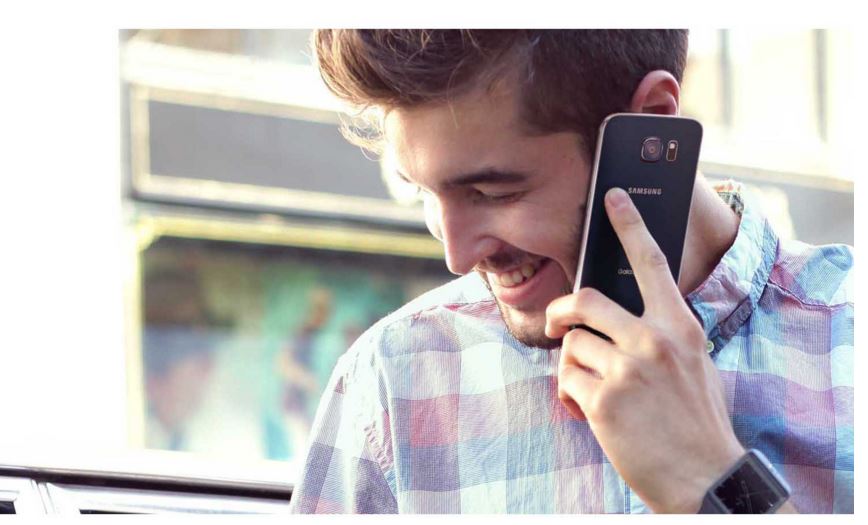 Some #GalaxyS6 users have reported calling issues on their device so we post this article to share them and their respective solutions. If you have any problems calling on your #GalaxyS6 too, this article may be of help.
Below are the specific topics we discuss today:
If you are looking for solutions to your own #Android issue, you can contact us by using the link provided at the bottom of this page.
---
Problem #1: Galaxy S6 mutes itself during calls
My phone has, very frequently, been muting calls upon making them. I make the call, and when the person on the other end answers it's as if I have my phone is on mute. My husband has an iPhone. It seems like it happens more with him, however he is the one that I call the most so it could just be that. It happens so frequently that when I call him and it does it he just hangs up and calls me back.  I just got the phone about a month ago. It seems as if it has gotten worse since the newest update. How could I fix this without totally wiping my phone and doing a hard reset? — Katey
Solution: Hi Katey. We haven't heard of this issue so this might be an isolated case on your device. Your first task is therefore identify where the problem may be coming from. Restarting the phone in safe mode is the most logical troubleshooting to do first. Doing so will help you identify if the issue is being caused by one of your installed third party apps. Here's how to do it:
Press and hold the Volume Down and Power keys for 20 to 30 seconds.
Once you see the Samsung logo, release the Power key immediately but continue pressing the Volume Down key.
Your phone should continue booting up and you will be prompted to unlock your phone as usual.
You will know if the phone successfully booted in safe mode if the text "Safe mode" is displayed at the lower-left corner of the screen.
Make sure to boot your phone in safe mode before you call someone. While in safe mode, all of your third party apps will be inaccessible so we recommend that you only do this prior to calling your husband or your contacts. Run the phone in safe mode as often as you want to give you enough time to observe the device. To go back to normal mode, simply restart the phone. If the issue fails to show in safe mode, that's a clear indication that one of your apps is to blame. You have to uninstall apps until you have eliminated the issue.
You can also try to delete the cache partition of your S6 to ensure that no corrupted or outdated cache is present on the device. Here's how to do that:
Turn off the device.
Press and hold the following three buttons at the same time: Volume Up key, Home key, and Power key.
When the phone vibrates, release the Power key but continue to press and hold the Volume Up key and the Home key.
When the Android System Recovery screen appears, release the Volume Up and Home keys.
Press the Volume Down key to highlight 'wipe cache partition.'
Press the Power key to select.
When the wipe cache partition is complete, 'Reboot system now' is highlighted.
Press the Power key to restart the device.
Problem #2: Galaxy S6 drops calls
The phone drops connection all the time and even if it has 4G full bars sometimes it's still hard to make phone calls. It's like phone works when it wants and when I send text messages it might work sometime but other times it might take forever to send them and especially receive them. It's frustrating because even when it has 4G the calls may not go through or drop while I'm talking and sometimes when I'm on the phone the person on the other line would stop hearing me all together.
The Internet won't work either, only if I'm on Wi-Fi and calls and text definitely don't work if I have the phone connected to Wi-Fi. I would need to disconnect it and wait a long period of time before my phone blows up from all the notifications I missed. Please I paid so much money for this phone with no warranty 🙁 it's so upsetting please help. — Joel
Solution: Hi Joel. Is this phone provided by your wireless carrier? If it is, we recommend that the best thing that you can do is to talk to them about the issues rather than us. Your issues can be caused either by poor network service in your area, or by a malfunctioning device. The only thing that we can suggest that you do on your end is to do software troubleshooting, which may or may not fix the problems. The software solutions that you can try include doing a factory reset, wiping the cache partition, updating your phone to the latest firmware, and updating your apps. If those procedures won't make any difference, call your carrier and ask for a new phone.
Problem #3: Galaxy S6 dial pad won't work during calls
Hello, kindly help. While on a merged conference call, I am unable to use my dial pad to choose phone tree options. For example, if my family member and I want to conference a business to talk about an account, the businesses phone tree asks me to "press 1 for English" and I am pressing 1, but, it is not registering in. So I'll keep being asked by the automated system to choose an option, but, I'm unable to. This also happens when we I merge a call that line goes to voicemail. The other person I was speaking with leaves a message, then I try to push # to send the mail, but the dial pad is not registering to the phone call. Please help!!! Many thanks. — Edreesa
Solution: Hi Edreesa. We noticed this issue before as it was reported by one of our readers. Please follow our suggestions in this post. If the issue remains even after doing the suggested software troubleshooting, that means that the problem may not be on your device but how call routing is implemented by your wireless carrier. Make sure to call them for direct assistance.
Problem #4: Headset on Galaxy S6 not working properly
Probably a simple one, but I cannot work it out no matter what. When I use hands free the person I'm talking to often finds it difficult to hear me even if I'm right up close to the phone. On the screen there is a button called "Extra Volume" but it's greyed out, so it can't be used. I bet its a real no brainer but it's driving me INSANE! Please help. — Michelle
Solution: Hi Michelle. If you are using a wired headset, make sure that the headset jack you are using is plugged all the way in and that its microphone is working properly.
If you are using a wireless headset, make sure that it's working normally and its microphone is sensitive enough to pick up your words.
You can also try to use other headsets to see if the phone's functionality works.
Problem #5: Galaxy S6 not receiving all calls
My phone will not receive 100% of the phone calls. It is very sporadic with location and who is calling. I have gone to Verizon to get a new SIM card. They have also refreshed my calling feature. I got the phone on black Friday and the issue has been going on since I got the phone. I get no missed call notification. For the person calling me it is normal on their end — it will ring  until it hits my voice mail.  I have tried going days with it on normal calling, and with it on advanced calling. both have the same problem. I will have someone call me when I know I have signal and it will not go thru. I will also call someone- i will have full bars and it will just say "dialing" and will not connect.  Any help is  greatly appreciated! — Lydia
Solution: Hi Lydia. Have you tried to factory reset the phone? A calling problem like yours is usually more of a network concern than a user device issue, but it won't hurt if you can do a reset to make sure that there is no firmware bug that causes the problem. You can also try our suggestion for Katey above before you do a factory reset to see if one of your apps is causing this trouble. To factory reset your S6, just follow these steps:
Turn off your Samsung Galaxy S6 Edge.
Press and hold the Volume Up, Home and Power keys together.
When the device powers on and displays 'Power on logo', release all keys and the Android icon will appear on the screen.
Wait until the Android Recovery Screen appears after about 30 seconds.
Using the Volume Down key, highlight the option, 'wipe data/factory reset' and press the Power key to select it.
Press the Vol Down button again until the option 'Yes — delete all user data' is highlighted and then press the Power key to select it.
After the reset is complete, highlight 'Reboot system now' and hit the Power key to restart the phone.
You also have to make sure that you don't have any app that blocks or redirects your calls. Try to do a quick rundown of all your apps and check if you have forgotten to turn off forwarding or blocking certain numbers.
Problem #6: Pre-owned Galaxy S6 not working with a different SIM card
My partner purchased a used Galaxy S6. We tried it before buying it when the previous owner had his SIM card in it. it was working fine for him and the phone is not blocked to one specific operator. Now when we were at home and tried it with his card, he could get mobile internet and he managed to test call me once. But now he can´t call anymore.
i saw a few people on forums with almost the same problem but no real solutions even on the official Samsung forum.
i reseted the phone to factory version and now i can´t even choose the operator, no mobile data, nothing.
When I try to go in the settings under call and choose additional setting like a lot of people suggested to do i can´t even access it as it says: call setting errors: network or SIM card error.
And in mobile network settings and then service providers i can never select the mobile operator (Halebop in Sweden).
if you have ever heard of any similar problem and how we can fix it it would be amazing. Thank you in advance for an answer. — Salomé
Solution: Hi Salome. The phone's firmware may still be tied up to the services of the original carrier that's why it does not allow you to access some settings when you insert your husband's SIM card. We recommend that bring the phone to a shop so the firmware can be checked and modified if necessary.
---
Engage with us
If you are one of the users who encounters a problem with your device, let us know. We offer solutions for Android-related problems for free so if you have an issue with your Android device, simply fill in the short questionnaire in this link and we will try to publish our answers in the next posts. We cannot guarantee a quick response so if your issue is time sensitive, please find another way to resolve your problem. 
When describing your issue, please be as detailed as possible so we can easily pinpoint a relevant solution. If you can, kindly include the exact error messages you are getting to give us an idea where to start. If you have already tried some troubleshooting steps before emailing us, make sure to mention them so we can skip them in our answers.
If you find this post helpful, please help us by spreading the word to your friends. TheDroidGuy has social network presence as well so you may want to interact with our community in our Facebook and Google+ pages.