Forza games are some of those games that demand smooth frame rates most of the time. However, some players are reporting to us that Forza Horizon 4 randomly stutters and lags on them due to low FPS. If you're experiencing this problem, learn what you can do about it in this troubleshooting guide.
Causes of Forza Horizon 4 performance issues and low FPS
There are several reasons for poor PC game performance. If Forza Horizon 4 seems to stutter, freeze, or has low FPS or framerate, it may be due to one of the following.
Hardware limitations.
Before you install a game on your PC, the first thing that you must do is to check whether or not your hardware can support it. This is the main reason why developers always publish the minimum and recommended requirements ahead of a game's release.
If your PC is old and not designed to play games, it may struggle to run games like the Forza franchise.
There are a number of important considerations that you must take when it comes to checking your hardware. The first thing to check is your graphics card, also known as GPU. Without the right graphics cards, the game may perform poorly as the CPU may struggle with the calculations.
And speaking of the CPU, also known as processor, you also want to ensure that it's up to the recommended specification. Even if your graphics card supports the game, the system may still give you trouble if your CPU is slower than the minimum requirement of Intel i3-4170 @ 3.7Ghz or Intel i5 750 @ 2.67Ghz (or their AMD equivalent). I personally recommend that you run this game on a much faster CPU than the ones mentioned above.
The other hardware components that you must check includes the RAM or memory, available hard drive space, and other accessories.
Device drivers are outdated.
Just as important as having the right hardware is having an updated set of device drivers. A driver is like a mini-operating system of a particular component. Without it, your PC may encounter issues when playing a game as the graphics card may bog down and cause errors or glitches.
Computers nowadays are equipped with special software that automatically scans for the latest graphics drivers. For example, if you have an NVIDIA graphics card, your PC is likely using the NVIDIA GeForce Experience and NVIDIA Control Panel apps to check for the latest drivers. The same must be true if you have AMD or Intel graphics .
Corrupted game files.
Stuttering and low FPS may be the direct result of damaged game files. Such a situation can occur if the game is interrupted while trying to "save," or if you turn off your PC while installing updates.
PC running low on resources.
For some people, having an old and slow PC can be a bad thing as that means putting up with an unreliable system, or being limited to running a few applications every time. The more applications are actively running while you're playing the lesser the resources your PC may have on hand to deal with demands of the game. If you noticed that the game seem to freeze, stutter, or suffer from low framerate during certain actions, it may be due to your PC running out of computing power.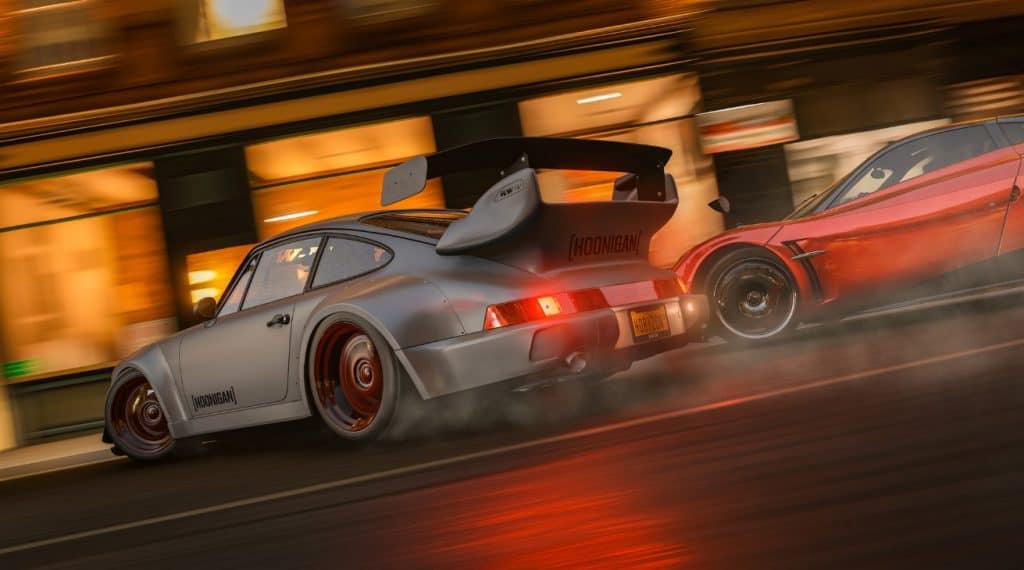 How to fix Forza Horizon 4 low FPS issue?
These are the solutions that you can try if you're having an issue with poor FPS on Forza 4.
Fix #1: Verify if the PC can handle the game.
This one is simple. All you have to do is to check the minimum system requirements of Forza Horizon 4. If your PC does not meet the minimum, you won't be able to achieve better performance in this game at all unless you upgrade. For instance, if you're trying to launch Forza 4 on your computer that uses the on-board Intel GPU, you may need to buy a discrete video card to fix its performance issues.
Fix #2: Install device drivers.
The other possible reason why you may be experiencing Forza Horizon 4 low FPS issue may be outdated drivers. Make sure that you check for the latest graphics drivers or GPU drivers using any of the applicable links below. There are at least 3 graphics cards today so your choice depends on which hardware you're using.
Fix #3: Repair game files.
The other solution for Forza Horizon 4 low FPS issue is by ensuring that the game files are intact and not corrupted. If you play this game on Steam, you can use the Steam client repair tool.
Fix #4: Close other apps.
Using the Task Manager program, you can actually monitor whether or not your PC is struggling to run a game. While the game is running, pull up Task Manager by pressing CTRL+ALT+DEL. Then, check the Performance tab to see if there's an unusual high usage of critical resources like CPU, Memory, and GPU.
If you think that your machine is having difficulty while you're gaming, consider closing other applications like web browsers, and other apps and check for the problem again. If doing so results to good performance and you're don't experience stuttering or low FPS anymore, that means that your PC is likely running out of computing power.
Fix #5: Use lower FPS.
If you're running the game in higher frame rate, lowering down to 60FPS may help. If you're using NVIDIA, refer to this guide on how to manually configure NVIDIA Control Panel frame rate limit.
Fix #6: Run the game in Fullscreen Mode.
Most games perform better in fullscreen mode. If you've been running Forza 4 on Windowed mode, try using Fullscreen by pressing ALT+ENTER, or by choosing the option under the game's Settings menu.
OTHER INTERESTING ARTICLES:
Visit our TheDroidGuy Youtube Channel for more troubleshooting videos and tutorials.